When a high school athlete makes his or her decision about where they'll attend college, the common parlance is "commitment." The athlete commits to that school.
There really needs to be a stronger word for the journey on which Summer Emblem and Darren Rhodes are about to embark.
They're committed, all right — and then some.
Emblem, a Super Centex basketball standout from China Spring, has signed to play hoops for, study and serve at Army. She's looking, at the bare minimum, of an 11-year pledge, as Army recruits are required to serve five years of active duty and another two in the reserves after completing college. Emblem, however, is seriously considering turning it into a career, and extending her military stay at least 20 years, preferably as an orthopedic surgeon.
Rhodes, a recent Midway graduate, has signed to play baseball for the California Institute of Technology, otherwise known as Caltech, in Pasadena, Calif. It's the fulfillment of a dream in more ways than one, as he wants to keep playing baseball as long as possible. But he also has aspirations of becoming a mechanical engineer, and Caltech is the place to be in that regard. It's extremely exclusive, as the Class of 2022 had an acceptance rate of roughly six percent, according to the school's website.
The dedication that Rhodes and Emblem have shown in both sports and their studies, along with their commitment to continue down that path, won them the Scholar-Athletes of the Year award on the Tribune-Herald's annual Super Centex All-Academic Team.
Before moving over to Midway, Rhodes spent two years of his high school career attending Live Oak Classical School. It was there where his admirable level of perseverance first manifested itself.
His freshman year, he found himself routinely exhausted. He'd come home from school or basketball practice — he played hoops through his junior year before focusing on only baseball as a senior — and collapse on the couch, often sleeping for two hours before dinner. "He'd gotten ill so much that year," his mother Grace said.
Grace took him to the doctor, and Darren underwent a battery of tests. The next day, he played in a hard-fought basketball game for Live Oak and scored 19 points. Two days after that, the test results came back.
"On Monday I got a call from the doctors' office: 'You've got to pull him out of school right now and go get this medicine,'" Grace said. "He's to be off physical activity for two weeks. I said, 'Why?' They said, 'He has (mononucleosis).' I said, 'You have got to send this to me in writing, because I'm going to have to go in person to tell the coach, and he's going to be shocked.'"
At the end of the season, Rhodes received Live Oak's "Ironman Award" for the grit he showed over the course of the year.
That's really all he's ever known.
"I've always liked doing well," he said. "I don't necessarily call myself a perfectionist or anything. But I do have a side of me where I want to learn, I want to get better at everything I do, schoolwork included. But most of my hard-working aspect really came from my parents stressing me to get my grades up and pay attention in classes."
Hard work is its own reward, but Rhodes still came away with tangible evidence of his labor. He graduated with a 103.48 cumulative GPA, as a Distinguished Scholar, an AP scholar and a member of the National Honor Society. For his volunteerism, he won the Spirit of Midway Award, the Congressional Award Gold certificate, and the St. Catherine of Sienna Award.
It wasn't all work and no play, though. The baseball diamond is where Rhodes made some of his most enjoyable high school memories.
"I really liked the team aspect of the game," said Rhodes, an honorable mention all-district infielder for the 25-win Panthers. "It was a lot of fun getting to know new people, and just making friends. Plus, I also just loved being out on the field. … The competition you have with your teammates, competing with them, it's a lot of fun."
Want to know what else Rhodes considers a veritable party? Calculus. (Yes, he realizes that's not normal.)
He appreciates a good challenge, and calculus tested him more than any of his other high school courses. As he thinks about what lies ahead at Caltech — more baseball games, and more challenging math problems — he can't help but light up with a toothy smile.
"There's definitely some excitement there," Rhodes said. "I always thought of myself as playing baseball, never really thought about stopping. It's exciting that I could continue my career in college."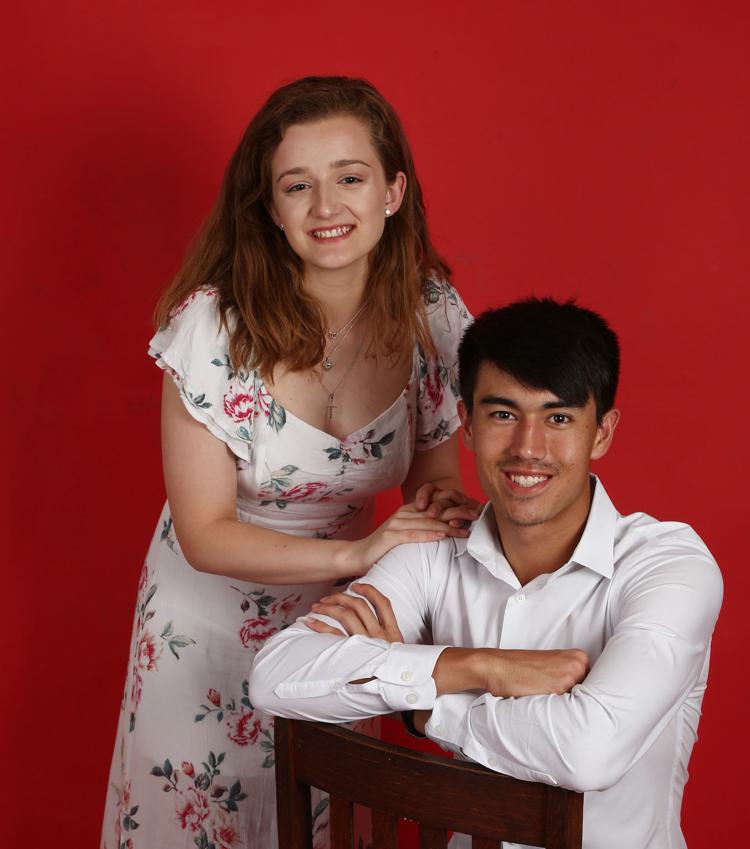 China Spring's Emblem is a thinker in more ways than one.
Obviously, she's that way in the classroom. She graduated as the senior class salutatorian, with a 104.69 GPA. But that's also how Summer approached the game of basketball. Hoops is a game of athleticism, sure, but it's also a thinking person's game, at least in Emblem's estimation.
So when she took the court, she tried to see the court. She tried to envision plays before they even happened.
"Sometimes I overthink things," said Emblem with a chuckle. "But I really appreciate when it comes to IQ, watching good teams play like that. So I like to replicate that in my own way."
Emblem schooled opposing defenses on her way to a team-best scoring average of 14 points per game as a senior, along with averages of 5.7 rebounds, 2.4 assists and 1.5 steals while shooting a crisp 80.6 percent from the free throw line.
How does one go about being one of the best ballers and one of the best students in the area?
With apologies to Nike, you kind of just do it.
"I don't think it was that difficult," Emblem said. "Taking time for my homework was important. It's difficult at times, but it's doable. It's never impossible to do it, at the high school level."
Then she added with a laugh, "I don't know about college."
Emblem hadn't really considered the military route until some college recruiters from both Army and the Naval Academy showed up to one of her games. A teammate informed her that they were there, and Summer's initial reaction was, "They have basketball teams?"
But it sparked her interest. She conducted her own research, and came away impressed with the academic rigor and the cost-saving opportunities provided by the service academies.
"But I always wanted to serve my country as well, in some way, whether it was being a firefighter, a police officer," Emblem said. "Military has always been in the back of my mind. It's always been the perfect opportunity to serve my country and get an education and play basketball."
Truth is, she's been serving her country already, simply by serving her community. Emblem volunteered her time with organizations like Food for Families and Meals on Wheels during her high school years, and never came away feeling empty.
"Volunteering for your community is so important, not only for others, but for yourself to realize that the world is bigger than your little niche, your community," she said.
It's that type of mature perspective that should serve Emblem well as she transitions to a life in the military. Her father, Erik, said that there was "a little bit" of wrestling with the idea of Summer going into the Army, but as parents "when you see somebody appreciate your kid like that, it just makes it a whole lot easier."
"I'm very proud of her," Erik said. "She worked hard for this. She does her schoolwork, and then almost every day after school and even after team practices, we go to the YMCA. So she shoots at the YMCA, and puts in the extra work. It's been a dream of hers, and playing travel ball in the summertime, school ball, she's worked her butt off. She's earned it."
Here is a look at the rest of the 2018-19 Tribune-Herald Super Centex All-Academic Team honorees:
BOYS
Hayden Sheffield, Axtell: Pole vault state qualifier was a team player (football, basketball, UIL academic teams), volunteered free time as Special Olympics peer assistant.
Ian Hankhouse, Bosqueville: Four-sport letterman was National Honor Society and Senior Class President, helped rally Bulldog students to support Hurricane Harvey victims.
Hunter Littleton, China Spring: Football, soccer player tallied 103.2 grade point average, won DAR Good Citizen Award and Youth Citizenship Award from Waco Rotary Club.
Quintaveous Mason, La Vega: Senior not only excelled as a state champion in football and track, but maintained a 97 GPA in classroom as well.
Calvin Small, Lorena: All-district basketball, soccer player ranked third in Lorena's graduating class with a 101.3 GPA.
Carter Mencken, Live Oak: Three-sport athlete, former TAPPS shot put state champion also was National Merit Scholar and helped raise money to purchase weekend food packs for low-income children.
Noah Jenkins, McGregor: Academic all-state in three sports (football, powerlifting, track), Jenkins graduated with a 99 GPA and made a score of 31 on the ACT.
Andrew Bullock, Midway: Academic all-state football player also won State Scholar-Athlete of the Week from Dave Campbell's Texas Football last October for his exploits in the classroom.
Uriel Ibarra, Vanguard: When Ibarra wasn't helping the Vikings reach state in basketball or track, he impressed enough in his studies to earn a full academic scholarship to Notre Dame.
Klain Klish, West: Trojans' salutatorian with a 103.5 GPA, Klish lettered in football and track, was academic UIL regional qualifier.
Honorable Mention: Peyton Hofferichter, Logan Schuetz, Carl Schubert and Marshall Adams, China Spring; Gaylon Glenn and Joshua Coker, Connally; Ty Hale, Groesbeck; Jaelyn Maladdie, Jordan McKinney, Timothy Carr and Caleb Wright, La Vega; Riley Mitchell, Jett Forrest and Caidon Livingston, Lorena; Parker Nall, Midway; Matthew Mendiola, Reicher; Mychal Shed, Teague; Carter Boehm, Luke Wilson and Elijah Wade, Vanguard; Tyler Kaluza and Preston Johnson, West
GIRLS
Cassidy Allen, Bruceville-Eddy: Three-sport athlete was Bruceville-Eddy's valedictorian, yearbook editor; intends to study nursing at Tarleton State.
Maggie Chaffin, China Spring: Four-year varsity softball player had 102.4 GPA, also showed and judged animals with FFA.
Maci Westerfeld, Crawford: Academic all-state volleyball star claimed valedictorian honor, plans to pursue biology degree at Texas A&M.
Jasmine Williams, La Vega: Super Centex soccer player also earned academic all-state honors from both the Texas Girls Coaches Association and the Texas Association of Soccer Coaches.
Gracie Miller, Lorena: Soccer letter-winner won academic all-state recognition from TASCO with 100.6 GPA, will attend Texas A&M in the fall.
Uridian Reyes, McGregor: Lady Bulldogs' distance running standout ranked third in senior class with 102.8 GPA, scored 25 on ACT.
Liz Perkins, Moody: When Perkins wasn't lettering in six sports, she achieved class valedictorian and served as president of Family, Career and Community Leaders of America.
Kaegan Walker, Robinson: Two-time first-team Super Centex volleyball player was also Robinson valedictorian, senior class president, volunteered with Justice 4 Mutts.
Olivia Henderson, Waco High: Valedictorian was member of tennis, cross country teams; was honored by Rotary Club for her community service, which included volunteering at Family Abuse Center.
Emma Nors, West: District 17-3A volleyball hitter of year hit the books hard (100.8 GPA), also was state solo and ensemble qualifier for West band.
Honorable mention: Danielle Evans, Bremond; Camille Ward, Crawford; Taylor Clark, Macie Reeves, Sydney Willett and Emma Tatsch, China Spring; Vivi Benitez, Iredell; Macy Kunze, Amanda Guyton, Maddie Pierce and Kenzie Tuyo, Lorena; Chaney Heiner, Kaycee Edwards and Jessie Eubank, McGregor; Hannah Langerman, Keziah Bachert and Shelby Saul, Midway; Shelby Salter, Robinson