Some memorable football players took the field for Central Texas teams in the decade of the 2000s.
Among them: Waco High's Robert Johnson. Copperas Cove's Robert Griffin. China Spring's Dustin Eskew.
And those are just a few of the fantastic talents who did not crack the Tribune-Herald's Super Centex All-Decade Team.
Call the decade the "aughts" or the "double-zeroes," but it provided inumerable memories in local high school football. From record-breaking performances to state championship successes, Central Texas players and teams delivered over and over again.
Perhaps the most singularly great player was one who helped usher in the century's turn, Mart's incomparable Quan Cosby. The only player to ever win both the Super Centex Offensive and Defensive Player of the Year awards, Cosby is a fitting choice as our overall Player of the Decade.
As a senior in 2000, Cosby starred at quarterback, safety and kick returner for a Mart team that rolled up a 30-game winning streak before falling to three-time champion Celina in the Class 2A state title game. Cosby scored in every way imaginable, whether throwing (13 TDs), running (29 TDs), on returns (6 TDs) and even defensively (1 TD).
"He's just the real deal," then-Mart coach Terry Cron said at the time. "He's so versatile in every aspect of the game. He's a total football player."
Though heavily recruited by college football programs, Cosby shocked many by opting to pursue a professional baseball career instead. But that didn't pan out for Cosby. Homesick and missing football, he returned to the gridiron in 2005, signing with Texas.
Cosby played a key role on UT's national championship team that fall, then continued to develop as one of the Longhorns' steadiest playmakers over the next three seasons before moving on to the NFL's Cincinnati Bengals.
But it's those images of Cosby bamboozling would-be tacklers while at Mart that still resonate with local football fans a decade later.
"I'll always be a Mart Panther," Cosby told the Tribune-Herald in 2008. "You can't forget where you came from."
Coach of the Decade: Mark Waggoner, Reicher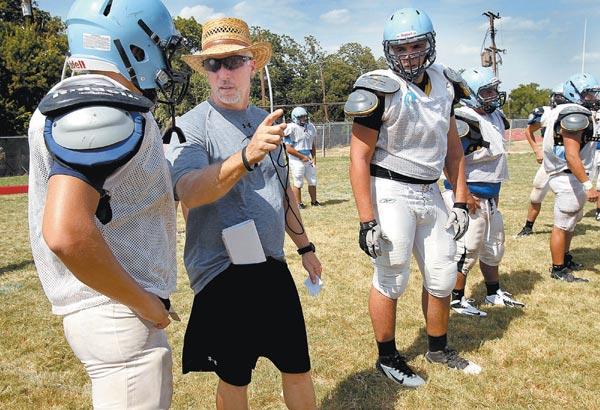 In his 14 years as head coach at Reicher, Mark Waggoner has witnessed lots of building projects.
Yet the one in which he served as lead architect may be the most impressive.
Though the Cougars started out the decade with a 2-8 season in 2000, they never had a losing year again, winning 69 percent of their games. More importantly, they captured four TAPPS state championships, including the last three in a row.
"Once you start winning, the expectation elevates, and then all of a sudden you have accountability," said Waggoner, who went 85-38 over the decade. "It's hard to get there, but once you get it going, everyone really wants to stick with it. Our kids believe they can win, and a lot of times the game is won even before the first kickoff."
After consecutive trips to the state semifinals in 2002 and '03, Reicher forged a breakthrough season in 2004, winning the school's first state title in 29 years.
That team helped lay the foundation for future collections of Cougars, including the trio of title teams from 2007-09.
Waggoner credits his players, parents and assistant coaches for making his job about as enjoyable as one could be.
"If I'm happy going to work, I'm a happy guy," Waggoner said. "I love it. How could I ever quit when I tell those kids never to quit?"
Offensive Player of Decade: Shawn Bell, China Spring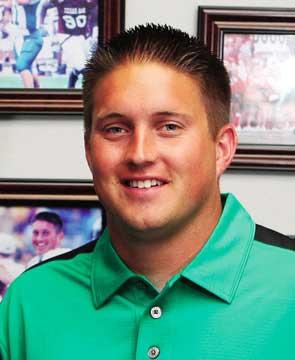 For a quarterback, what could be more fun than flinging footballs all over the field to your friends?
That's what former China Spring QB Shawn Bell spent four years of his high school life doing, and needless to say, he remembers those days fondly.
"Those are the best memories of my life," Bell said. "Everyone knows how special Texas high school football is, and to have the opportunity to play with guys I'd been friends with all my life, those are memories that I'll always cherish."
Playing for his father Mark Bell, Shawn directed one of the more wide-open, explosive offenses to ever hit Central Texas football.
A four-year starter, Bell wrapped up his career in 2001 as the area's all-time passing leader with 8,437 yards and ranked second in touchdown passes with 69. (He's now third behind Bosqueville's Tyler Minyard, who threw 77 TD passes from 2003-05, and Temple's Doyle Traylor, who had 72 from 1950-52).
"That offense was a lot of fun. We had a lot of gadgets," said Bell, who went on to play at Baylor. "The China Spring offense has kind of evolved over the years, but back then we were actually more traditional. We ran it and threw it. But it was a blast — we had fun every day."
Now the head football coach at Clifton, Bell is enjoying sharing the joys of football with the next generation of players.
"There's no other profession I could imagine myself doing other than coaching," he said. "Growing up in Texas, you know how special those Friday night lights are, and it's great to still be part of that."
Defensive Player of Decade: Derrick Johnson, Waco High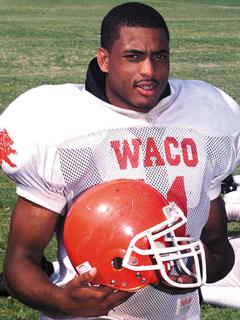 No Centex player ever put together a more bone-crushing highlight film than Waco High linebacker Derrick Johnson.
Who wouldn't buy a DVD called "DJ's Greatest Hits?"
"What stands out about DJ more than anything else is he had what I would classify as unbelievable plays, unbelievable performances," former Waco High Johnny Tusa said. "I have so many vivid recollections, images, of plays he made."
An unblockable force, Johnson once made 31 tackles in a single game against Tyler John Tyler. Whether it was hyper-athletic sacks or interceptions or game-changing hits, Johnson, a three-time Super Centex honoree, dutifully provided.
Years later, Tusa brought Johnson, who went on to success with the Texas Longhorns and the NFL's Kansas City Chiefs, back as a guest speaker for the team's postseason banquet, using DJ as a model for what players should be both on and off the field.
"He was such a low-maintenance individual, if any maintenance at all," Tusa said. "He was also so mannerful, so respectful, and he played an integral part of the close unity we had on our teams."
Here's a look at the rest of the Super Centex All-Decade first team:
Travis Landrum, RB, Chilton: A bruising bowling ball of a runner, this four-year starter broke the area's all-time rushing record, finishing with 6,535 career yards. Even better, he topped the old record in the Class 1A Division II state championship game, propelling the Pirates to the 2006 state title.
Taurean Henderson, RB, Gatesville: As a senior in 2000, Henderson piled up a Central Texas-record 2,953 yards and 32 touchdowns, propelling the Hornets to a 15-0 record and the school's only state championship. He went on to a sensational four-year career at Texas Tech.
John Hubert, RB, Midway: Call it a power backfield on the all-decade squad, as three running backs demanded first-team recongition. Hubert was the last of the three to come along, and all he did was break LaDainian Tomlinson's city rushing record as a senior, running for 2,853 yards and 41 touchdowns on his way to Offensive Player of the Year honors.
Mike Hicks, WR, China Spring: Exploding onto the scene as a freshman in 2005, this do-it-all Cougar caught nearly everything that came his way, ending up as Central Texas' all-time top receiver with 228 catches, 4,327 yards and 42 TD grabs.
Justin MacGibbon, WR, China Spring: Long and athletic, MacGibbon was Shawn Bell's favorite target on the turn-of-the-century Cougars. His total of 3,540 career receiving yards was the area's best until later topped by Hicks.
Michael "B" Hampton, OL, Reicher: Arguably Reicher's best player of the decade — and that's saying something — Hampton started on both the offensive and defensive lines for three years, paving the way for the Cougars' breakthrough state title season in 2004. He just wrapped up a solid playing career at Air Force this week.
Vince Carter, OL, Waco High: Considered by many Lion fans to be the school's best-ever lineman, Carter went on to be a mainstay at center for the Oklahoma Sooners.
LeQualan McDonald, OL, Waco High: Beast of a blocker started 39 straight games for Lions, unleashed 151 pancake blocks as a senior in 2001.
Daryl Curl, OL, La Vega: A two-time Super Centex first teamer, Curl cleared holes for Pirate teams that rushed for nearly 8,000 yards his final two years.
Collin Barker, OL, Wortham: Like Leonard Davis before him, Barker was a behemoth on the 1A level for the Bulldogs, as the 6-foot-9, 325-pounder thrice earned all-state honors. Two Wortham backs rushed for more than 1,000 yards running behind Barker in 2000.
Lance Loftin, K, Connally: Perhaps better known for his baseball exploits, Loftin had a home-run leg, booming 13 field goals and 41 touchbacks as a senior in 2003.
Jamar Green, RS, Chilton: One of the quickest, most elusive open-field runners of the decade, Green averaged a ridiculous 44.3 yards on kickoff returns and 24.8 on punts his junior year, bringing six back for touchdowns.
Antonio Johnson, DL, Waco High: Before moving on to play linebacker at Baylor, Johnson was a devastating defensive end for the Lions. As a senior in '06, he was the Trib's Defensive Player of the Year while racking up 72 tackles, including 25.5 for losses and 16.5 sacks.
Roy Miller, DL, Shoemaker: Despite enduring constant double and triple-teams, Miller tallied 111 tackles and 10 sacks on his way to Defensive Player of the Year and U.S. Army All-American recognition in 2004.
Marcus Foreman, DL, Midway: Always a threat to get to the quarterback, Foreman bagged the best single-season sack total of the decade — 19 — as a junior in 2001.
Ryan Boutwell, DL, China Spring: Boutwell helped anchor both lines for some formidable Cougar teams, and was the Trib's top defensive honoree in 2008 when he notched 94 tackles and 10 sacks.
Jacob Bane, LB, Rogers: Bane overcame a subdural hematoma — a blood clot that puts pressure on the brain — after a helmet-to-helmet hit his freshman year, returning to earn Defensive Player of the Year honors as a senior in '03 with 195 tackles and five forced fumbles.
Will Henry, LB, La Vega: Current Sam Houston State Bearkat put the power in the Pirates' late-2000s defenses, corraling 180 tackles and four sacks as a senior in 2007.
John Sadler, LB, Marlin: The phrase "Tackle, Sadler," was well-known to public-address announcers around Central Texas in 2002 and '03, as the feisty Bulldog defender racked up 407 tackles his final two seasons.
Jordan Parcus, DB, Rosebud-Lott: Parcus not only quarterbacked Rosebud-Lott to the school's only state championship in 2002, but he also made big play after big play defensively, with 141 tackles and seven interceptions, including two returned for TDs.
Perrish Cox, DB, University: An insanely gifted athlete, Cox started on both sides of the ball for four years for the Trojans, breaking up 17 passes and picking off eight as a senior in 2005.
Victor Johnson, DB, Waco High: A hard-hitting playmaker who like Cox moved on to Oklahoma State, Johnson recorded 265.5 tackles and nine interceptions over his spectacular three-year run with the Lions.
Ahmad Dixon, DB, Midway: A U.S. Army All-American who has pledged to Baylor, Dixon shined as the last line of defense for Midway over the past three seasons.
Nick Baker, P, Fairfield: A two-time Super Centex first-team punter, Baker averaged 46.5 yards per boot as a senior, with a long of 74 yards.
TRIBUNE-HERALD SUPER CENTEX ALL-DECADE FOOTBALL TEAM
Player of the Decade:  Quan Cosby, QB/DB, Mart
Offensive Player of the Decade:  Shawn Bell, QB, China Spring
Defensive Player of the Decade:  Derrick Johnson, LB, Waco High
Coach of the Decade:  Mark Waggoner, Reicher
FIRST TEAM

Offense

Pos
Player
Final year
School
QB
Shawn Bell
2001
China Spring
RB
Travis Landrum
2006
Chilton
RB
Taurean Henderson
2000
Gatesville
RB
John Hubert
2008
Midway
WR
Mike Hicks
2008
China Spring
WR
Justin MacGibbon
2001
China Spring
UT
Quan Cosby
2000
Mart
OL
Mike Hampton
2004
Reicher
OL
Vince Carter
2000
Waco High
OL
LeQualan McDonald
2001
Waco High
OL
Daryl Curl
2008
La Vega
OL
Collin Barker
2000
Wortham
K
Lance Loftin
2003
Connally
RS
Jamar Green
2003
Chilton

Defense

Pos
Player
Final year
School
DL
Antonio Johnson
2006
Waco High
DL
Roy Miller
2004
Killeen Shoemaker
DL
Marcus Foreman
2002
Midway
DL
Ryan Boutwell
2008
China Spring
LB
Derrick Johnson
2000
Waco High
LB
Jacob Bane
2003
Rogers
LB
Will Henry
2007
La Vega
LB
John Sadler
2003
Marlin
DB
Jordan Parcus
2002
Rosebud-Lott
DB
Perrish Cox
2005
University
DB
Victor Johnson
2007
Waco High
DB
Ahmad Dixon
2009
Midway
P
Nick Baker
2007
Fairfield

SECOND TEAM

Offense

Pos
Player
Final year
School
QB
Jeremy Sanders
2005
Marlin
RB
Tank Smith
2004
Marlin
RB
Ramonce Taylor
2003
Belton
WR
Derek Evans
2005
Cameron
WR
Damian Davis
2006
Mart
WR
Dustin Findley
2003
Bosqueville
UT
Lee McClendon
2007
Mart
OL
Dominique Steamer
2000
Temple
OL
Yancy Boatner
2001
Hamilton
OL
Kelvin Beachum
2006
Mexia
OL
Kevin Dahman
2005
Connally
OL
Keith Dahman
2005
Connally
K
James French
2008
Connally/C. Spring
RS
Josh Landrum
2006
Chilton
 
 
 
 

Defense

Pos
Player
Final year
School
DL
Jerrell Freeman
2003
University
DL
Jeremiah Chapman
2003
China Spring
DL
Micah Spicer
2006
Robinson
DL
Andrew Judy
2004
Crawford
LB
Derek Dumas
2004
Crawford
LB
Shon Brown
2004
Waco High
LB
Charles Kelly
2009
Midway
LB
Chris James
2002
Chilton
DB
Tim Atchison
2005
Copperas Cove
DB
Marcus Walker
2003
Waco High
DB
Kenneth Cluley
2008
Reicher
DB
Jesse Kimbrough
2000
Mexia
P
Chase Sparks
2002
Troy