Super Centex 6-man Football Team: Live Oak's Hill carrying on family athletic tradition
Live Oak junior Chase Hill has always looked up to his older brother Calvin. You know, in a "looking up so I can knock him down" kind of way.
Sure, a deep amount of pride and respect exists among the siblings. But it's often manifested in some sort of battle or contest. Chase didn't just want to follow Calvin, he wanted to vanquish him as well.
"We've always been super-competitive in everything," Chase Hill said. "Even if it's eating a bowl of cereal, it's like, 'Who can pour it the best, who can eat it the fastest.' "
Chase initially started playing football back in grammar school because Calvin had played first. Then he developed his own passion for the game, and carved out his own path of excellence.
Back in 2013, Calvin Hill won Super Centex Six-Man Player of the Year honors after a state championship season for Live Oak.
Sorry, big bro. It's Chase's turn. The electric, versatile junior helped Live Oak claim the third state title in school history and the first in TAPPS back in December. (Live Oak's previous championships came in T-CAL.) Now he has added his own Player of the Year honor on the Trib's 32nd annual Super Centex Six-Man Team, carrying on a rather special family tradition.
Compared to many Central Texas programs, Live Oak is still in its infancy, at just 10 years old. But Hill has grown up with Falcon football from the start. Both he and Live Oak coach Jordan Barker laughed in remembrance of the first time the Falcon football team ever graced the pages of the Tribune-Herald.
"It was Chase Hill as a fourth grader, one of our little student-trainers, and there was a photo of him rubbing the neck of (former Live Oak standout) Sam Still," Barker said. "It was kind of embarrassing for a young coach."
"I think I still have that (paper) somewhere," Hill said, chuckling.
Once Hill got his own shot on the field, he never wanted to leave it. Give him a ball of any sort, and he's happy, as he also plays basketball, baseball and runs track for the Falcons. But he has a special affinity for the demanding rigors of six-man football.
"Right when I started playing football, I just loved playing six-man. I knew I didn't want to leave (Live Oak)," Hill said. "It was just a good time, and I loved Jordan. ... It was just the people around me that made it so much better, and the environment that Live Oak puts you in. It's a great, great place to play football."
The speedy, elusive Hill played it as well as any six-man player in Central Texas in 2016. Filling a variety of different roles for the Falcons, he ran for 1,139 yards and 13 touchdowns, passed for 945 yards and 14 TDs, added 265 receiving yards and four scoring grabs, and accumulated 65 tackles and five interceptions defensively.
Perhaps the most significant job Hill filled was that of decoy. Live Oak's opponents knew what he was capable of, and they'd often kick the ball away from him on special teams or run to the other side of the field defensively.
But that only opened up avenues for Hill's teammates.
"We banked on teams keying on Chase this year," Barker said. "He stands out as an athlete in all sports, and he's come a long way. We were hoping with our tough schedule that teams would key on Chase. … Because it allowed others to step up. It's why Thomas Copeland was able to run for four touchdowns in the state game. There's a trickle-down effect there."
Like any fierce competitor, Hill liked having the ball in his hands and making a play to help his team. So it was frustrating when teams would focus on limiting his touches.
But then he'd take a peek at the scoreboard, and feel a little better.
"I wasn't too angry about it. It'd be like, 'OK, that's annoying,'" Hill said. "But when I stepped back and looked at it, I thought, 'We're winning this game, so it really doesn't matter.' Our ultimate goal was not my stats, it's a state championship, which we got."
Hill hopes to play football in college someday, and said he is considering one of the military academies. First, though, another year of high school remains. His more immediate vision is to help Live Oak to another state title next year, and who knows, maybe another Trib superlative.
Mostly so he can stick it to big brother.
"There's never a moment where me and him weren't doing something," Chase Hill said. "Even when he's in college now, I'll just mess with him because I'm the younger brother. He won a state championship and then he won Player of the Year, so I had to win a state championship and win Player of the Year. Now I'm pretty happy.
"Now I have to win two state championships and two Players of the Year, just to one-up him."
Hill bested Jonesboro senior Josh Barnes for the Super Centex Player of the Year honor. Barnes overcame injuries to tally 26 touchdowns and 109 tackles for the Class 1A Div. I state finalist Eagles.
Hill joined his older brother as the only private school players ever to win the Trib's six-man top player honor.
Coach of the Year: Eddie Gallegos, Jonesboro
Sometimes as a coach, you can't help but wonder if your sermons are falling on deaf ears.
Jonesboro's Eddie Gallegos had been preaching the "next man up" message for years. He'd remind his backup players again and again that they needed to be ready, in case they were called into action.
In 2016, the Eagles practiced what Gallegos preached better than ever.
Injuries in six-man football can be devastating, as teams' benches aren't nearly as deep as their big-school counterparts. Jonesboro suffered several injuries throughout the year, including to its top two senior stars Robert Robuck and Josh Barnes.
Yet the Eagles just kept winning — 14 times in a row, to reach the first state final in the program's proud history. For adeptly navigating Jonesboro though potential pitfalls to a historic season, Gallegos is the Trib's Super Centex Six-Man Coach of the Year.
"We never would have made it if guys hadn't stepped up," said Gallegos, who also won Coach of the Year honors in 2010. "It's something you preach all the time, even throughout the offseason: 'You've got to be ready, because you never know when it might be your time.' We really bought into that this year."
Along the way, the Eagles gave Gallegos a few more gray hairs in his beard. After a typical 10-0 regular season, Jonesboro commenced on its playoff run, and had to sweat several games right down to the final minute. The Eagles won three of their four postseason contests by eight points or less.
"I don't know what it was, I think just a refusal to lose," Gallegos said. "The kids really had confidence in what we had worked on, what we'd done over the years. I had a very successful senior group that had never lost a regular-season game, going 40-0. That probably had a little to do with it. They were just accustomed to playing in big games."
None bigger than this year, though. After Jonesboro pulled out a 50-44 win over Union Hill on Dec. 2, the Eagles qualified for their first-ever state championship game.
And though Jonesboro wasn't able to finish off its epic season with another win, as Borden County rolled to a 60-12 win, it was still a special experience for this little community in Hamilton and Coryell Counties.
More than 5,600 people attended that game at AT&T Stadium in Arlington. Gallegos figured everyone in Jonesboro was there, along with a sizable chunk of past alums who had moved away but returned for the milestone game.
"I would say it was a pretty high percentage of Jonesboro (in attendance)," Gallegos said. "We're not incorporated, but there is probably 200 to 300 people within our boundary, and I'd bet most of them were there. … It was awesome to play there, and I sure am happy that we got to do it. Obviously it didn't end like we wanted, but it was a heck of a year."
Gallegos beat out some other fine candidates for the Coach of the Year honor, including Live Oak's Jordan Baker, who piloted the Falcons to a TAPPS state title, and Vanguard's Zach Seifert, who directed the Vikings to an 11-2 record along with their first district title and playoff victory.
2016 SUPER CENTEX 6-MAN FOOTBALL TEAM

Player of the Year: Chase Hill, SB/LB, Live Oak
Coach of the Year: Eddie Gallegos, Jonesboro
First Team
Pos
Player
Cl
School
QB
Ian Guerrero
Fr
Parkview
SB/LB
Chase Hill
Jr
Live Oak
RB/DB
Josh Barnes
Sr
Jonesboro
RB/S
Kyle Langford
Sr
Abbott
RB
Weston Cantrell
Sr
Abbott
FB/NG
Dawson Vardeman
Sr
Blum
RB/DB
Robert Robuck
Sr
Jonesboro
RB
Jacob Farrell
Sr
Oglesby
RB
Thomas Alcorn
Sr
Vanguard
WR/DB
Seth Howton
Sr
Live Oak
RB/LB
Ben Muniz
Jr
Walnut Springs
K
Evan Mastin
Sr
Vanguard
Honorable Mention
Jared Pavelka, Matthew Urbanovsky and Josue Loyola, Abbott; Ethan Lilljedahl, Wyatt Young and Alex Sarmiento, Jonesboro; Jakenzie Terry, Julio Molero, Dan'tavion Bonner, Xavier Biggs, Sam Draper and Stephen Jones, Methodist Home; Charles Graves, Skyler Frillou, Hunter Ballard and Nick Norrell, Oglesby; Bo Hornick, Parkview; Evan Hickok, Andy Cox, Kaden Herbert and Robbie Dobie, Vanguard; Cristian Granados and Miguel Ponce, Walnut Springs
First-team profiles
IAN GUERRERO
In his first varsity season, sweet slinger threw for 50 TDs, 9 INTs.
CHASE HILL
Versatile all-state star made plays all over field for TAPPS champions.
JOSH BARNES
Veteran overcame injuries, ran for 1,256 yards, 24 TDs for runners-up.
KYLE LANGFORD
District off. MVP shone as gifted runner, passer for district champs.
WESTON CANTRELL
Steady ball carrier racked up 1,618 rushing yards with 28 TDs.
DAWSON VARDEMAN
All-region nose tackle also proved his worth as a tough-to-tackle fullback.
ROBERT ROBUCK
Four-year starter delivered big plays, played hurt throughout postseason.
JACOB FARRELL
Hard-nosed runner led Centex six-man area with 1,634 rushing yards.
THOMAS ALCORN
Two-time Super Centex star scored 25 TDs for breakout Vikings.
SETH HOWTON
In addition to his catching skills (15 TDs), he dazzled defensively.
BEN MUNIZ
Offensive MVP of 14-1A found end zone 26 times, plus added 86 tackles.
EVAN MASTIN
Big boomer proved key with his kicking, with 53 PATs, 3-of-3 on FGs.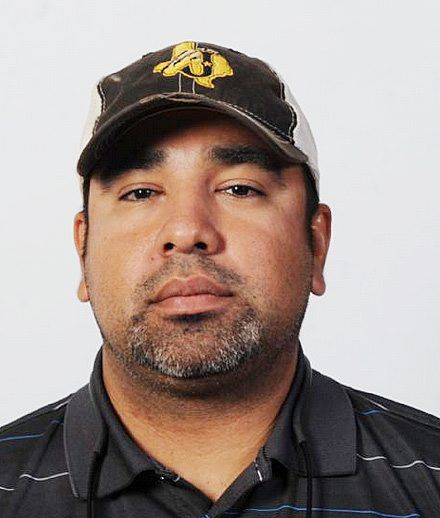 EDDIE GALLEGOS
Eighth-year coach piloted team over injuries into first state final.