As an athlete at a small school, there's not much time for rest.
When one season ends, it's time to get ready for another. That can make for a mental and physical grind with constant games, practices and workouts, but the best can fight through that fatigue and get themselves or their teams to the finish line.
Crawford's Braden Murphy and Coolidge's Dianna Kirven maneuvered through their demanding schedules and excelled in every sport in which they competed, and that's why they're the Tribune-Herald's pick as the boys' and girls' Athlete of the Year, respectively.
"You don't really get any breaks, and you have to stay on top of your game," Kirven said. "You have to stay in shape and if you really want to succeed, you have to be at every practice. You can't treat it like it's a game."
Both were three-sport athletes, with the only break either received coming when Murphy hurt his ankle in the final football game of the season. He had planned to play basketball, but that kept him from doing so, which meant he was able to focus on getting ready for the spring when track and baseball rolled around.
Murphy was a second-team Super Centex pick as a running back with 2,110 yards and 26 touchdowns on the ground, then healed from his injury to earn first-team Super Centex honors in baseball with a .452 average at the plate and a 9-1 record as a pitcher to help Crawford to its first-ever state championship game appearance, and reached the state track meet on the 4x200-meter and 4x400 relays.
"I've always enjoyed competition," said Murphy, who will continue his football playing career at Mary Hardin-Baylor. "Competing at everything is what my life has always been about. Sports have always been a big deal to me, and I always thought if I can help my team, if I can do my best, I'm going to go ahead and do it. That's what I always wanted to do."
Kirven was a first-team all-district volleyball player and the District 26-1A MVP in basketball after averaging eye-popping numbers of 26.6 points, 13.8 rebounds, 8.3 steals and 8.1 assists per game in helping Coolidge move one step away from the state tournament.
But it was in track where she shined brightest. Kirven was a four-time qualifier to the state meet, and she closed her career with a triple gold-medal performance that included two 1A records to run her career medal count at the event to eight — four golds, two silvers and two bronzes.
"Making it to state in track all four years was my best memory," Kirven said. "(The last meet) was amazing. It was my last year, so I wanted to go hard. When I got first in all three events, it was amazing. Getting two records just added to it."
Kirven's new standards came in the long jump (17 feet, 2 ½ inches) and 200 (26.19 seconds), and she broke the marks set last year by Alyssa Lesiter of Nordheim. She also took home gold in the 400 in 57.62, routing the competition by more than a second.
Coolidge also rolled out a strong basketball team every year of Kirven's career, and its run this season ended with a 48-46 loss to D'Hanis in the regional final to deprive her of another chance on the state stage.
"We had a great team," Kirven said. "We connected and had a really good bond. We went deep in the playoffs, and it was just a great experience. Even though we lost, I saw different sides of all of my teammates."
Kirven said she plans to attend Wiley College in Marshall and hopes to join the track team there.
For all the success Murphy had in his career, it's arguable his most electric performance came in a loss.
That came when he rushed for 427 yards on 28 carries against Mart in a top-10 showdown, one in which the Panthers pulled away late for a 74-49 win.
Despite breaking off long runs all night, he only found the end zone once on the ground but set up several others, and he also caught a touchdown strike.
"Being able to play a team like that is a good experience and a good feeling, when you know you're about to go to battle because you know what of competition you're playing against," Murphy said. "The only thing I was thinking about was scoring for my team. It caught me of guard at the end of the game when I was told what I had rushed for and the number of carries. I didn't realize that happened, but I knew how much I was running because I was dog tired. I was about to pass out, but it was a great game. It was just so exciting and so much fun."
Murphy's indelible moment from that game came when he showed how quickly he can recover. After running the length of the field to try and chase down Mart's De'Nerian Thomas on an interception, he appeared to have nothing left. But on the next play from scrimmage, he took a handoff and raced 75 yards to the end zone.
"I don't know where I get that from. It just kind of happens," Murphy said. "I just have that burst of energy. There's something about the game that gets me going."
It was that kind of effort that showed why his teammates lined up behind him as the team's leader.
"He's a unique guy," Crawford coach Delbert Kelm said. "We've had some others who were similar, but he's a very driven athlete. He's a very competitive athlete. The kids looked up to the way he approached things."
The Pirates reached the third round of the playoffs in football, but Murphy had no way of knowing that was only the beginning.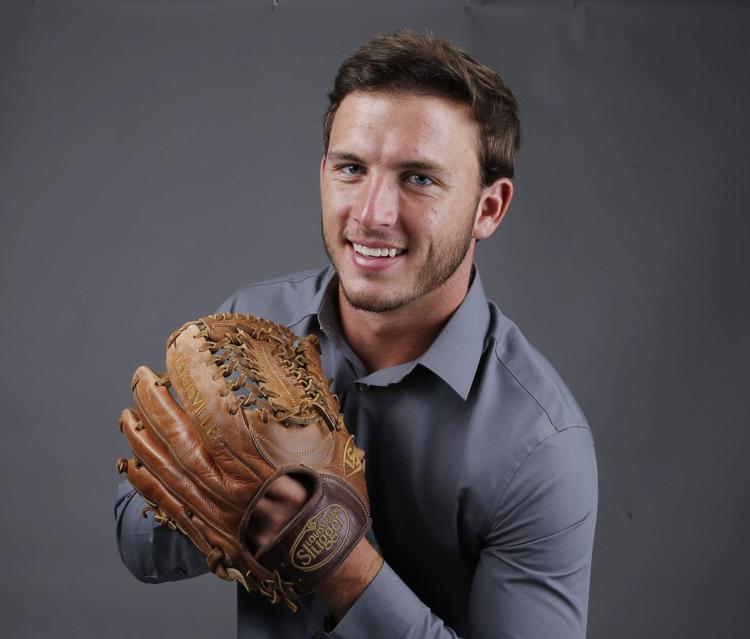 Crawford finished second in its baseball district to Bosqueville, but it came together at the right time to roll all the way to the 2A state championship game. The Pirates shook off a Game 1 loss to Riesel in the regional final and were in firm control in the deciding contest before letting a six-run lead get away in the seventh inning. They hung in and showed their mettle, however, and dropped three runs in the eighth and made them stand up this time in a 14-11 victory.
Crawford defeated Harleton, 7-4, in the semifinals before letting a 3-0 lead get away in the final two innings of a 4-3 loss to Flatonia in the championship game. Despite that stinging loss, Murphy and the Pirates had accomplished school history as the first team from Crawford to make it that far.
In track, Murphy helped Crawford's 4x400 relay to a fourth-place finish after it was fifth in the 4x200.
"It was just such a cool experience. Of course since my freshman year in high school, all I wanted to do was win a state championship and go to state in something," Murphy said. "That was the goal. That was the main thing, and especially to do it with the people I went with, the coaches and teammates that were the greatest, it was a great experience in track and baseball."
Murphy is the third Crawford boy to be named Super Centex Athlete of the Year, joining Jake Blenden in 2012 and Lee Murphy in 2005. He was chosen over stiff competition from Rapoport's Blaine Listach, Teague's Austin Skinner and Mart's Thomas, among others.
Kirven is the first girl from Coolidge to claim the award, while Mart's Savannah Freeman and La Vega's Erin DeGrate were also considered.
"It makes me feel really good, especially since I'm coming from Coolidge," Kirven said. "No one knows about (this town), and everyone here is very happy. I love making people happy and love showing that it doesn't matter where you come from."