Like the day of the week, Jay'Veon Sunday is consistent. You always know he's coming, and there's nothing you can do to stop it.
Every team that played Connally this year knew they had to stop the junior running back. But, try as they might, he still averaged 200 yards per game as Sunday went on to rack up 2,329 yards off 300 carries for 36 touchdowns. With a year left in high school, the District 8-4A Division II Offensive MVP is the all-time rushing leader and all-time touchdown leader in program history.
"It's a lot of fun (watching him)," Connally head coach Shane Anderson said. "It makes my job a lot easier. I knew he was going to be special (back in seventh grade). He's worked extremely hard and put himself in position to not only be successful at this level but have an opportunity to play at the next level."
When you see Sunday, he's usually got a smile on his face. I mean, wouldn't we all if we were half as athletic as this kid? So it comes as no surprise that when he found out he was the Tribune-Herald's Super Centex Offensive Player of the Year, the smile that was already on his face grew bigger.
"I was happy, like always," Sunday said. "I'm blessed to have that."
In a story written about Sunday earlier in the season, the running back spoke about how mad he was when last season ended without a playoff berth. His frustration led him to spend tons of time in the weight room to get bigger, faster and stronger for the 2018 season.
This year, Connally's season ended in the area round against defending state champion, and eventual 2018 runner-up, Pleasant Grove.
"It was a little different," Sunday said. "I wasn't as mad. We came farther than we did last year. I think we did way better as a team."
Less than two weeks into 2019, Sunday's already got his goals set for his senior season. The first is to go for 3,000 yards. For most athletes, that seems a bit absurd. For Sunday, he legitimately could do it.
"I think the biggest thing is just his work ethic and his determination of wanting to be an elite player in the area, if not the state," Anderson said. "He's really driven to have a better year. He made first team all-state. I saw it, texted him and he was like, 'I'd rather still be playing.' For him to think like that, it shows his maturity and how he puts the team first. If he can stay healthy and continue to work, he's going to have a chance to be as good as he wants to be."
He's already running track, as per usual, to get faster. This year, though, he's doing powerlifting for the first time. His personal best is 300 pounds on the bench and power clean with a squat of 565.
"He's the strongest kid in our school," Anderson said. "His body weight, he's not tremendously heavy. We feel like if he can go in 198-pound class, he may could go win a state championship in that."
Sunday's second goal is for the Connally team as the Cadets return a wealth of talent from this past season.
"We're all going off," Sunday said. "I'm not stepping off the field mad next year."
Defensive Player of the Year: Jared Rogers, La Vega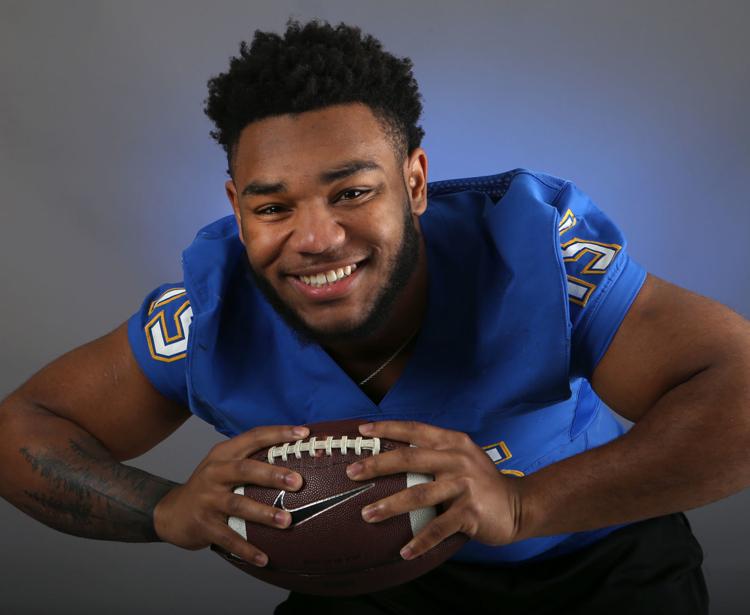 Don Hyde apologized once the interview was over. The La Vega head coach was sorry he "blubbered" when talking about Jared Rogers. Later on, he mentioned that he really wanted to figure out how many days he and Rogers have spent together out on the football field. Well, he didn't want to do the math, so maybe he'd get somebody else to figure it out.
The answer, no matter who does it, will be large. Those two have spent a lot of time together on the gridiron over the last four years, a time frame that's included a pair of state championships and a front-row seat for Hyde to watch as Rogers just gets better and better.
"Phenomenal. He's just, sorry, he's just a fabulous kid," Hyde said. "(He's) a kid that I'll miss dearly."
Rogers finished his senior season with 194 tackles, 12 tackles for loss, five pass breakups, five quarterback hurries, four interceptions, three sacks, two fumble recoveries, two defensive scores … and a partridge in a pear tree.
The La Vega linebacker is the first person ever to repeat as the Trib's Super Centex Defensive Player of the Year. Compare the numbers from his senior season to what he put up a year ago to earn his first Defensive Player of the Year honor — 178 tackles, two forced fumbles, a fumble recovery, three interceptions, five tackles for loss, six quarterback hurries and three sacks.
"It's a blessing," Rogers said. "Just thank God, my coaches, my teammates and my friends."
Rogers not only had one heckuva senior campaign, but he also got to share the field with his brother. After receiving his Defensive MVP award after the Class 4A Division I state championship game, Jared called his brother Jordan over and told everyone surrounding them taking pictures that Jordan was next in line.
"It was fun," Rogers said. "Sometimes it was hard because he's hardheaded and won't listen. He wants to bump his head himself. It was fun. I enjoyed it. He's following in my footsteps. I tell him to keep working. It'll come."
(More on Jordan later, as he was named our Defensive Newcomer of the Year. Now back to Jared.)
This season was a unique one for La Vega as it started out with two losses by miniscule amounts to a pair of solid football teams. After those losses, though, the Pirates never lost again.
"It was a rough beginning," Rogers said. "We were young, very inexperienced. As we started rolling, we started clicking. You could see we were putting things together and getting better."
For Rogers, the biggest game of the year came against Stephenville. Back in August on the first day of preseason practice, Rogers mentioned how much they were already looking forward to playing them because Stephenville had been picked to win their district.
Well, the Pirates popped the Yellow Jackets for a 32-15 victory and then kept winning.
"Stephenville," Rogers said. "We made a statement to the rest of the state. We were very upset with that."
As the Pirates continued to win, Rogers remained a consistent force on La Vega's defense. And then a few days before Christmas, Rogers was able to end his high school football career the way anyone would want to — celebrating at AT&T Stadium with a gold medal around his neck.
"It was electrifying," Rogers said. "Just looking up and seeing all the people who traveled there from where we're from to AT&T, it made me want to play harder for them. They didn't come for us to lose. We had to show out and make a statement."
Offensive Newcomer of the Year: Jar'Quae Walton, La Vega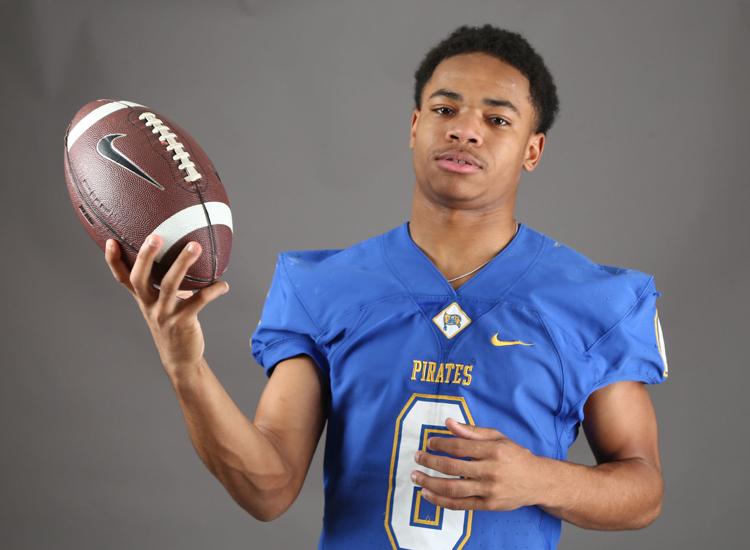 Jar'Quae Walton didn't want to play on the JV team. After spending last year on the freshman squad, it was varsity or bust for the sophomore who spent the entire offseason with his eyes on playing under the Friday night lights.
"It was stressing me," Walton said. "I was working out hard. I wanted to get better with my footwork and get bigger."
His hard work didn't go unnoticed by head coach Don Hyde, who was not at all surprised by Walton's on-the-field accomplishments this season.
"We knew he was going to be a great football player," Hyde said. "He did a heckuva job his freshman year of getting in the weight room and getting stronger and putting himself in position where he could play on Friday night. We knew if he got himself ready, he could make a difference on Friday nights."
Walton admits he was a little nervous for his first varsity game. However, those waves of anxiety quickly subsided once his feet found the promised land.
"When I scored my first touchdown, I was like, 'I've got the feel for it now,' " Walton said. "I remember it like yesterday. Coach called a goal-line play and I scored on it."
Walton finished the year with 186 carries for 1,625 yards and 17 touchdowns en route to earning District 5-4A Division I Offensive Newcomer of the Year honors and being named the Super Centex Offensive Newcomer of the Year.
"I mean, it means a lot," Walton said. "My fellow running backs, John Richards and Elisha Cummings, they pushed me hard. We never let each other down. We always kept each other up anytime we messed up."
La Vega was absolutely loaded at running back this past season, but each player found a way to make a statement in different games.
"It was kind of hard because we were all trying to prove ourselves," Walton said. "We always pushed each other to get better. We all have the same style. Well, except for John. He's like the big truck. He runs over people."
Defensive Newcomer of the Year: Jordan Rogers, La Vega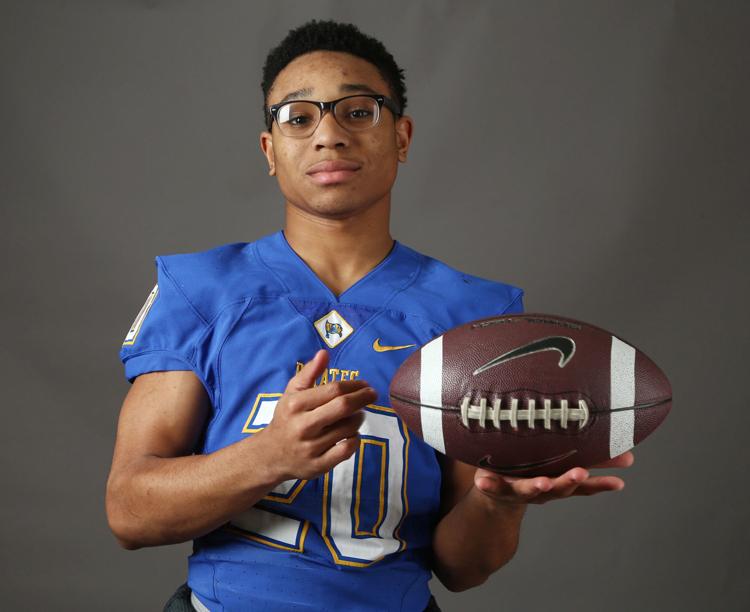 Standing off to the side, Jordan Rogers watched as his older brother, Jared, received the Defensive MVP award moments after La Vega clinched the 2018 state championship.
Jordan ran over from the sideline where the Pirates were celebrating to midfield where Jared was being honored. The younger Rogers brother stood silently with a smile on his face as applause rained down on his brother. But Jordan wasn't off to the side for long as Jared quickly saw him and called him over so they could take pictures together.
"Watch out for this guy," Jared told the media that surrounded him. "He's next."
Boy, is he. We're keeping it in the family as Jordan is the Trib's Super Centex Defensive Newcomer of the Year.
If it wasn't Jared lighting up opposing players for little to no gain in that state title game, it was Jordan.
"I was proud of him," Jordan said. "If I would have won (Defensive MVP), I would have given it to (Jared) since it's his last year. I still have two more years."
Getting to play with his brother was his favorite part of this season, along with the title of course.
"It was fun. I had to learn a lot," Jordan said. "He was strict on me a lot. When I messed up, I'd get mad at myself. He was a little more hard on me than I was on myself. He helped me learn that when I mess up not to doubt myself."
Jordan finished his first season on varsity with 103 tackles, five tackles for loss, three quarterback hurries, a sack, five pass breakups, a forced fumble and a pair of fumble recoveries.
None of this comes as any surprise to head coach Don Hyde, especially after spending so much time coaching his brother.
"We knew Jordan was going to be a football player," Hyde said. "We knew he would be good. We're extremely blessed to have him for two more years."
While Jared was pumped about the Stephenville win, getting revenge on Argyle in the playoffs was like winning the state championship for Jordan.
"That first time we played them, I learned how to keep my composure," Jordan said. "They were talking a lot of trash. I had to keep my composure."
Turns out, Jordan can talk plenty of trash himself. When he came to the Trib office to get his picture taken for the Super Centex team, he came along with teammate (and fellow Super Centex newcomer award winner) Jar'Quae Walton, and the two started playing some table tennis in the newsroom. Whenever Walton would miss a shot, Rogers would immediately say, "Ballgame."
While Jordan came on a separate day than this brother, he couldn't have been more excited to receive his honor alongside Jared.
"It means a lot," Jordan said. "It's putting us more out there, not just for me and him but as a family."
Coach of the Year: Don Hyde, La Vega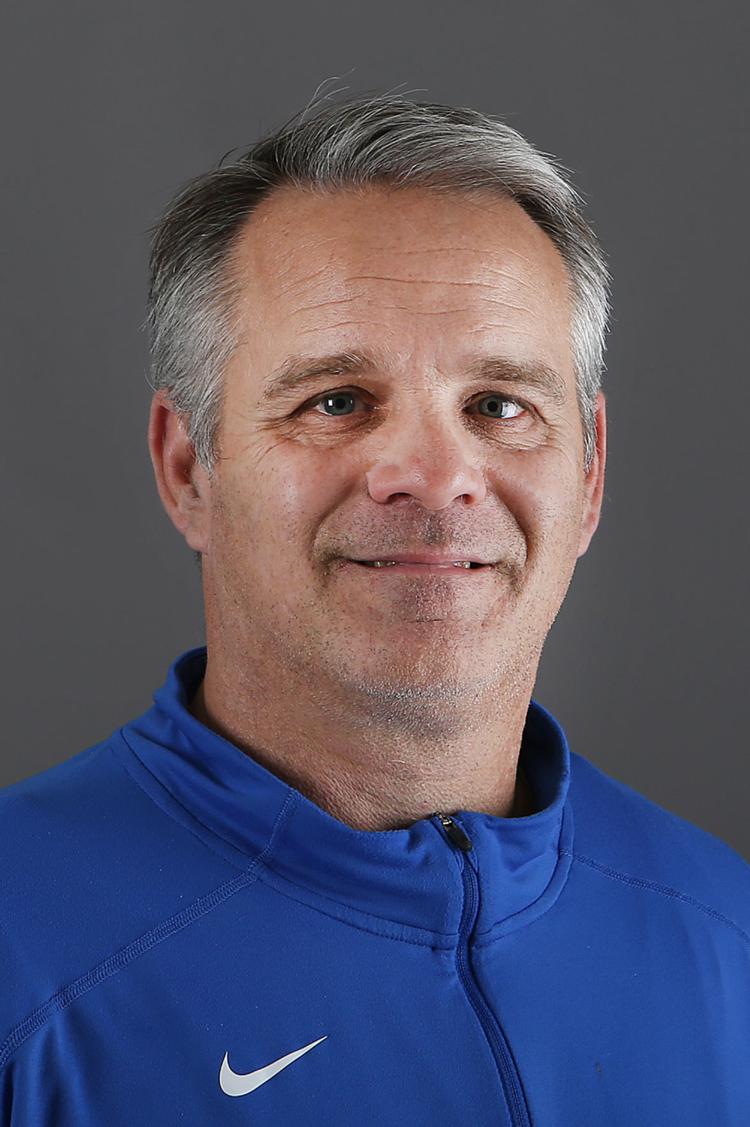 This time a year ago, Don Hyde was in the Trib office bringing Jared Rogers in for pictures as he was the Super Centex Defensive Player of the Year. While he waited on Rogers, Hyde chatted about taking over as head coach after Willie Williams. On Tuesday, Hyde brought Rogers again as the senior repeated as our Defensive Player of the Year. But this time, instead of talking about taking over a program, Hyde spoke about leading the Pirates to a state championship.
"It's been a whirlwind," Hyde said. "I'm certainly blessed to get this opportunity and blessed to be at a school like La Vega High School that's committed to athletics and committed to making sure the kids have everything they need to be successful. It's been a blessing to me and my family and everybody involved."
As a member of Williams' staff for more than a decade, the transition was seamless for Hyde and the players. While Hyde had to do a little more on the offensive side of the football, the biggest change for the first-year head coach was not sharing the sideline with Williams.
"It was enjoyable," Hyde said. "Really and truly, I didn't feel that much different than I'd felt for the last 14 years being on the sidelines with coach Williams. Before the game, I told him I was going to miss him. We spent a lot of time together on the sideline. It was just a different atmosphere and different in the fact that I carried a little more responsibility."
Hyde knew the Pirates would be young, and looking back now he sees how early season losses to Argyle and Austin LBJ turned out to be blessings in disguise for a La Vega team that would go on to roll everybody else they faced.
"The first loss to Argyle taught us that we could play with the big guys at such a young age," Hyde said. "The second loss taught us that we have to take care of the football in order to be successful. Sometimes you can learn and get more out of losing than winning. I think it was huge getting us in the right frame of mind for the rest of the season."
As the La Vega defense continued to do what it's done for season upon season, it was the growth of the offense that really stood out about these Pirates, especially in their 53-0 win over Decatur to advance to the state title game.
"Our offensive staff did a heckuva job of making sure that we stayed within the scope of what we do at La Vega High School and taking care of everything in order to be successful," Hyde said. "They did an incredible job."
---
2018 TRIBUNE-HERALD SUPER CENTEX FOOTBALL TEAM

Offensive Player of the Year: Jay'Veon Sunday, Connally
Defensive Player of the Year: Jared Rogers, La Vega
Offensive Newcomer of the Year: Jar'Quae Walton, La Vega
Defensive Newcomer of the Year: Jordan Rogers, La Vega
Coach of the Year: Don Hyde, La Vega
FIRST TEAM OFFENSE
Pos
Player
Cl
Ht
Wt
School
QB
Bradley Lina
Jr
6-0
175
Lorena
RB
Jay'Veon Sunday
Jr
6-0
196
Connally
RB
James Fullbright
Sr
5-7
185
Midway
RB
Tyrek Horne
Sr
5-10
173
Mart
WR
Marcell Estell
Sr
5-8
160
Bosqueville
WR
Kolby Tanner
Jr
5-10
165
Whitney
UTL
Shatydrick Bailey
Sr
5-3
155
Mart
OL
Jaelyn Maladdie
Sr
6-3
270
La Vega
OL
Cameron Atkins
So
5-10
300
Mart
OL
Josh Echeverria
Sr
6-5
315
Midway
OL
Trenton Pullen
Jr
6-3
280
Connally
OL
Noah Plsek
Jr
6-5
295
Reicher
RS
Ameer Lee
Sr
5-9
160
Groesbeck
K
Logan Smith
Jr
5-7
150
Belton
FIRST TEAM DEFENSE
DL
Roddrell Freeman
So
6-1
210
Mart
DL
DeMarr Hayes
Sr
6-4
190
La Vega
DL
Elijah Green
Sr
6-2
230
Mart
DL
Alfredo Rodriguez
Sr
5-10
180
Clifton
LB
Jared Rogers
Sr
5-10
215
La Vega
LB
Daylon Bartosh
Sr
6-0
195
Lorena
LB
Marcus Johnson
Sr
5-10
225
Midway
LB
Preston Lane
Sr
5-11
190
Mart
DB
Donta Stuart
Sr
5-10
165
La Vega
DB
Trevius Hodges
Sr
5-9
185
Midway
DB
Parker Nall
Sr
6-0
180
Midway
DB
Cade Michna
Sr
5-11
195
Lorena
P
Chris Esqueda
Sr
5-8
180
Waco High
SECOND TEAM OFFENSE
Pos
Player
Cl
Ht
Wt
School
QB
Tyler Webb
So
6-3
195
Bosqueville
RB
Erik Hart
Sr
5-10
190
China Spring
RB
Zach Hrbacek
So
5-8
162
Troy
RB
Braden Jenkins
Sr
6-0
200
Riesel
WR
D'Ante Thomas
Sr
5-8
155
Midway
WR
Anthony Brown
Sr
6-0
170
Belton
OL
Jace Klaus
Sr
6-1
225
West
OL
Andrew Toledo
Sr
5-11
270
Robinson
OL
Charles Booker
Sr
6-0
295
China Spring
OL
Santos Murillo
Sr
6-0
235
Clifton
OL
Sebastian Olvera
So
6-5
310
Hubbard
UTL
Riley Perry
Jr
5-10
160
Clifton
UTL
Preston Johnson
Sr
5-10
165
West
RS
Denver Holman
Sr
5-10
165
Belton
K
Claudio DeLuna
Sr
5-11
n/a
Hillsboro
SECOND TEAM DEFENSE
DL
Jar'Mychael Hudson
Jr
6-2
185
Fairfield
DL
Jordan Shelby
Sr
6-3
180
Itasca
DL
Henry Soukup
Sr
6-3
275
West
DL
Noah Jenkins
Sr
6-0
205
McGregor
LB
Jacob Bravo
Sr
5-7
175
Bosqueville
LB
Tonny Sanchez
Jr
5-9
175
Mart
LB
Ricky Guardiola
Sr
5-7
145
Troy
LB
KaDarrius Walker
Sr
5-9
165
Fairfield
DL
Jacob Ybarra
Sr
5-10
150
Mart
DB
Tanner Sepulveda
Sr
6-0
195
Bosqueville
DB
Korie Black
Jr
6-2
175
Connally
DB
Kiunte "Keke" Lucas
Sr
5-11
160
Hillsboro
P
Hector Aviles
So
5-9
160
McGregor
HONORABLE MENTION
QB — Connor Carothers, Sr., Belton; Braden Brashear, Jr., Cameron Yoe; Mason Brandenberger, Jr., Clifton; Ty Hale, Sr., Groesbeck; Logan Morris, Jr., Hubbard; Kyler Martin, Jr., Mart; Ben Brittain, Sr., Reicher; Steven Searcy, Sr., Riesel; Zack Satterwhite, Sr., Teague; Riley Cosper, Sr., Troy;

VeAndre McDaniel, McGregor; 

Nathan Gerik, Sr., West; Devin Wilson, Jr., Whitney; Brendan Burleson, Jr., Texas Wind, Jared Wiley, Temple.
RB — Kameron Ransom, Sr., Fairfield; JaShaughn Hatcher, Sr., Fairfield; Cooper Martin, Jr., Hubbard; Tanner Ledford, Sr., Texas Wind; Randy Carpenter, Sr., Waco High; Anthony Jackson, Temple.
WR — Carson Farley, Sr., Axtell; Jase Ayala, Sr., Bosqueville; TJ Ferch, Jr., Clifton; Kadrian Hammond, Sr., Cameron Yoe; Kobe Young, Jr., Cameron Yoe; KJ Peoples, Jr., China Spring; Anthony Saucedo, Sr., Mart; Logan Wehmeyer, Sr., Mart; Tanner ledesma, Sr., McGregor; Gabe Koerth, Sr., McGregor; Dylan Rand, Sr., Groesbeck; Noah Richard, Sr., Robinson; Isaiah Montgomery, Sr., Robinson; Quentin Johnston, Temple.
OL — Thomas Bowman, So., Belton; Clayton Herridge, Sr,. Groesbeck; Jaden Riley, Sr., Mart; Adolpho Morejon, Sr., Mart; Brandon Adams, Sr., West, Caden Crabtree, Fr., Texas Wind, Johnny Gonzalez, Sr., Texas Wind, Tanner Mitchell, Crawford; Seth Kohlscheen, Crawford.
K — Ulices Cardona, Sr., Cameron Yoe.
UTL — Jonny Escoto, Sr., Texas Wind; Kavian Gaither, So., Connally; William Flowers, Jr., Hillsboro; Caleb Wright, Sr., La Vega.
DL — Devin Martinez, Sr., Belton; Trent Biggerstaff, Sr., Bremond; Stephen Stagg, Sr., Hubbard; Will Allison, So., McGregor; Isaiah Bell, Sr., Teague; Joseph Brotherton, Fr., Groesbeck; Cory Ebron, Sr., Waco High; Landry Bruce, Crawford; TJ Franklin, Temple; D'Ashton Merida, Temple.
LB — Lane Womack, Sr., Bosqueville; Alex Alonso, Sr., Cameron Yoe; Ulices Cardona, Sr., Cameron Yoe; Dylan Hofferichter, Sr., China Spring; Demond Oliver, Sr., Hillsboro; Brian Stroud, Fr., Hubbard; Cade Zacharias, Sr., McGregor; Carson Kaddatz, Sr., Texas Wind; Toby Cook, Sr., West; Juan Saucedo, Whitney; Jake Pringle, Sr., Groesbeck; Monto President, Temple; Dawson Hightower, Whitney; Anthony Gonzalez, Meridian.
DB — Ka'Zirrius Holt, Sr., Cameron Yoe; Calvin Stewart, Jr., Cameron Yoe; Warren Brown, Sr., China Spring; Tate Abel, Jr., Crawford; Jaise Oliver, Sr., Fairfield; Jaace Miles, Jr., Hillsboro; Logan Morris, Jr., Hubbard; Azaya Patrick, Sr., Teague; Steven Stanford, Sr., Troy; Jordan McKinney, Sr., La Vega.
---
First-team profiles: Offense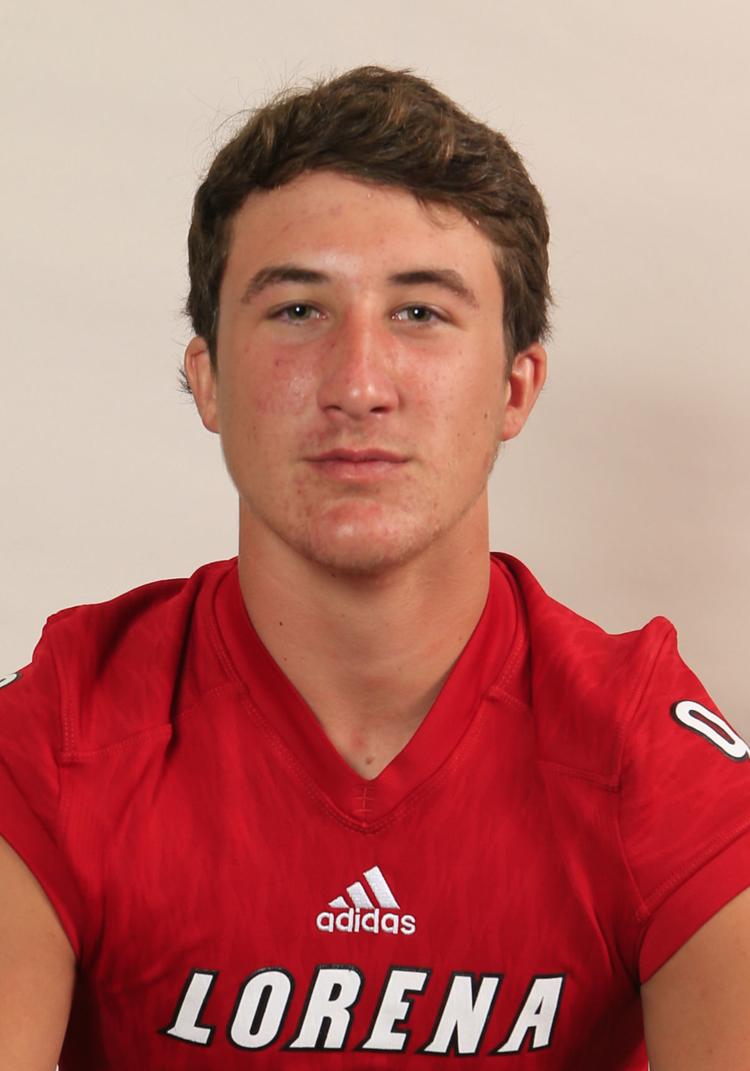 Lina threw for 2,846 yards and 29 touchdowns in addition to racking up 675 rushing yards and 13 touchdowns. He also kicked 47 PATs and a pair of field goals. Lina was named District 8-4A Div. II MVP as the Leopards won 11 games for the first time since 1989.
Sunday is the all-time rushing leader and all-time touchdown leader in program history behind a record-setting junior campaign. He finished with 300 carries for 2,329 yards and 36 touchdowns. That's 7.8 yards per carry for the District 8-4A Div. II Offensive MVP.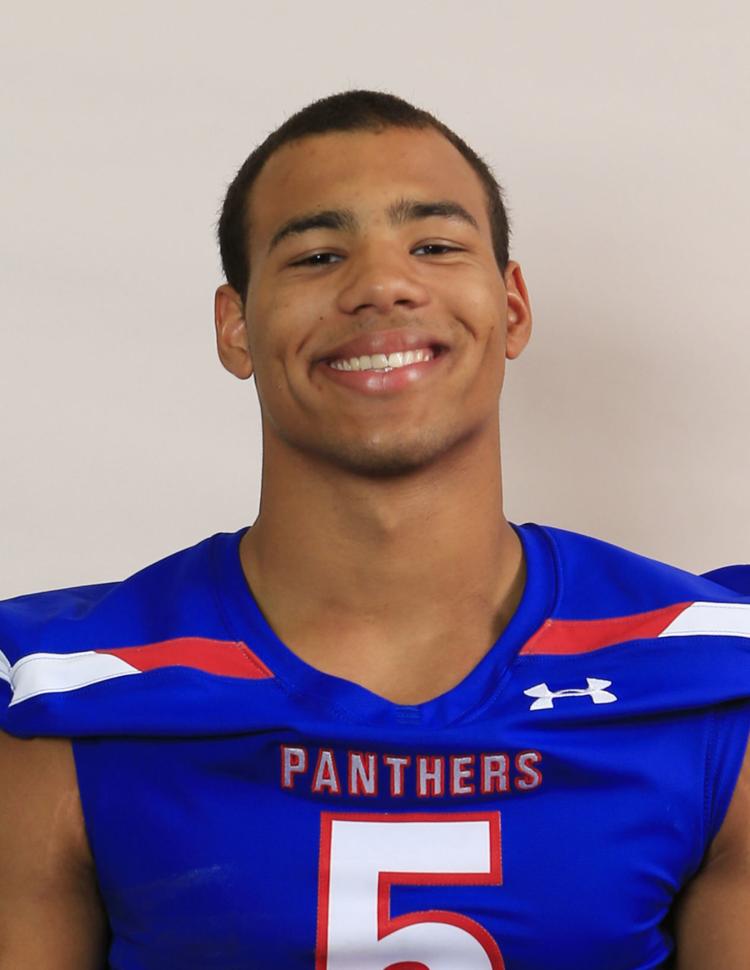 Fullbright exploded for 1,970 yards and 26 touchdowns for a Midway Panthers team that advanced to the regional finals. With his game-winning touchdown in a come-from-behind victory at Kyle Field, Fullbright is tied for the most career touchdowns in program history with 63. The 12-6A MVP is also the all-time leading rusher in school history with 4,646 yards.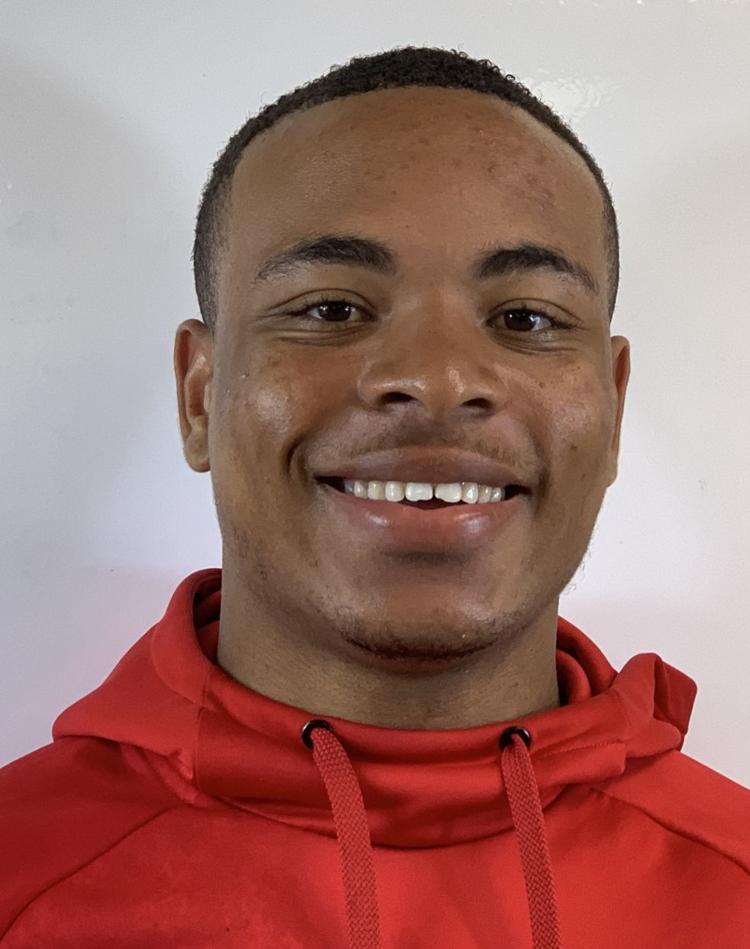 The Offensive MVP of the Class 2A Div. II state championship game scored a touchdown on 22 percent of his carries as he finished with 145 carries for 1,886 yards and 33 touchdowns. Horne also added 20 catches for 517 yards and eight touchdowns. The district MVP finished his career with 6,511 rushing yards which ties him for fourth all-time in Central Texas.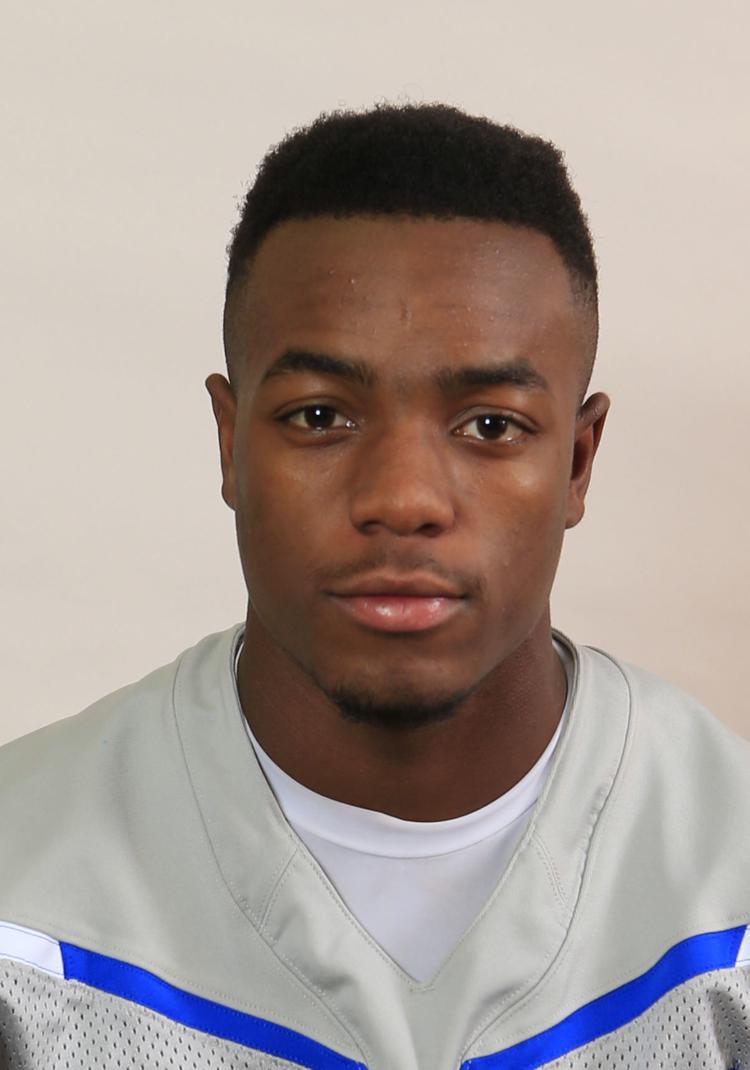 The District 8-2A Div. I MVP averaged 15 yards every time he touched the ball. Estell finished with 2,125 all-purpose yards this season with 1,104 yards and 14 touchdowns on the ground in addition to 582 yards and 10 touchdowns through the air.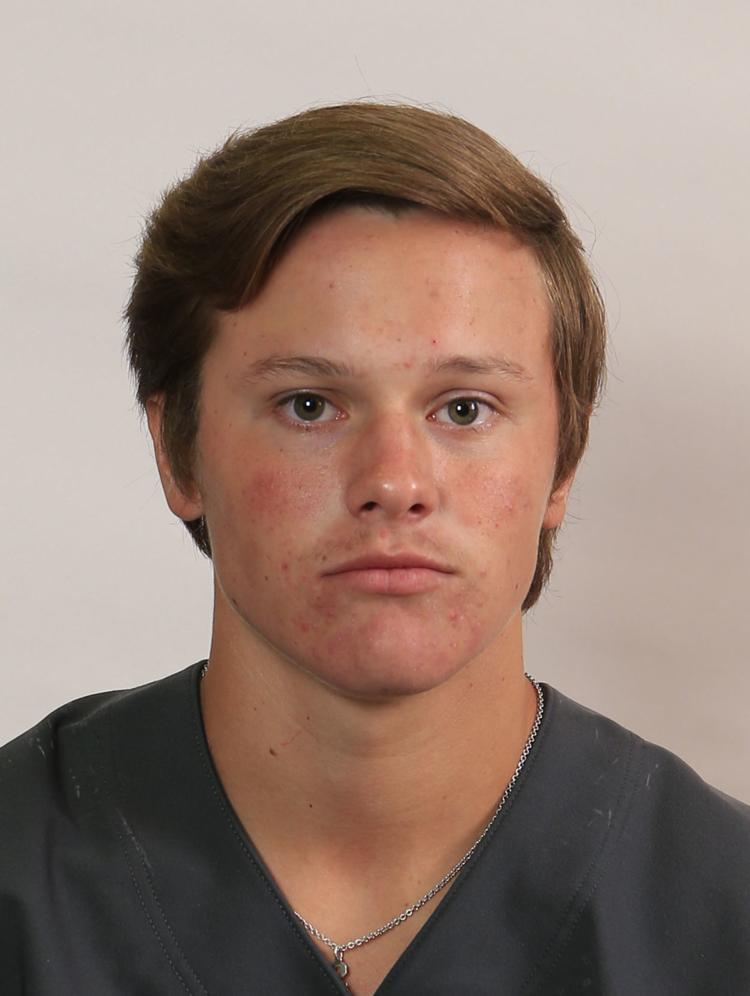 Tanner had quite the connection with Wildcats quarterback Devin Wilson. The junior hauled in 65 catches for 1,257 yards and 14 touchdowns on the year.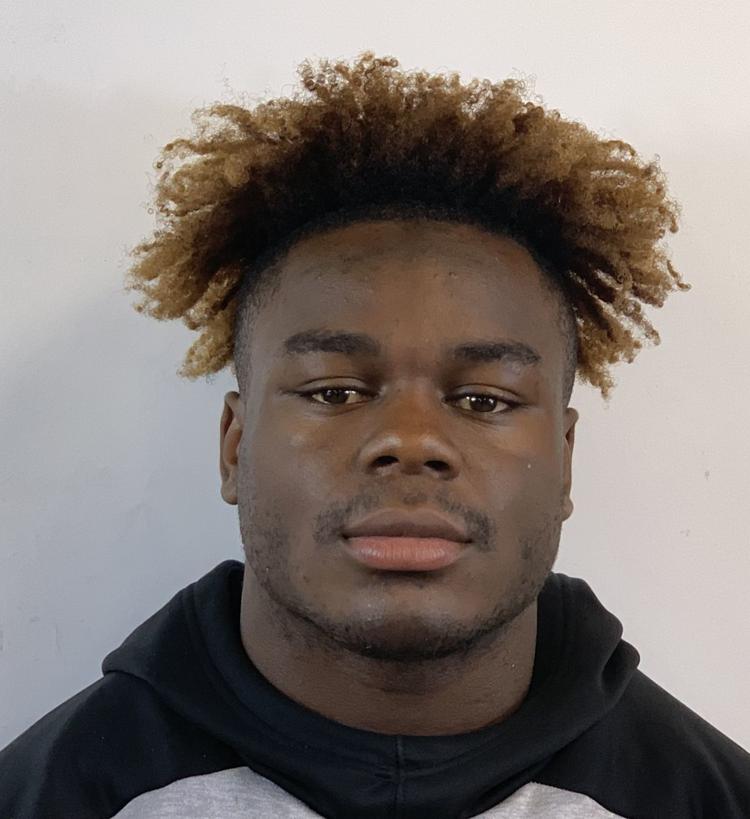 There wasn't much Bailey couldn't do this season as the senior notched 27 combined touchdowns on the season. The senior had 112 carries for 1,552 yards and 24 scores as well as 24 catches for 342 yards and three touchdowns.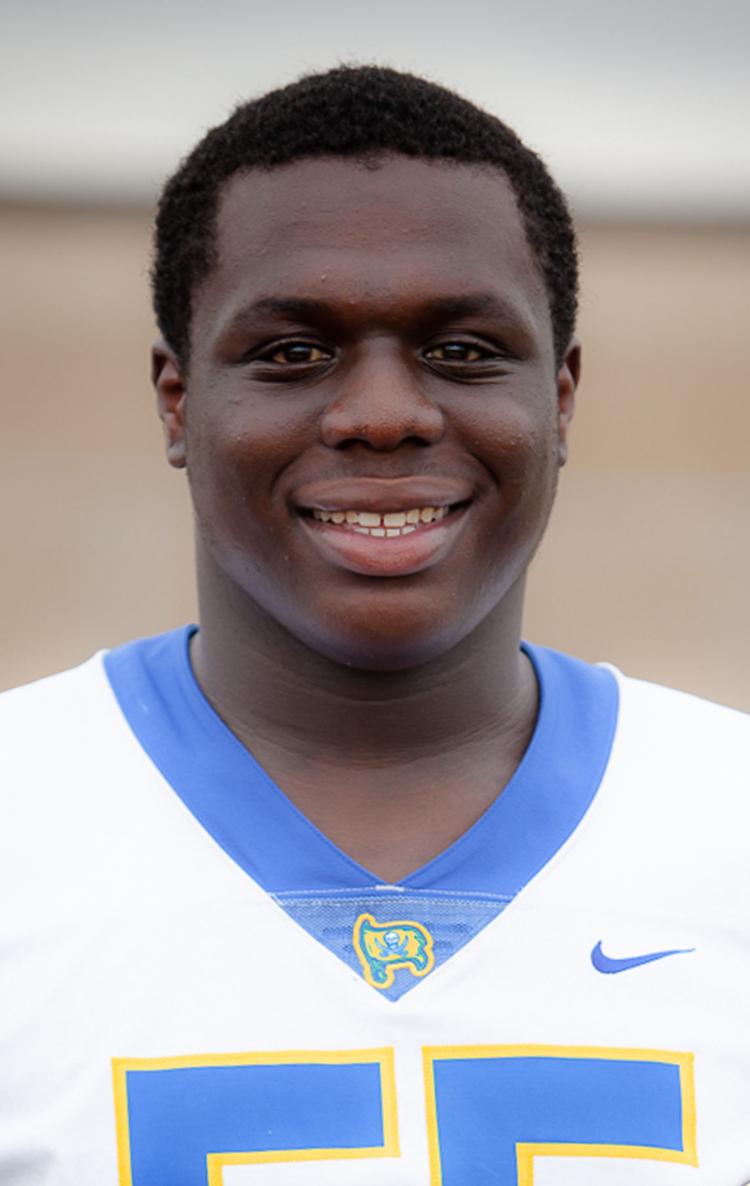 In 16 games, Maladdie only committed two penalties. The all-district first team selection finished his senior season with 36 pancakes as he graded out at 96 percent.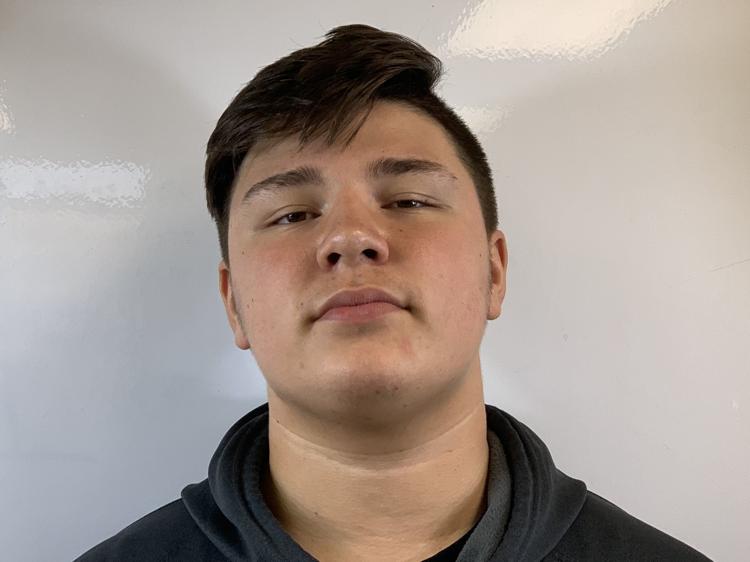 Atkins was a key part of Mart's offensive success as the Panthers repeated as state champions for the first time in program history. The sophomore graded out at 94 percent on the year to go with 32 pancakes.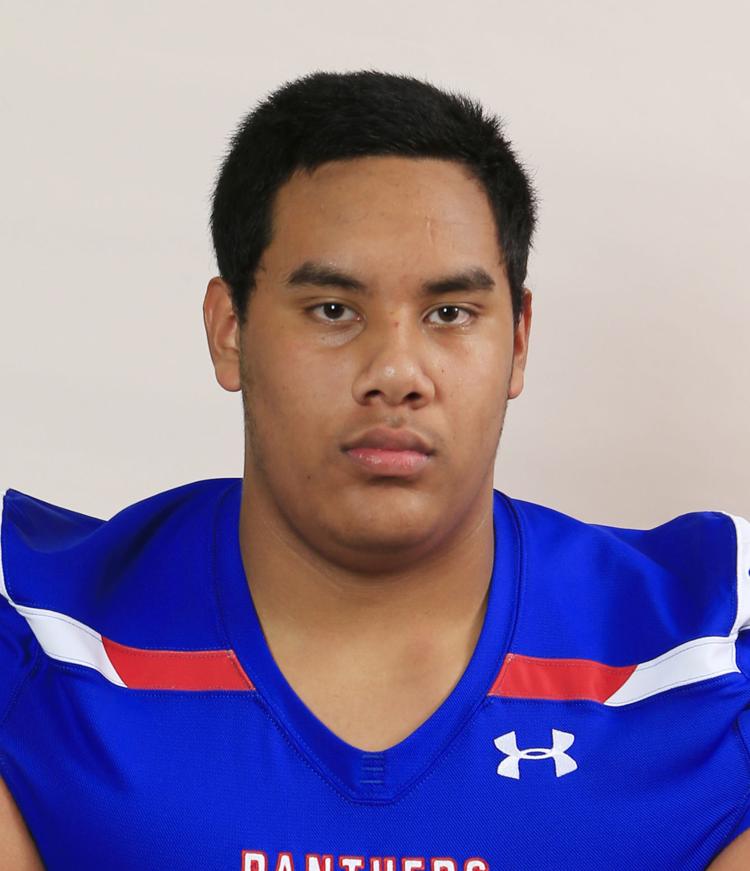 Echeverria was key to Fullbright's success on the field this year, opening holes for the running back to burst through. In each game, the senior graded out at 95 percent.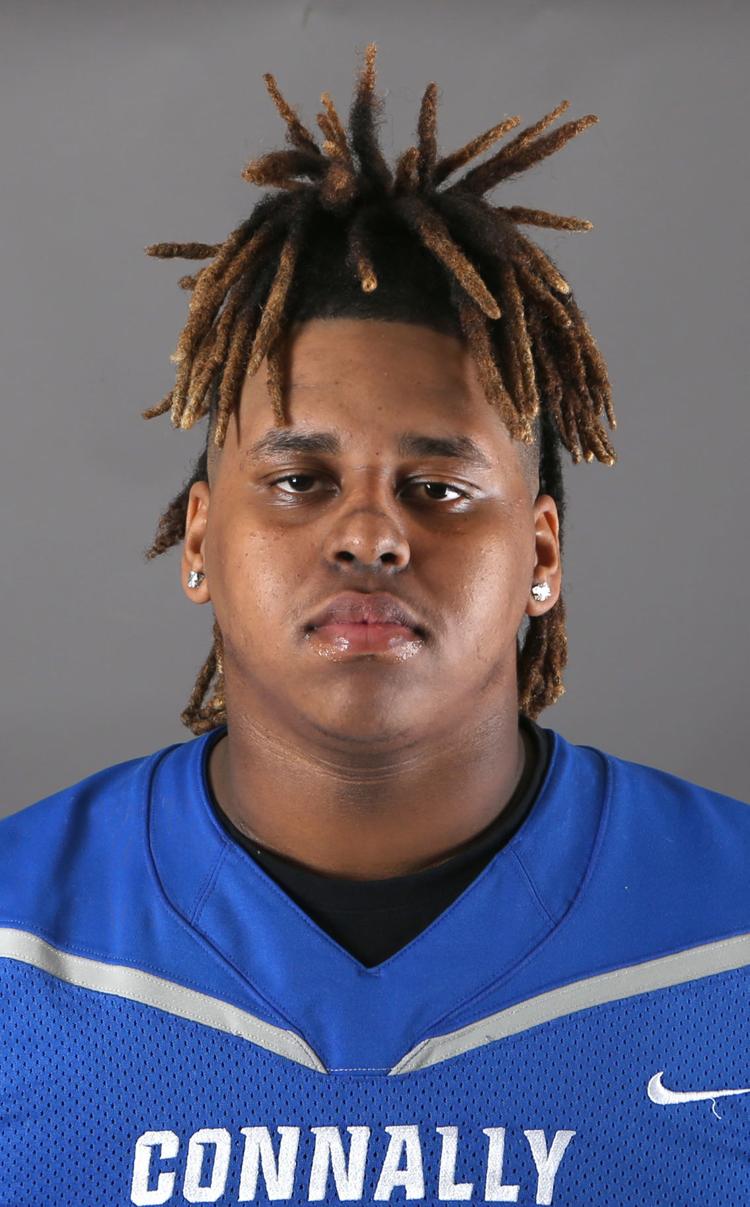 The District 8-4A Div. II outstanding offensive lineman anchored the Cadets up front with 47 pancakes. Pullen also helped lead the Connally offense to 4,525 total yards this season.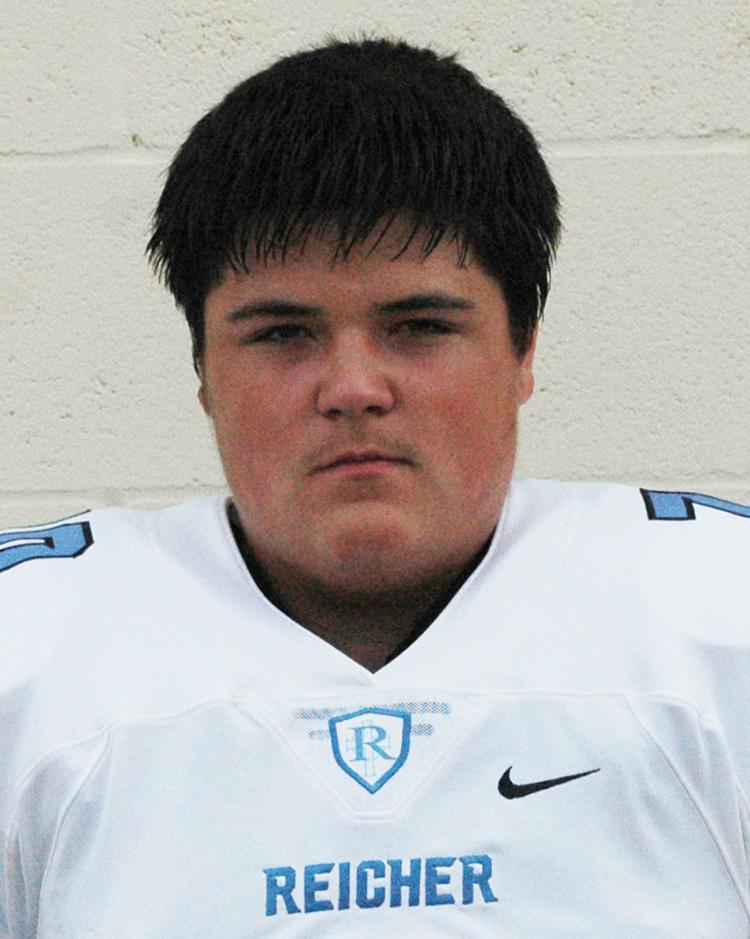 The junior was named to the TAPPS first team all-state on both sides of the ball this season. Offensively, Plsek finished with 58 pancakes.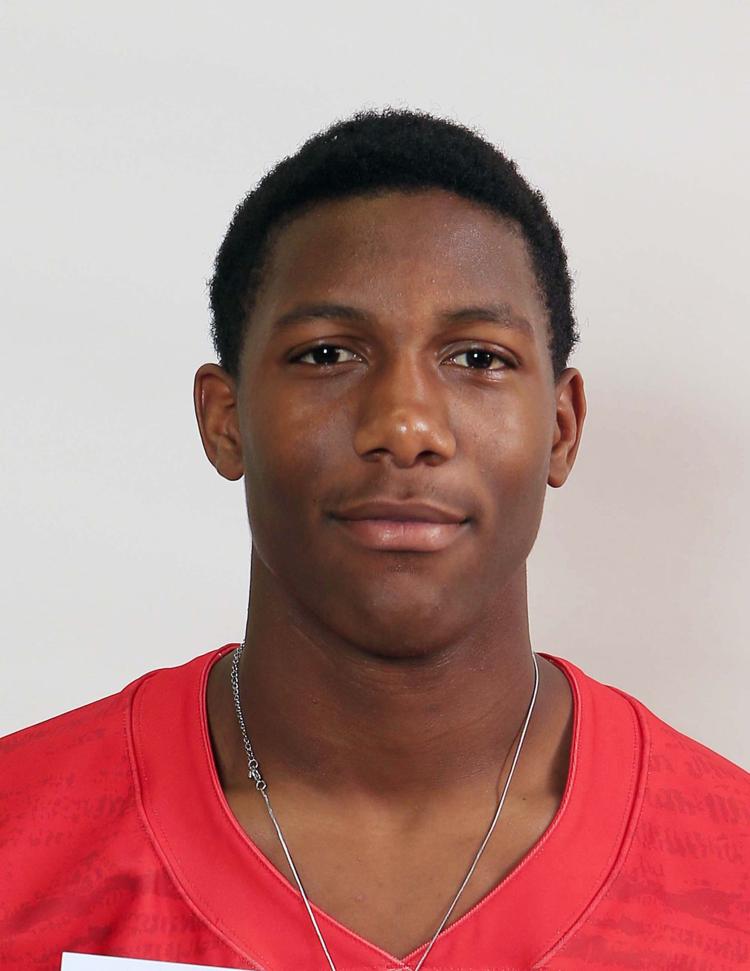 Teams learned quickly not to kick it to Lee as the senior speedster had four kickoff returns for 172 yards and a touchdown as well as 14 punt returns for 474 yards and five touchdowns. The District 9-3A Div. I Utility Player of the Year averaged 43 yards on kick returns and 27.88 yards on punt returns.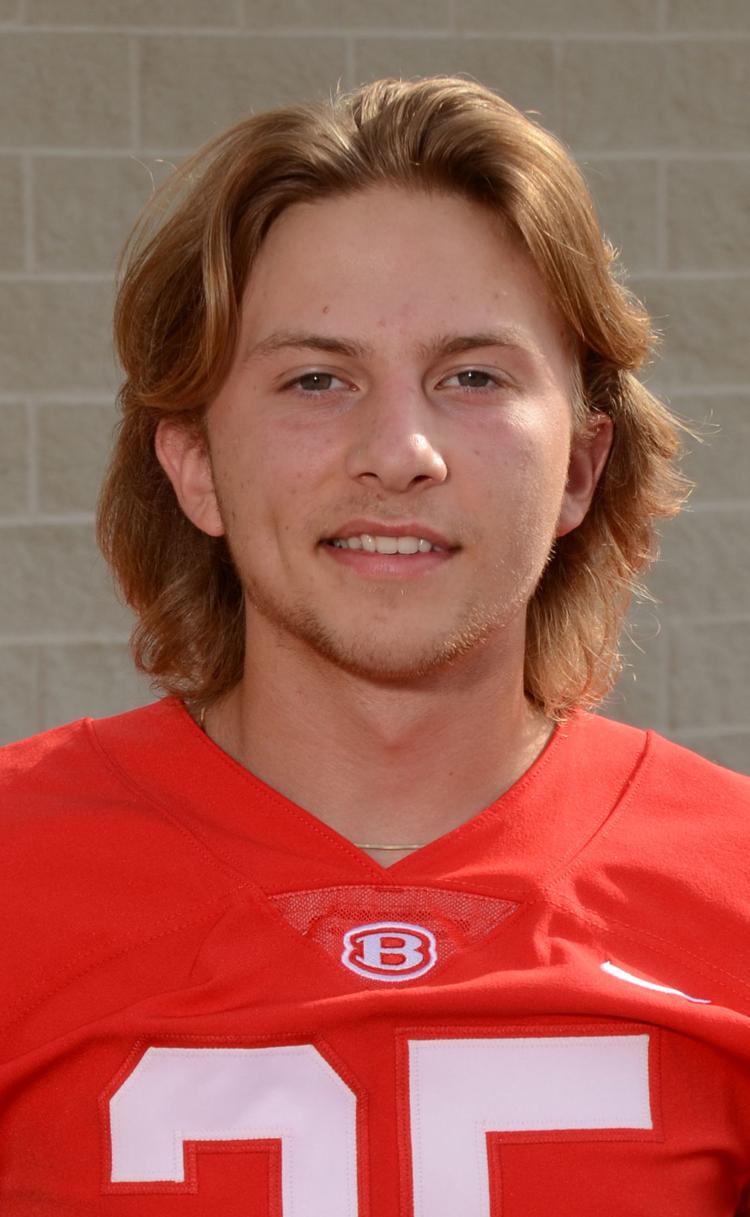 Smith made school history with his 51-yarder against Temple which marked the longest field goal in school history. In all, the junior finished with 55 PATs and was 6-for-10 on field goals.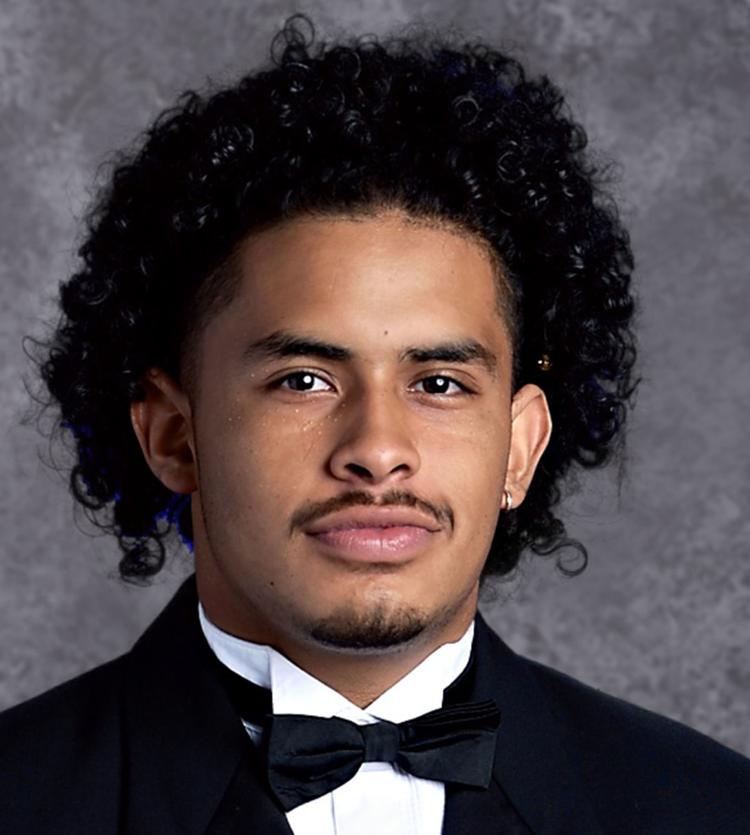 Esqueda was called on 22 times to pin the opposing offense as far back as he could. The senior punted for a total of 389 yards for an average of 36.9 yards per punt.
First-team profiles: Defense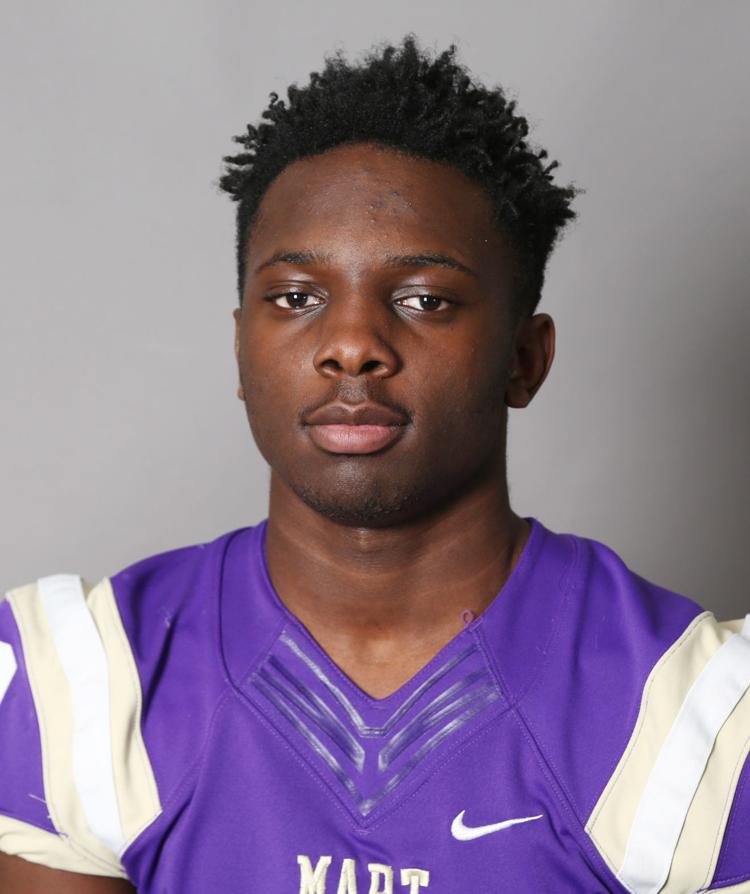 Last year's Super Centex Defensive Newcomer of the Year picked up right where he left off in his sophomore season. Freeman finished with 136 tackles, 37 tackles for loss, 12 sacks, 20 quarterback hurries and four fumble recoveries.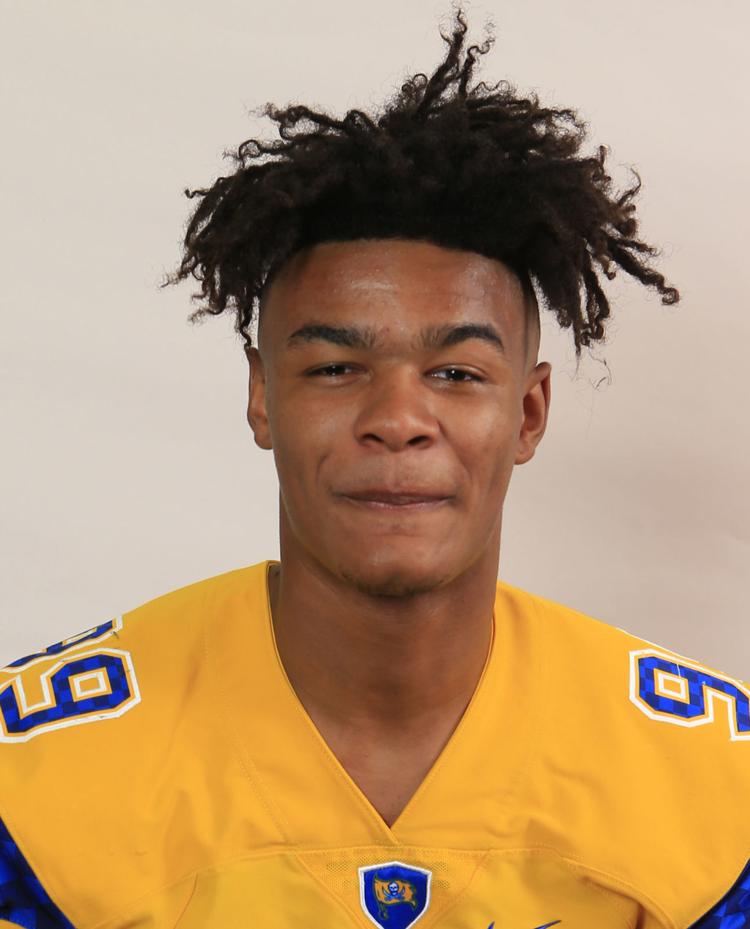 The first team all-district lineman for the state champion La Vega Pirates finished the season with 75 tackles, five tackles for loss, 28 quarterback hurries, 10 sacks, a pass breakup, four forced fumbles and three fumble recoveries.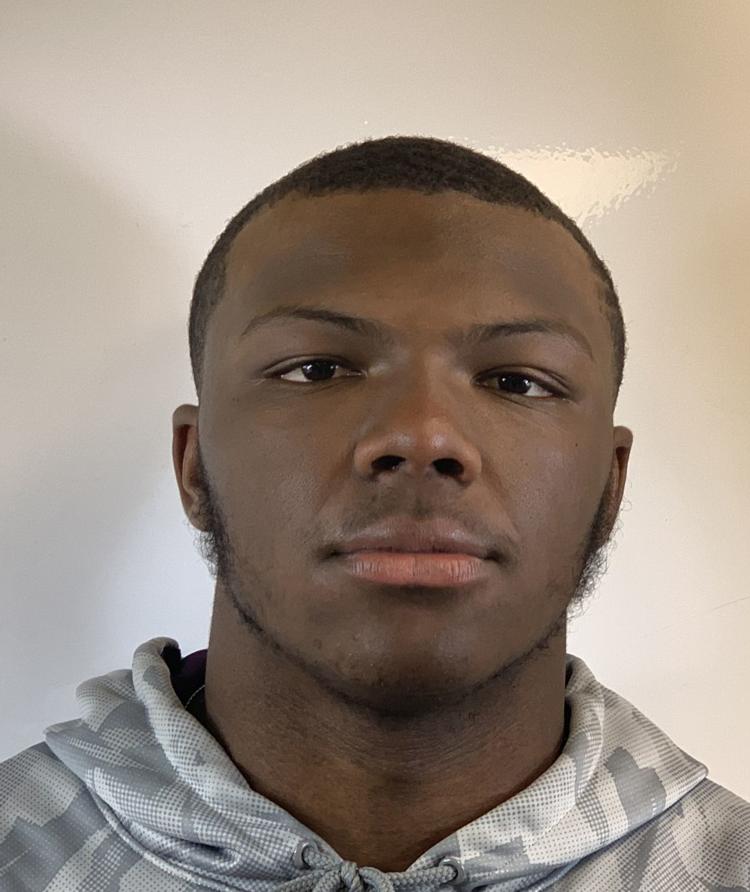 Green was a bad, bad man this season as his defensive prowess earned him the district's Defensive MVP honor. The senior had 135 tackles, 33 tackles for loss, 11 sacks, 25 quarterback hurries, a fumble recovery and an interception.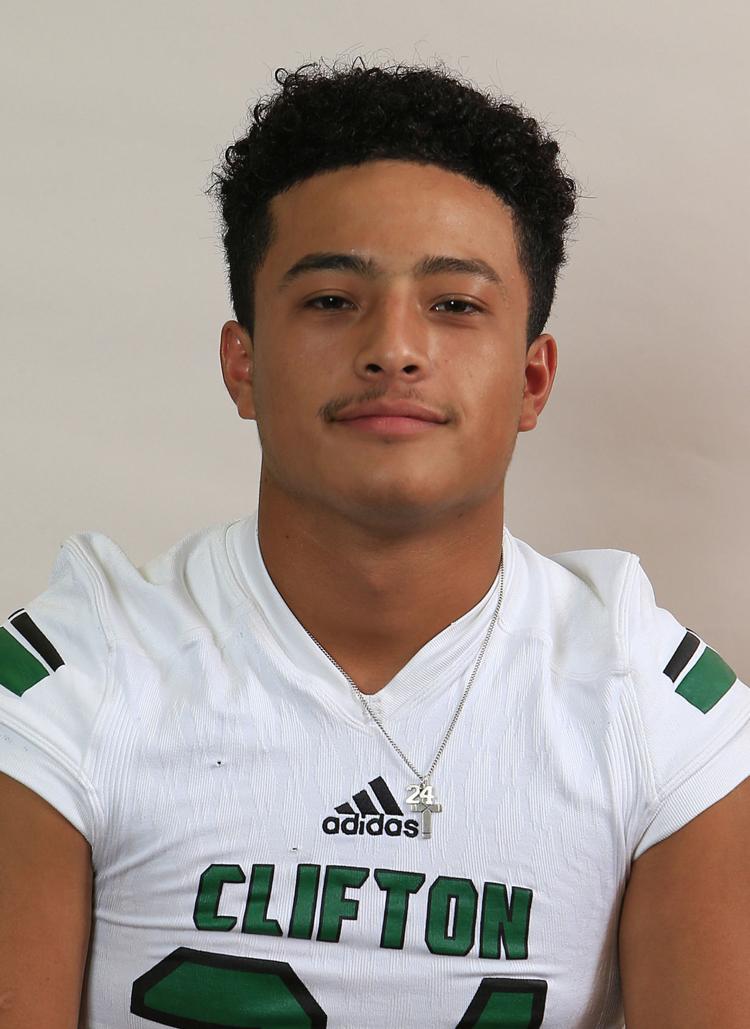 The anchor of a Cubs' defense that went undefeated while winning its first 11 games, Rodriguez had 52 tackles, 10 tackles for loss and four sacks.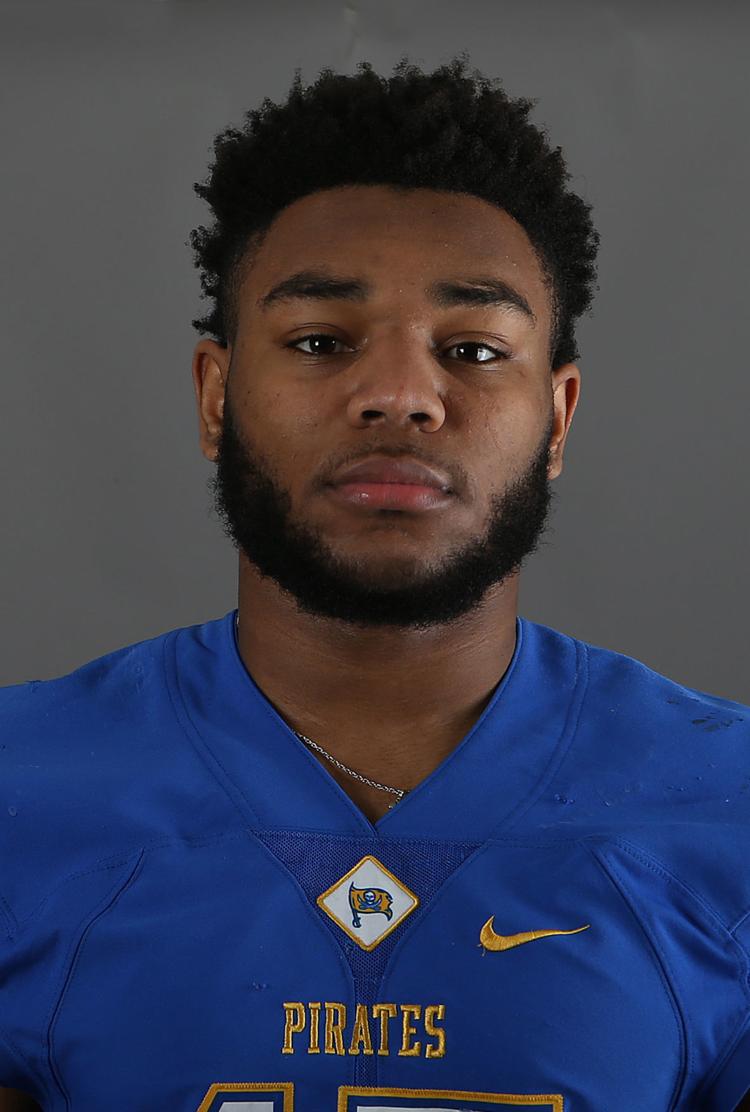 Rogers went off this season to earn district defensive MVP honors as well as the Defensive MVP award in the Class 4A Division I state championship game. He finished his final season at La Vega with 136 tackles, 11 tackles for loss, three pass breakups, five quarterback hurries, three sacks, two fumble recoveries, four interceptions and a pair of defensive scores.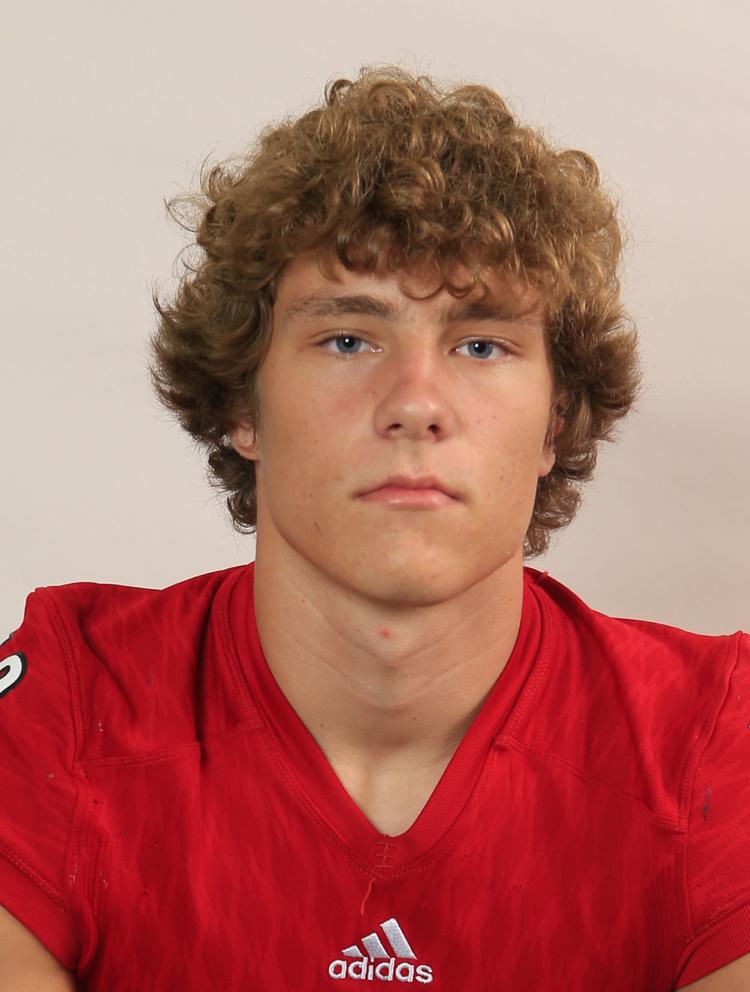 Bartosh was one of many pieces on a loaded Lorena defense this season. The senior finished with 215 tackles, 17 tackles for loss, four sacks, 13 quarterback hurries, a pair of forced fumbles and four fumble recoveries.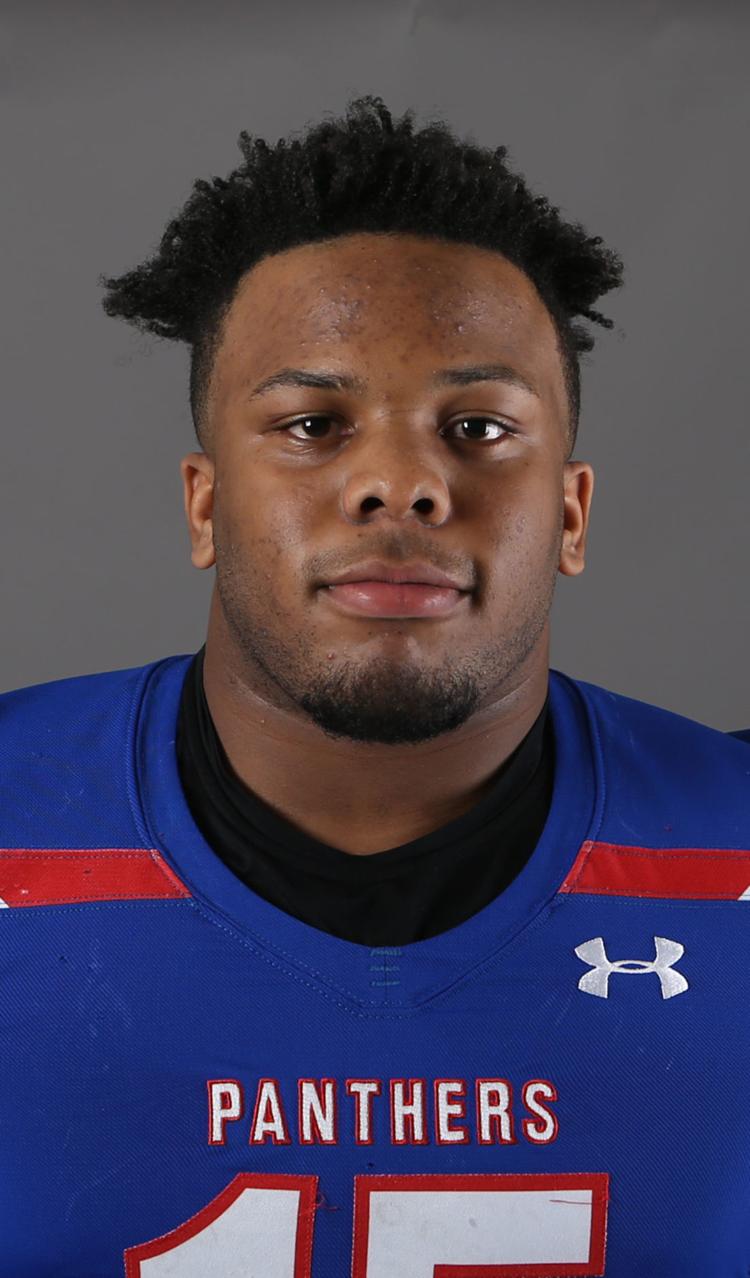 Johnson racked up 175 tackles and five fumble recoveries to go with one interception for regional finalist Midway Panthers.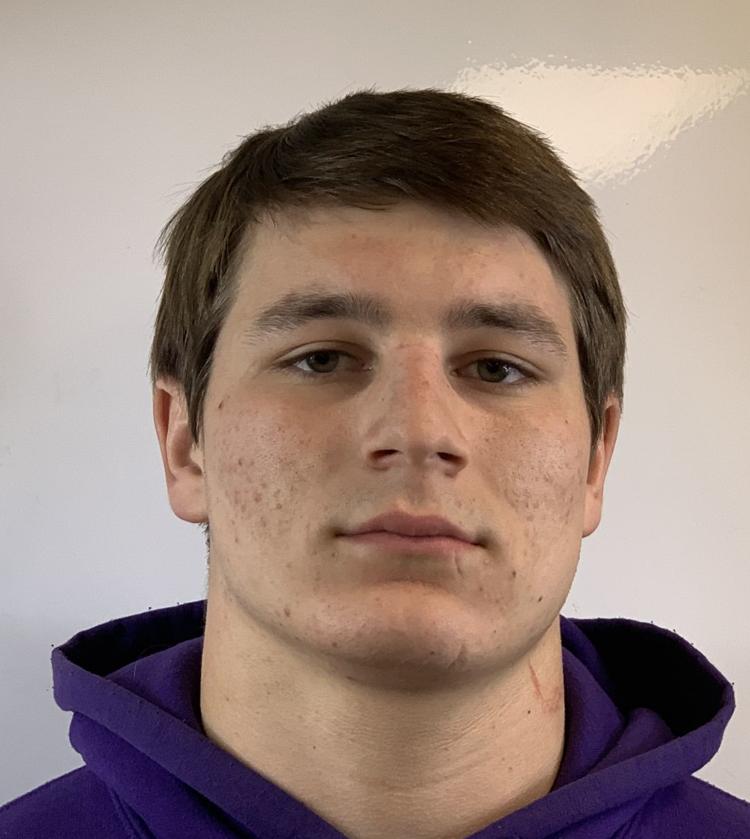 Lane was a key cog on the Panthers' defense as the linebacker got himself a state championship ring after recording 162 tackles, 29 tackles for loss, a sack, and interception and a trio of fumble recoveries.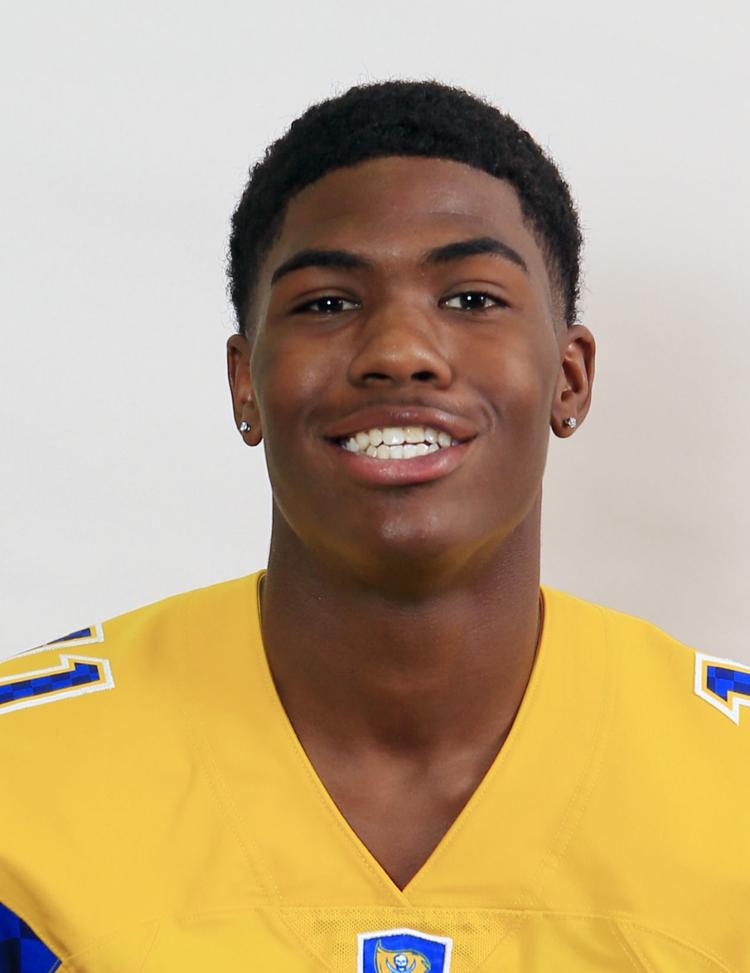 Teams learned their lesson last year and tried to throw away from Stuart as much as possible. He still made them pay, though, as the senior finished with 60 tackles, 12 pass breakups and five interceptions.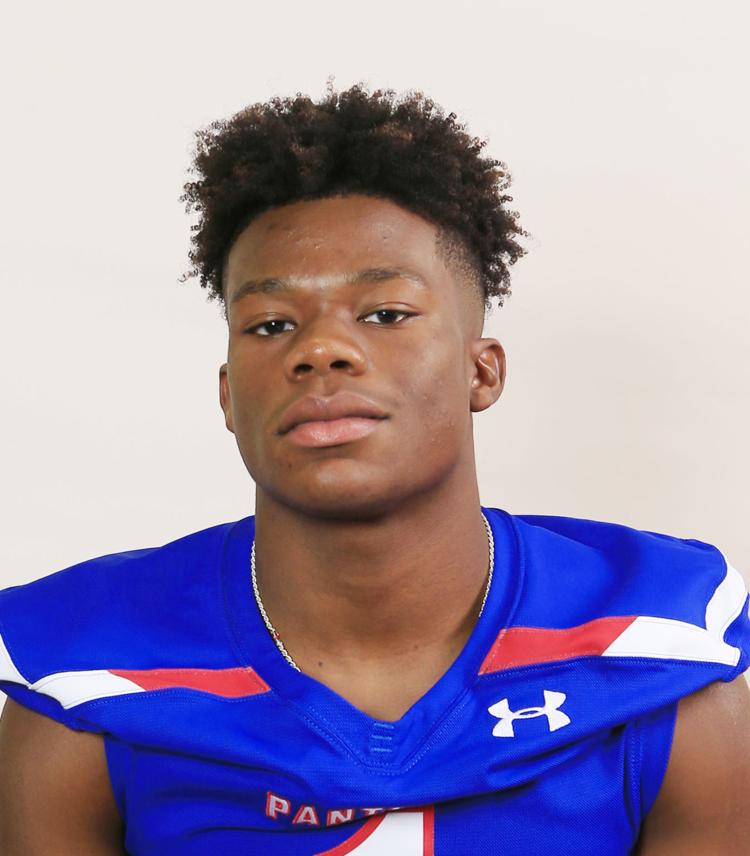 This speedster in the Midway secondary put together one heckuva senior season. Hodges finished with 105 tackles and a pair of interceptions.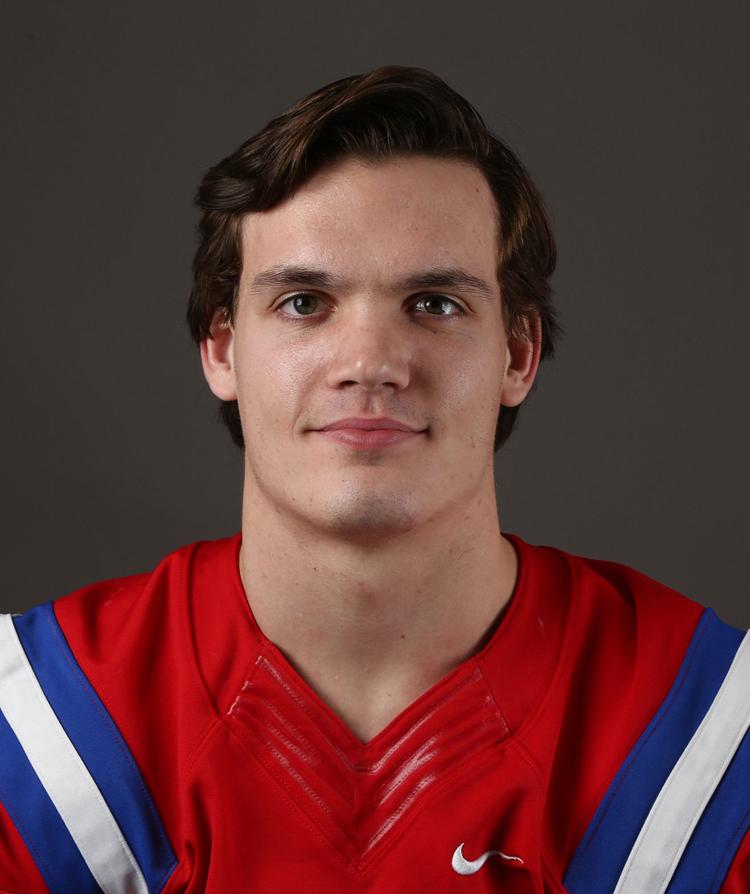 Midway head coach Jeff Hulme called Nall a "playmaker deluxe," as Nall had four interceptions, a pick-6, a fumble recovery for a touchdown and a blocked field goal for a touchdown.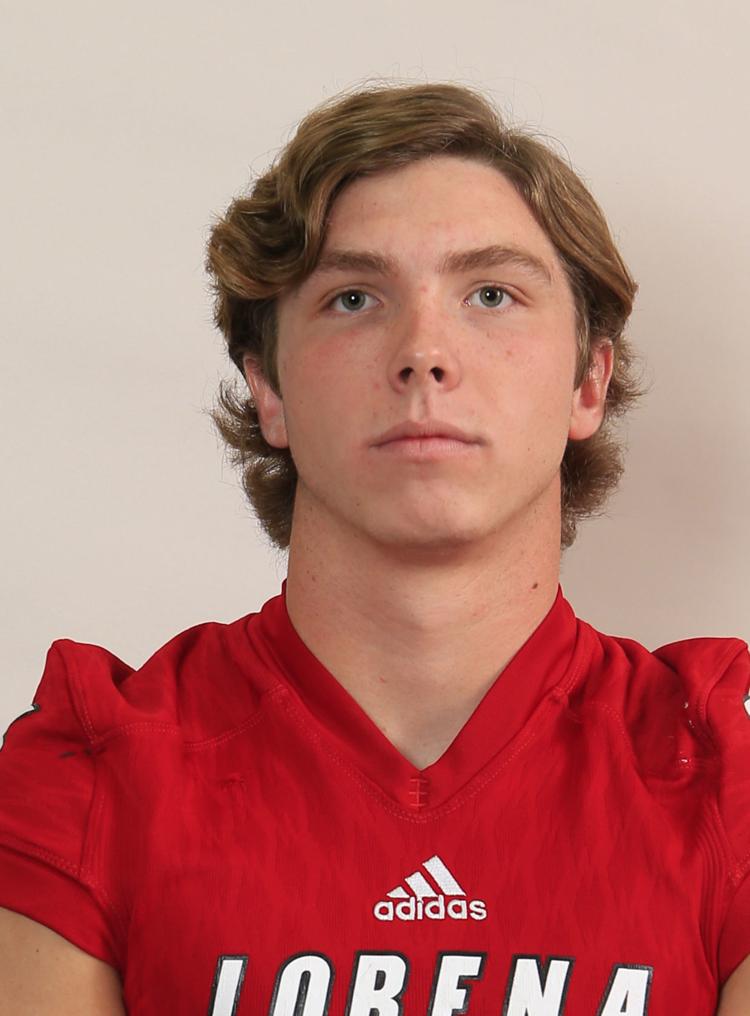 Dubbed the district's co-Defensive MVP, Michna was big time for the Leopard secondary. He had 200 tackles (113 of which were solos) in addition to seven tackles for loss, three forced fumbles, three interceptions, three pass breakups and a blocked punt.
Over the past couple of years, Parkview Christian's primary offensive philosophy has fixated on airing it out.