Tanner Mordecai has been called the best table tennis player on Midway's football team. He has defeated Panthers head coach Jeff Hulme a time or two. Mordecai says that he, along with fellow senior Jaxon Player, are the most competitive and that yes, Player does talk a lot of trash while playing on the table inside the football locker room.
As he played some ping-pong at the Tribune-Herald office earlier this week, he said that those games he played against his teammates in the locker room are some of the biggest memories he'll treasure.
"It got pretty competitive in there," the quarterback said with a laugh. "It was fun."
Those daily ping-pong matches in the Midway locker room helped strengthen the bond that fueled a state championship game run for the Panthers, the second in program history.
"Our bond was really special compared to other teams," Mordecai said. "I think that's what brought us to playing 16 games in a season. I don't think that bond could have ever been broken."
While the camaraderie of the Panthers could never be quantified and put on a stat sheet, Mordecai's numbers jump off the page. The senior quarterback led Central Texas in touchdown passes with 53 as he threw for 4,388 yards on his way to Offensive Player of the Year honors on the Tribune-Herald's 63rd annual Super Centex Football Team.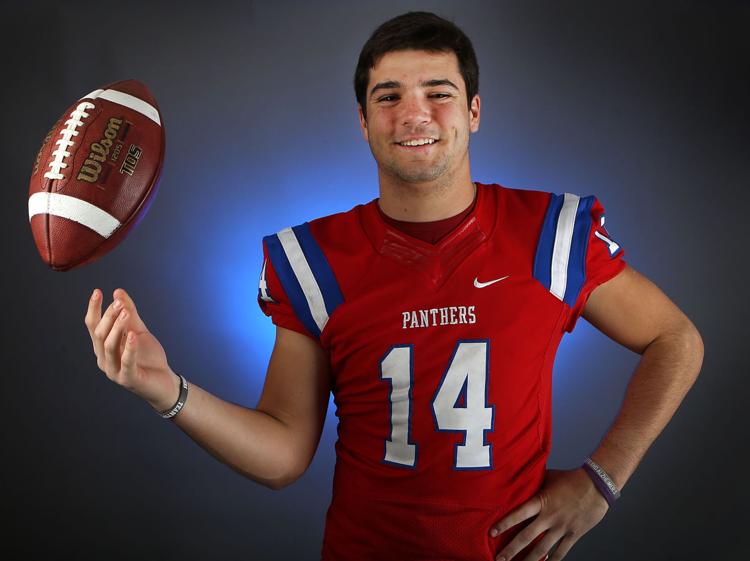 But Mordecai wasn't just a threat through the air. He also had a good ground game and hardly ever slid or escaped out of bounds. Multiple times this season Mordecai ran smack over a defender as he finished with 1,139 rushing yards and 23 touchdowns.
When asked what he hopes his legacy will be as the Midway quarterback, Mordecai doesn't even touch on those crazy numbers.
"I hope my legacy is that I was a good teammate, a good competitor and that I could lead the football team," he said.
As the reigning Panther ping-pong champ, Mordecai isn't sure anyone will dethrone him. Partly because when he came back from Christmas break the table was broken, but more so because his locker isn't in there anymore.
"Yeah, that wasn't a very good feeling knowing that coming back," Mordecai said.
Now, Mordecai's sights are set on his future. He's received a workout book from the strength coach at Oklahoma, where he signed to play football in the fall. Mordecai has been following every word of those instructions working to be fully ready once his feet hit campus.
Defensive Player of the Year: Jared Rogers, La Vega
Don Hyde called Jared Rogers the defensive coordinator from last year's La Vega team that advanced to the state semifinals. The newly named Pirate head coach — who has been on La Vega's coaching staff for nearly 15 years, most recently as defensive coordinator — heaped praise after praise onto the back of his junior middle linebacker, who led one of the best defenses in Central Texas in tackles.
"Jared is unbelievable," Hyde said. "In truth, Jared's the defensive coordinator. I just call check and Jared does the rest of it. He's a product of the things we try to teach every day. … I've been fortunate to have Jared since he was a freshman. He's played 45 games for me at Mike linebacker. He's a difference maker, not only on the field but in the locker room. (He's) just a super kid."
Rogers finished the season with 178 tackles, two forced fumbles, a fumble recovery and three interceptions. The junior also caused some problems in opponents' backfields as he racked up five tackles for loss, six quarterback pressures and a trio of sacks.
"Coming in this year, I went through the offseason wanting to get faster and stronger of course," Rogers said. "As far as stats wise, I wanted 200 tackles, a few more sacks than I got and some more caused turnovers."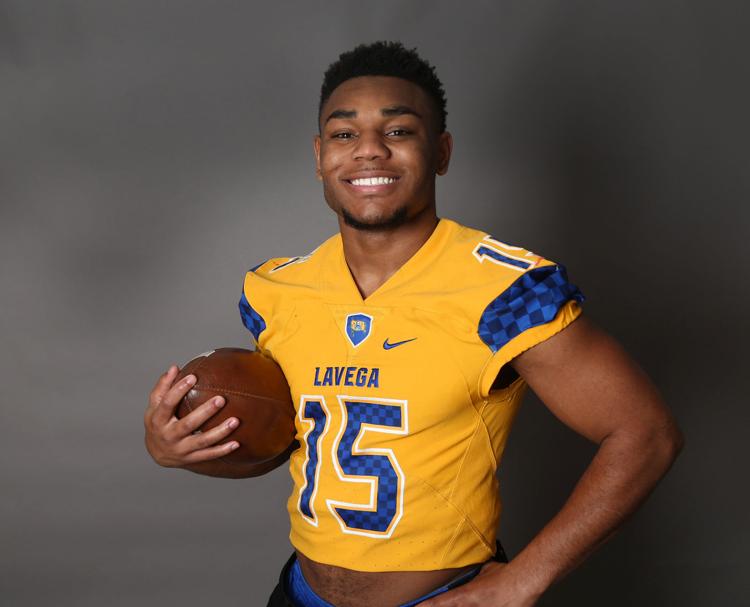 He's got plenty of time to reach those numbers as Rogers is already looking forward to his senior season. As far as his game personally, Rogers said he's already started some powerlifting and track workouts to get stronger and faster.
When it comes to how the rest of the returning Pirates are already preparing for the 2018 season, Rogers points back to La Vega's state semifinal loss. After falling down 21-0 in the first six minutes of the game, the Pirates outscored Carthage the rest of the way, 39-25, but La Vega wasn't able to steal the win.
"Man, don't give up. Never quit," Rogers said. "I think (the Carthage game) will be a big motivation for us going forward."
Offensive Newcomer: Tyler Webb, Bosqueville
Tyler Webb has only been playing football since the seventh grade. The 6-foot-3 freshman has played basketball year-round, but a semester into his first season on varsity, Webb turned some heads on the football field. The Bosqueville quarterback threw for 3,351 yards, which was the most for a Texas high school freshman in 2017.
"This season was great," Webb said. "It was a big change going from middle school to high school. At the beginning of the year I noticed it was a big change. I had a lot of great people around me to help make that big jump. They just believed in me and helped me believe in myself."
When Tanner Moncus graduated, that left the quarterback position wide open for the Bulldogs. And Webb earned his spot. He laughed when he thought back to the first varsity scrimmage.
"The first play I got my introduction into varsity," Webb said. "After that I was fine. I couldn't get hit worse after that."
Two weeks later, Webb started under center for his first varsity football game. People may not have been able to see it through the face mask, but Webb said he was smiling the whole time.
"The first game was real exciting," Webb said. "It was nerve-wracking. I didn't know what to expect. There were a lot of people there. I loved that. The atmosphere, the band playing, it was just awesome. Actually taking a snap was a dream come true."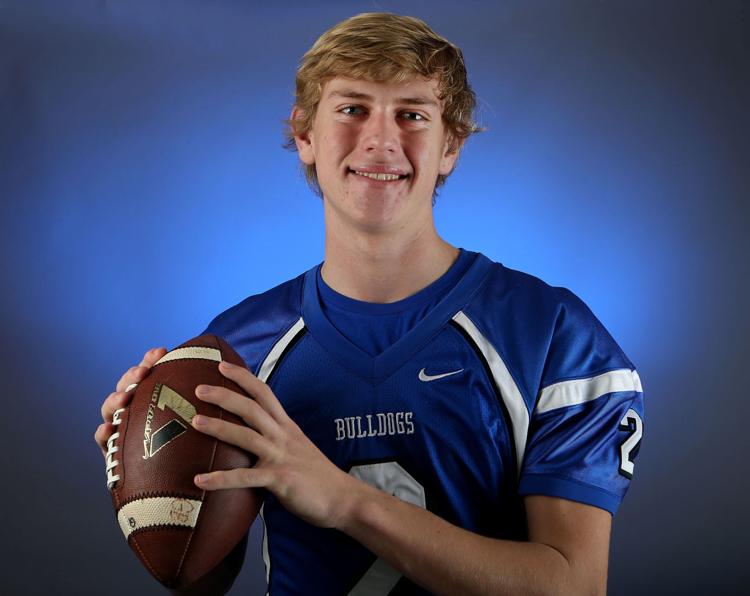 While Webb loves basketball and football equally — saying that as long as he gets to compete with his teammates, he's good — he couldn't put the experience of his first varsity football season into words.
"The hype for it, going the whole week and waking up on Friday morning and going to school," Webb said with a grin. "There's not a word to describe it. And then the playoffs were double the hype. It was a ton of fun."
Now looking forward to his sophomore season, he knows what he wants to work on. Webb wants to start next season as well as he finished this past season.
"This year was a big jump," Webb said. "The first half of the season was real shaky. My coaches still had faith in me and believed in me. After I got through that big learning curve, I was happy with what I was doing."
Defensive Newcomer: Roddrell Freeman, Mart
As Roddrell Freeman walked out of the Trib photo studio and Kevin Hoffman walked in, the Mart head coach shook his head and said, "That's a 15-year old kid."
But he doesn't look like it. The Mart freshman is 6 feet, 205 pounds with still more growing to do.
"Roddrell is an unbelievable kid to just be a freshman," Hoffman said. "To be as big and strong and fast as he is, he's a smart kid. He knows the game of football. He's got a lot of upside and still has a lot of things to learn and get better at. To be a freshman at high school and to play as big as he did all year for us, he's unbelievable."
Freeman finished the season with 109 tackles, eight sacks, three forced fumbles and two fumble recoveries. The biggest adjustment for the defensive end was to keep playing the entirety of the time he was on the field.
"Normally whenever I got tired I would just quit, like when I was in middle school because I was bigger than everybody," Freeman said. "Now I learned that if I wanted to quit, I just had to keep on pushing."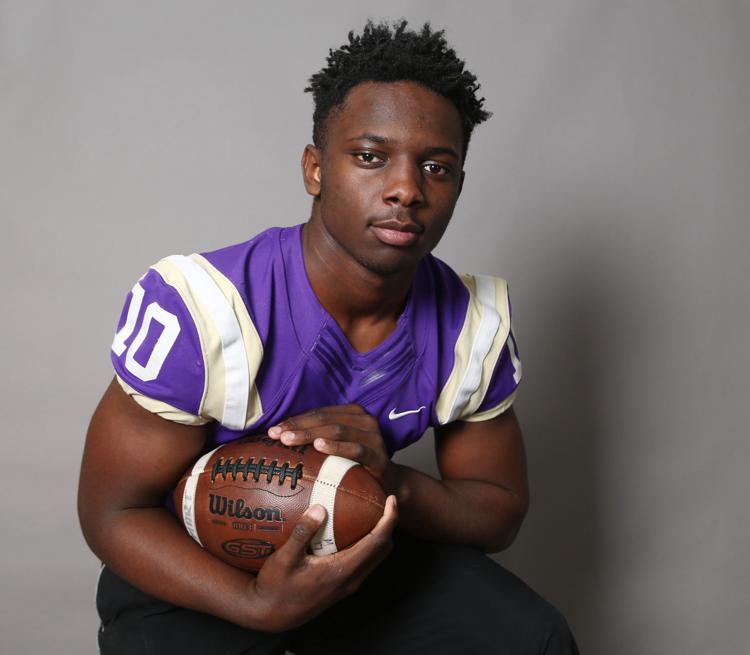 In the state title game against Refugio, Freeman had four tackles and a sack.
"I was nervous," Freeman said of the championship game at AT&T Stadium. "I was a freshman and it was my first time playing on that field."
When the final seconds ticked off the game clock, Freeman said he couldn't believe it.
"I told people back then that I wanted to win state all of my four years in high school," Freeman said. "It was my freshman year, and I won it."
Coach of the Year: Kevin Hoffman, Mart
Watching the state championship game on television, Kevin Hoffman notices his facial expression as the clock counts down to zero. The Mart head coach still had the same serious look on his face that he had at the beginning of the contest.
"When the game was over, it was like I didn't want to think about it until there were zeroes on the clock," Hoffman said. "There's been a lot of celebrating, a lot of smiles since then. It's something we'll remember forever."
The Panthers averaged 55.2 points per game behind an explosive, speedy offense. Meanwhile, the defense was stifling as opponents averaged only 10.3 points per game against the Panthers. Mart shut out five foes.
"We broke the school record for points in a season, which eclipsed the 1999 state championship football team, which in itself we see as the best team to ever come through Mart," Hoffman said. "To break their record in scoring was phenomenal. Defensively we rivaled this defense with some of the best that have ever been here. … When you can put up points like that and you can hold people down, you've got a chance to win a lot of football games. Winning 15 of them, the best one was the last one."
Hoffman gives all the credit for this season's success to his players and his coaching staff. He points back to when this championship drive truly began — when Crawford defeated the Panthers in the playoffs in 2016.
"It was something we talked about and didn't try to shy away from that we lost a game and what we needed to do to get better and spent the offseason and the summer. Even the one loss we had this year, first game of the year against Lexington, was another eye opener."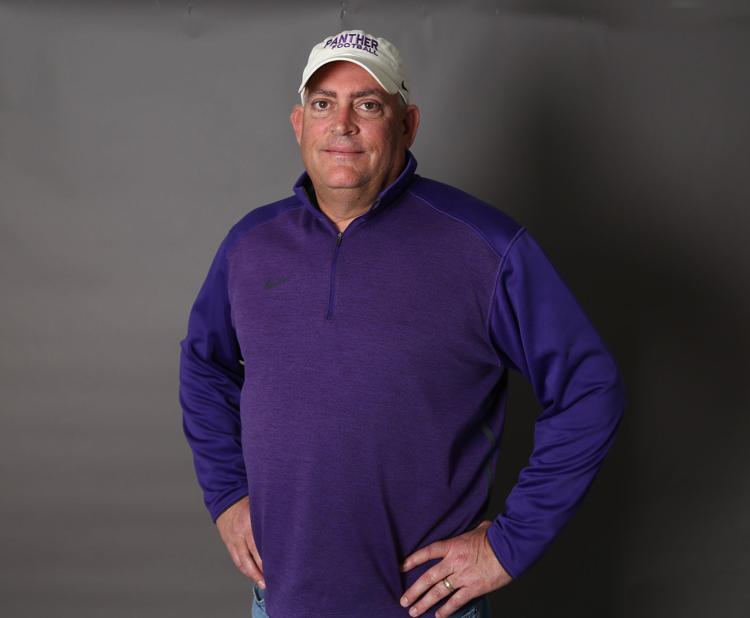 As he mentioned multiple times throughout the playoffs, his message to the Panthers after the two-point loss at Lexington was this: Mart won every game except the last one in 2016. In 2017, he believed the Panthers would flip the script by dropping the first contest and then winning out the rest of the way.
"It's amazing, awesome, unbelievable," Hoffman said. "It's a dream to win a state championship."
---
2017 TRIBUNE-HERALD SUPER CENTEX FOOTBALL TEAM

Offensive Player of the Year: Tanner Mordecai, QB, Midway
Defensive Player of the Year: Jared Rogers, LB, La Vega
Offensive Newcomer of the Year: Tyler Webb, QB, Bosqueville
Defensive Newcomer of the Year: Roddrell Freeman, DE, Mart
Coach of the Year: Kevin Hoffman, Mart
FIRST TEAM OFFENSE
Pos
Player
Cl
Ht
Wt
School
QB
Tanner Mordecai
Sr
6-2
215
Midway
RB
Tayvis Coleman
Sr
5-11
172
Teague
RB
Tyrek Horne
Jr
5-10
165
Mart
WR
CJ Williams
Sr
6-1
170
Midway
WR
Derrick Bayer
Sr
5-11
185
Gatesville
WR
Xavier Johnson
Sr
5-11
165
Temple
TE
Tyrick James
Sr
6-2
237
China Spring
OL
Hakeem White
Sr
6-3
281
Midway
OL
Kaitori Leveston
Sr
6-5
290
Midway
OL
Seth Kohlscheen
Jr
5-10
275
Crawford
OL
Kipp Gellasch
Sr
6-2
285
Gatesville
OL
Noah Plsek
So
6-5
285
Reicher
UTL
Jace Terry
Sr
6-0
170
Mart
RS
Marcell Estell
Jr
5-9
165
Bosqueville
K
Nyle Tabat
Jr
6-1
215
Belton
FIRST TEAM DEFENSE
Pos
Player
Cl
Ht
Wt
School
DL
Shatydrick Bailey
Jr
5-3
150
Mart
DL
Jaxon Player
Sr
6-0
285
Midway
DL
Braylon Watkins
Sr
6-1
240
La Vega
DL
Trevor Scott
Sr
6-2
205
West
LB
Jared Rogers
Jr
5-11
212
La Vega
LB
Brayden Mathis
Sr
6-2
220
China Spring
LB
Zamar Kirven
Sr
6-3
205
Mart
LB
Koby Smith
Sr
5-10
195
Crawford
DB
Donta Stuart
Jr
5-10
160
La Vega
DB
Romeo Hernandez
Sr
5-8
155
West
DB
Garrison Vaughn
Sr
6-2
190
Belton
DB
Avery Archibald
Jr
5-10
175
Fairfield
P
Joanly Martinez
Sr
5-10
180
McGregor
SECOND TEAM OFFENSE
Pos
Player
Cl
Ht
Wt
School
QB
TJ Rumfield
Sr
6-5
200
Temple
RB
James Fullbright
Jr
5-8
190
Midway
RB
Marc Gutierrez
Sr
5-10
195
Clifton
WR
Iverson Westbrook
Sr
5-10
172
Cameron Yoe
WR
Jamal Long
Sr
6-4
185
Hillsboro
WR
Steven Russo
Sr
5-9
155
China Spring
TE
Derrick Shaw
Sr
6-2
225
Crawford
OL
Daizion Carroll
Sr
6-2
315
Midway
OL
Santos Murillo
Jr
6-0
260
Clifton
OL
Cooper McCauley
Sr
6-0
235
McGregor
OL
Dalton Zander
Sr
6-3
280
Bosqueville
OL
Matt Sparks
Sr
5-10
220
West
UTL
John Richards
Jr
5-9
180
La Vega
RS
Alik Brooks
Sr
5-9
150
Marlin
K
Gabriel Pena
So
 
 
Marlin
SECOND TEAM DEFENSE
Pos
Player
Cl
Ht
Wt
School
DL
Trevan McWilliams
Sr
6-2
195
Fairfield
DL
Mason Oliver
Sr
5-11
227
Clifton
DL
Nick Mosley
Sr
6-4
191
Groesbeck
DL
Bryce Dorton
Sr
5-11
180
Reicher
LB
Cooper Baize
Sr
5-11
185
Mart
LB
Matthew Barnhill
Sr
6-0
190
Midway
LB
Bradley Bass
Sr
6-1
195
Reicher
LB
Kemoche Hobbs
Sr
5-9
170
La Vega
DB
Juan Saucedo
So
5-11
160
Whitney
DB
Jermaine Madkins
Sr
5-9
135
Mart
DB
Kiunte Lucas
Jr
5-11
170
Hillsboro
DB
Tanner Sepulveda
Jr
5-9
140
Bosqueville
P
Chris Esqueda
Jr
5-8
 
Waco High

---

HONORABLE MENTION
QB — Kaidyn Peralez, Sr., Bremond; Zack Andress, Sr., Cameron Yoe; Cayden Johnson, Sr., China Spring; Gage Pearson, Sr., Crawford; Jett Truss, Sr., Gatesville; Antonio Alvarado, So., Frost; Ty Hale, Jr., Groesbeck; Courtney Hewitt, Sr., Hillsboro; Jamal Williams, Sr., La Vega; Kerry Collins II, Sr., Marlin; Michael Irons, Sr., McGregor; Ben Brittain, Jr., Reicher; JaQuorion Johnson, Sr., Rosebud-Lott; Isaac Shaw, Sr., Texas Wind; Nathan Gerik, Jr., West; Devin Wilson, So., Whitney
RB — Darren Rector, Sr., Belton; Eric Hart, Jr., China Spring; Jay'Veon Sunday, So., Connally; Garrett Dutschmann, Sr., Crawford; Kadarrius Walker, Jr., Fairfield; Cameron Henry, Sr., La Vega; Thor Hoffman, Sr., Lorena; Sir Charleston Lee, So., Marlin; Johnathan Phenix, Sr., McGregor; Jonathon Escoto, Jr., Texas Wind; Tanner Ledford, Jr., Texas Wind; Terrance Hamilton, Sr., Waco High; Stephon Ester, Sr., Wortham
WR — Anthony Brown, Jr., Belton; Jase Ayala, Jr., Bosqueville; Kolbe Branch, Sr., Fairfield; Devin Gruben, Jr., Frost; Jimmie Quinn Jr., Sr., Marlin; Donovan Blakes, So., Marlin; Tyrese Mayes, Sr., Marlin; Jalon Kirven, Sr., Mart; Brandyn Canady, Jr., Groesbeck; Dylan Rand, Jr., Groesbeck; Ethan Davis, Sr., Groesbeck; Demarcus Degrate, Jr., Midway; D'Ante Thomas, Jr., Midway; John Aynesworth, Sr., Reicher; Noah Richard, Jr., Robinson; D'Yonte Heckstall, Sr., Temple; Clay Richters, Sr., Whitney; Tyler Lewis, Jr., Gatesville
OL — Kellen Stuard, Sr., Bremond; Charles Booker, Jr., China Spring; Jacob Burns, Jr., China Spring; Kolten Benton, Sr., China Spring; Austin Lee, Sr., Gatesville; Elaido Cedillo, Sr., Gatesville; Mark Smith, Sr., Groesbeck; Anakin Sullivan, Sr., Hubbard; Greg Williams, Sr., McGregor; Efrain Lujano, Sr., Marlin; Donovan Bailey, Sr., Marlin; Ivan Burleson, Sr, Marlin; Jeremiah Henry, Sr., Marlin; Caroll Solomon, Sr., Marlin; De'Andre Peoples, Jr., Marlin; Will Worrell, Sr., Crawford; Tanner Mitchell, Jr., Crawford
K — David Saldivar, Sr., Gatesville
RS — Charlie Adamick, Sr., Crawford
UTL — Zach Mueller, Jr., Gatesville
DL — Logan Hall, Sr., Belton; Nick Bancroft, So., Bremond; Jeremiah Henry, Sr., Marlin; Eli Ferris, Sr., Reicher; Cory Ebron, Jr., Waco High; Henry Soukup, Jr.., West; Dylan Hofferichter, Jr., China Spring; Derrick Shaw, Crawford
LB — Jacob Bravo, Jr., Bosqueville; Nico Vargas, So., Cameron Yoe; Johnn Owens, Sr., Fairfield; Ulises Ramirez-Rangel, Sr., Fairfield; Preston Lane, Jr., Frost; Will Carroll, Sr., Gatesville; Austin Bayer, Sr., Gatesville; Cade Zacharias, Jr., McGregor; Wyatt Allison, Sr., McGregor; Samuel Shorts, Sr., Whitney; Landen Frazier, Sr., Groesbeck; Brayden Bradley, Sr., Groesbeck; Jimmie Quinn, Sr., Marlin; Efrain Lujano, Sr., Marlin; Sebastian Hernandez, Sr., Marlin; Camden Rhodes, Sr., Mart; Chris Slater, Jr., China Spring; Mason Browning, Sr., Crawford
DB — Korie Black, So., Connally; Trey Lacina, So., Crawford; Jaise Oliver, Jr., Fairfield; Ethan Davis, Sr., Groesbeck; Logan Morris, So., Hubbard; Sir Charleston Lee, So., Marlin; Tyrese Mayes, Sr., Marlin; Charlie Adamick, Sr., Crawford
---
First-team profiles: Offense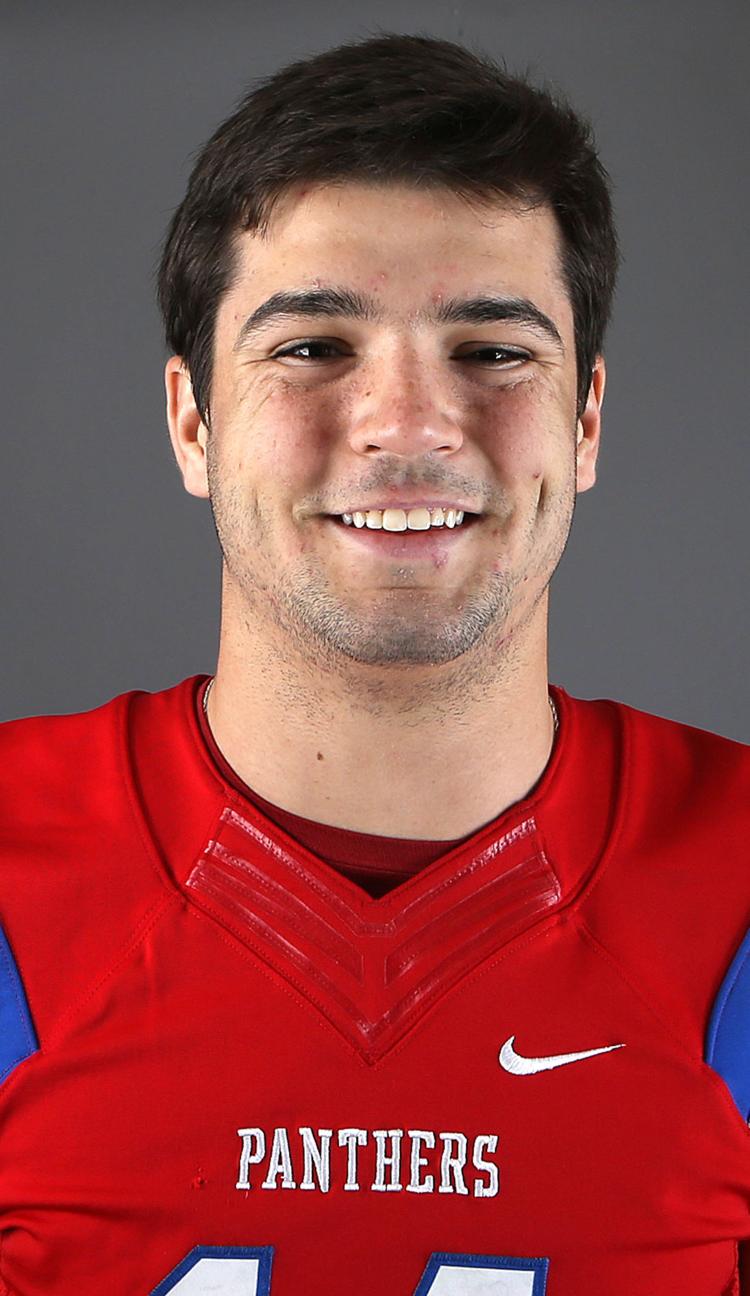 Mordecai led Central Texas in touchdown passes with 53 as he fueled Midway to its second state championship appearance in school history. The Oklahoma signee, and AP Class 6A player of the year, passed for 4,388 yards and ran for 1,139 yards and 23 touchdowns to total nearly 80 scores himself on the season.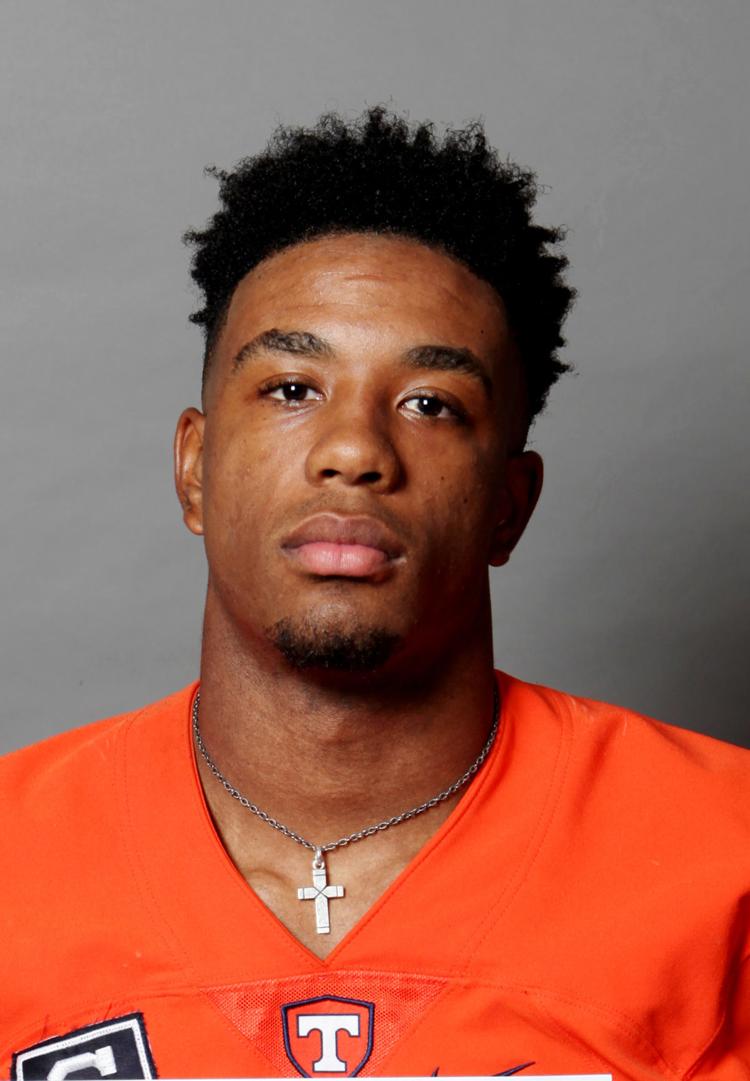 Coleman was the unanimous MVP of District 9-3A as he carried the ball 245 times for 2,089 yards and 23 touchdowns. Coleman finished his career at Teague with 577 carries for 4,425 yards and 60 touchdowns.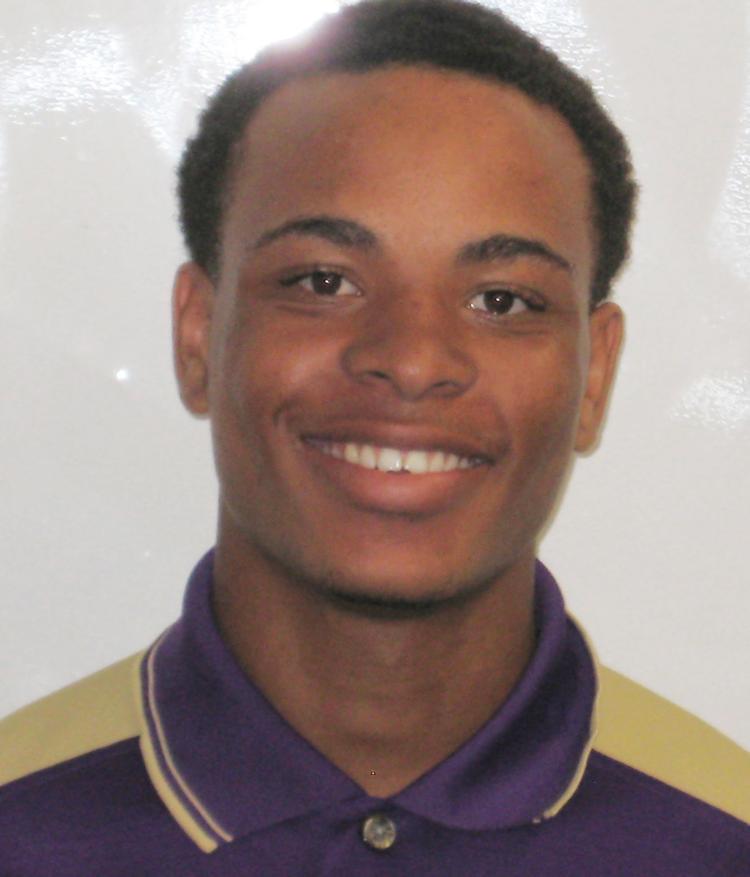 When Horne touched the ball, it usually guaranteed a first down for Mart. The junior finished the season with 159 carries for 2,090 yards and 26 touchdowns in addition to 10 catches for 228 yards for a Mart offense that averaged better than 60 points per game.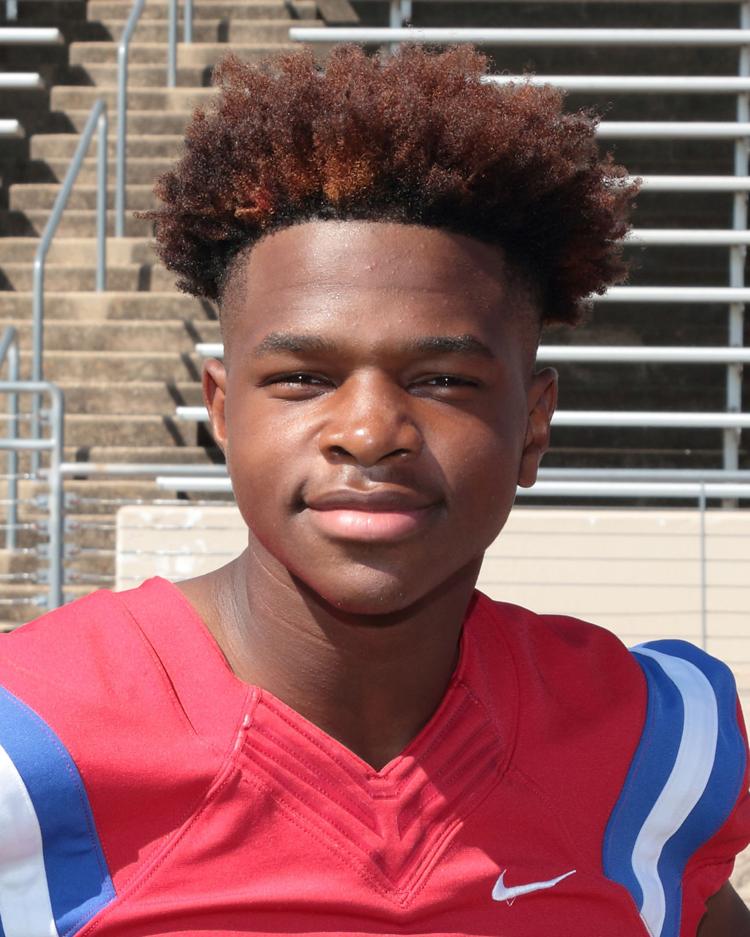 Williams hauled in a school-record 23 touchdowns this season as the Panthers made their second trip in program history to the state title game. Williams hauled in 103 catches for 1,722 yards.
Bayer finished with 65 catches for 1,169 yards and 13 touchdowns for the dangerous Hornet offense. The senior also fared well in special teams as he recorded 341 yards on 14 kick returns and 618 yards on 16 punt returns.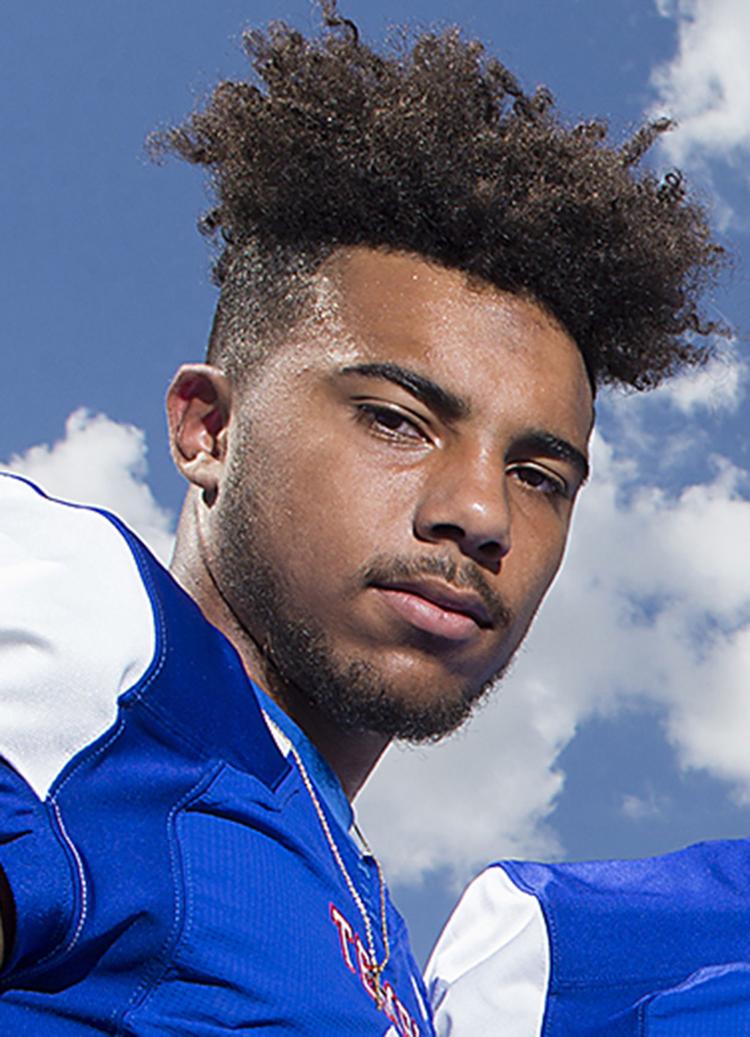 Johnson finished the year with 64 catches for 1,212 yards and 17 scores. He also had two punt returns for touchdowns.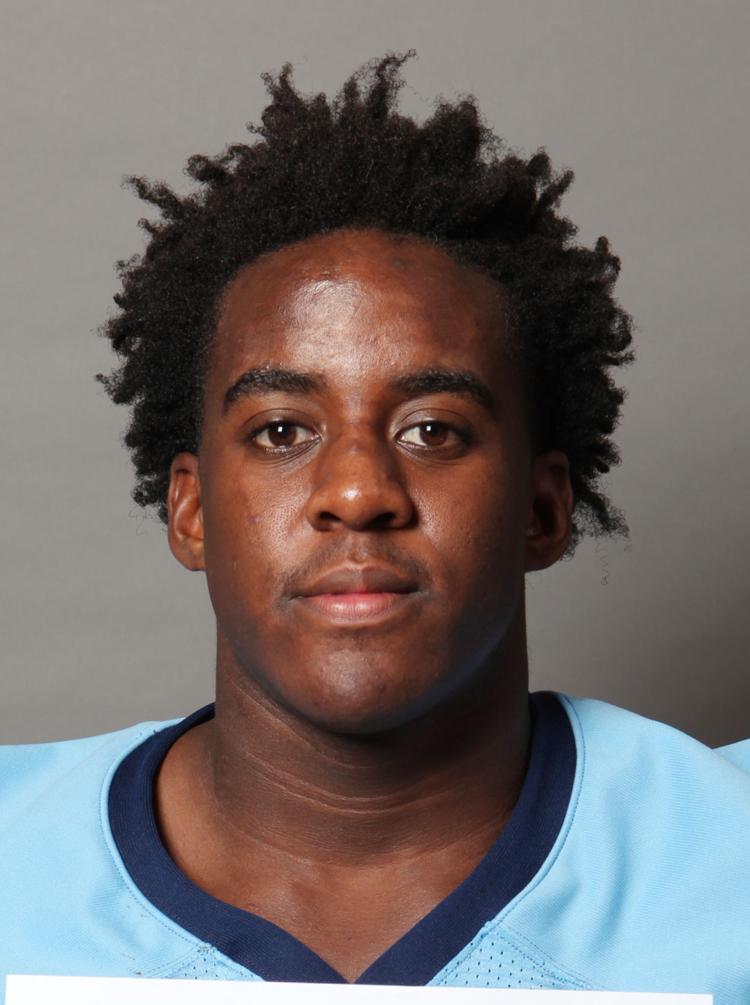 James was unstoppable from whatever spot he lined up on the field as the senior had 42 catches for 880 yards and 11 touchdowns plus 90 carries for 497 yards and 13 rushing scores. The Tulane signee was named the District 13-4A MVP.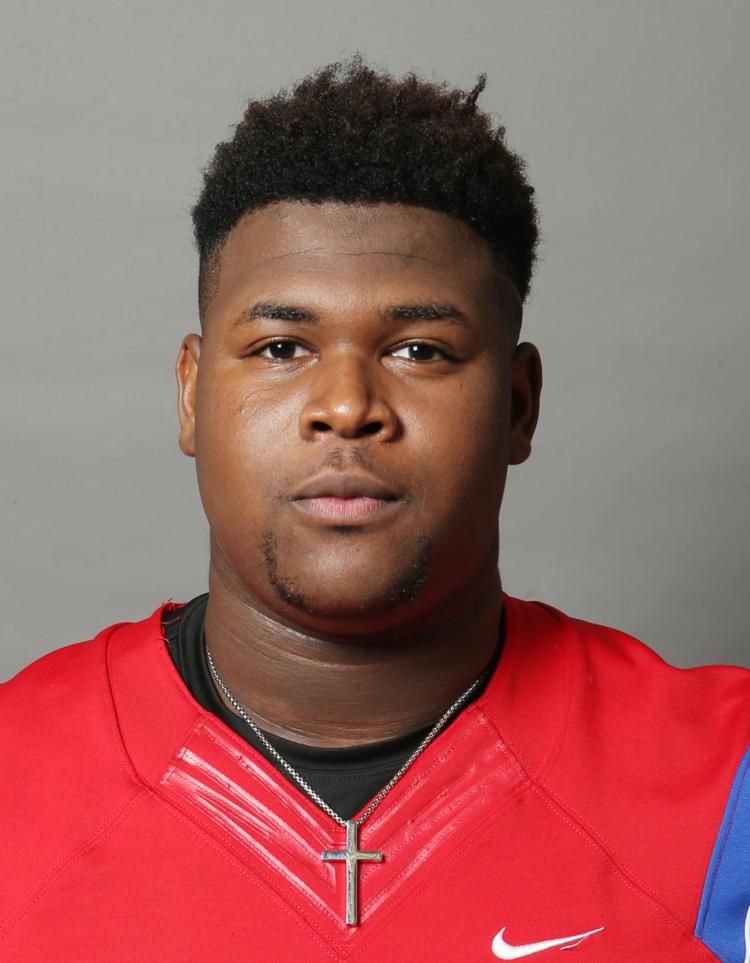 White graded 92 percent on the season and averaged four pancake blocks per game. The senior is a Texas Tech signee.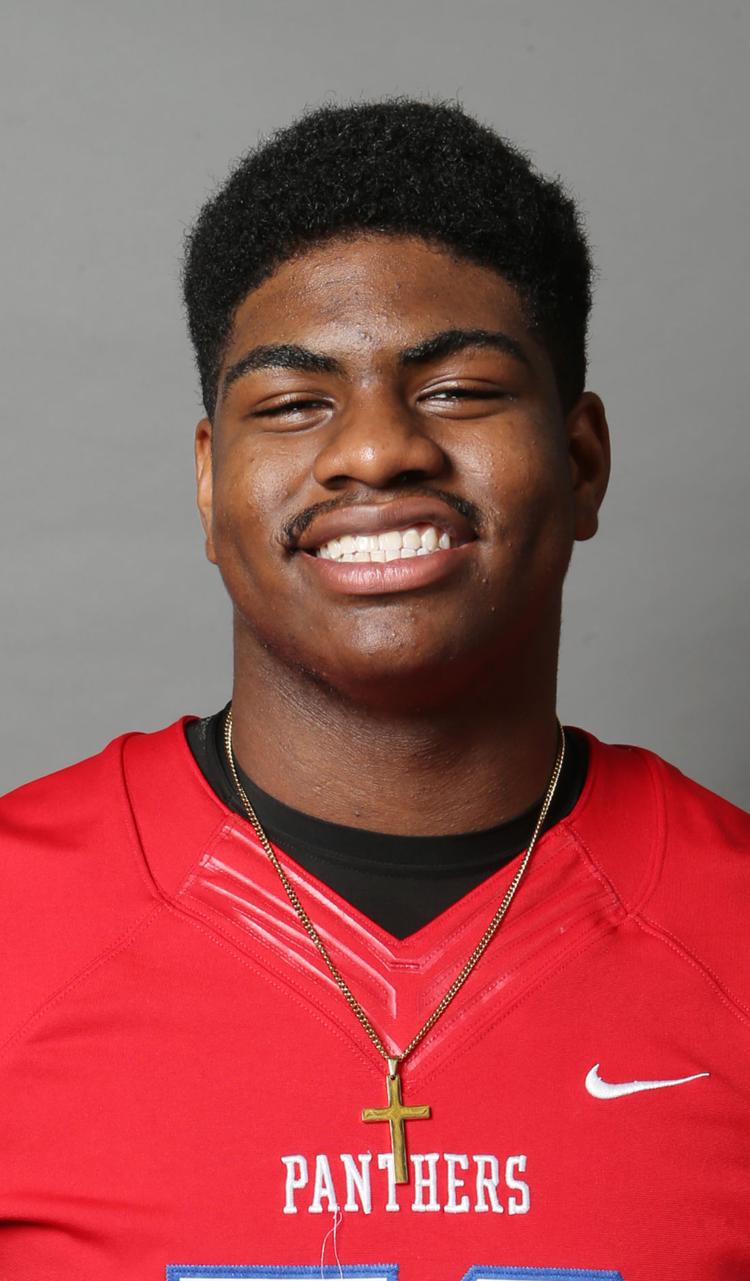 Leveston graded 95 percent on the season with five pancake blocks per game. He's also a Kansas State signee.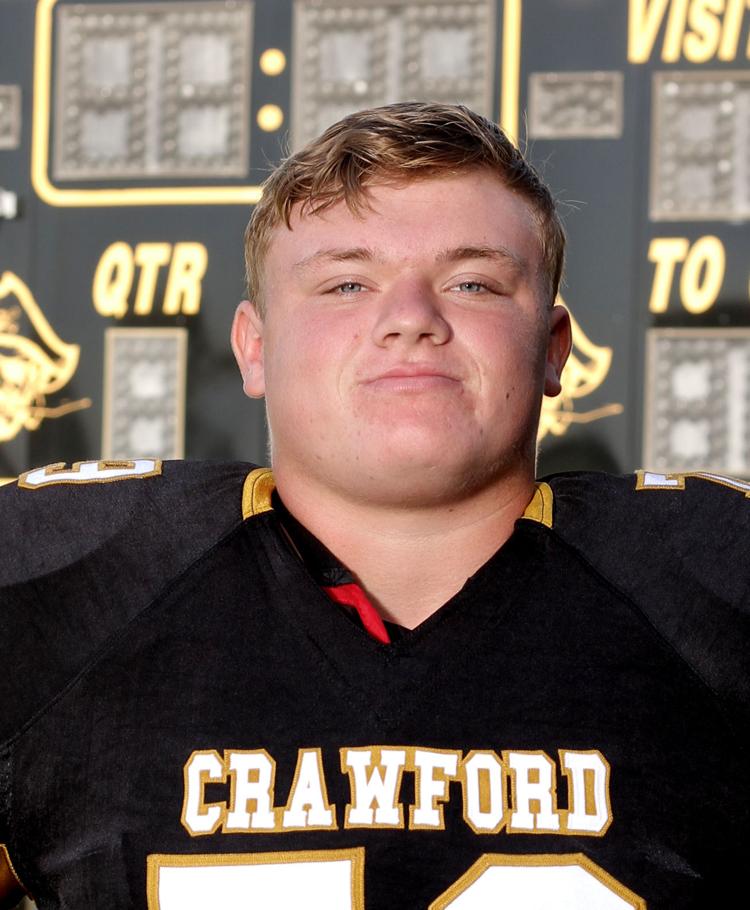 Kohlscheen was the top lineman for a balanced Crawford offense. The Pirates averaged 240.3 rush yards and 107.6 pass yards per game.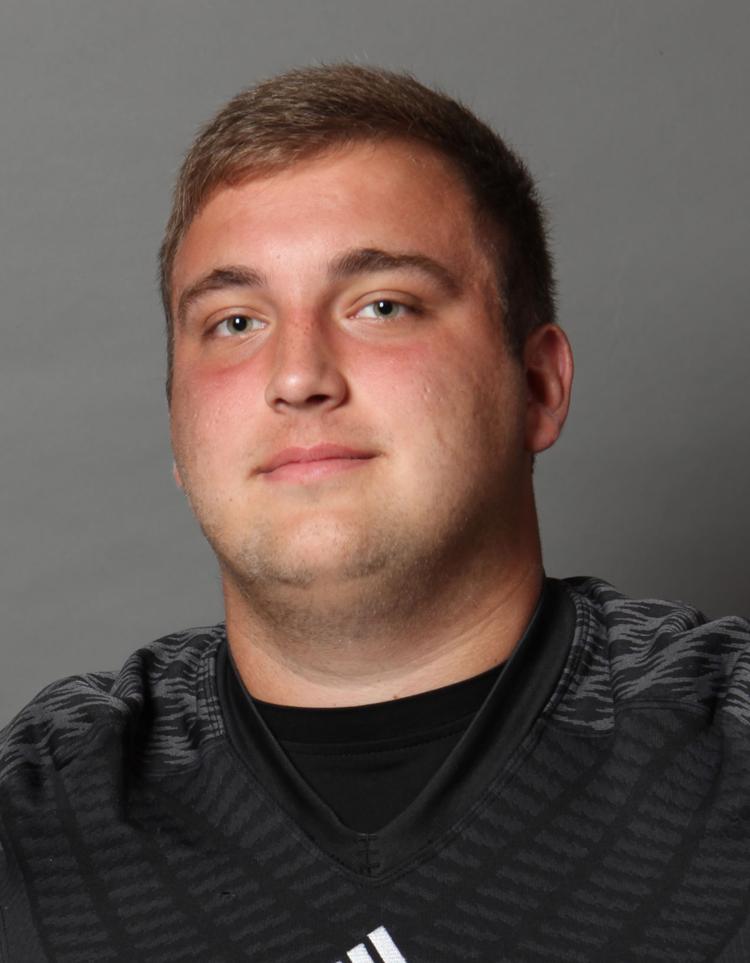 Gellasch was described as "very smart and excels at the second level" for an offensive line that gave quarterback Jett Truss enough time to make the right reads. The senior lineman graded 95 percent on the year.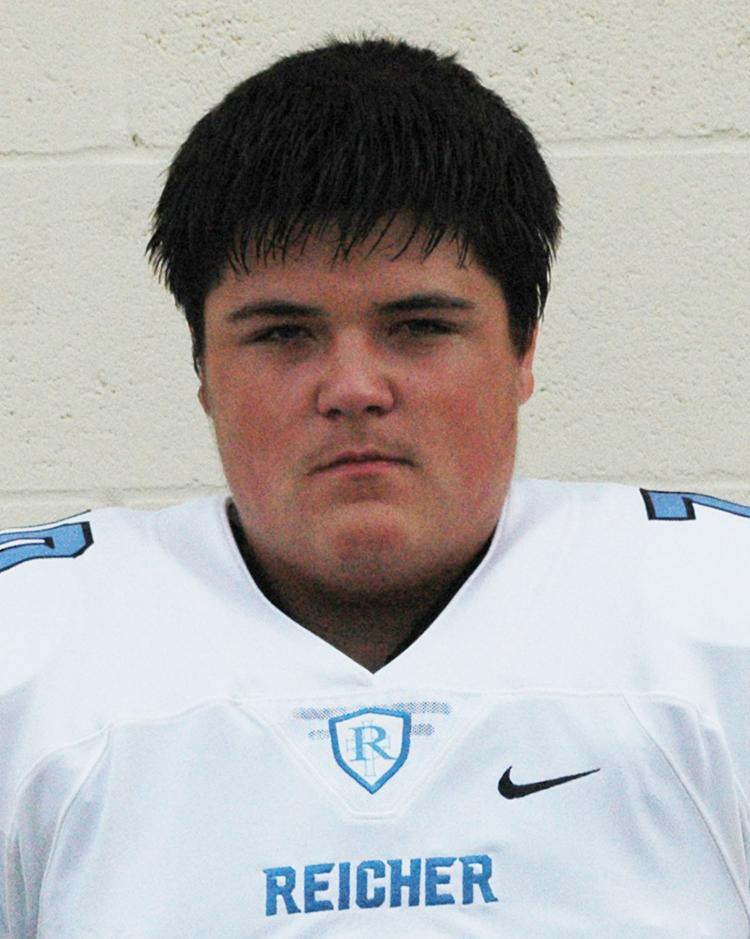 Plsek was named First Team All-State as a sophomore. The aggressive run blocker recorded 57 pancakes this season.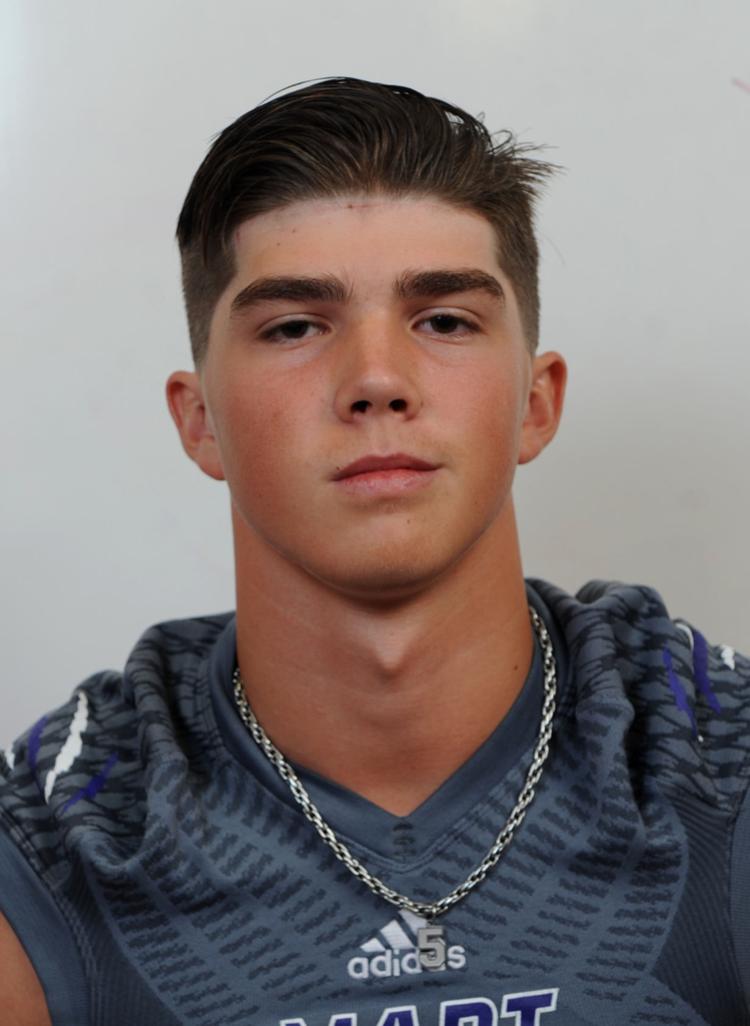 Terry did it all for the state champion Mart Panthers. Terry was 122-of-203 through the air for 2,267 yards and 33 touchdowns to only five interceptions. He also had 127 carries for 1,018 yards and 18 scores on the ground.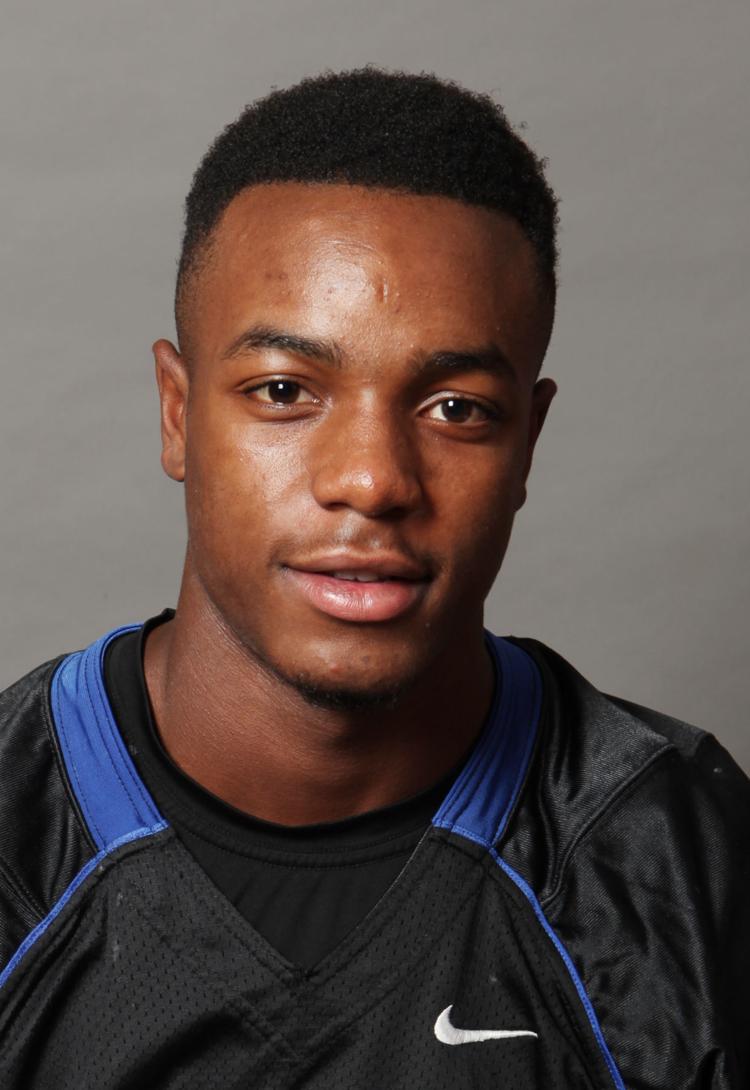 Not many people could keep up with Estell as the junior finished with 2,350 all-purpose yards and 30 total touchdowns. Estell had 98 catches for 1,095 yards and 15 touchdowns as well as 81 carries for 712 yards and 12 touchdowns. The junior also had two kick returns for touchdowns and a punt return for a touchdown.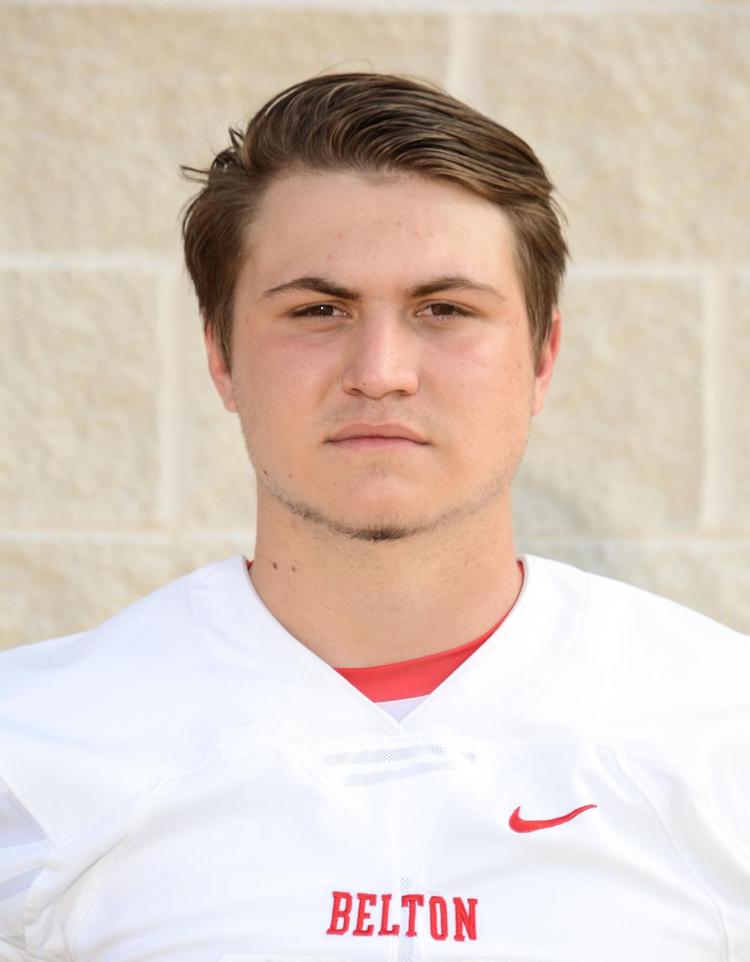 Tabat was a sure bet for the Tigers this season. The junior was 40 for 40 on point after attempts and was 8 for 10 for field goals. His longest make was 45 yards.
First-team profiles: Defense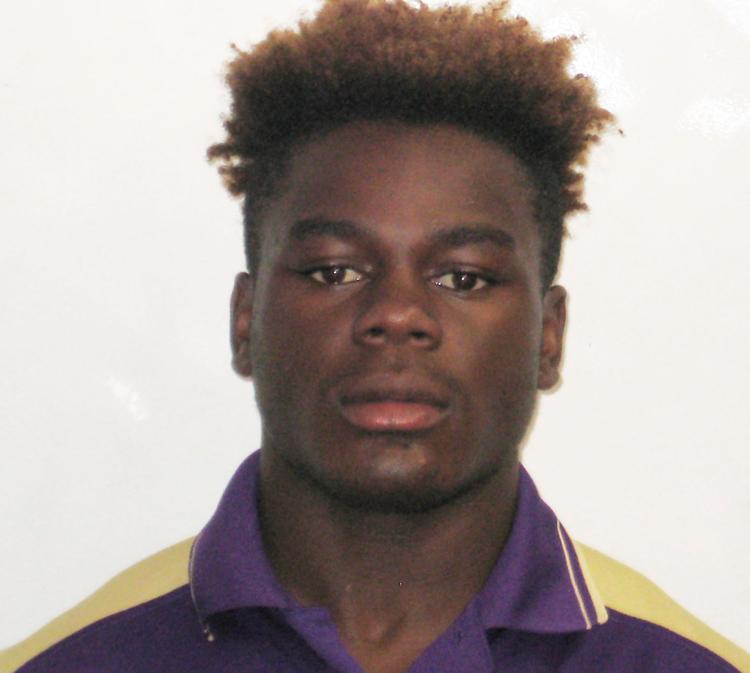 Bailey, who was named the Offensive MVP for the state title game, wreaked even more havoc on the defensive end for Mart's opponents. The 5-foot-3 defensive tackle had 97 tackles and seven sacks for the year.
Player racked up 20 tackles for loss in Midway's state championship game run this season. The Tulsa signee finished with 125 tackles and nine sacks.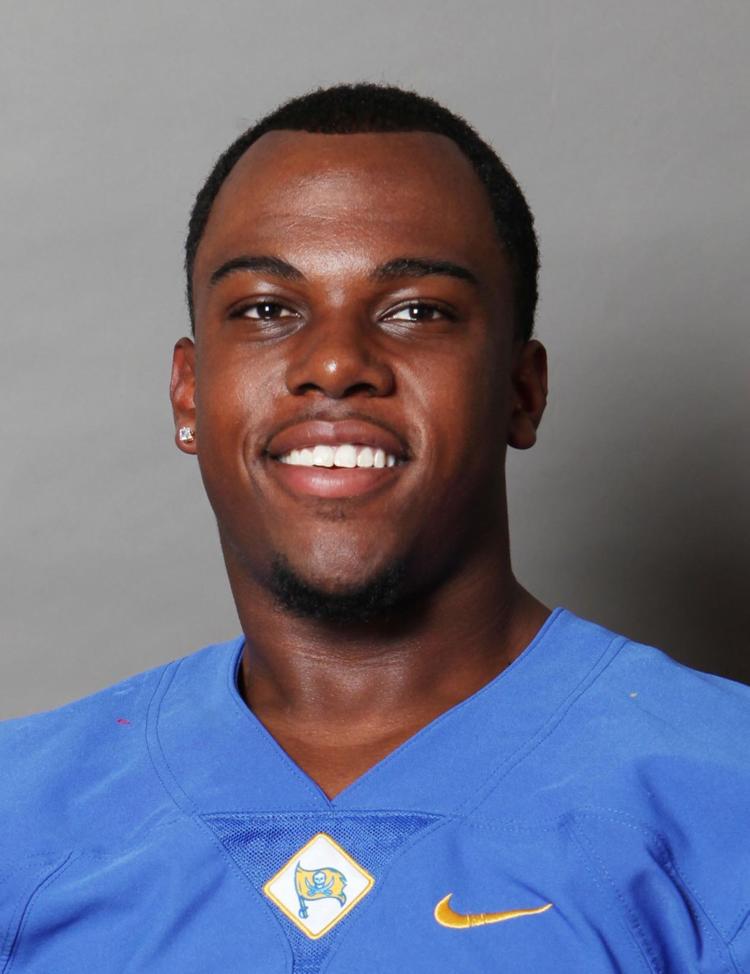 Watkins was all over the place for the Pirates. The senior defensive end had just short of 90 tackles in addition to 10 quarterback hurries and six sacks. Watkins also had three forced fumbles and two fumble recoveries.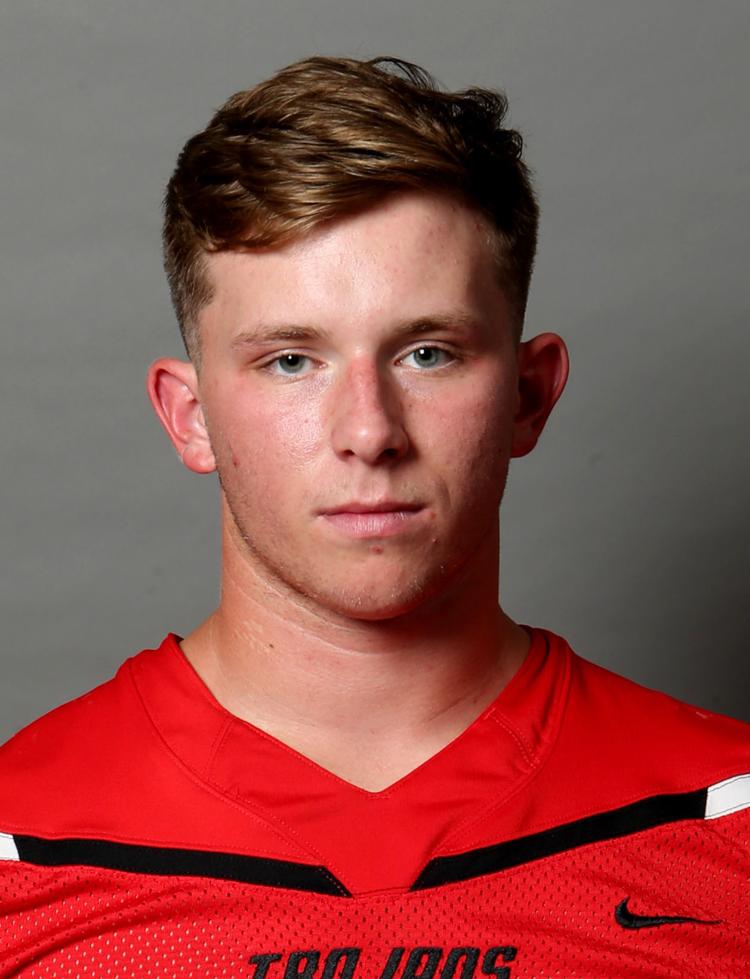 Scott was named the unanimous District 9-3A defensive MVP as his effect was felt all over the field. The senior finished with 71 tackles (27 solo), 20 tackles for loss, one forced fumble, 11 sacks, an interception and two blocked punts.
Rogers led La Vega with 178 tackles on the season. The junior linebacker also had six quarterback hurries, three sacks, two forced fumbles and three interceptions.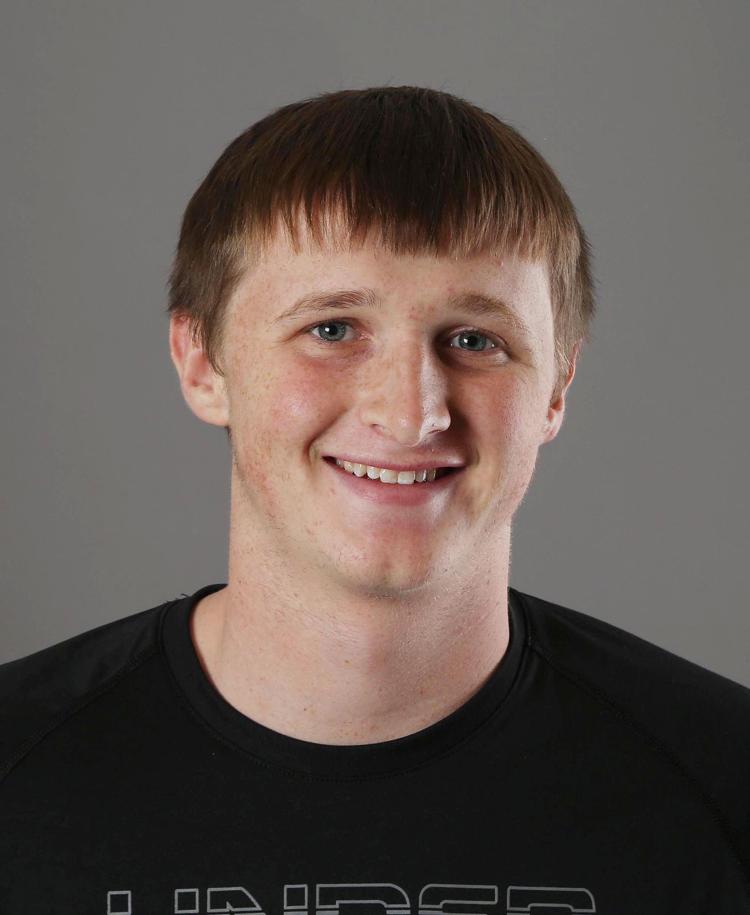 Mathis set the China Spring career tackle record with 449, which broke the mark by more than 70 tackles. The Air Force commit finished with 143 tackles this season as well as six tackles for loss, two quarterback disruptions, a sack, a forced fumble, a fumble recovery and an interception. Mathis was named the Co-Defensive MVP of District 13-4A.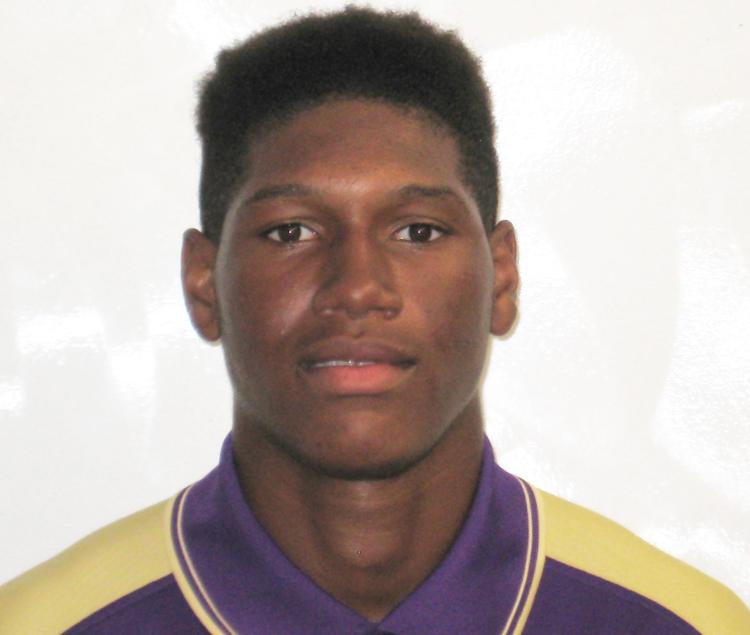 Kirven had four defensive touchdowns which marked half of his offensive scoring production. The Houston signee finished with 127 tackles, a sack, three interceptions, four forced fumbles and three fumble recoveries.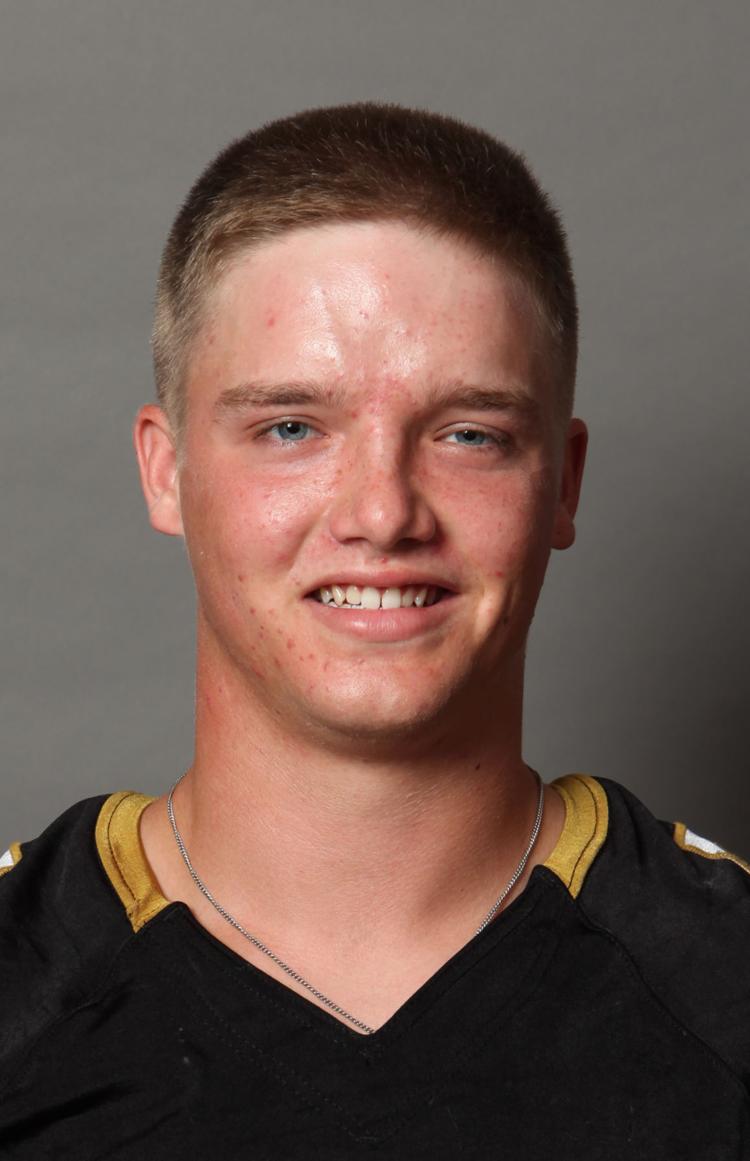 The District 7-2A Defensive MVP was a force for the Pirate defense. Smith recorded 161 tackles on the season (112) along with 11 tackles for loss, three sacks, 13 quarterback pressures, a forced fumble, four fumble recoveries and three interceptions.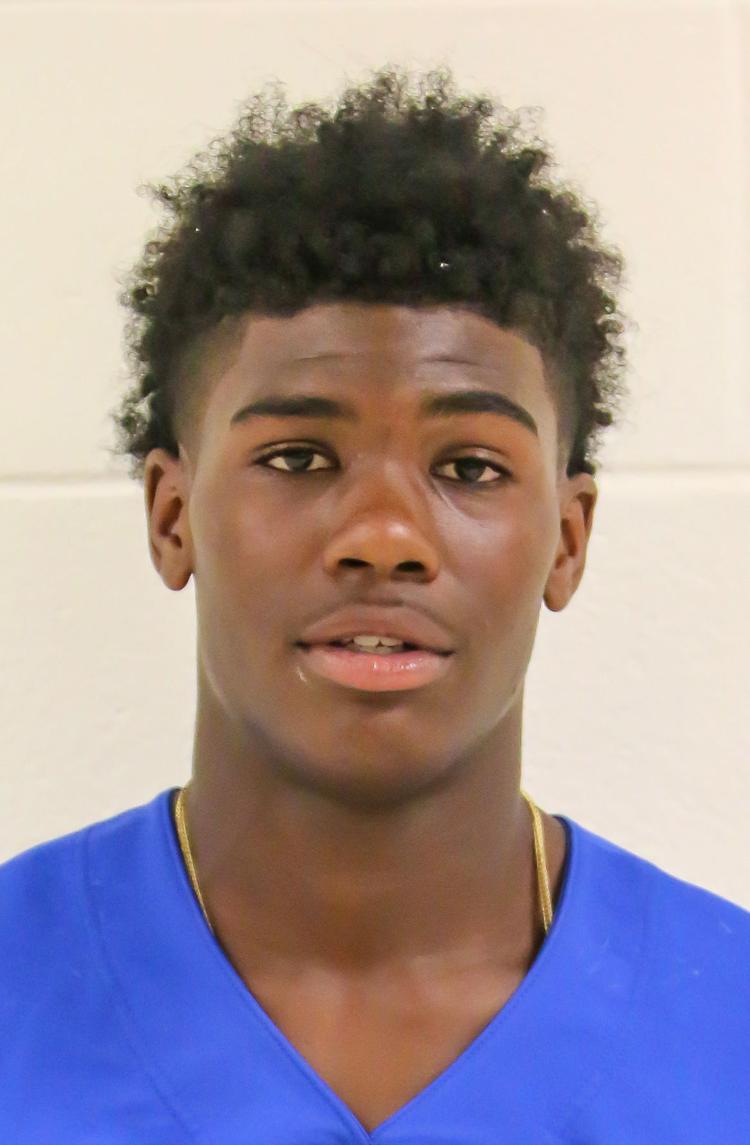 Stuart led the Central Texas area with nine interceptions as opposing quarterbacks had to account for where Stuart was on the field. The junior was named the Waco Trib's Super Centex Defensive Newcomer of the Year in 2016. He led the area with interceptions a year ago as well with eight.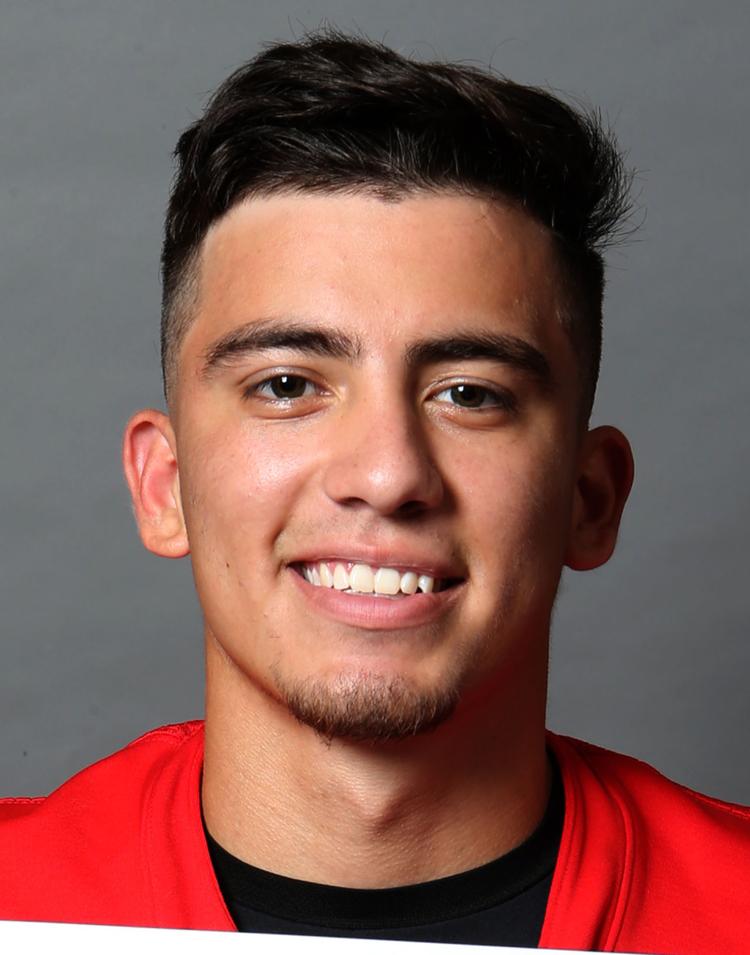 Hernandez picked off six passes this season in addition to 78 tackles and four tackles for loss. The senior was named the District 19-3A utility player of the year.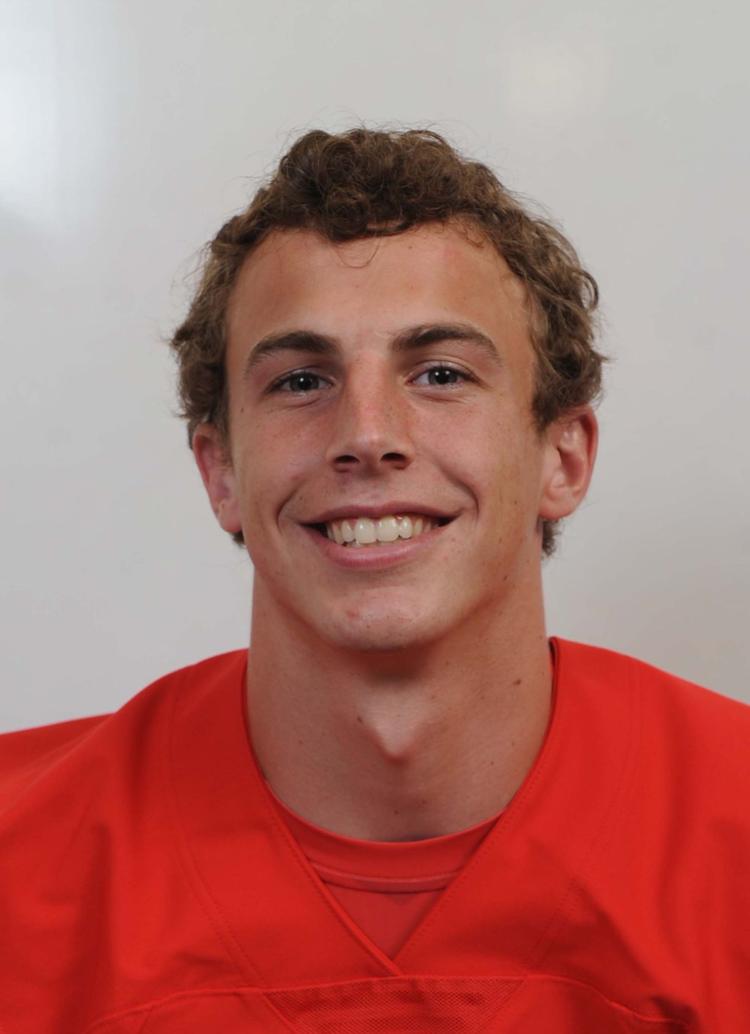 Vaughn recorded 79 tackles, four interceptions and two tackles for loss in addition to a pair of forced fumbles on the year. He's a Houston signee.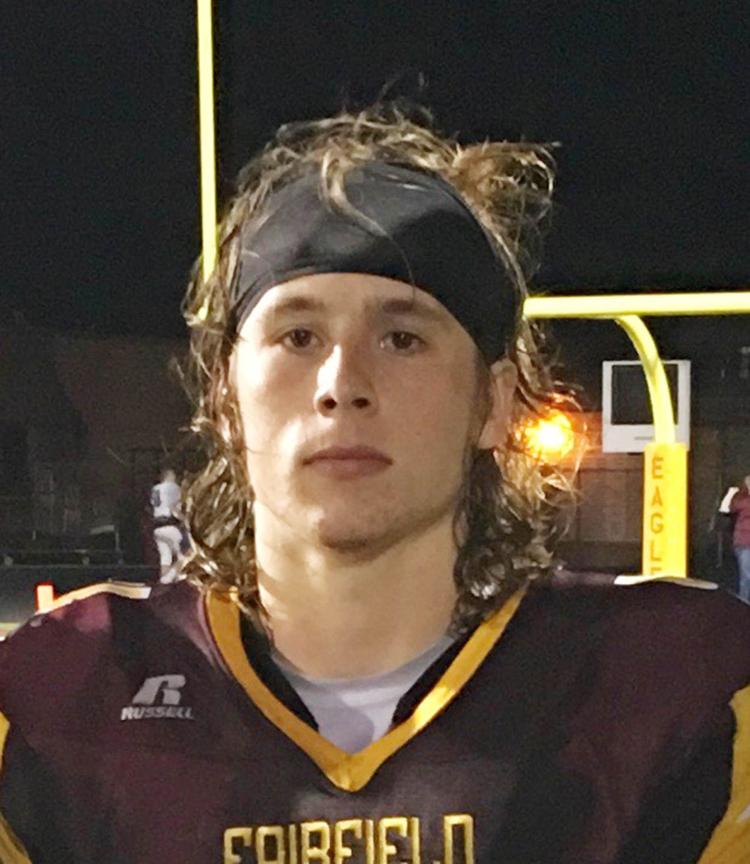 Archibald led the Eagles with 133 tackles. The junior also recorded five tackles for loss, a trio of forced fumbles and two fumble recoveries.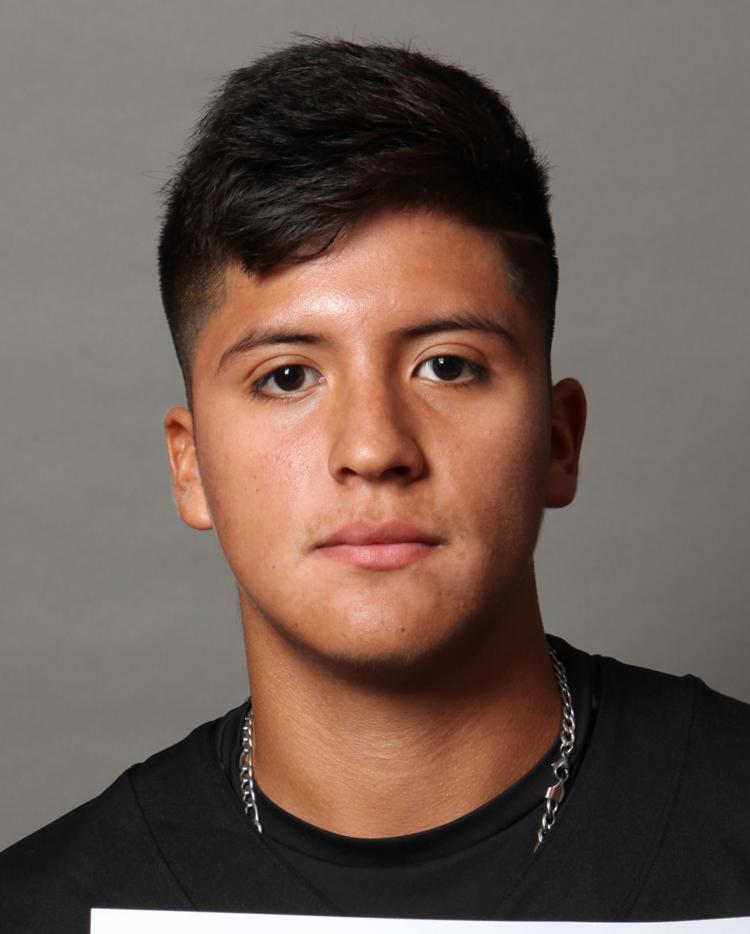 While Martinez was perfect on point after attempts, the senior's punts were a huge factor in McGregor's playoff run this season. Martinez had 19 punts for a total of 736 yards, an average of 38.7 yards. Eight of his punts landed inside the 20.
---
Choose a happy football memory. Any one of them. It's not like Wyatt Young had a scarcity of warm fuzzies from which to pick.