It's been almost three years since the NCAA approved an early signing day for Division I college football programs, but the new way has already become the new normal.
While some of the hoorahs over college football recruiting now come before Christmas — most of the heavily recruited prospects are signing in December these days — the altered system has at least one major, probably unintended consequence.
Now the February signing day is an opportunity for athletes from all fields to share the stage in an equal spotlight.
On Wednesday, in many cases football players signed their letters alongside classmates from the baseball, softball, basketball, volleyball, soccer and tennis teams.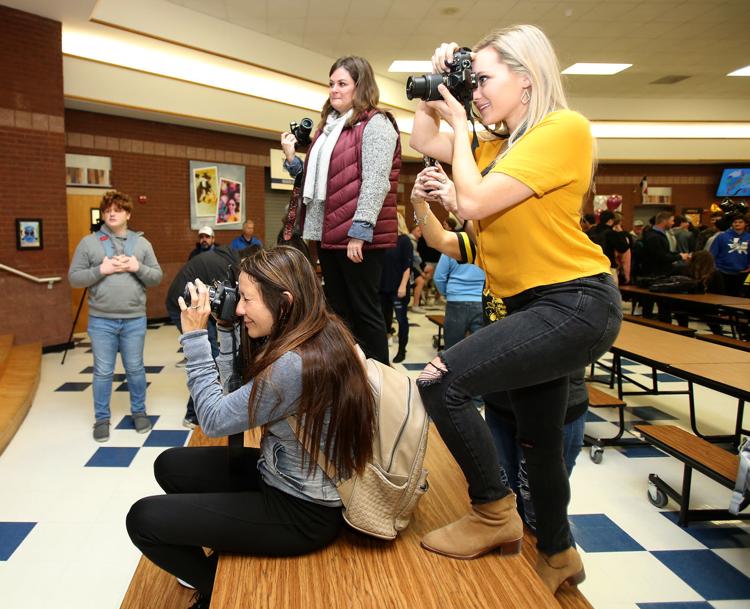 Robinson senior Jordan Rogers, a standout wide receiver for the Rockets last season, had his signing day to continue his baseball career.
Rogers, a Super Centex Baseball first-team pitcher as a junior in 2019, signed with Wichita State. He picked the Shockers over offers from Houston and Texas State.
The Robinson senior said the atmosphere surrounding the Kansas school sold him.
"Everybody in that town loves Wichita State," Rogers said. "They have a really strong fan base. It made me excited to be a part of it."
Wichita State has reached the College World Series seven times and defeated Texas to claim the national championship in 1989. The Shockers, who last made the NCAA Tournament in 2013, are building toward their first postseason appearance since joining the American Athletic Conference in 2018.
Rogers said he was recruited as a shortstop and won't be content just to be a part of the Wichita State program.
"I envision myself going there and competing, trying to earn a spot as a freshman," Rogers said. "I don't want to be satisfied just going to college. I want to aim higher for myself. I'm going to do everything I can to help be in that position."
Rogers was joined in the Robinson signing ceremony by football teammate Colby Crow, who signed with McMurry University in Abilene.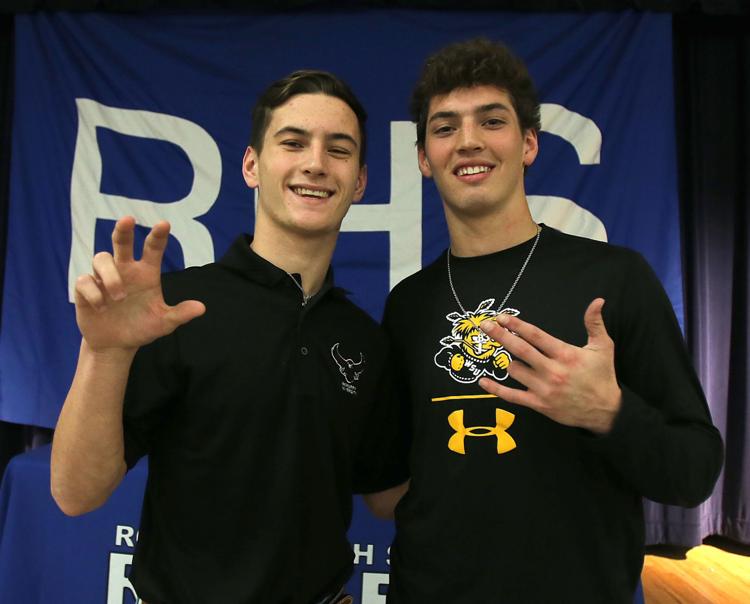 War Hawks raid Central Texas
Crow, who played safety for the Rockets, committed to McMurry on Monday after the school began to show an interest in him in the last few weeks.
"I could see what they're building," Crow said. "I love the city of Abilene and everything they're building. They have a lot of great coaches that just came in, so I can't wait to go down there."
McMurry is led by head coach Jordan Neal, who is heading into his second season at the school. Neal and the War Hawks found fertile recruiting ground in Central Texas as they signed players from multiple area schools.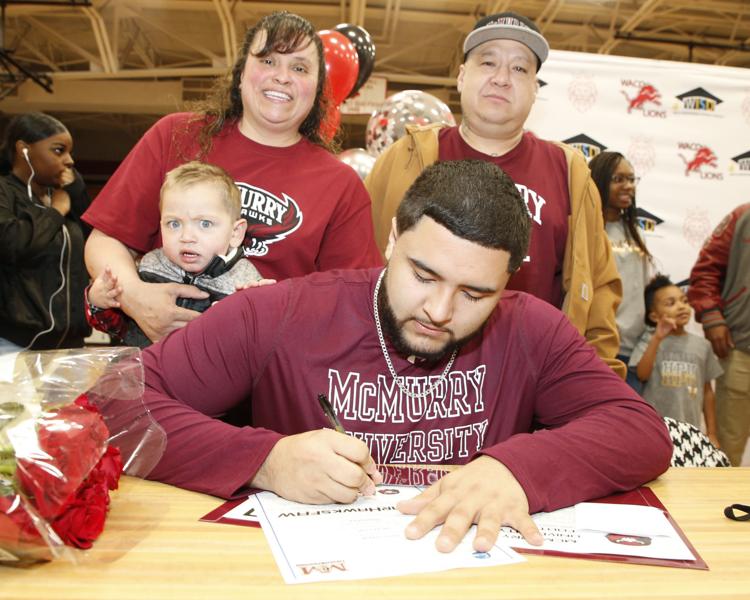 Waco High offensive lineman Jordan Becerra inked his letter with McMurry early on Wednesday morning at the Lions' gym.
"They're trying to change the program right now and the culture around there and I want to be a part of that," Becerra said. "That's what I really liked about them. Right when I got there it felt like family."
Waco High pair chooses Howard Payne
Lions defensive teammates Keith Guillory Jr. and Dai'Shawn Fisher echoed each other in saying Howard Payne felt like the right fit for them.
The Lions football duo traveled together to Brownwood for an official visit and came away with the same vibe.
"The atmosphere was good, the coaches were good and the bond was just there," Guillory said. "When I stepped on campus, it just felt like home."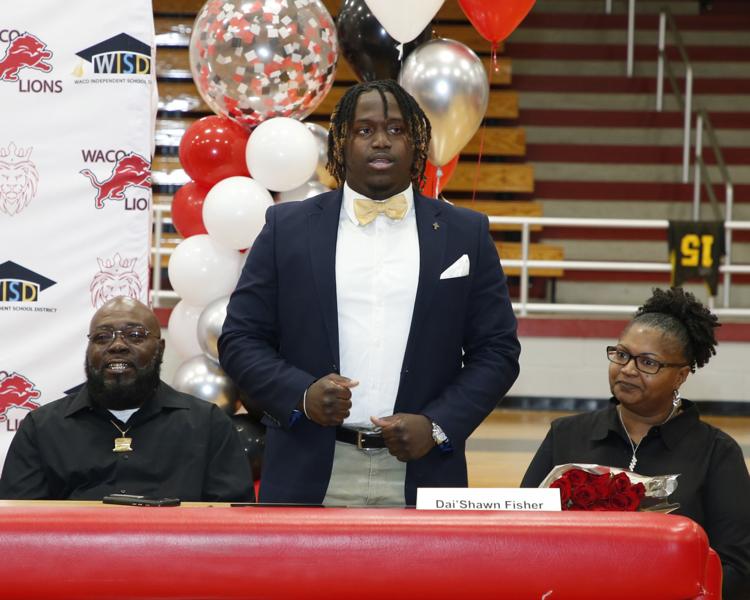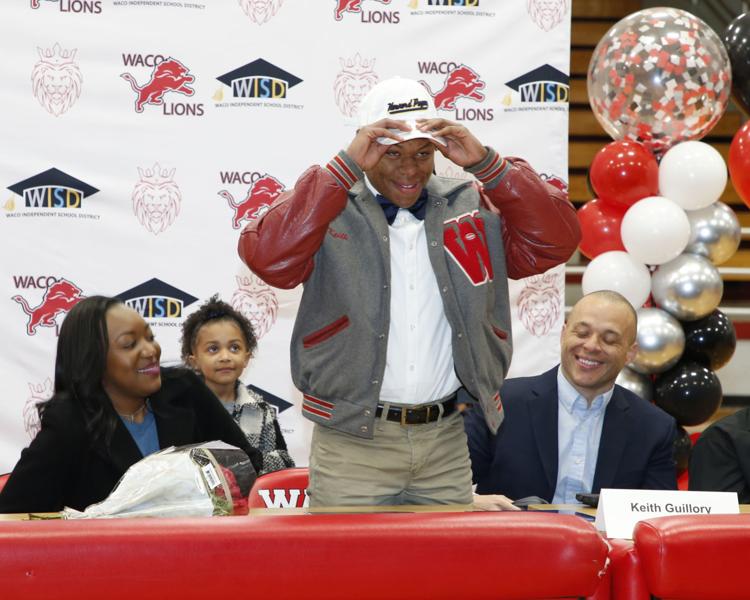 Guillory and Fisher each encountered coaches at Howard Payne that had a plan for how they could make an impact with the Yellow Jackets.
"When we got there, they had watched our film and said what it was about me that really attracted them," Fisher said. "They liked my physicality and things like that. It made me feel like they were expecting me to fit in and be part of the team.
China Spring trio going three different ways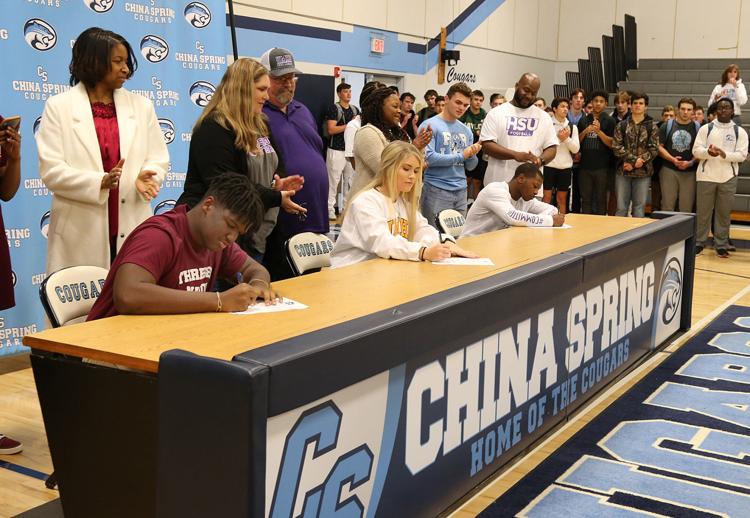 China Spring softball pitcher Elisabeth Paul and football teammates K.J. Peoples and Jabril Powell signed their national letters of intent early Wednesday afternoon at the Cougars' gym.
Paul, who committed to Mary Hardin-Baylor as a sophomore, finally made that choice official. She said it was as much about her academic field as the chance to continue her softball career.
"I was really sold on it because they have my major," Paul said. "UMHB is one of three schools in Texas that had my major (physical therapy). I got other offers, but I didn't look too deep into it. That was just set."
Peoples showed off his athleticism by playing a wide range of positions for China Spring last season. He was pressed into duty at quarterback for part of the season, but thrived playing wide receiver and running back.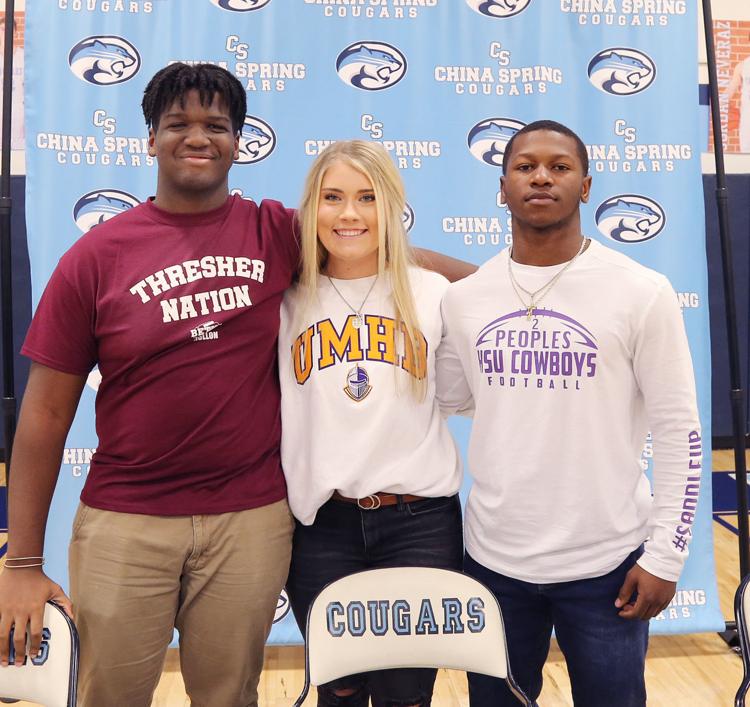 Hardin-Simmons took notice and Peoples found the right fit with the Cowboys.
"I'm pretty sure I'm going to be an athlete and play everything," Peoples said. "I'll probably start out and kick and punt return."
Powell, a versatile offensive lineman for China Spring, inked with Bethel College in Newton, Kan.
"It was amazing," Powell said. "It's like a bigger version of China Spring. All family."
Trio of Lorena athletes ink letters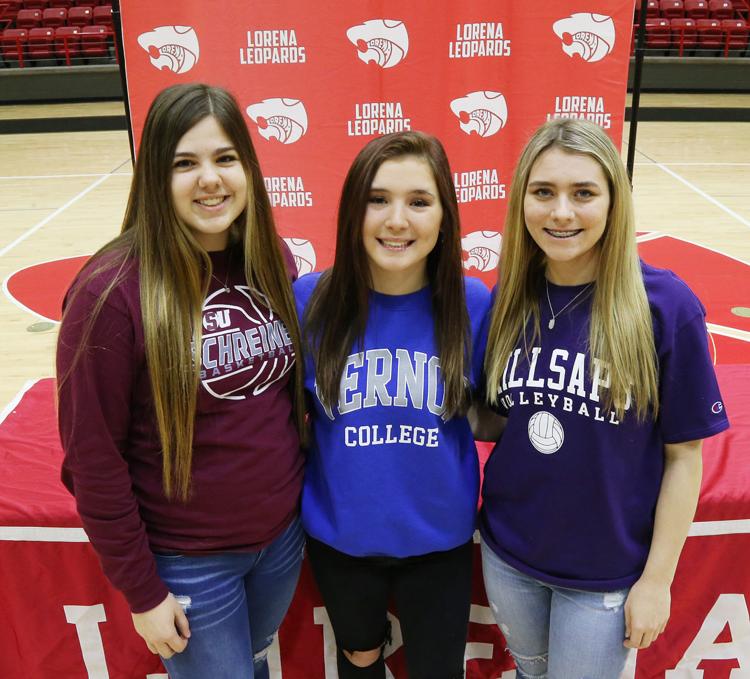 Over at Lorena, a trio of girls athletes in three different sports signed letters of intent, reflecting the overall consistency of the Lady Leopard girls athletic program. Kynlee Bartosh is headed to Millsaps (Miss.) College to play volleyball, Damiana Longo will join Vernon College's softball program, and Savannah Hoff signed to join the basketball program at Schreiner University in Kerrville.
All three athletes mentioned the smaller size of their college choice as one of the features that attracted them to it, kind of bringing that small-town Lorena charm that they grew up with.
"It's beautiful up there," Hoff said. "I just fell in love with the (Schreiner) campus. As soon as I set foot on it, the coaches are just amazing. I just love the atmosphere of the teammates and everything, and how they're really a team and a family."
Longo called the recruiting process "exciting," but was also happy that signing day had arrived. After all, she has a senior softball season that'll start in less than two weeks.
"I was kind of late in the game with recruiting and everything, so it's exciting to know that I finally signed," she said. "I want to go far in the playoffs this year, and I think we can do it. I think we have a lot of potential this year."
Bartosh looked a little wide-eyed over the hoopla of Lorena's signing day ceremony in the gym. But she couldn't help but get caught up in the energy of it all.
"It's a big milestone. I've always dreamed about it since I was a little kid," she said.
Midway celebrates another giant class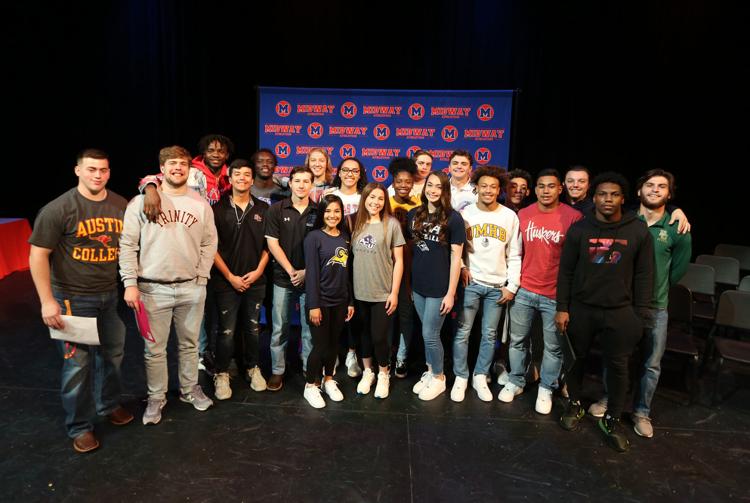 Even having been a part of a few of these ceremonies by now, Midway athletic director Brad Shelton couldn't help but beam. As Midway's class of 22 senior athletes posed for photos, Shelton remarked, "It really is pretty cool, isn't it?"
Midway brought a parade of standout athletes to its auditorium stage, representing seven different sports. Even though some had signed in November and December, they each received their moment under the stage lights and got to pose for additional photos.
Jeff Hulme's football program celebrated 10 players who will play at the next level. That group included a pair who will play Division I football at the service academies, as offensive lineman Wesley Ndago is bound for the Air Force and linebacker Brian Burton will attend West Point and play for Army.
Other football signees included running back/receiver Will Nixon with Nebraska, defensive end Luke Horner with Houston Baptist, receiver Eli Garvin with Mary Hardin-Baylor, linebacker JB Brown with Navarro College, defensive lineman Carson Byrd with Trinity University, defensive end Braden Endsley with Austin College, and receiver Kaleb Fonteneaux with Hardin Simmons. Additionally, kicker Bryce Boland — the son of Baylor men's tennis coach David Boland – will join Baylor as a non-scholarship player.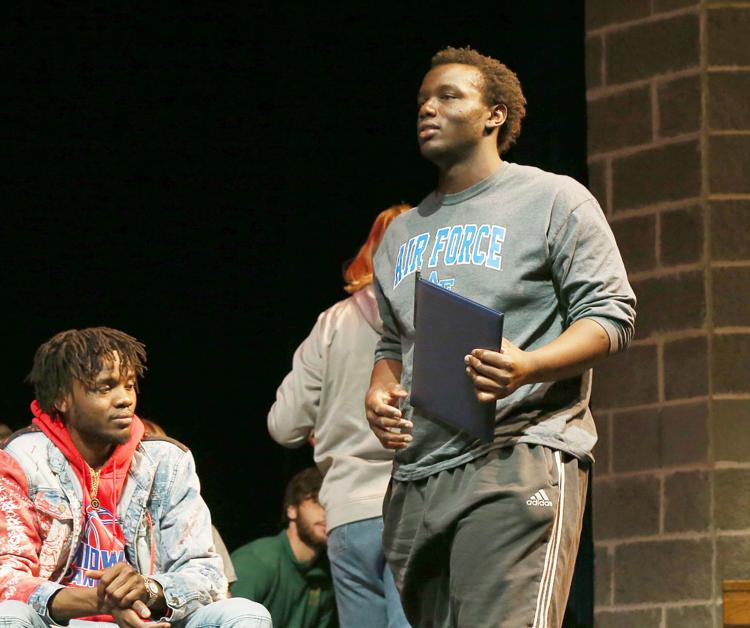 Ndago, a first-team Super Centex lineman, had 20 Division I offers by the time the recruiting process peaked. He was leaning toward potentially going to Cal, but while visiting some family in Colorado decided to make a quick stop by Colorado Springs and see the Air Force Academy.
That turned out to be a serendipitous decision.
"I ended up falling in love with the place," said Ndago, who wants to be an orthopedic surgeon someday. "It's right at the base of the mountains, and I used to live in Wyoming, so I love the mountains and everything like that. Once I looked at it, looking at med school, assuming I go in and have good grades and everything, I have an opportunity to get my med school paid for, and that's a huge relief. So everything like that, it just made sense."
At 6-3 and 220, Horner will end up playing either defensive end or linebacker at HBU. Of course, when his football journey began he never could have imagined playing on the defensive side of the ball. Horner started out as a quarterback.
"My sophomore year if you had told me that I would have said you're crazy. But we're here and I've signed, and I'm just really excited for the future," he said.
Whether they officially made their commitment in December or February, Midway's football players were glad they got to share Wednesday's ceremony with one another.
"We've spent the time grinding together, so it only makes sense that we spend the time shining together," Ndago said.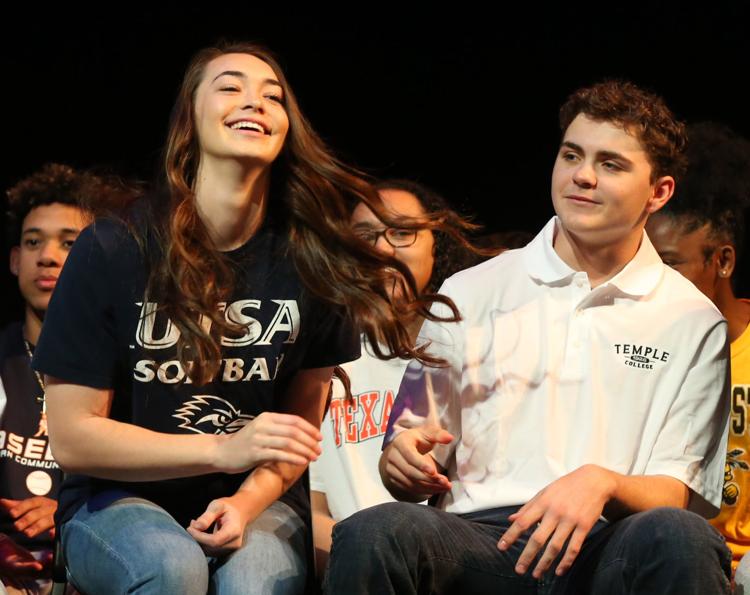 La Vega sending 7 athletes onward
Pirate pride was in full effect at La Vega, which honored a class of seven signees on Wednesday.
That included five players from the football team that made back-to-back state championship game appearances – kicker Ian Chavez is headed to Navarro, quarterback Landry Kinne will play for Tyler, safety Keyon Reese signed with McMurry, defensive lineman Vernon Walker made his commitment official with Hardin Simmons, and wide receiver Malachi Wright will play for Trinity Valley.
Chavez was proud to make not only history in his family, but at La Vega.
"I'm the first kicker at La Vega who ever got signed, and Navarro gave me the first opportunity to kick for them," Chavez said. "They've won some titles, and I'm very excited. I never thought I'd be here on this day."
Reese said that he chose McMurry, a Division III program in Abilene, in part because of another La Vega connection there.
"It feels like family, it feels like home," Reese said. "A former La Vega player (Caleb Wright) goes there, and he gave me some pointers on life and college, and I chose McMurry. … I'm the second one to go to college in my family, and I wanted to keep it going."
Additionally, a pair of La Vega girls athletes signed, as Aiyana Ephraim will play basketball at Concordia while Tierney Sawyers will go to Southwestern Christian for volleyball.
"It's real exciting, especially since when I first came to high school (volleyball) wasn't exactly what I wanted to do," said Sawyers, whose brother is on Southwestern Christian's track and field team. "Somewhere in the middle of high school I figured out volleyball was what I wanted to do."
Central Texas signings: February 2020
Centex 25 for 2020
| No. | Name | Pos | Ht | Wt | School | Status |
| --- | --- | --- | --- | --- | --- | --- |
| 1 | Quentin Johnson | WR | 6-4 | 190 | Temple | Signed with TCU |
| 2 | Jay'veon Sunday | RB | 5-11 | 188 | Connally | Signed with Washington |
| 3 | Will Nixon | RB | 5-11 | 185 | Midway | Signed with Nebraska |
| 4 | Korie Black | DB | 6-1 | 160 | Connally | Signed with Oklahoma State |
| 5 | Trent Pullen | OT | 6-3 | 270 | Connally | Signed with Oklahoma State |
| 6 | Demarrquese Hayes | LB | 6-2 | 195 | La Vega | Signed with Kansas State |
| 7 | Wesley Ndago | OL | 6-3 | 295 | Midway | Signed with Air Force |
| 8 | Logan Smith | K | 5-7 | 165 | Belton | Signed with Texas |
| 9 | Jordan Nichols | DB | 6-0 | 180 | Connally | Signed with North Texas |
| 10 | Landry Kinne | QB | 6-1 | 175 | La Vega | Signed with Tyler JC |
| 11 | Elijah Washington | OL | 6-6 | 285 | Belton | Signed with Blinn JC |
| 12 | DaMarco Williams | DB | 6-3 | 180 | Temple | Signed with Tulsa |
| 13 | Carson Byrd | DT | 6-1 | 265 | Midway | Signed with Trinity |
| 14 | Devin Wilson | ATH | 5-11 | 185 | Whitney | Signed with Cisco |
| 15 | Bryce Boland | K | 6-0 | 165 | Midway | Signed with Baylor |
| 16 | Jeremiah Stroupe | RB | 5-11 | 181 | University | Unsigned |
| 17 | Anthony Jackson | RB | 5-7 | 185 | Temple | Signed with UTPB |
| 18 | Corey Sandolph | WR | 6-2 | 180 | University | Signed with UTPB |
| 19 | Luke Horner | LB | 6-2 | 210 | Midway | Signed with Houston Baptist |
| 20 | Kolby Tanner | WR | 5-11 | 165 | Whitney | Signed with SAGU |
| 21 | Keith Guillory Jr. | S | 5-9 | 175 | Waco High | Signed with Howard Payne |
| 22 | Braden Endsley | DE | 6-1 | 240 | Midway | Signed with Austin College |
| 23 | Ty Moore | WR | 6-1 | 185 | Lorena | Unsigned |
| 24 | Jar-Mychael Hudson | LB | 6-2 | 180 | Fairfield | Signed with Navarro |
| 25 | KJ Peoples | WR | 5-7 | 168 | China Spring | Signed with Hardin Simmons |
Central Texas signings: February 2020
| Athlete | School | Signed with |
| --- | --- | --- |
| FOOTBALL | | |
| WR TJ Jarmon | Bruceville-Eddy | Austin College |
| OL Jabril Powell | China Spring | Bethel College |
| WR TJ Ferch | Clifton | Cisco |
| WR Colby Caniford | Clifton | Hardin-Simmons |
| WR Demontray Cooks | Connally | SW Assembly of God |
| WR Je'juan Forward | Connally | SW Assembly of God |
| ATH Justin Abram | Fairfield | Midwestern St. |
| OL Chandler Noble | Fairfield | A&M-Commerce |
| CB Dequann Williams | Fairfield | Southern Nazarene |
| K Ian Chavez | La Vega | Navarro |
| S Keyon Reese | La Vega | McMurry |
| DL Vernon Walker | La Vega | Hardin-Simmons |
| WR Malachi Wright | La Vega | Trinity Valley |
| OL Michael Ramos | McGregor | Concordia (Neb.) |
| DB Jaden Proctor | Mexia | A&M-Commerce |
| DE Dawson Scott | Mexia | Southern Arkansas |
| OT Jacob Kyle | Mexia | Navarro |
| DT Arik Medlock | Mexia | E. New Mexico |
| LB JB Brown | Midway | Navarro |
| LB Brian Burton | Midway | Army |
| WR Kaleb Fonteneaux | Midway | Hardin-Simmons |
| WR Eli Garvin | Midway | Mary Hardin-Baylor |
| OL Noah Plsek | Reicher | Angelo State |
| DB Colby Crow | Robinson | McMurry |
| K Adrian Guzman | Temple | Tarleton |
| DB Roman Jackson | Temple | Tarleton |
| OL Dakari White | Temple | UT-Permian Basin |
| TE Tyson Magana | Temple | UT-Permian Basin |
| OL Markel Carter | Temple | UT-Permian Basin |
| OL Jordan Becerra | Waco High | McMurry |
| LB Dai'shawn Fisher | Waco High | Howard Payne |
| BASEBALL | | |
| Athlete | School | Signed with |
| Jackon Berry | Midway | E. Oklahoma St. |
| Daniel Bojorquez | Midway | Concordia |
| Andrew Cates | Midway | East Texas Baptist |
| Logan Pace | Midway | Mary Hardin-Baylor |
| Joseph Redfield | Midway | Temple College |
| Elijah Rodriguez | Midway | MCC |
| Jordan Rogers | Robinson | Wichita State |
| GIRLS SOCCER | | |
| Athlete | School | Signed with |
| Samantha Brown | Midway | Abilene Christian |
| Vanessa Soriano | Midway | Texas Wesleyan |
| GIRLS BASKETBALL | | |
| Athlete | School | Signed with |
| Aiyana Ephraim | La Vega | Concordia |
| Savannah Hoff | Lorena | Schreiner |
| Shamaryah Duncan | Midway | Wichita State |
| BOYS TENNIS | | |
| Athlete | School | Signed with |
| Dakota Anderson | Crawford | Howard Payne |
| BOYS BASKETBALL | | |
| Athlete | School | Signed with |
| Julian Spotster | Bruceville-Eddy | Murray State (Okla.) |
| Godsgift Ezedinma | Midway | Incarnate Word |
| SOFTBALL | | |
| Athlete | School | Signed with |
| Elisabeth Paul | China Spring | Mary Hardin-Baylor |
| Damiana Longo | Lorena | Vernon |
| Tatum Seith | Midway | UTSA |
| VOLLEYBALL | | |
| Athlete | School | Signed with |
| Tierney Sawyers | La Vega | SW Christian |
| Kynlee Bartosh | Lorena | Millsaps |
| Reese Rhodes | Midway | Texas Tech |
---
Photo gallery
Signing Day 2020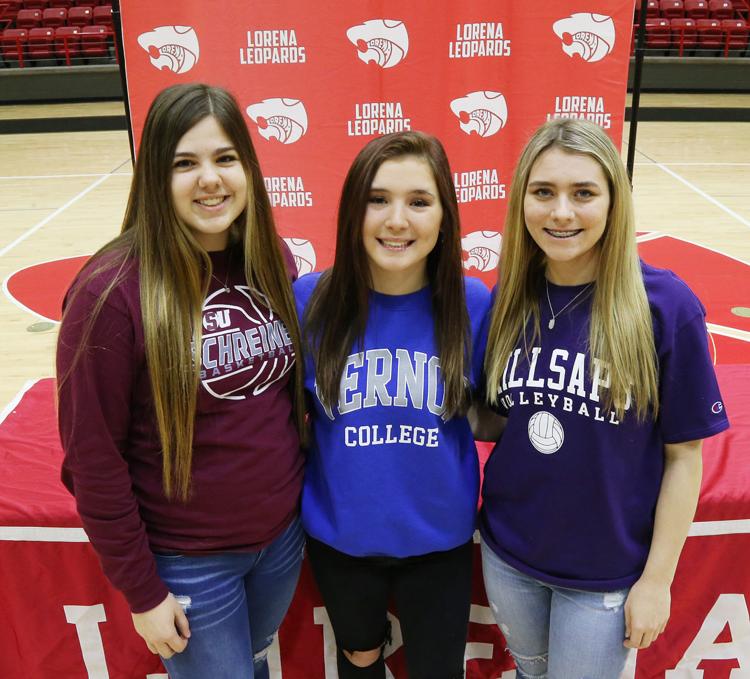 Signing Day 2020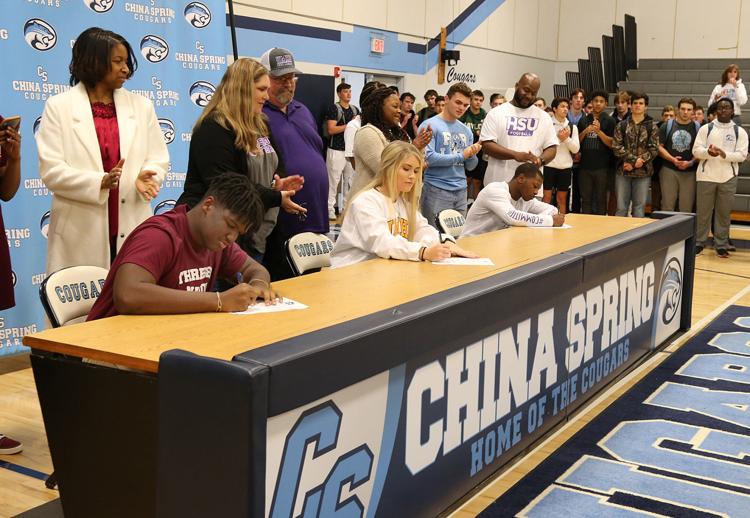 Signing Day 2020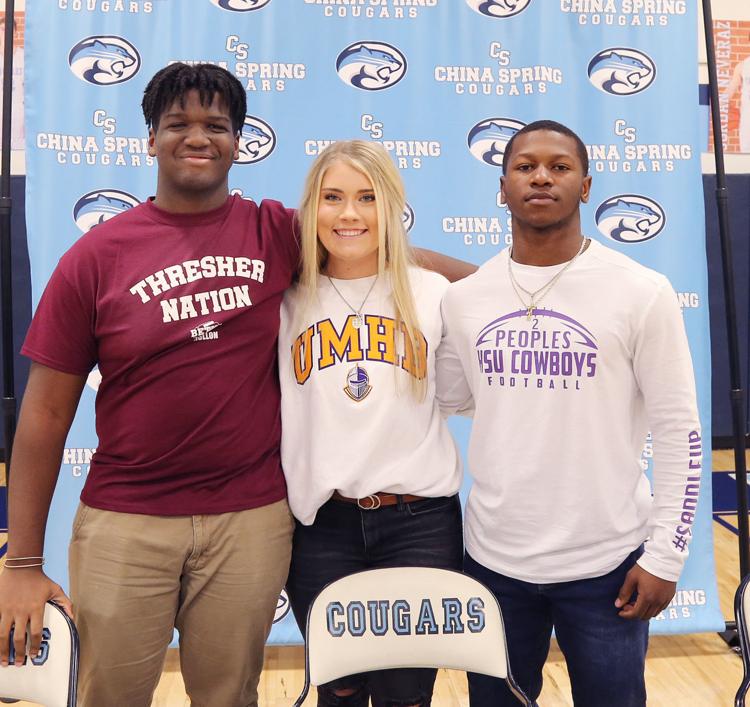 20200206_spt_whssigningday_jy07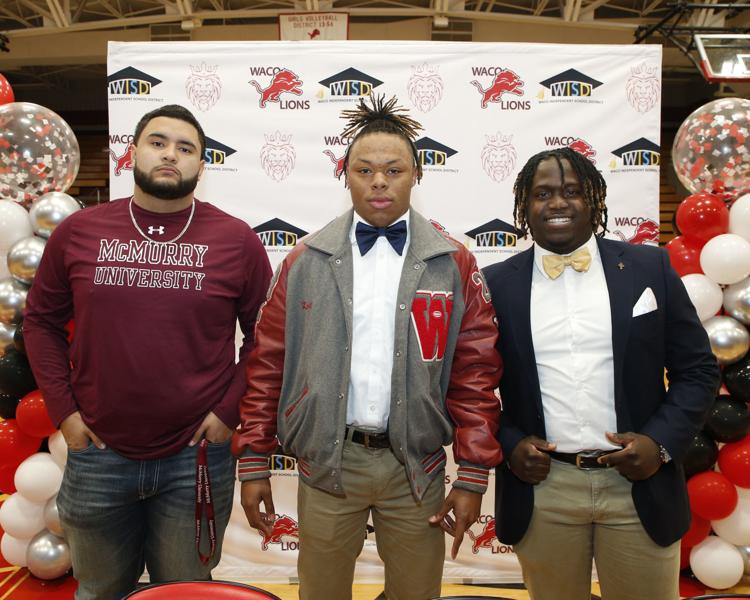 20200206_spt_whssigningday_jy05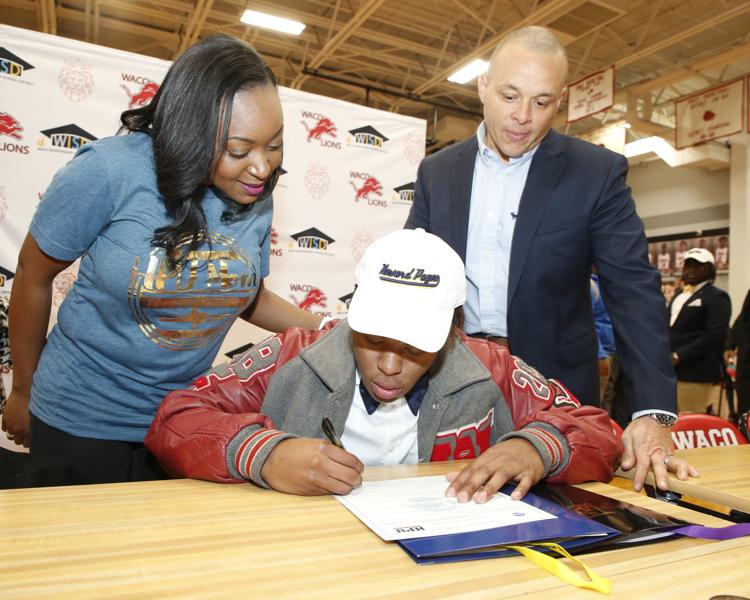 20200206_spt_whssigningday_jy06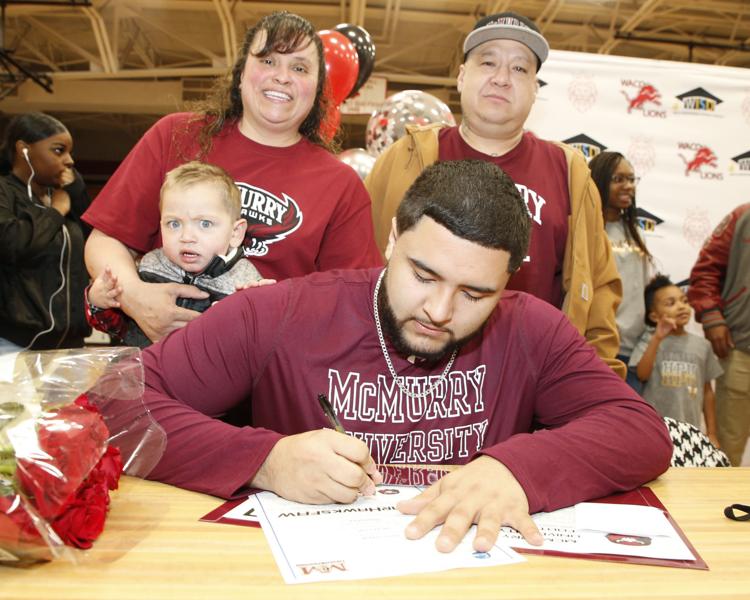 20200206_spt_whssigningday_jy02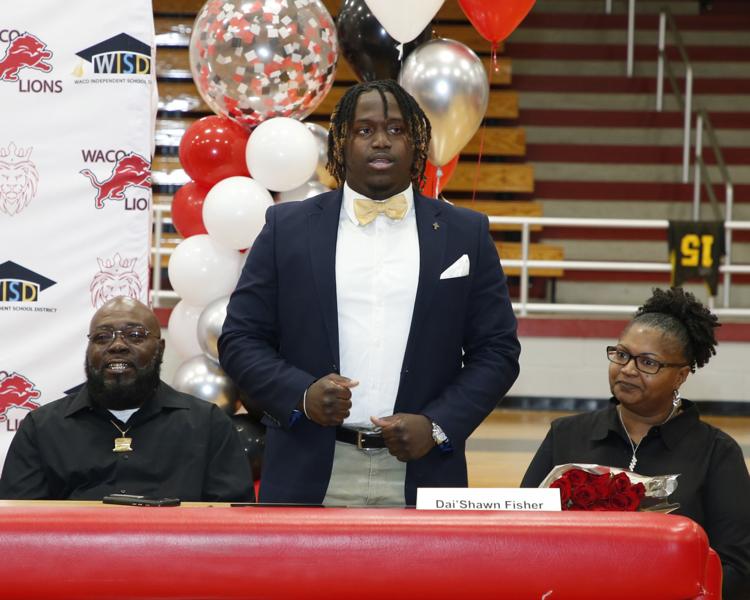 20200206_spt_whssigningday_jy01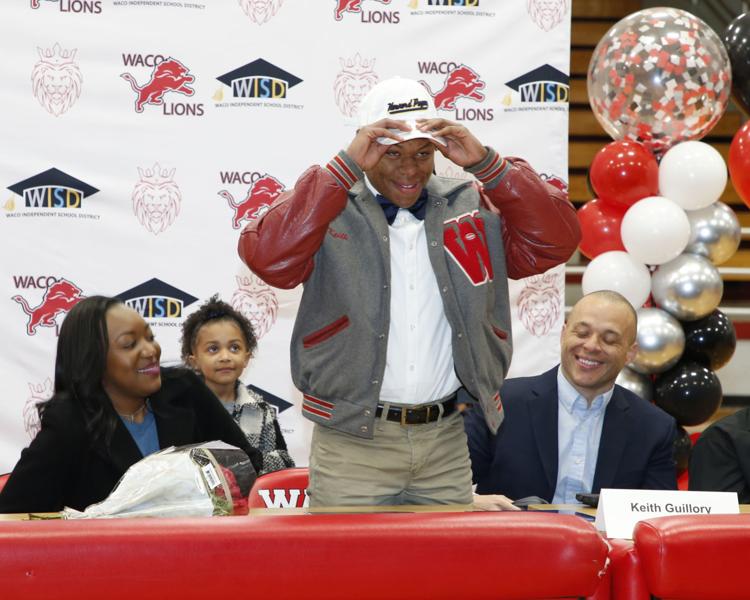 20200206_spt_whssigningday_jy03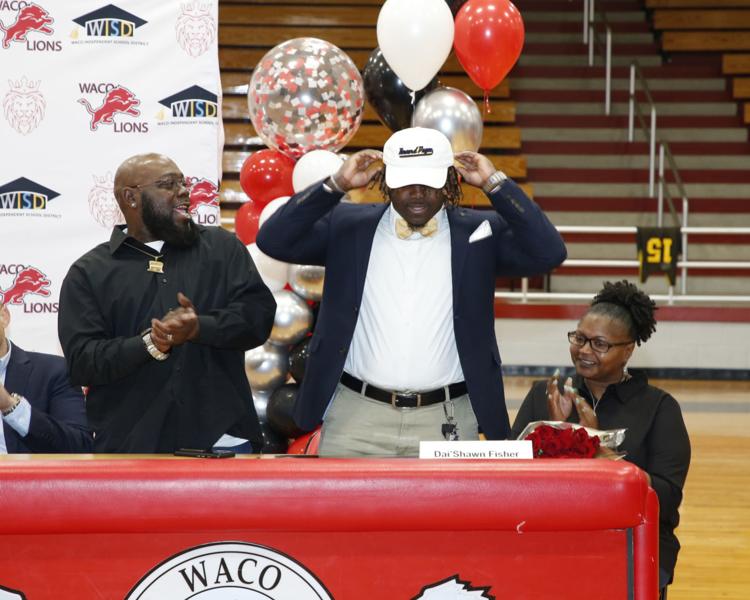 20200206_spt_whssigningday_jy04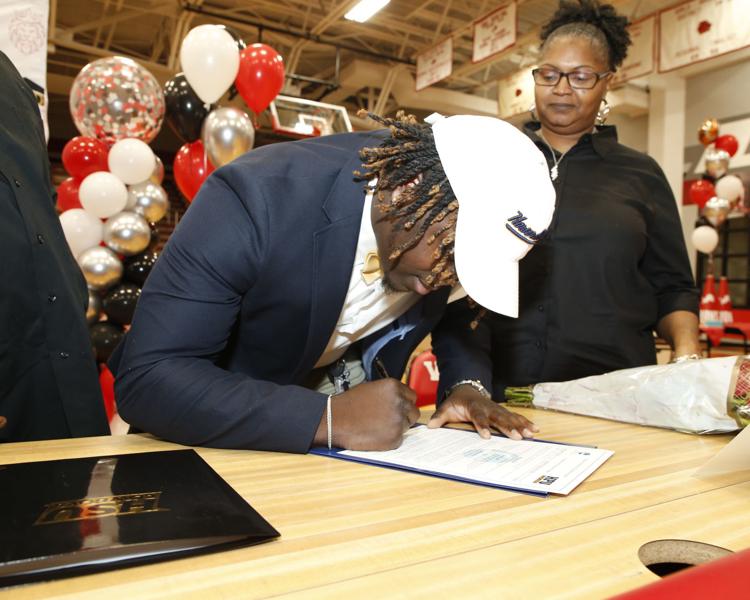 Signing Day 2020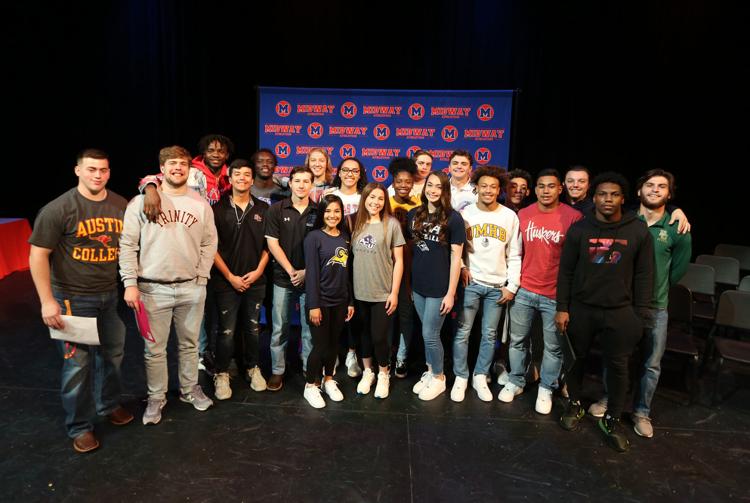 Signing Day 2020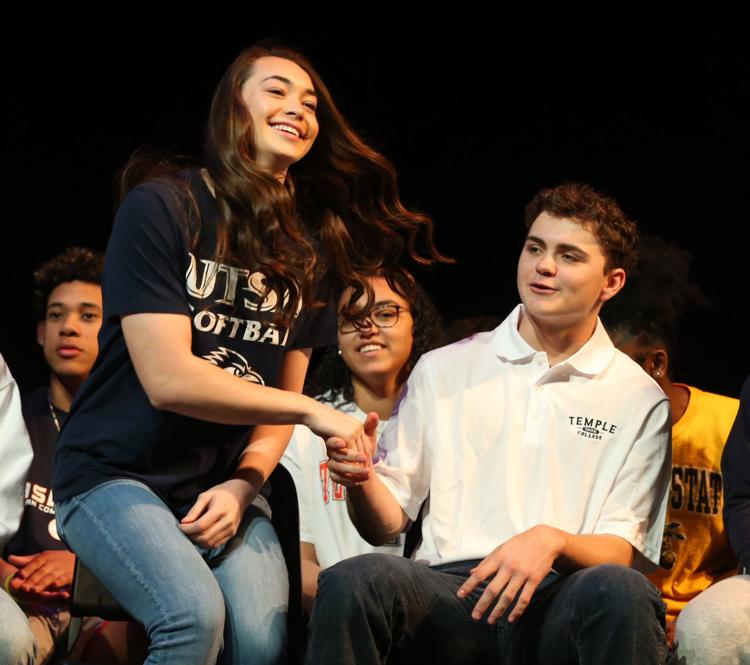 Signing Day 2020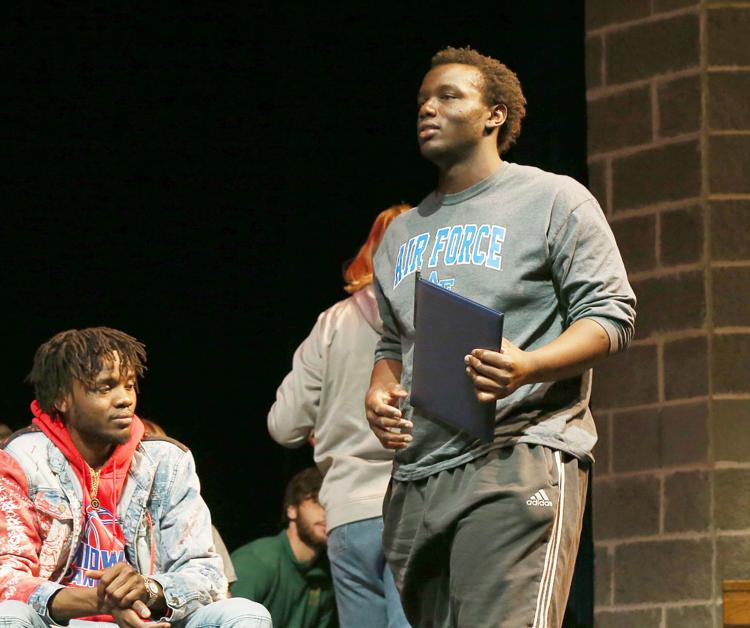 Signing Day 2020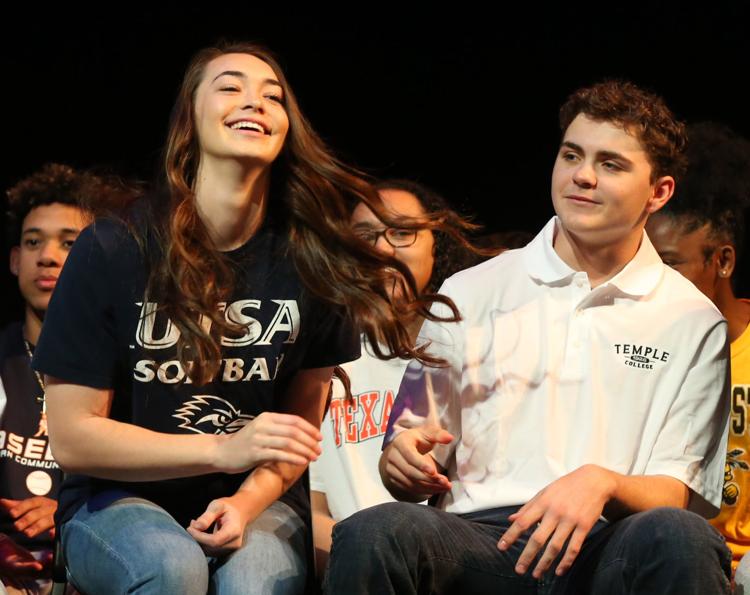 Signing Day 2020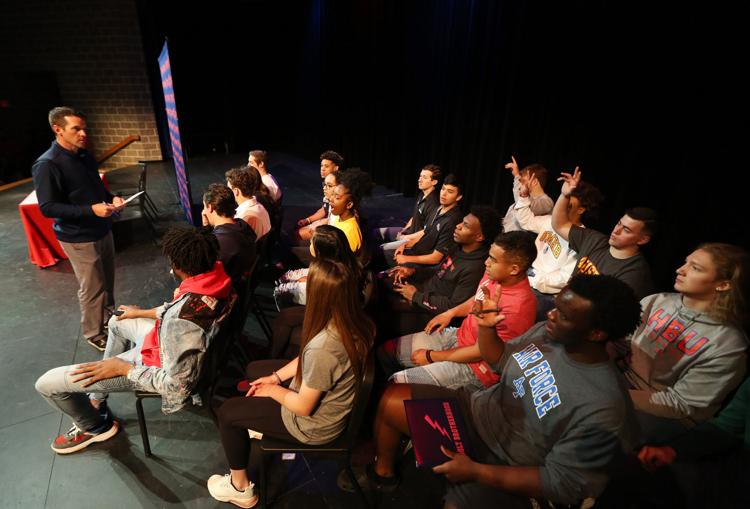 20200206_spt_robinson_signing_jl6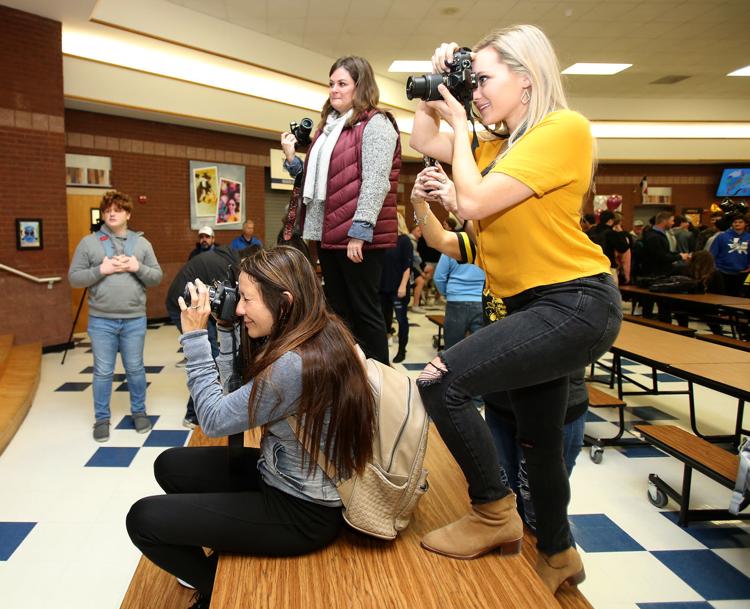 20200206_spt_robinson_signing_jl1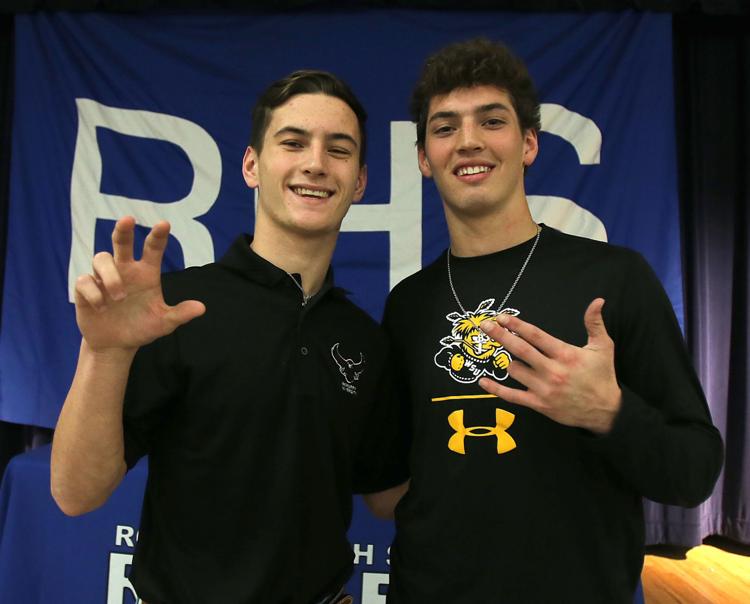 20200206_spt_robinson_signing_jl5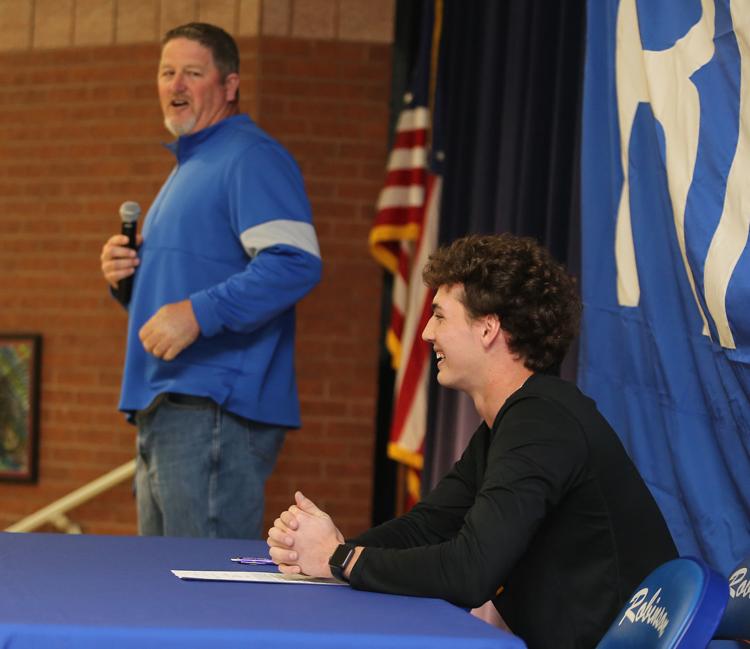 20200206_spt_robinson_signing_jl4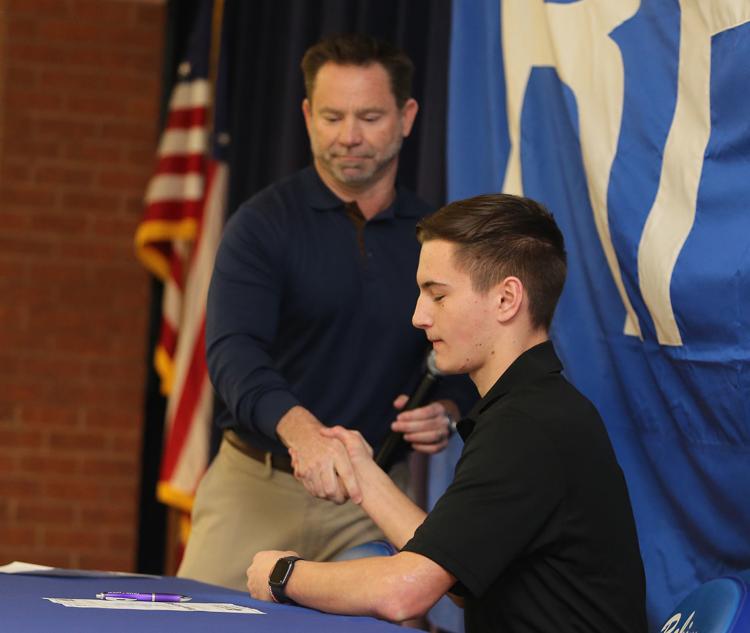 20200206_spt_robinson_signing_jl2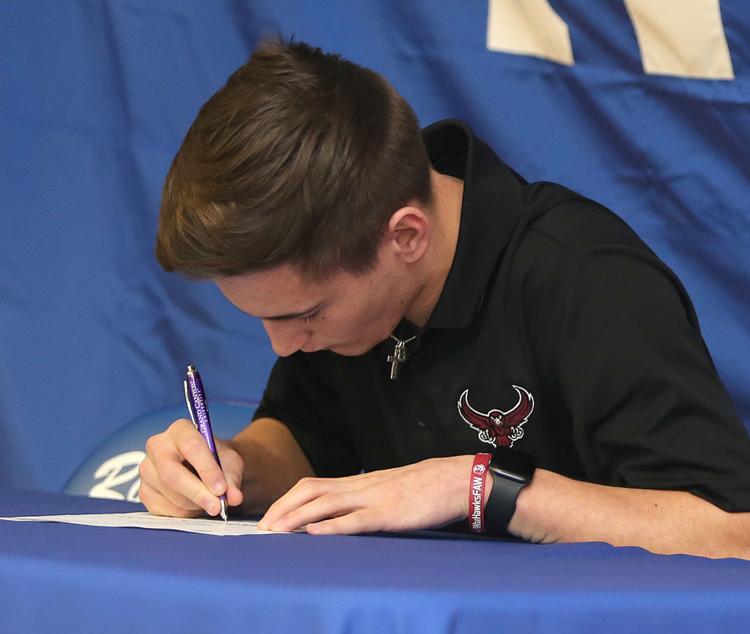 20200206_spt_robinson_signing_jl3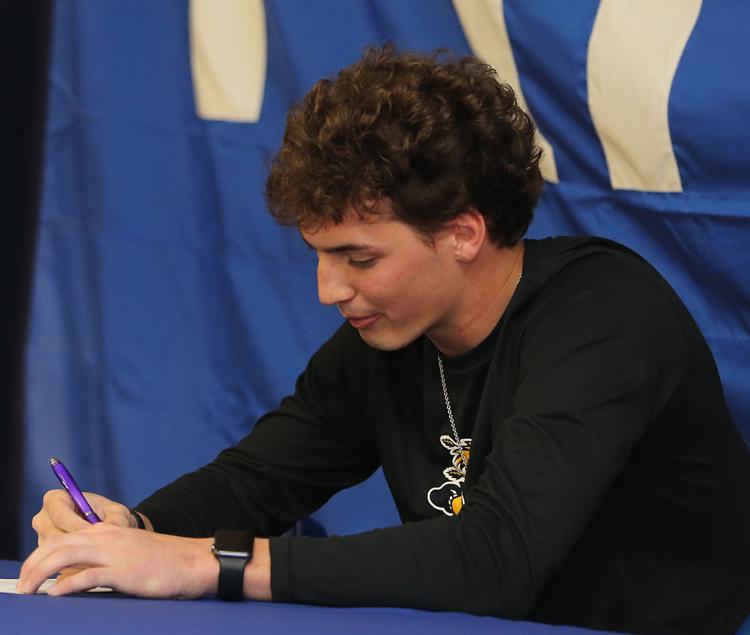 -- VERTICAL GALLERY: HIDE TITLES, UP FONT SIZE --
---