CRAWFORD — The top-ranked Crawford Lady Pirates celebrated senior night by being themselves.
There were plenty of hugs and high-fives in pregame, and coach Jeff Coker even honored his seniors by wearing a black sequined blazer for the occasion. But once the Crawford players settled into their District 14-2A match against Valley Mills, they took care of business.
Led by seven seniors, Crawford notched a 25-11, 25-20, 25-18 victory over Valley Mills in the Lady Pirates final home match of the season.
Valley Mills scrapped with Crawford for a while, tying Game 1 at 10. That set up The Lady Pirates (39-4, 8-0 in district) for their most dominant portion of the match.
Crawford senior standout Anne Williams registered a kill to start the Lady Pirates' surge. Then she had a dink and a block that firmly placed momentum on the Crawford side. Seniors Ana Maddox and Hannah Morton mixed in a kill and an ace, respectively, to boost the Lady Pirates' lead to 16-10. By the time Morton's serve was up, Crawford had stretched its lead to an insurmountable nine points.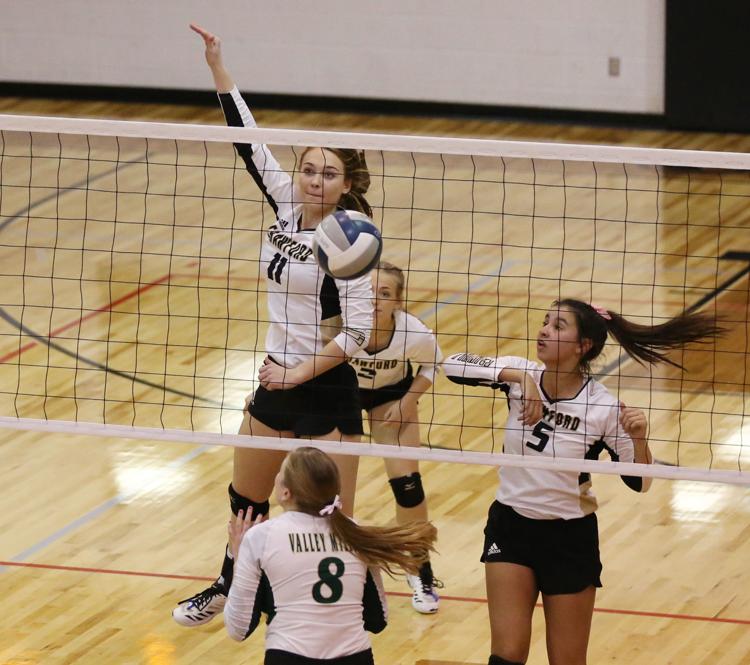 The Lady Pirates eventually scored 15 of the last 16 points of the set for a convincing start.
"I don't know that we really made any adjustments," Crawford coach Jeff Coker said. "I think we started playing better. I remember thinking, 'Man, it's close.' And then I looked up and all the sudden it wasn't close anymore. When we're clicking and when we're on a roll, it's hard for people to defend us."
That set the tone for the match.
Valley Mills hitters Ragain Hyde, Jessica Johnson and Ava Grace Warner came up with a few kills to keep Crawford's attention. But the Lady Eagles (26-10, 4-4) never really threatened to push the match to a fourth game.
Williams finished with a match high 14 kills and nine digs, while Maddox pitched in seven kills. Crawford setter Lexi Moody did an excellent job of putting the Lady Pirates hitters in good positions as she finished with 33 assists.
Williams said Crawford was able to get itself right throughout the match because so many plays started with good sets.
"There were some points where we would get in a rut," Williams said. "It always helps to get a perfect pass and a kill and you're in your service rotation."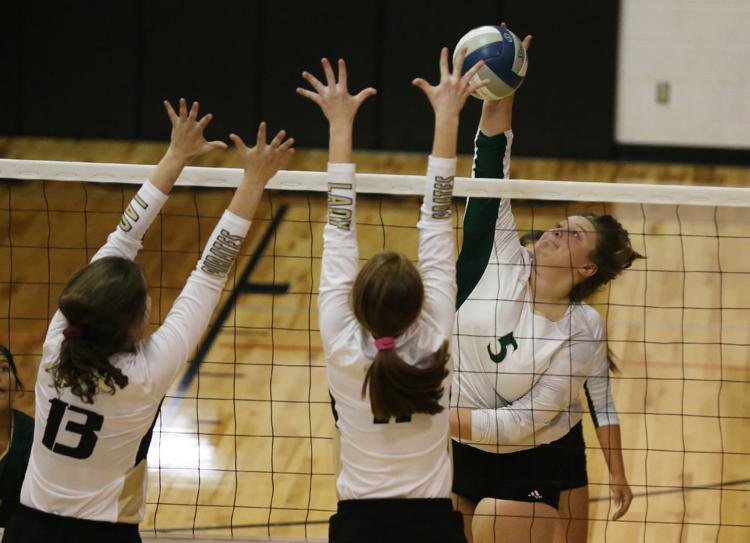 In the end, it was all about seniors Williams, Maddox, Morton, libero Peyton Elmore, Courtney Allen, Kealey Witt and Kelsey Compton. Coker went with his seniors for most of the third and deciding game.
"A lot of times a big class is like four, but we have seven kids that were willing to stick with it," Coker said. "Obviously some of them play a whole bunch and some of them don't play very much, but for them to care enough to be a part of it, it says a lot about their character and about the program in general."
Witt served for two of the final three points. Valley Mills' Johnson came up with a couple of kills to keep the match going. But then a Lady Eagles error ended it.
"It's very bittersweet coming out and being in front of our fans and everything," Williams said. "We wanted to thank them for supporting us not just for this year but for our whole time. It was really emotional to see them out here."