Several of Midway's top players were afforded a senior discount on Tuesday night.
Meaning, they cashed out big-time.
Midway's five seniors all took the court as starters, as they all cracked the scorebook before the first quarter horn blared. Setting the nets abaze early, they ensured that their final home game would be a special one, crushing Belton, 70-25, on Senior Night.
"If we can shoot like that every night, we're definitely hard to beat," Midway coach Ben Holder said. "All of our seniors are pretty special. I thought we were great out of the gates. Jamiya Toliver hit that first 3, it's a great look. She's a kid who's been a sub for us all year, and first thing out of the gates. It's that senior magic, you know?"
Indeed, Toliver busted a quick 3-pointer shortly after the jump ball. Belton's McKenna Maddox answered with a trey of her own shortly thereafter, but Midway (26-8, 13-3 in District 12-6A) wasn't about to let this one devolve into a free-for-all shootout. The Pantherettes locked down defensively, forcing Belton (12-24, 4-12) into a rack full of turnovers. And then they kept up a sizzling shooting pace on the other end, running out to 24 first-quarter points.
Midway feasted both on the drive and with its deft outside touch. Senior Shamaryah Duncan swished in a trio of rainbow 3-pointers in the opening quarter, as Midway built a 24-10 lead.
If Midway could bottle that kind of shooting and carry it in the Gatorade cooler into the playoffs, a deep run would be a lock.
"We can be very dangerous," Duncan said. "Once I hit one and get in my rhythm, keep hitting them, it's over."
Before the game, Midway's five senior players, along with its senior manager, paraded onto the court with all the traditional farewell pomp and circumstance. Their parents escorted them to center court, where the underclassmen met them with all manner of balloons, candy and flowers.
But the seniors saved the real show for the game. Reaghan Ridge deceptively anticipated Belton's passes on her way to fast break-starting steals. Jakoriah Long seemed to slither to the basket whenever she wanted. J'Lynn Gus's passing gave a crisp edge to the transition game.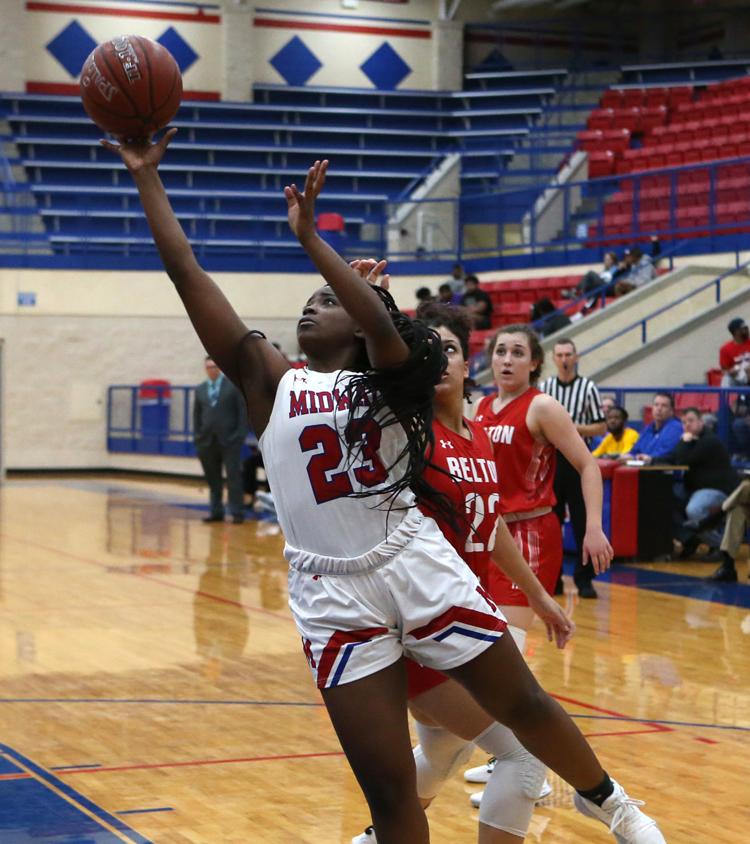 As for the Wichita State signee Duncan, her contributions were typically myriad. She thinks the game so well, as evidenced when she redirected the ball with a tip pass to set up Ridge for a corner 3, or when she blocked a Belton shot and managed to deflect the ball off the Lady Tiger player out of bounds.
Talk about a sweet sendoff.
"It was a lot of fun," said Duncan, wiping away tears. "I've been playing with them since I was about first grade, so that we have that bond connection. I'm going to miss that on the court, especially here at Midway. It really means a lot. As you can tell, I'm very emotional."
Midway had the game pocketed away by halftime, up 47-20. And yet it only managed to widen the gap in the second half, holding Belton without a point in the entire third quarter. Brenda Gomez's Lady Tigers didn't illuminate the scoreboard again until 5:07 remained in the fourth, when Karina Fisher drilled a corner 3-pointer for her only points of the game.
"They're aggressive from the get-go. I'd like to say that's all us, but it's not," Holder said, when asked about the Pantherettes' defense. "They've been playing basketball a long time, and it's instinctual. We just try to put them in position where they can utilize the gifts that they have. That's playing aggressive defense and getting after people, causing a lot of turnovers. I think we play our best basketball when we play fast. "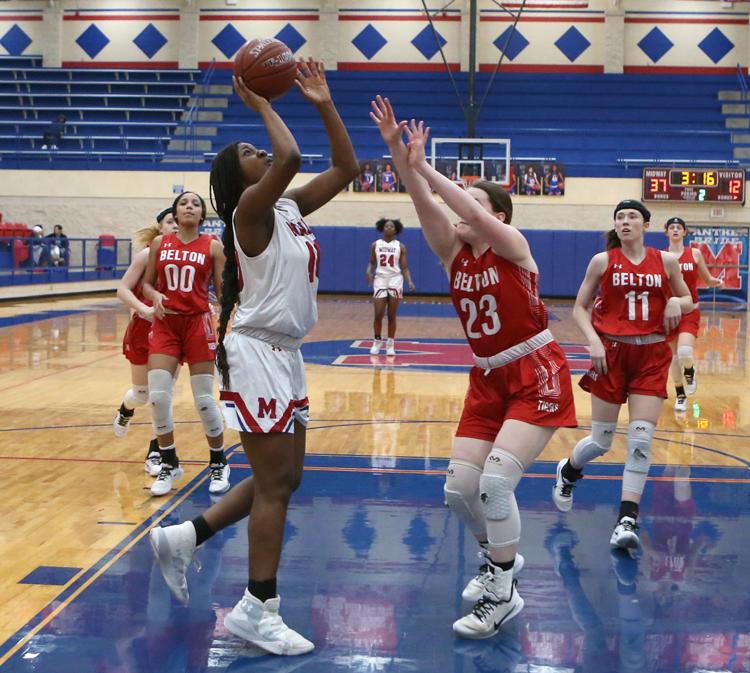 Ridge tossed in a game-high 20 points, Long added 16, and Duncan hit for 11. In the waning minutes, Holder allowed each senior to wave to the crowd one last time before he substituted them for a non-senior. Then in the locker room, the girls shared tearful hugs and laughs, singing a little bit of Sister Sledge's 1979 hit "We Are Family."
Midway will get Mesquite Horn in next week's 6A bi-district playoffs, at a site and time to be announced. If Tuesday's regular-season finale was any indication, the Pantherettes aren't ready for the ride to end quite yet.
"I think we're a really good team and think we have a great chance of making a run," Holder said. "I thought we had some bad district games where we didn't put things together right. But I'm hoping that those things are behind us and we can go make a deep playoff run. We'll see. If we're shooting the ball like that, we're hard to beat."
China Spring 39, La Vega 32
Kayla Peoples put up 13 points and Brylee Smith added 11 as the Lady Cougars held off La Vega, clinching the No. 3 playoff seed out of 18-4A.
China Spring (12-13, 6-4) played some feisty defense, holding the Lady Pirates to only six points in each of the first two quarters.
La Vega (17-14, 5-5) was paced by Andrea Johnson's 13 points. With the loss and Lorena's win over Connally, the Lady Pirates end up tied with Lorena for fourth in the district, setting up a tiebreaker game later this week.
Gatesville 64, Robinson 46
GATESVILLE – Marlee Ward scored 18 points, and the Lady Hornets got off to a sizzling start in a season-ending win over the visiting Rockettes.
Gatesville (21-12, 7-3) and Robinson (12-17, 7-3) ended up tied atop the District 18-4A standings, meaning they'll share the title in the always-competitive loop. However, the Lady Hornets captured the No. 1 playoff seed by virtue of a season sweep.
Alayna Washington added 16 points for Gatesville.
Madison Crowson scored 16 points to lead Robinson.
GIRLS SOCCER
Belton 2, Midway 0: On a night where the rain fell steadily, Midway's district winning streak was washed away.
Belton pocketed a pair of goals, becoming the first team to score on Midway (9-2-1, 7-1-0) in district play. Before the night, Midway had outscored its district foes, 48-0. This match was moved from Midway's normal soccer field to the artificial turf of Panther Stadium due to the nasty weather.