One of Central Texas' most accomplished underclassmen will be making the jump from Class 2A to 6A in the upcoming school year.
Junior Tyler Webb, who was the Super Centex Basketball Player of the Year and the second-team quarterback on the Super Centex football team as a Bosqueville sophomore this past school year, will be a Midway Panther this fall.
Ken Webb, Tyler's father, has been hired as a Midway boys' basketball and track and field assistant coach, Midway athletic director Brad Shelton confirmed on Tuesday.
Midway football coach Jeff Hulme said Tyler Webb has been participating in strength and conditioning camp with the Panthers this week.
Webb led Central Texas QBs by passing for 2,496 yards and 28 touchdowns last season, following up his freshman campaign when he was the Super Centex Football Newcomer of the Year after passing for 3,351 yards.
Midway will have a new starting quarterback this season after senior Nick Jimenez led the Panthers to the Class 6A Division I Region II final last fall. However, Hulme said Webb will be playing catch-up in the race to be the Panthers' starting quarterback in the upcoming campaign.
"It's an open competition," Hulme said. "(Webb is) a little behind the three kids battling for it because they all went through spring practice. Nothing's going to be handed out. It'll have to be earned."
Hulme said junior Jared Moore, senior Preston Recks and junior Garrett Childers were the three quarterbacks competing to be the varsity starter during spring practice.
On the basketball court, Webb averaged 23.2 points, 12.6 rebounds, 4.3 assists, 2.7 steals and 2.4 blocks in earning the Super Centex top honor. He also earned Super Centex Newcomer of the Year after his freshman season when he averaged 22.5 points and 10.2 rebounds.
Ken Webb will fill the vacancy on the Midway staff that was left when Larry Brown, head coach Matt Brown's father, retired following this school year. However, Webb will be in a different role than that of Larry, who was the assistant head coach. Webb was not on the coaching staff at Bosqueville.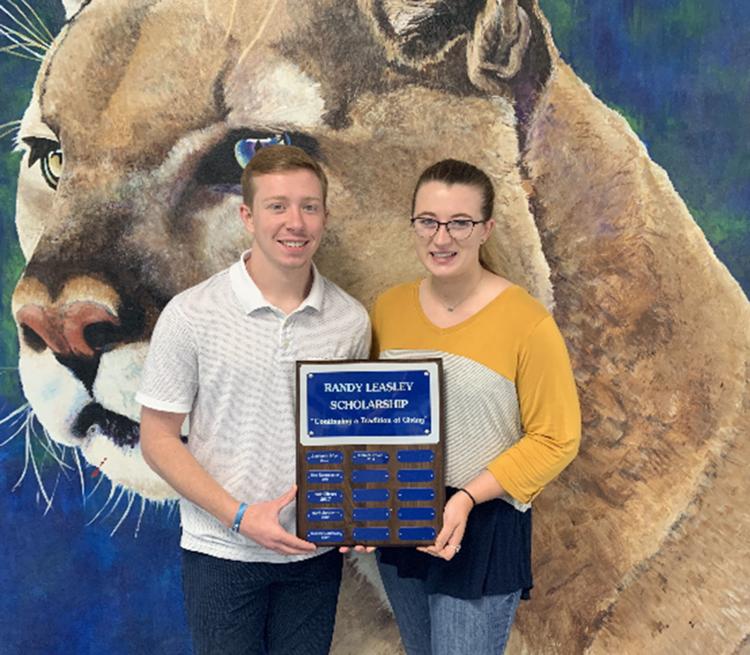 Brown, Littleton earn Leasley scholarships
China Spring graduates Malori Brown and Hunter Littleton have been named the 2019 Randy Leasley Scholarship recipients.
Brown, the China Spring valedictorian, is headed for West Virginia where she will compete on the Mountaineers' rifle team. She finished her high school career with a 4.47 GPA and served as the vice president of the National Honor Society, a member of the choir, Peer Assistance and Leadership, and Cougars in Action.
Littleton graduated in the top 10 of the China Spring senior class with a 4.35 GPA. He played football, soccer and track for the Cougars, participated in National Honor Society, Peer Assistance and Leadership, and UIL Academic competition. Littleton plans to attend Texas and study government and law.
The Randy Leasley Scholarship Fund, which handed out $3,000 scholarships to each of this year's winners, has now awarded $83,000 in scholarships to college-bound China Spring seniors over the years. The fund is named for former China Spring basketball and golf coach Randy Leasley, who died in 2004.
Cadets holding pizza fundraiser
The Connally football and basketball teams will hold a fundraiser at Bubba's 33 restaurant on June 18. Bubba's 33 will offer a lunch pizza and salad buffet from 11:30 a.m. to 1:30 p.m. for $10 for adults and $5 for children 10 and under. Ten percent of the bill will go to support the Cadets' 7-on-7 and hoops squads.