For the first time in more than 30 years, the Friday night lights of high school football will illuminate downtown Waco this week as Live Oak Classical School opens its new on-campus football stadium.
The Falcons will host Victoria Faith Academy at 7 on Friday night at the new venue between Fifth and Sixth streets and Jackson and Webster avenues, just across the street from the Magnolia Market silos.
Live Oak, which previously played its home games at Paul Tyson Field, has been planning an on-campus stadium since before athletic director Brice Helton arrived at the school four years ago.
Helton has been busy this week completing the project. The goal posts and kicking nets — necessary to prevent footballs from sailing into the street and possibly even into the Magnolia Market — were scheduled to be installed on Wednesday.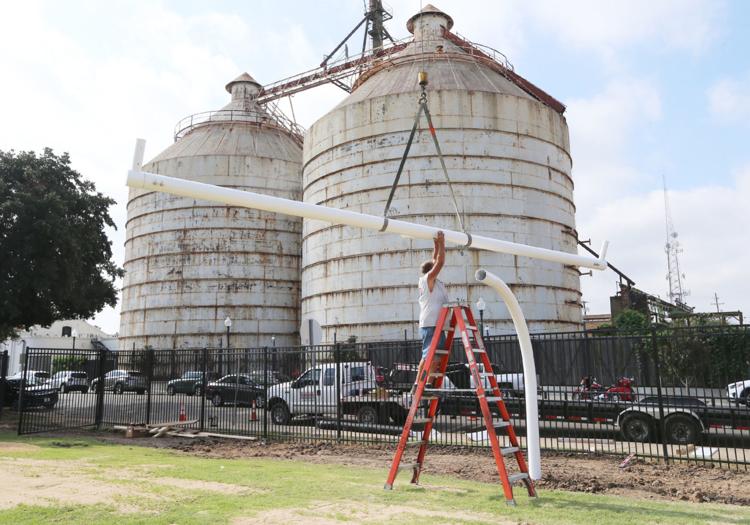 The six-man football field, which is 80 yards from goal line to goal line and 40 yards across, is an ideal fit in the city block where Live Oak has constructed its stadium. It's also a unique environment in an urban setting for a sport that's more common in rural areas.
But Helton pointed out that fans shouldn't look for another Waco ISD stadium in the middle of downtown. There are only a few bleachers, enough to accommodate about 150 fans on the home side and even less on the visitors' side.
"For now, it's very six-man," Helton said. "Bring your bag chair. We're bringing in food trucks to serve as concessions stands. We want to embrace that it's part of Waco. We want to blend into our surroundings rather than stick out."
To clear the space, Live Oak had to demolish an old storage building that stood at 6th and Jackson, then proceed with asbestos abatement to ensure the area was safe to use as an athletic field.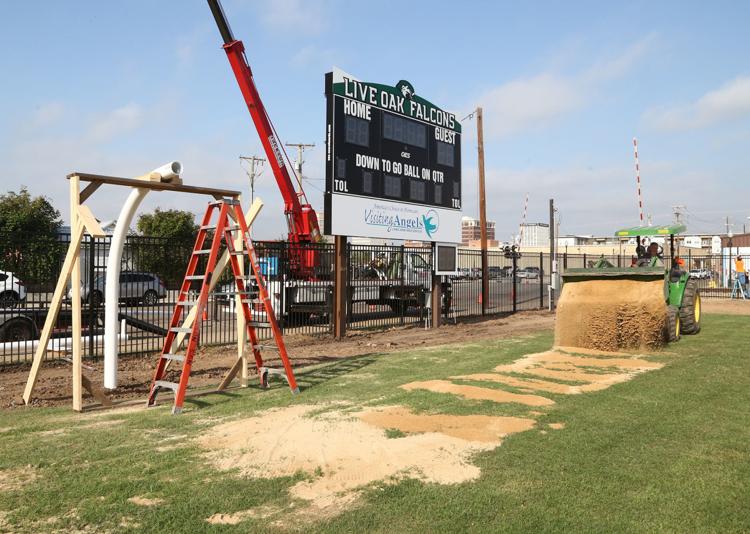 In the future, the school plans to resurface with artificial field turf and add more expansive stands, which could accommodate public school playoff games and perhaps even championship-level six-man contests.
"I've been in six-man my whole life and I can say that the location we have – there's nothing like it," Helton said.
Live Oak will be opening district play against Victoria Faith. The Falcons (0-6) are looking for their first victory of the season after playing a challenging nondistrict slate that included a one-point loss to Methodist Children's Home (6-0) and games against public schools Jonesboro and Abbott.
It'll mark the first downtown Waco football action since Municipal Stadium was in varsity use before WISD consolidation in 1986.
Crawford softball players to extend careers into college
A pair of players who helped Crawford to the Class 2A state softball title will sign letters of intent next month.
Crawford senior pitcher Makenzie Dunbar, the 2018 Super Centex Player of the Year, has committed to play college softball at Mary Hardin-Baylor. Meanwhile, senior infielder Kyla Mach will head to UT-Tyler.
Dunbar came up with a walk-off hit in the eighth inning to lift the Lady Pirates to the Class 2A state title in May. She finished the season with a 19-0 record in the circle and batted .564 with 52 RBIs. Mach, who joined Dunbar on the Super Centex team, hit .598 with 68 RBIs, leading the area in both categories.
Both plan to sign on Nov. 13.
West sweeps Player of Week honors
West Trojans quarterback Landon Edwards and linebacker Billy Gann claimed victories this week in the WacoTrib.com offensive and defensive player of the week polls.
Edwards, who completed 12 of 15 passes for 142 yards and a touchdown, received 10,995 votes, more than 5,000 in front of Riesel quarterback Dakota Davis in second place.
Gann posted 12 tackles with a sack and a tackle for loss, then claimed 6,431 votes to finish 4,527 votes ahead of Riesel defensive back Stash Stewart.
Edwards and Gann led West (1-5) to a 33-14 victory over Groesbeck. The Trojans host McGregor in a District 9-3A Division I game on Friday with possible playoff implications.