At this stage of the high school basketball playoffs, when you win your reward is a date with some of the toughest competition in the state.
You know what? China Spring and Crawford don't mind at all. Bring it on.
The Cougars and Pirates stand together as Central Texas' last two remaining boys basketball teams left alive in the playoffs. They both claimed impressive regional quarterfinal wins on Tuesday, as China Spring outpaced longtime district rival La Vega, 63-60, while Crawford pulled away from Marlin, 50-33.
Sure, their next games will offer such towering challenges that it might feel like they're shooting on a 12-foot goal. But it certainly beats the alternative of not playing anymore.
"This run has been unreal," Crawford coach Brent Elmore said. "These kids get along, we haven't had a problem all year in the locker room. They all take pride in the name across their chest. As teammates they play for each other, and because of that we're able to just relax and have fun."
Crawford (26-6) used a power surge in the third quarter to electrify its effort in the Region III-2A quarterfinals against Marlin. The teams were locked at 19 apiece at halftime, but the Pirates adeptly altered their plan in the third quarter en route to outscoring the Bulldogs, 19-4.
"It's one of those deals through all the sports at Crawford – football, basketball, baseball, our kids are able to make the adjustments," Elmore said. "We've got smart kids who are able to make them on the run, and it definitely helps our success flow."
Next up Crawford will get defending Class 2A state champion Shelbyville (34-3) in the Region III-2A semifinals, 8 p.m. Friday at Bryan High School. As Elmore watched video of the Dragons on Wednesday afternoon during a scouting session, it wasn't hard for him to figure out why they scorch so many of their opponents.
"They're really good. Their point guard (Jay Buckley) averages about 27 a game and he is really, really smooth," Elmore said. "Then he creates well for their shooters, which they like to space out around the 3-point line, which really puts a lot of pressure on you defensively."
But if these Pirates have proven anything, it's that they're not going to give you anything easy. Crawford's calling card this season is a tenacious defense that makes teams work for every bucket.
"That's one of those things – we're giving up only about 36 points a game, and that takes a lot of pressure off of you offensively," Elmore said. "We're going to contest shots, and one thing our kids take a lot of pride in is blocking out. We work on it a lot. We want to limit the number of shots that you take, and that sure helps you out scoring-wise."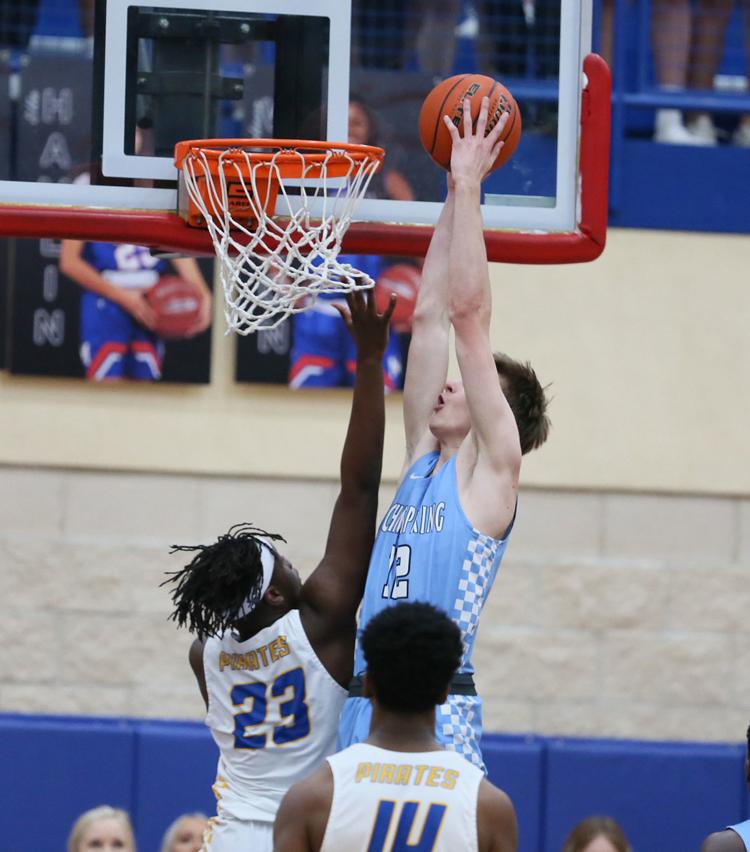 As for China Spring (27-11), it also will take on an ominous task when it faces No. 1-ranked Houston Yates (24-3) in the Region III-4A semifinals at 6:15 p.m. Friday at Johnson Coliseum in Huntsville. Yates is averaging a staggering 117 points per game in the playoffs, and hasn't scored under 100 since late November.
"Obviously Houston Yates is famous for its ability to pressure you defensively and score in bunches," said Phil McCaslin, in his first season as China Spring's head coach. "We've really got to be ready to go against that pressure, to try to handle their length, and play the game at the pace we want it. We'll give ourselves a chance if we can avoid big runs and handle their pressure."
If anyone can pop that pressure like a dart hitting a balloon, it might be China Spring's Eli Stephens. The Cougars' junior point guard handles the ball like it's an extra appendage, and the "Eli Show" has been must-see viewing throughout the playoffs. He has scored 42, 34 and 28 points in China Spring's three postseason wins, an average of 34.7 per game.
"He has turned into the ultimate guard, I can't imagine a high school point guard giving you any more than what he's done," McCaslin said. "Not only his ability to score the ball, but he's been unbelievably efficient in his scoring, he's shooting 60 percent in the playoffs. … And then he's so special in the things he does on defense, his ballhandling, his vision, his competitiveness. He's just an unbelievably special young man."
Stephens may be the engine, but he's not the only one driving China Spring's regional run. Various Cougars have stepped up and made big plays, including Preston Springer and Josh Edwards, both of whom toed the free throw line and coolly buried some clutch shots late in the win over La Vega.
"It's been fantastic," McCaslin said. "I'm so proud of how the seniors have bought in to me, to the differences between me and Coach (David) Ellis, how they've been willing to embrace their role and do their job. Talent helps, too, you can't win in the playoffs without good players. But I'm just super proud of our seniors in leading this whirlwind ride to the regional tournament."
University senior dedicates milestone to Chapman
When University soccer senior Aaliyah Perez dented the net for her 100th career high school goal last week, she knew Mike Chapman was watching.
Chapman, the longtime patriarch of University's girls and boys soccer programs, died of a heart attack on Jan. 14. His teams have continued to carry on, dedicating their seasons to a coach who was renowned as much for his kindhearted spirit and volunteerism as he was his success.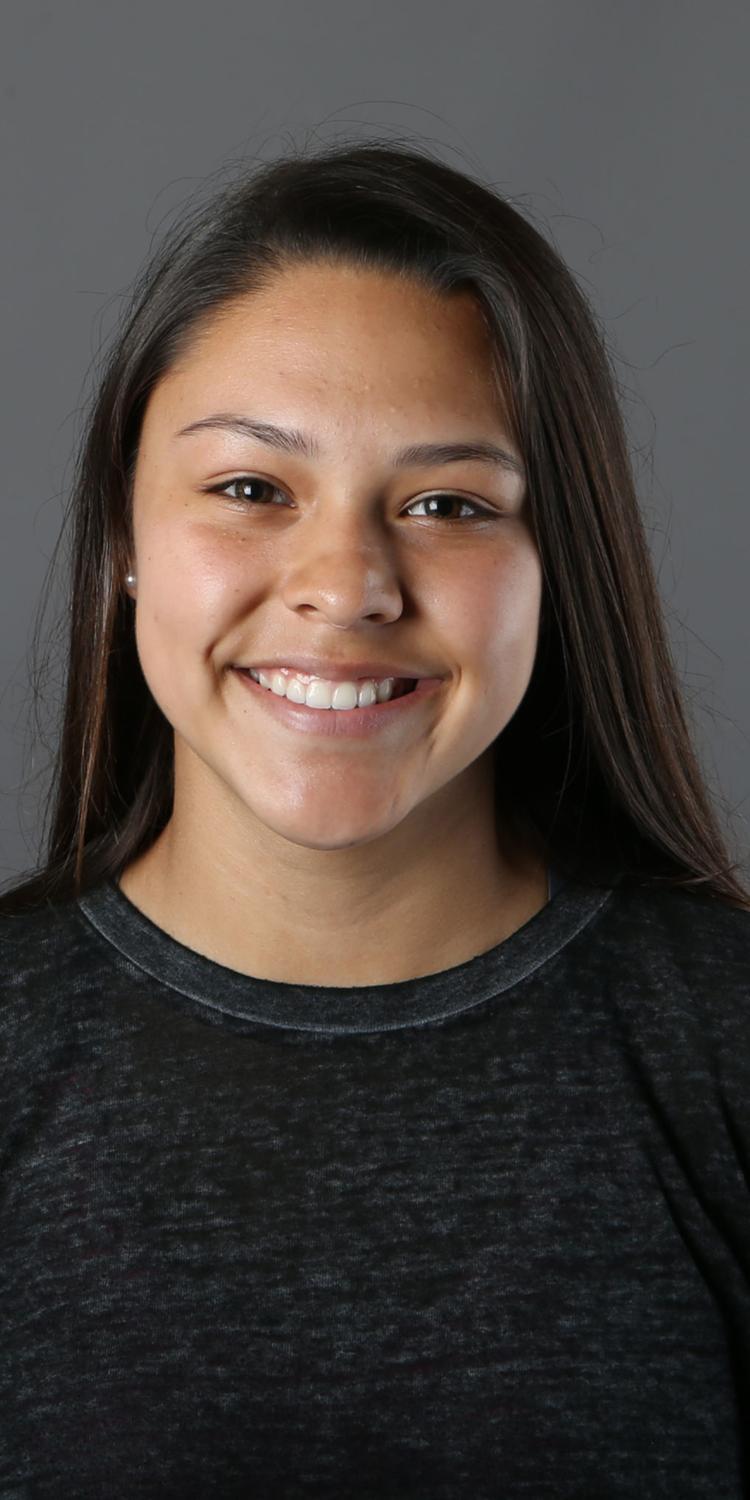 So when Perez netted her fifth goal of a 10-2 win over Corsicana last Friday at Waco ISD Stadium, giving her 100 for her high school career, Chapman was on everyone's minds.
"Chapman was very close to us, not just as a coach but as a friend," said University interim head coach Ricky Perez, Aaliyah's father. "He baptized my son, he baptized my other daughter. He's been a best friend, a father figure, basically a second dad to my family."
Making Aaliyah's milestone all the more impressive is that she reached the 100-goal mark in three seasons. She booted a total of 65 goals in her freshman and sophomore seasons in 2017 and '18, but then missed all of her junior season last year with a torn ACL in her knee.
Fortunately for University (8-8-2, 4-6-1), she has come back reenergized this year. Perez is up to 37 goals on the season, including two more in a 3-2 loss to Red Oak on Tuesday, pushing her career mark up to 102.
"Aaliyah knows she couldn't be there without her teammates," Ricky Perez said. "They make a big difference, and give her good passes that give her the chance to execute."
The Lady Trojans sit in fifth place in the District 14-5A soccer standings with one game to go, but still hold out hope for a playoff spot. After Spring Break, they'll host Cleburne in a Senior Night match on March 17. They need Cleburne to lose to Red Oak (14-3-3, 8-1-1) this Friday and then they'll need to beat Cleburne in that regular-season finale to force a district tiebreaker match for fourth.
Meanwhile, University's boys lead the 14-5A standings with a 7-2-2 record, with only that March 17 match against Cleburne remaining.
"It's been unbelievable to see the kids do what they've done," Ricky Perez said. "The tragedy with Coach Chapman happened the week before district, and the guys said they were going to do it for Coach Chapman after that. That's how we break it out at every practice, we yell, 'Mike Chapman!' He's always with us."
Lady Pirates revel in victors' spoils
It's been a monumental week of celebration for the volleyball state champion Crawford Lady Pirates.
Last Thursday, a stone monument honoring Crawford's 49-4 Class 2A state title season arrived at the high school. It was placed alongside similar Texas-shaped monuments honoring past Crawford state title teams.
Then this week Crawford's state championship rings were delivered, and the school held a ceremony presenting the rings to each team member. Crawford's 2019 volleyball state title was its second in the past three seasons, and Crawford's second state championship as a school of the 2019 calendar year, joining the 2019 softball team.
Crawford's Dunbar signs with Tarleton
Crawford softball's Makey Dunbar finalized her college plans on Wednesday, signing with Tarleton State.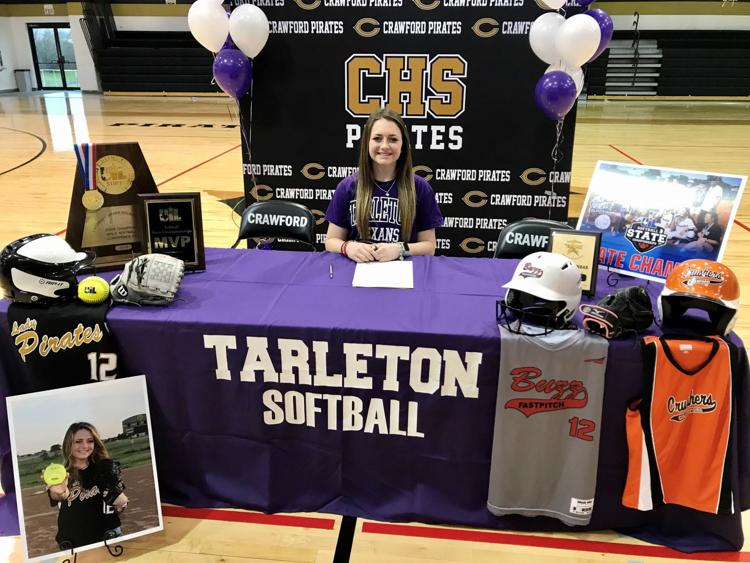 Dunbar, the 2019 Super Centex Player of the Year, hit .564 with 52 RBIs for the 2A state champion Lady Pirates last year. She was equally as impressive in the pitching circle, registering a 19-0 record with a 0.49 ERA and 168 strikeouts.
Tarleton has mined Central Texas well for talent, as its current roster includes three former area standouts in Midway's Morgan Ling, Robinson's Shelby Carter and West's Julia Wernet.
Groesbeck team tennis state-bound
The beat rolls on for Groesbeck's powerhouse tennis program.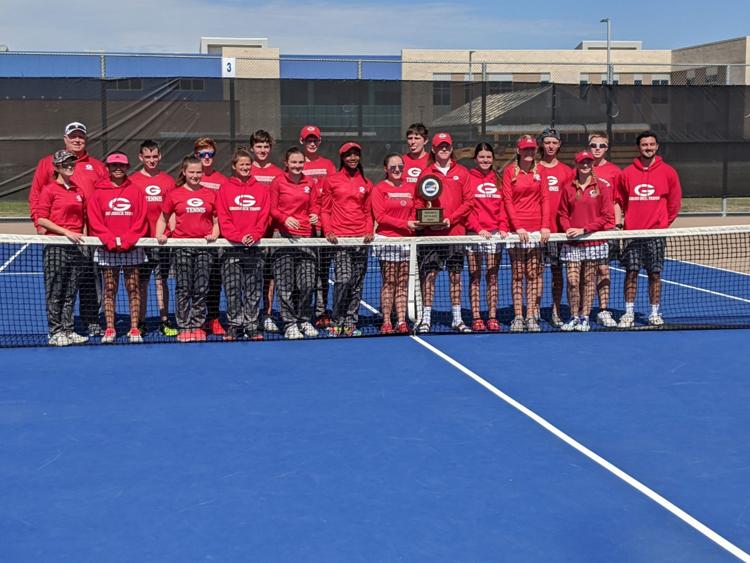 The Goats defeated Chilton and Academy last weekend in Temple to claim the regional championship in Class 3A and under team tennis for the fourth straight year.
Groesbeck will move on to the Texas Tennis Coaches Association's 3A and Under State Tournament in the San Antonio area. That event is slated for Friday and Saturday at the Northside Tennis Center in Helotes and the Anne Marie Tennis Center in San Antonio.