AUSTIN — As a senior leader, Cambree Aguirre has been a calming influence for her Crawford teammates all season.
The No. 1 Lady Pirates never needed the pitcher's tranquil demeanor more than in the final moments of Wednesday morning's Class 2A softball state semifinals as they hung on for a 6-5 win over No. 4 West Sabine.
After West Sabine's Haley Primrose opened the top of the seventh with a single, Aguirre forced Halli Hall to fly out. Emma Frick then hit a high pop just behind third base for what appeared to be an easy out.
But Crawford shortstop Cece Villa and third baseman Kyla Mach had a miscommunication and the ball fell between them just inside the left-field line for a single to put runners on first and second with one out.
"I thought I heard she's got it, but apparently she thought I said 'I got it,'" Mach said. "But other than that it's fine. We made up for it."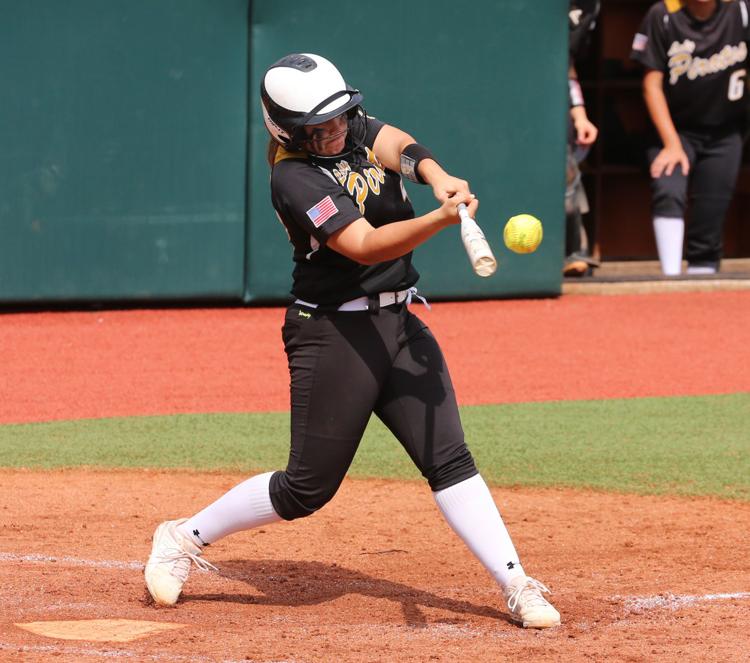 With Crawford clinging to a one-run lead, the tension at McCombs Field was palpable. Before facing the next batter, Aguirre motioned to her teammates to stay calm.
"The ball up there was a simple mistake, but a lack of communication," Aguirre said. "So I just had to tell the team to 'Hey, calm down, we got this.' We can turn a double play, and that's what we did."
Aguirre forced Hannah Spring to hit a sharp grounder to Mach, who stepped on third base for the force out and then threw to first for the game-ending double play. Just like that, the drama was over.
"Right before I pitched that pitch I told Kyla to touch the bag and go one, and that's exactly what she did," Aguirre said. "She executed what I asked her to do for me. We've got one more to go to win it."
After capturing Class 2A state titles in 2012 and 2014, the Lady Pirates (35-3) will try to win their third championship under coach Kirk Allen at 3 p.m. Thursday against Thorndale, a 10-0 winner over Windthorst in the other state semifinal.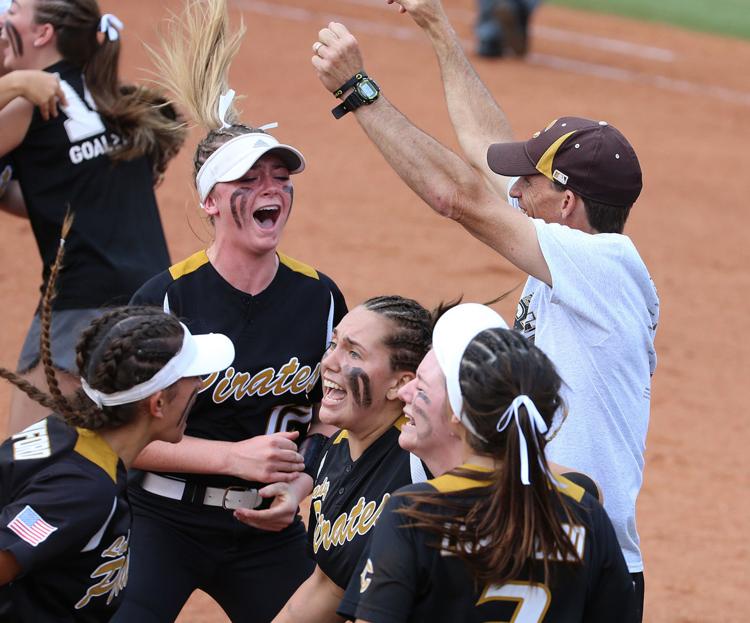 Allen was excited to see his players fight back after West Sabine (31-6) scored three runs in the fourth to take a 5-3 lead.
"I said you just got kicked in the gut, are you going to get off the ground and fight or just lay there?" Allen said. "They got up and fought, and that's what we needed to do. We hadn't trailed the whole playoffs, and for them to do that showed a lot of character."
After allowing three first-inning runs, Spring (19-3) got into a groove for West Sabine and threw three straight shutout innings. She was on the verge of shutting out the Lady Pirates in the fifth when she notched the first two outs.
But Mach drilled a double and scored on Makey Dunbar's double off the left-field wall. Avery Ward tied the game with her run-scoring single before Crawford grabbed a 6-5 lead with Aguirre's single to left field.
"We just kept telling ourselves that we can't give up, we can't get down on ourselves," Aguirre said. "There was a lot of game left. We have to go out there and fight and give it our all. You have to dig down deep and do what you know how to do. You can't worry about the fans and the noise."
The Lady Pirates needed those three runs to offset the three West Sabine scored in the fourth after Aguirre (16-3) relieved Dunbar.
Aguirre walked Riley Lane to open the inning before Susan Muncrief singled and Harlee Franklin drilled a run-scoring double to the right-field alley. After Muncrief tagged up at third and scored on Kaleigh Anderson's sacrifice fly, Primrose followed with a run-scoring single.
But Aguirre settled down and shut out West Sabine in the last three innings.
"We have two really good pitchers and I don't have a problem pitching either one of them," Allen said. "Makey was struggling a little bit. Her curveball wasn't working. Cambree said she was ready to go, and you could tell she had a little pop on her ball and was anxious to get out there."
The Lady Pirates got off to a hot start with a three-run first inning. Spring walked Grace Powell and Villa to open the game before Dunbar drilled a two-run double to left field. Aguirre followed with a run-scoring single.
The Lady Tigers responded with a two-run second. After Spring singled and Anna Metcalf walked, Crawford appeared to be out of the inning when Muncrief hit a fly ball to leftfielder Addi Weaver. But the ball glanced off Weaver's glove for an error as two runs scored.
"We only had a couple of kids who had been here before (at the state tournament in 2016) and I think they were just nervous," Allen said. "We scored the runs at the beginning of the game, and I thought we were going to be all right. We're going to calm down, but you could just tell they were jittery."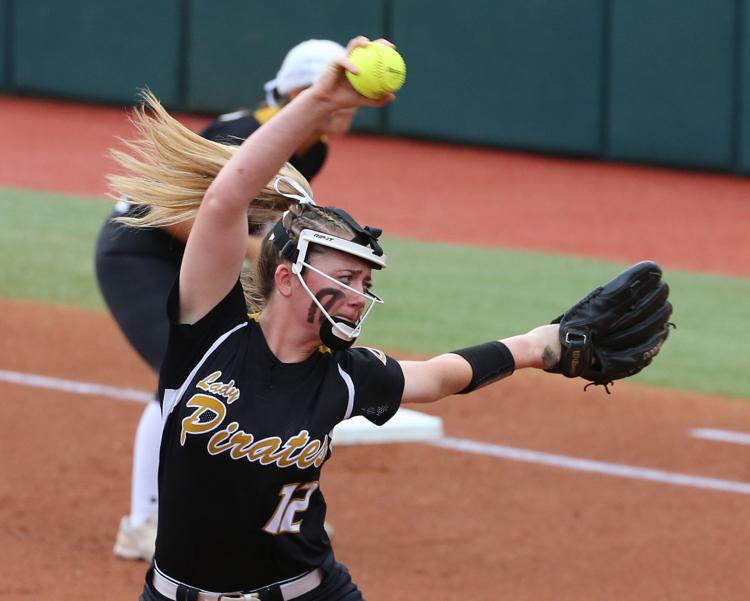 West Sabine had a chance for another big inning in the third when Dunbar walked two batters and allowed a single to Hall to load the bases. But Dunbar struck out Metcalf to get out of the jam.
Now the Lady Pirates need one more win to accomplish what they set out do since the beginning of the season.
"Our word all year long has been 'Finish,'" Allen said. "Now we're to the last game, so let's go finish."