LeRoy Coleman wheels around La Vega High School's football practices on a golf cart or sometimes walks slowly with a cane. His battered knees often make him feel every bit of his 71 years, but his mind is still sharp and full of football knowledge.
Coaching is what keeps him going every day. Next year will mark his 50th year in coaching, and he is proud that milestone is in reach.
"I always say when I get tired of getting up for work in the morning it's time to go," Coleman said. "But I'm still enjoying what I'm doing going into my 49th year. I love the kids and all the camaraderie of all the coaches around. It's magnificent."
Coleman could have called it a career in 2007 after coaching 30 years at University High School, his third gig, first as head basketball coach and then as head football coach.
But when former La Vega football coach Willie Williams asked him if he wanted to come back as his defensive line coach in 2008, it was an offer Coleman could not refuse.
"I was sitting at home and getting cabin fever," Coleman said. "Coach Williams said 'I've got a position over here. Do you want to come?' I said sure enough. People say 'What kind of hobbies do you have?' I say 'Well, football.' Football is my life 24-7."
Coleman came on board at La Vega as defensive line coach under then-defensive coordinator Don Hyde for one year before switching to the offensive line.
La Vega has built one of the most powerful football programs in Central Texas with state championships in 2015 and 2018. The Pirates' offense is built around a dynamic rushing attack that starts with a tremendous offensive line constructed by Coleman.
"Those kids never get the glory, but people don't know the story that it all starts with them up front," Coleman said. "If you have a great offensive line, the rest will come together on offense for you. The skill kids are important, but I still feel the offensive line is the nucleus of your success. You've got to be able to run the ball."
Now in his second season as La Vega's head coach, Hyde feels blessed to have a coach with Coleman's experience on his staff. He often seeks Coleman's advice because he knows he has seen and done it all at the high school coaching level.
"Anytime you can seek wise counsel from a guy who has 49 years of experience, it's an asset you can't put a value on," Hyde said. "He's not just a good O-line coach, he's a good football coach. A good football coach can coach any position. He's a good offensive line coach because he takes such pride in it. He understands their role in a sense that the offense only goes when they play well."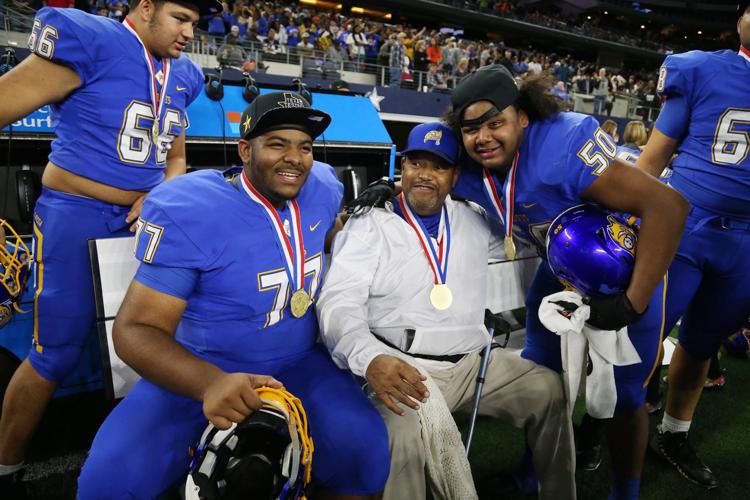 Coleman's love for football goes way back to his youth in Temple. Playing high school football near the end of the era of segregated schools in Texas in the mid-1960s, Coleman was a lineman for a Temple Dunbar team that featured a middle linebacker named Joe Greene.
Yes, "Mean" Joe Greene who went on to become one of the greatest defensive linemen in NFL history for the Pittsburgh Steelers.
"Believe it or not, he played middle linebacker in high school," Coleman said. "We were in the old 6-1 defense, and he was the one who roamed from sideline to sideline. When he got to North Texas, that's when they moved him inside. Joe was phenomenal. We lived across the street from each other, so we got to be real, real close."
Coleman went on to play a year of college football at Paul Quinn College before the school dropped the program. After graduating from Paul Quinn in 1970, he got a master's degree at Prairie View A&M University before landing his first coaching job at Travis Middle School in Temple in 1971.
Three years later, Coleman moved to Temple High School where he worked as a defensive line coach under legendary Bob McQueen.
"It was amazing the things you learned under Coach McQueen," Coleman said. "The basic thing was organization, how to be structured in your practices, and how to handle kids. Of course the Xs and Os were phenomenal. When I went to University as the head coach, a lot of the things I learned under him I carried with me."
Moving to University in 1977, Coleman coached talented basketball players including Daryl Baucham and Ozell Hall who went on to play at Baylor University.
After taking over the football head coaching job, he coached a string of great players including linebacker Wayne Rogers, quarterback Rodney Smith and running back LaDainian Tomlinson.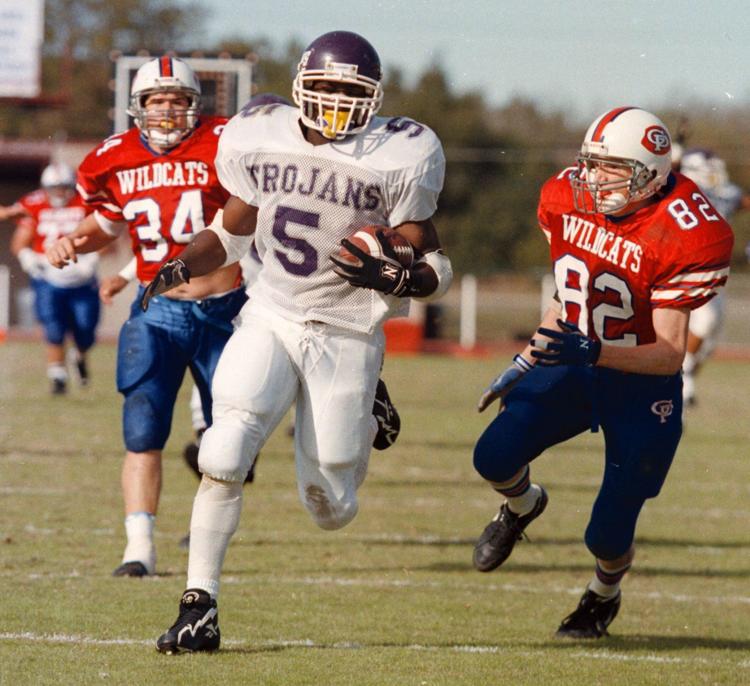 Of course, Tomlinson became one of the best running backs in NFL history for the San Diego Chargers and was inducted into the Pro Football Hall of Fame in 2017. As a senior at University in 1996, Tomlinson was unstoppable as he rushed for 2,554 yards and 39 touchdowns.
"Some kids talk a great game, but when they get ready to perform it's not there," Coleman said. "He lived what he talked about. He was always the first one at practice and the last one to leave. When he felt other guys needed to pick up their pace a little bit, he'd be the leader."
Tomlinson was not just a great player on the field. He is a class act off the field. He has always given back to the community by holding youth football camps in Waco and has always acknowledged his roots.
"It makes me so proud," Coleman said. "All of those guys I had a chance to touch their lives and see them go off and do well. The most rewarding thing is when they come back and talk to you and tell you 'Hey coach, I appreciate everything you've ever done for me.'"
Coleman also had the opportunity to coach sons Coby and Carl, and is thrilled that Carl followed in his footsteps in the coaching profession. He is the defensive coordinator at the University of Dubuque in Iowa.
"The greatest thing for a coach is to coach his own sons," Coleman said. "I always told them I can't show favoritism. If you do something wrong, I'm going to get after you."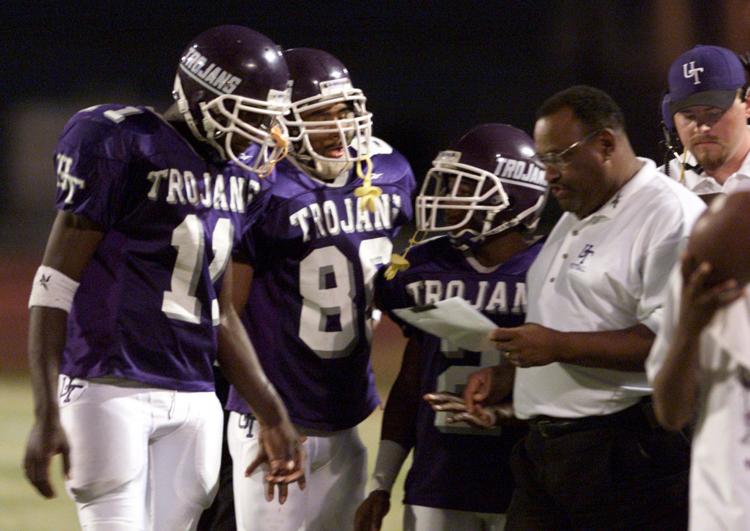 Coleman was glad to see Rodney Smith named University's head football coach in 2017. After two winless seasons, Smith started to turn the Trojans around by going 3-7 last year, and expects bigger things this year.
Smith still stays in contact with Coleman, who hired him as a defensive coach at University in 2001. Like Coleman, Smith was the Trojans' head basketball coach before he became the head football coach.
"He's meant the world," Smith said. "He started me as a quarterback as a sophomore. He gave me my first shot in coaching and also had a hand in getting my first basketball job. Now as a head coach, I call him a lot. We talk about everything."
After having surgery on his right knee in February, Coleman plans to have surgery on his left knee after the upcoming football season. Then he hopes to discard his cane before coming back for his 50th season as a coach in 2020.
"When I get this left one done, I'll be good to go," Coleman said. "I had great years over at University, but I've been over here (at La Vega) and it's been nothing but a blessing for me because everyone has been so great."