As I sit here writing about high school football on a Saturday, we now have twice as much information on just about every Central Texas squad as we had a week ago.
One game is a data point. Two games is a trend.
And the most striking trend I've seen so far in this young season is that I'm now 0-for-2 in picking Crawford Pirate games. I predicted that Tolar would beat the Pirates in the season opener and I figured Clifton would defeat Crawford this week.
The Pirates proved me wrong both times and I'm sure they're having some fun at my expense. If I know Crawford coach Delbert Kelm, I bet he would just prefer I picked against his team for 14 more weeks in a row.
But I'm capable of learning. Crawford hosts Rice on Friday and I'll roll with the Pirates even though they'll once again be taking on a Class 3A opponent.
Through two weeks, I have to give Crawford credit for being, pound-for-pound, the best 2-0 team in Central Texas. They played up and beat the No. 5 team in 3A Division II by edging the Cubs in a defensive battle, 16-12, on Friday. They're the only area team to beat a ranked school from a higher classification so far this season.
Central Texas' best 1-1 team is a tie between a pair of defending state champions. The La Vega Pirates and Mart Panthers both lost on Friday and they're both likely to dip from their No. 1 rankings in Class 4A Division I and 2A Division II respectively. But that doesn't mean they're slipping. It just means they lined up against really good teams.
La Vega fell 49-35 against Argyle, which came in ranked No. 3 in 4A Division I. Mart lost to a Holland team that looks awesome so far this season and I suspect will break into the 2A Division I rankings in the coming week.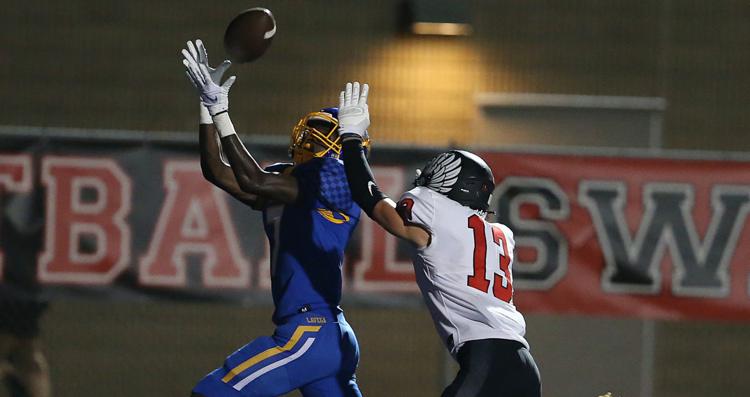 And, yes, I'm going to name a best 0-2 team in Central Texas. The Midway Panthers went on the road to open the season against Euless Trinity at Pennington Field. The Trojans won that one by six, 20-14.
On Friday, Midway captured the momentum in the second half against Mansfield Lake Ridge and surged ahead 35-24 in the friendly confines of Panther Stadium. But Lake Ridge, which won a 47-44 duel with Tulsa Union in its first game, stole momentum back in the fourth quarter and went on to beat Midway, 43-35.
Nonetheless, the Panthers showed some really impressive flashes in their home opener. Even though Midway is still looking for its first win, the Panthers are ready for District 12-6A action, which starts next week, by the way.
Here are a few results that came in late Friday or early Saturday.
McGregor 56, Bosqueville 14
In Bosqueville, McGregor exploded for 34 points in the second quarter and shut out Bosqueville in the second half to win this battle of Bulldogs.
McGregor wide receiver Caleb Carmichael caught two passes for 43 yards, but did most of his damage on the ground as he rushed for 131 yards and two TDs on four carries.
McGregor linebacker Chad Lorenz recovered a fumble for a touchdown and finished with eigh tackles and a TFL, while fellow linebacker Colby Franks had eight tackles, including two sacks.
By going on the road for the victory, McGregor improved to 2-0 under new coach Mike Shields. Bosqueville dropped to 0-2 after opening up against Mart and then playing 3A McGregor.
Mexia 49, Teague 22
In Mexia, Blackcats quarterback Jaden Proctor accounted for 32 points and linebacker Drevaun Cooper returned an interception 42 yards for a touchdown to get Mexia (1-1) in the win column.
Proctor threw four touchdown passes among his 207 passing yards. He also rushed for 41 yards, a touchdown and a 2-point conversion.
Mexia raced to a 34-7 lead by the break and stiff armed the Lions the rest of the way.
Riesel 40, Meridian 0
In Meridian, Riesel earned first-year coach Keith Stifflemire his first win with the Indians by shutting out the Meridian Yellowjackets.
Riesel (1-1) had three different rushers score touchdowns – Donovan Blakes, Austin Searcy and Will McClintock – and Elijah Madkins recovered a fumble for a defensive touchdown.
McClintock finished with 129 passing yards, including a touchdown pass to Stash Stewart.
Rogers 63, Bruceville-Eddy 27
In Bruceville-Eddy, Rogers started fast and gained a 36-21 lead over the home team, then refused to let Bruceville-Eddy (1-1) climb back in the contest in the second half.
Rogers' Joshua Minor scored on offense, defense and special teams as he had a 51-yard interception return for a touchdown, a 60-yard punt return for another and TD runs of 15 and three yards.
Nathan Quattlebaum rushed 27 times for 198 yards and two touchdowns to lead Bruceville-Eddy.
Troy 28, Lexington 6
In Lexington, the Troy Trojans built a 21-0 lead over Lexington by halftime and didn't let the Eagles on the scoreboard until the fourth quarter.
Troy running back Zach Hrbacek ran 10 yards for a touchdown, Ben Presley added a 49-yard scoring run and quarterback Tyler Jarolik hit Sam Jones for a 42-yard scoring pass to give the Trojans a three TD lead at the break.
Troy (2-0) will test its unbeaten record when it hosts Robinson (2-0) on Friday.
Axtell 26, Malakoff Cross Roads 6
In Malakoff, Axtell quarterback Koby Hollingsworth passed for 196 yards and threw touchdown passes to Jack Driver, Trevor Brenner and LaDerius Sanders.
The Longhorns defense clamped down on the Bobcats with safeties Driver and Hollingsworth leading the way. Driver had nine tackles and an interception, while Hollingsworth forced a pair of fumbles, recovered one of them and broke up a couple of passes.
Axtell pulled even at 1-1 so far this season.
Wortham 70, Dallas First Baptist 66
In Wortham, the Bulldogs scored 22 points in the fourth quarter to overcome Dallas First Baptist and quarterback/defensive back Brandon Coker intercepted a pass to stop the Saints' final drive.
Wortham scored two more points in the victory than it did in all of 2018 to improve to 1-1 this season.
Coker rushed for 283 yards and six touchdowns, ran for seven 2-point conversions and passed for another. Wortham running backs Riley Baker and Tanner Bean and slot receiver Lane McDaniel combined for 288 rushing yards and 3 TDs.
Bynum 58, Walnut Springs 12
In Walnut Springs, Bynum scored 28 unanswered points to finish off a road victory over the Hornets.
Bynum's Dakota Mynarcik was all over the field as he rushed for 124 yards, caught four passes for 65 yards and scored five total touchdowns on offense. He also intercepted a pass and returned it for a touchdown and made 11 tackles on defense.
The Bulldogs (1-0) racked up 372 yards of total offense.