Waco High senior Montierra Warren came up with the best jump of her career when she had to have it at the Class 6A Region II meet.
Warren stepped up for her last attempt in the triple jump finals standing in third place with a top mark of 39 feet, 7 inches to that point.
She took a minute to give herself a pep talk, then sprinted and leaped to a mark of 40-6 1/2 and the regional title on Saturday at Midway's Panther Stadium.
"I talked to myself for a long time," Warren said. "That's why it took me so long to run. I was like, 'Mo, you got this. Just jump. Hold your feet up on the last phase.' I tried to do that. I didn't think I got that far until they told me."
When the triple jump meet official announced Warren's distance, a large contingent that included Waco High head girls' track coach Jeff Bray, assistants Ricky Torres and Tevin Reese, and football coach Kwame Cavil cheered and celebrated. Torres picked up Warren and spun her around.
"That was exciting," Torres said. "She focused up and did what we all knew she could do."
Kennedy Adams of Prosper had the top mark at 39-10 1/2 going into the final jump. She followed Warren and posted a 40-2 1/4.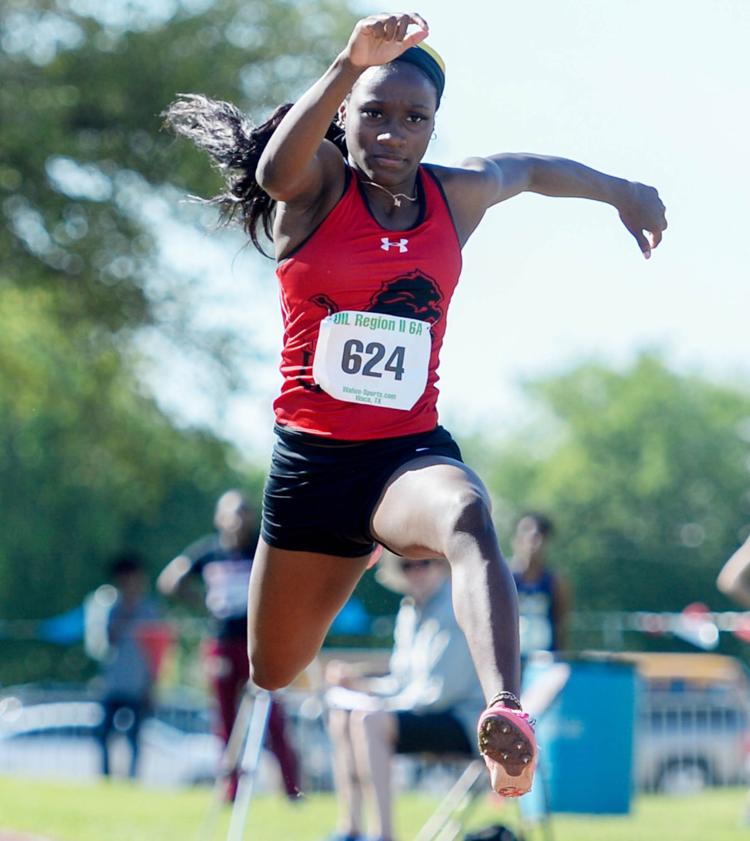 Warren, who earned a bronze medal in 4A last season for La Vega, is going back to the state meet to compete in 6A, having set a new personal best and upped the Waco High school record in the process.
"That's all I wanted to do — PR and make it to state," Warren said. "And I did it, so I'm proud."
While that was going on, Alexis Tippit of Troy was finishing off a sweep of the jumping events in the 3A Region II triple jumps at an adjacent jumping pit.
Tippit won the long jump on Friday with a mark of 18-4, then added the triple jump victory on Saturday morning by posting 37-9 1/2. Central Texas athletes claimed both state berths in the 3A Region II girls' triple jump as West's Makayla Pavelka finished second with a jump of 37-1 1/4.
Cameron's Brandi Drake ran her way to the state meet in the 100 and 200. Drake won the 200 with a time of 26.6 seconds, .14 of a second in front of Brooke Myers of Little River Academy. Drake finished second in the 100 with a time of 12.21 to qualify for the state meet.
La Vega claims team title in Huntsville
The La Vega boys' track team hoisted the Class 4A Region III championship on the strength of sweeping the 4x100-, 4x200- and 4x400-meter relays at Sam Houston State's Bowers Stadium in Huntsville.
The Pirates 4x100 relay clocked 41.67 to finish .42 of a second in front of second-place Carthage.
La Vega followed that up by finishing the 4x200 relay in 1 minute, 27.01 seconds, 1.79 seconds in front of second-place Houston Wheatley.
The Pirates' mile relay posted a time of 3:18.33. Carthage finished second, 3.54 behind La Vega.
Pirates senior hurdler Timothy Carr finished second in the 300 hurdles with a time of 39.54.
La Vega scored 92 team points to run away with the regional title. Carthage was second with 68.
Central Texas runners finished first and second in the 4A Region III girls' 800 as Fairfield senior Morgan Coleman won the event at 2:18.36 and Lorena sophomore Kailey Sykora finished second at 2:22.46.
The Fairfield girls qualified for state by finishing second in the 4x400 at 4:01.81.
Fairfield senior Haley Phillips claimed regional gold in the girls' shot put with a throw of 40-8.
Gatesville junior Jordan Morse won the 4A Region III girls pole vault after clearing 11-6, earning her spot in the state meet.
Sprinting to 2A state meet
Rapoport Academy freshman Torey Lee sprinted to a regional championship in the 2A Region III meet as she clocked 12.73 to finish .07 in front of Kerens' Olivia Franson.
Crawford junior Dawsen Holly and Valley Mills senior Hannah Dillard finished 1-2 in the 2A Region III girls' 1,600. Holly finished in 5:40.86 and Dillard was 4.67 seconds back as both punched their state tickets.
The schools switched places as Valley Mills junior Kyra Zengerle won the 3,200 in 12:16.72 and Crawford's Holly finished second at 12:18.23.
Crawford senior Camille Ward cleared 12-0 to win the girls' pole vault as she was more than 2 1/2 feet better than Alto's Abby Bernard in second place.
Bosqueville sophomore Ashlyn Zander won the girls' discus with a top toss of 109-02. She was 5-10 ahead of second place Maci Mitchell from Garrison.
On the boys' side, Bosqueville senior sprinter Marcell Estell posted a time of 11.09 to win the 100, .31 in front of West Sabine senior Dailon Smith. Estell will be going to state in two events as he finished second in the 200 at 22.57,.08 behind Joaquin's Hunter Gates.
The UIL State Track and Field Championships will be held May 10-11 at Texas' Mike A. Myers Stadium in Austin.