How fast can you move while sitting down?
Doesn't matter. Unless you're driving a car, you're not going to outrace Joshua Parrish.
The junior at Midway will become the Panthers' first-ever athlete to compete in the wheelchair division at this weekend's UIL State Track and Field Championships in Austin. Parrish has qualified for state in two events – the 100-meter dash and shot put, and just missed in a third, the 400.
Parrish has Spina Bifida Level 3, a birth defect of the spinal cord that affects him from the ankles down. "I'm able to walk, just not able to feel my feet," Parrish explained.
But Parrish refused to let his condition crush his dreams of competition. He wants to be a Paralympian someday, and for years competed in events at the Special Olympics, which was fun, "but I wanted to do more," he said.
So he researched the UIL's wheelchair track and field events, and discovered a new passion along the way.
At many meets, Parrish has raced and thrown against able-bodied competitors, and more than held his own. He said that one of his favorite things about competing is the reaction he often receives from his fellow athletes.
"It's just the attention that you get," Parrish said. "Every time you have a meet, you have people come up to you after you're done and say, 'Hey, man, that's so cool. I wish I was like you. I bet it's hard.' I was like, 'It's not really, once you put the work in. But you have to put the work in.' That's all you have to do."
Parrish picked up the shot put for the first time this year. He'd raced in the rolling events in the past, but wanted to expand his horizons. And he seemingly had the ideal coach to teach him the event in Cion Hicks, a former All-American at Baylor and state champion thrower at Shoemaker.
However, Hicks and Parrish quickly realized that the techniques of the wheelchair shot put vary immensely from the standing shot. So they had to learn together.
"Because now you have to figure out, how do I use my leverage and still be able to get the shot put at a good distance? How can we make sure that everything is aligned in the correct way?" Hicks said. "So we were definitely learning together, and finally the coach got ahead, and I started learning and doing a little more research, seeing how other coaches coached Paralympians, different things like that. Just trying to translate it over in a way he could understand."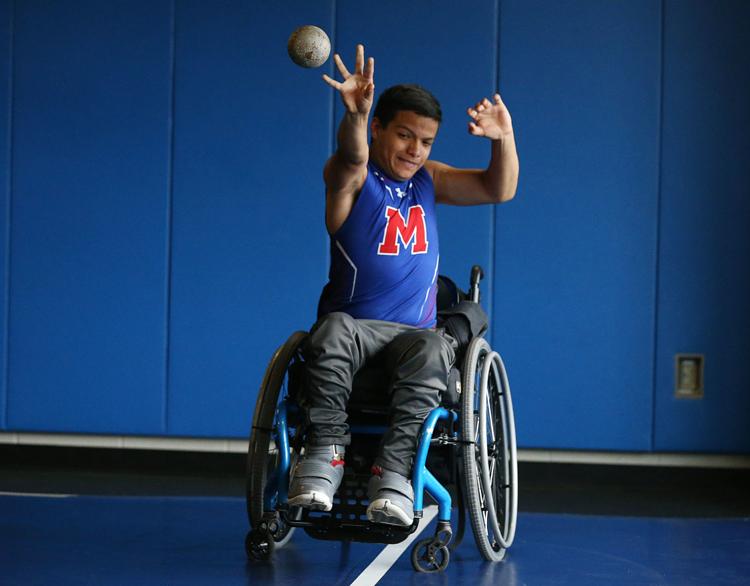 On Wednesday afternoon this week, Parrish worked out on a mat in a room adjacent to the weight room in the Midway Activity Center. Time after time, he'd stick the shot under his chin, then hoist that metal ball into the air with all his might. Unlike the standing shot, wheelchair athletes don't gather the momentum of a spinning windup, but Parrish's efforts still were reflective of some nice upper body strength. At one point, he let out a grunt as he threw.
"There you go! That's what I want to hear," Hicks said. "I'm going to need that at state."
Parrish tossed 16-3 at the Region II-6A meet, a foot better than his previous personal best. He and his coach are aiming for a similar jump in progress at state.
"Let's try to get another personal record," Hicks said. "We've worked on a couple of things, and I hope it translates over and lets him compete at the best of his ability."
Unlike at previous meets, Parrish will compete against only other wheelchair-using athletes at state. There are six events in the division in all – the girls' shot put, 100 and 400, and the boys' counterparts in each of those three.
"I think it's awesome," Hicks said. "I honestly don't remember having a wheelchair division when I went to state, the couple of times I went. So the fact that they have this now, and it's full-blown, you have multiple athletes doing this. It's amazing, because at the end of the day we always talk about equality, talk about equity, but now you're actually showing that. The UIL has made a tremendous stride in doing that. It gives people hope."
Parrish can't wait to make history for Midway. But he doesn't want to stop there. He wants to pass the hope along to other students in the school district who may have physical challenges.
"I want to try to get more people at Midway ISD, middle schoolers who may be high schoolers next year coming in," said Parrish, who is planning a career in social work before taking his shot at the Paralympics. "Just try to teach them, show them, hey, this is something you can do at Midway. We haven't had it in the past, but now we have it. … It's exciting."
Parrish throws at 2 p.m. Friday at Mike A. Myers Stadium in Austin. He'll compete in the 100 meters at 7:35 p.m.