Anyone who has been paying attention realizes that Connally junior Tontyana "TT" Sanders reigns as one of the top basketball players in Central Texas.
After all, entering this week Sanders held the area lead in both scoring (23.4 points) and rebounding (21.5) — the latter number ranking third nationally in MaxPreps.com's stat leaders.
But Sanders isn't just a gifted basketball player. She also is one of the best sprinters in the state.
Now, she will dash just down the road to Baylor University on the heels of her commitment to Coach Todd Harbour's track and field team.
Connally girls track coach Lisa Baucom said that it's always heartwarming to see one of her athletes get the chance to perform at the collegiate level.
"We've got a lot of really talented athletes that work so hard, so that's always the goal, to see them move to the next level," Baucom said. "Obviously, I'm excited for TT, and I'm a Baylor ex so that makes it even more special."
Sanders first turned heads as a freshman in 2013-14. She suffered an ACL injury playing volleyball in the fall, but dedicated herself to her rehabilitation in order to return for track season five months later.
She didn't just return, but rather excelled — winning the gold medal in the 400 meters with a time of 54.21 seconds, more than two seconds faster than her nearest challenger.
With two full track seasons left before she graduates in 2017, Sanders still has plenty of time to melt more stopwatches and chase more medals.
"She's a hard worker, and we definitely have high hopes for her to have another successful season this year," Baucom said. "We're hoping for a good, long run for the basketball team and then when that's over, she'll be ready to go for track."
Baucom said Sanders was impressed with Baylor's facilities as well as the coaching expertise of Harbour and longtime 400-meter guru Clyde Hart.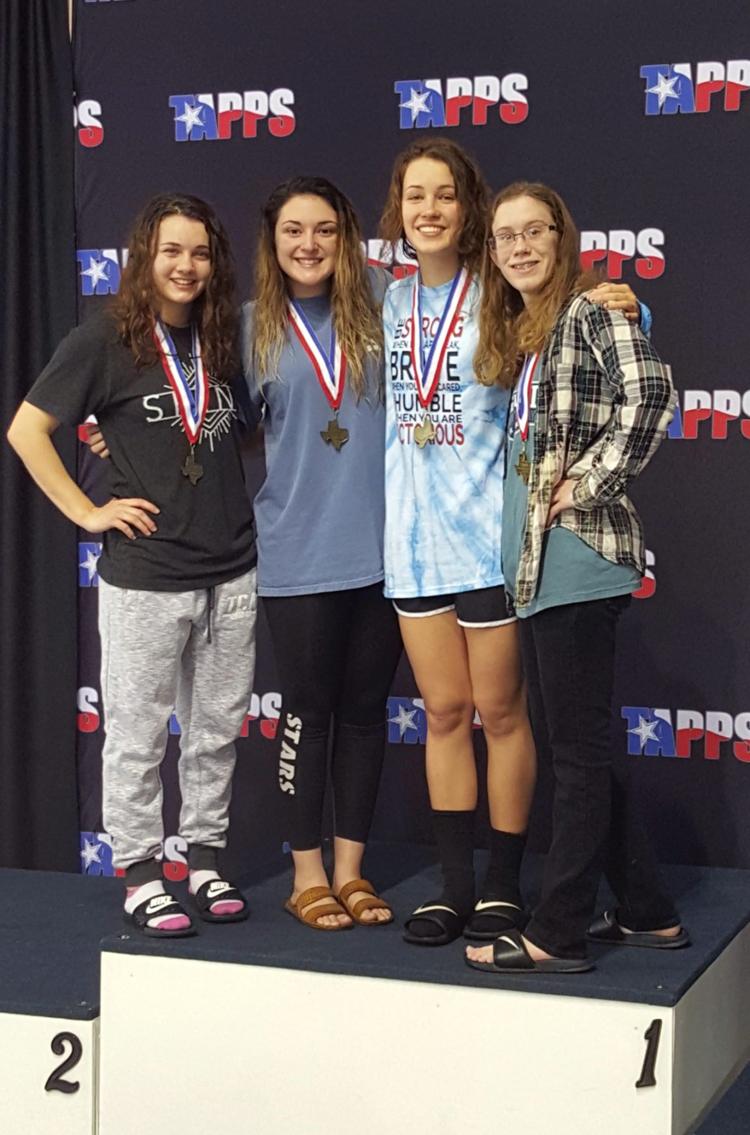 TCA swimmers capture gold
Texas Christian Academy made a successful gold rush to San Antonio last weekend.
The Stars earned a gold medal in the girls' 200-yard freestyle relay at the TAPPS State Swimming Championships. That victory helped TCA finish fifth in the team race.
"We won the team title at regionals, but we were starting to slip a little in the team points at that point of the meet at state," TCA coach Scott Corbin said. "Those girls really came through for us."
Making up TCA's winning foursome were three sophomores — Abby Williams, Kris Reynolds and Shaley Coffin — along with senior Josie Corbin. Josie actually swam with a splint on a broken finger she had injured a week before playing basketball.
The group's winning time of 1:58.67 topped runner-up Boerne Geneva by just over a second.
Midway swimmer set for state
Midway senior Neil Wachtler will start his quest for a medal Friday, when the UIL State Swimming and Diving Championships get underway at the University of Texas in Austin.
Wachtler will compete in the 100-yard backstroke. He enters with the third-fastest time among Class 6A call-ups for the race. He timed 50.89 seconds at regionals and owns a low of 50.10.
Wachtler is the first Midway swimmer to reach state since the school moved to Class 6A.
University High School's popular "Soccer Buddies" program will continue Saturday, with a clinic from 10 to 11:30 a.m. at the school.
The program seeks to teach soccer skills and life mentorship to elementary-aged youths, with University's soccer players serving as instructors. It has been averaging 150 in attendance since it resumed about a month ago, University coach Mike Chapman said.
HOF banquet tickets on sale
Tickets are on sale for the Texas High School Football Hall of Fame's May 7 induction banquet.
This year's induction class includes such gridiron luminaries as LaDainian Tomlinson and Vince Young.
Tomlinson, from University High School, is the inductee representing the 1990s, while Houston Madison's Young is the 2000s representative.
The rest of the class includes Stamford's Kenneth West (1950s); San Antonio Lee's Linus Baer (1960s); Euless Trinity's Mike Baab (1970s); West Orange-Stark's Kevin Smith (1980s); Southlake Carroll's Bob Ledbetter (coach); Katy's Gary Joseph (coach); and broadcaster Craig Way as the winner of the Dave Campbell Special Contributor to the Game.
Tickets are $45 for adults and $15 for students and include a catered meal. To order, contact Tiffany Wilkins at 210-290-8570 or at tiffnjake@hotmail.com.
Central Texas basketball coaches whose seasons are complete may nominate players for the annual Super Centex boys and girls basketball teams.
Nominations should include the player's position, height, classification and all pertinent statistics and honors. The Tribune-Herald also wo;; select a Player of the Year, Coach of the Year and Newcomer of the Year for both boys and girls divisions.