AUSTIN — Iredell senior Vivi Benitez had herself a day at the UIL State Track and Field Meet as she left Mike A. Myers Stadium with two silver medals and a gold.
After finishing second in the long jump and triple jump during the field events portion of the meet, Benitez topped that by clocking 15.74 seconds to win the Class 1A girls' 100-meter hurdles on Friday evening.
"There was nobody beside me," Benitez said about her finish in the 100 hurdles. "It was pure excitement. I'm pretty sure I had the biggest smile on my face. Unbelievable experience."
Benitez, who won the long jump with a mark of 17 feet, 10 1/2 inches as a sophomore in 2017, leapt 16-9 3/4 for the silver medal as a senior. She followed that up by winning her first-ever state medal in the triple jump with a mark of 35-4 for second place.
When Benitez crossed the finish in the 100 hurdles, .39 in front of second place Chesna Harbert of Channing, she had earned Iredell 26 team points, tying Happy for the lead to that point. But whether Iredell wins the team trophy or not, the Dragon senior was thrilled with her trip to Austin.
"It's pretty amazing," Benitez said. "I'm a senior, so this is my last state track meet. To come out here and place in each event is amazing."
Abbott junior Nathan Galuppo won the 1A boys' 800 with a straight forward philosophy — run fast until they tell you to stop.
"They shot the gun and I started running," Galuppo said. "I ran until I saw the finish line and that's where I stopped."
Galuppo finished in 1:57.63, 3.3 seconds in front of Barksdale Nueces Canyon freshman Santos Flores. The Abbott junior said his usual strategy paid off once more.
"I like staying behind whoever's in first and then dusting them around the 200 mark," Galuppo said.
Abbott junior Rachel Kallus added to the Panthers' medal count by winning gold in the 300 hurdles with a time of 47.12, 0.55 of a second ahead of Ackerly Sands' Landry Morrow.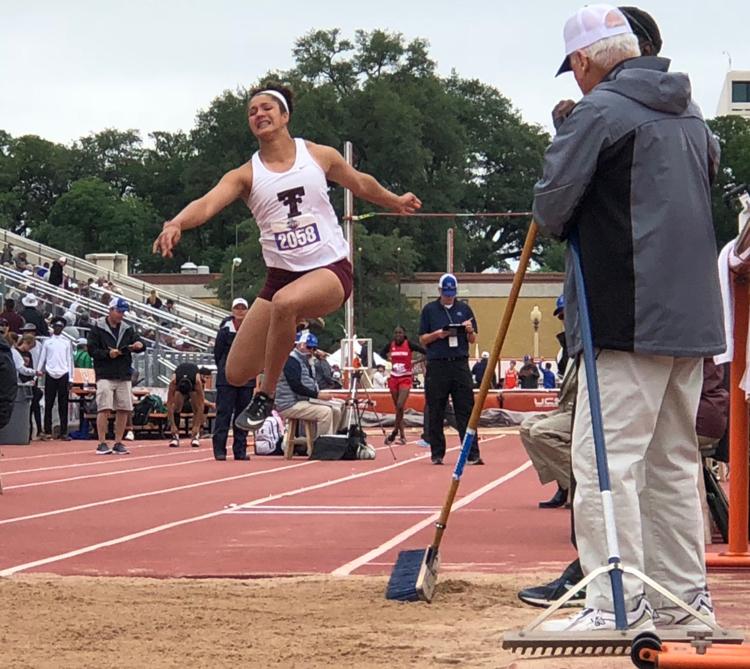 Troy junior Alexis Tippit fought through intense pain to finish off a double-medal day in 3A.
Tippit posted a jump of 18-4 to finish second in the long jump behind Goliad senior Amaya Brown (18-8 1/4).
Tippit, who suffered a broken leg last year, stood fourth in the triple jump after four rounds. She said her leg started hurting after her third jump, but she still managed to bounce to a mark of 37-9 on her fourth jump.
"It felt like I got shot in the leg," Tippit said. "My coach said to ignore the pain and go out there and try my hardest."
Tippit's fourth effort in the triple jump earned her the bronze medal in the event behind Brown (39-4 1/4) and Presidio junior Daniel Valenzuela (37-10 1/2). West freshman Makayla Pavelka finished sixth at 36-2 1/2.
"I was hoping to get first, but (Brown), she really came in, she was very good," Tippit said. "I thought I jumped pretty good and I guess I'll work harder for it next year."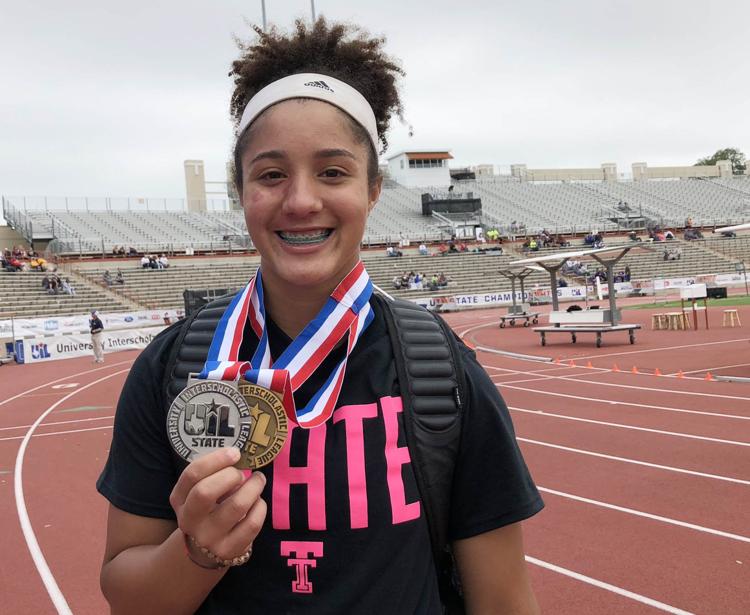 Jonesboro senior Keegan Coble also brought home a pair of medals as she took silver in both the 1A girls' discus and shot put.
Coble slung the discus 145-9, more than 31 feet ahead of Water Valley junior Kendra Hoover, but seven feet and an inch behind Rocksprings junior Zoe Burleson (156-10). She heaved the shot 40-3 3/4, to finish a little more than a foot behind Burleson (41-7).
McGregor sophomore Mara Hering improved on her regional mark by two inches to claim the gold medal in the 3A girls' high jump. Hering cleared 5-6 on her first attempt at that height to win the tie-breaker over New Boston junior Chloe Davis, who jumped 5-6 on her third try.
Cameron senior Davion Bynaum came into the state meet with the fastest 100 time in 3A and backed it up as he clocked 10.51 to win the event. He was .18 of a second in front of Demarcus Richardson of Crockett.
Aquilla sophomore Rylee Hennig cleared 5-4 to finish second in the 1A girls' high jump. Miranda Goswick of Westbrook won the event at 5-5.
Clifton junior Sutton Finley pole vaulted 11-6 on her first attempt and that mark earned her a silver medal in 3A. She and Mineola sophomore Abeni Kratzmeyer were the only competitors to go higher than 11-0 and Kratzmeyer claimed the gold medal with a height of 12-6.
Covington senior Klay Howard won Central Texas' first medal of this year's state meet by finishing third in the 1A boys' 3,200. He clocked 9:50.42, just 1.22 seconds behind Spur's Jorden Zarate in a tight race. Isaia Billingsley of Cumby Miller Grove took second at 9:49.45.
Late Friday
Late on Friday, Iredell senior Morgan Whitfield ran to a gold medal in the 1A boys' 300 hurdles. Whitfiled's time of 39.63 edged out Avinger's Keldyn Schubert in second place by .14 of a second.
Iredell senior Vivi Benitez, who claimed the gold medal in the 1A girls' 100 hurdles and silver medals in the long jump and triple jump, earned 26 team points for the Lady Dragons. She was the only Iredell female athlete at the meet, but her point total was good enough for a sixth-place team finish and just 10 points from the third-place trophy.