As assistant coaches for the Robinson softball team, Molly Cross and Lindsey Cargill McLean have a unique perspective that they can share with their players.
Both Cross and McLean starred for the last Robinson softball team to reach the state tournament in Austin. The Rockettes dropped an 8-1 decision to Paris North Lamar in the 2010 Class 3A state semifinals, but getting there was an experience that's still burned into their memories.
"We always go back and relive those moments and how great it was," said McLean, an All-American third baseman for Baylor in 2017. "Just coming together as a family, you need that to win state. We usually talk about how hard it is and how much work it takes to get there. Those are the teams that end up going to state."
This year's Rockettes are on the verge of getting back to state for the first time in nine years.
If they can win two of three games in the Class 4A Region III finals against Huffman Hargrave, they'll earn a berth in the state semifinals May 30 at McCombs Field in Austin. No. 3 Robinson (30-7) and No. 6 Huffman Hargrave (32-6) will meet in Madisonville at 5 p.m. Thursday and Friday with a third game Friday night if necessary.
The 10 Robinson seniors would love to end their high school careers in Austin with a chance to win the Class 4A title.
"It would mean more than words can express," said senior catcher Shelby Carter. "We've been very close the last three years and now we've pushed past the fourth round. It's been a statement to everybody out there that didn't think we could do it."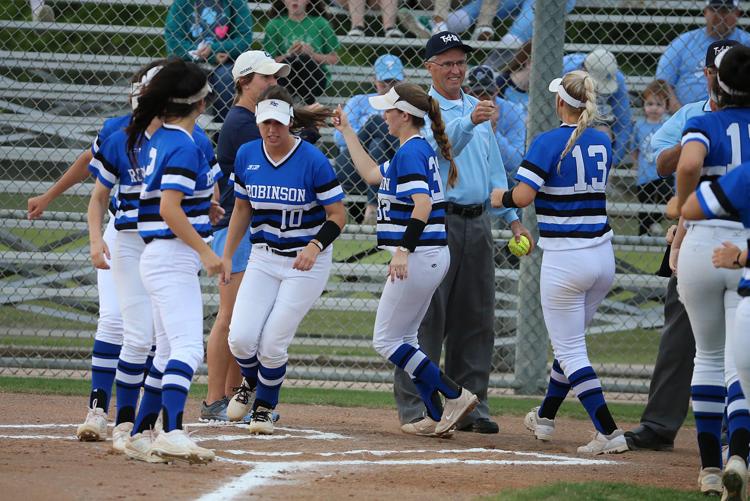 The Rockettes hope the karma they discovered in Madisonville lasts another week.
After a 14-4 run-rule loss to No. 1 Splendora last weekend, the Rockettes rallied for a 9-8 win with a three-run seventh that was keyed by senior Tatum Stephens' two-out single. Robinson went on to win the third game 2-1 to reach the region finals.
"Honestly, after the first night when we got run-ruled, I think a lot of people, even our fans, lost hope," said senior pitcher Emilie Hoelscher. "We said we'll see what happens and try our best. We knew what we had to do and that it would be hard. There was a real low chance of us winning both games considering they're ranked No. 1 in the state. After that first win, we were like 'OK, we can do it.'"
Winning the region semifinals was a major step for this massive group of Robinson seniors since they'll be making their first appearance in the region finals.
"After we won, it didn't feel real to me because we had never made it this far," Hoelscher said. "Every year we've been stuck at the fourth round. Like when our shortstop Kendill (Hernandez) caught the last ball for the last out, it didn't feel real. We were speechless."
The Rockettes have advanced deep into the Class 4A playoffs behind a pitching staff that features left-handers Hoelscher and Raigan Mock.
"You don't see a whole lot of lefties, but they've got different styles of pitching on top of it," said head coach Bobby Cervenka, now his 12th season guiding the Rockettes. "They've grown up a lot and are more mature. And it helps them with the adversity we've faced."
It's difficult to pitch around any hitters in Robinson's lineup because they all have different strengths. Stephens, Carter, Hernandez, Tye Johnson, Amanda Marek and Erin Young have all had their moments.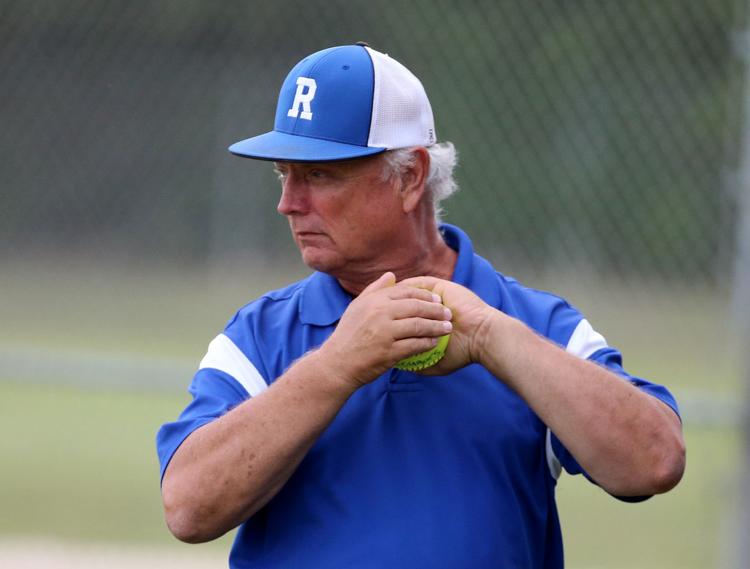 Cervenka is glad to have Cross and McLean back in the program as assistant coaches because they've been to the state tournament as players and can relay their experiences to the current players. Cross was the ace of Robinson's 2010 pitching staff and also played for the Rockettes' 2009 state championship basketball team.
"I just let them know they have a chance to do something special," Cross said. "They need to embrace it. Before the season started, we knew we had the chance to do it this year. We tried to let them know the big picture of things, and in practice each moment what we're working toward."
Most of the Robinson seniors' softball careers won't end when this season is over. Six players have committed to play at the college level, including Carter at Tarleton State, Marek at UT-Tyler, Johnson at Mary-Hardin Baylor, Hoelscher and Hernandez at Tyler Junior College and Young at MCC.
But they've been around each other for so long that they'd like to leave high school with one more lasting memory.
"A lot of us have played together since we were 8 in Little League," Hoelscher said. "We feel comfortable around each other and know each other very well. They're all my best friends. We're real close. We'll all be going our different ways, so to finish it off with a state title would mean a lot because we would have it to carry with us as we're going to our schools to play softball."