CRAWFORD — They've heard all the stories of the Crawford Lady Pirates' runs to the 2012 and 2014 state championships.
They see the plaque honoring those teams outside their softball field when they go to practice every day.
Now these Lady Pirates want to write their own Class 2A state championship story. Especially seniors Cambree Aguirre and Avery Ward, who were freshmen on Crawford's 2016 team that was run-ruled in an 11-1 loss to Windthorst in the state semifinals.
"As a freshman I didn't really get an opportunity to play," Aguirre said. "You didn't appreciate it as much. But as a senior it's your last time and you've been playing with these girls forever, and you appreciate it and want to win it all."
The No. 1 Lady Pirates (34-3) will face No. 4 Pineland West Sabine (31-5) in the state semifinals at 9 a.m. Wednesday at McCombs Field in Austin. No. 2 Thorndale (32-5) and No. 3 Windthorst (32-6) will play in the other state semifinals game, with the two winners advancing to Thursday's state championship game at 3 p.m.
Crawford is excited to be on Texas high school softball's biggest stage, but no one will be satisfied with anything less than a state championship.
With a talented pitching staff featuring Aguirre and Makey Dunbar and an offense that can burn opponents in a lot of ways, this is a team built to win it all. The Lady Pirates have romped through the playoffs with six straight wins, including dominating 7-0 and 6-0 shutouts of Honey Grove in the Region II finals.
"Definitely at the start of the season, we weren't the same team we are today," Ward said. "But if we do keep playing the way we have the last couple of games we definitely have a good chance. We have two (pitchers) we can trust to get the job done. We have very good power hitters and people who can steal and bunt, and people who can put it into play to where we can have baserunners."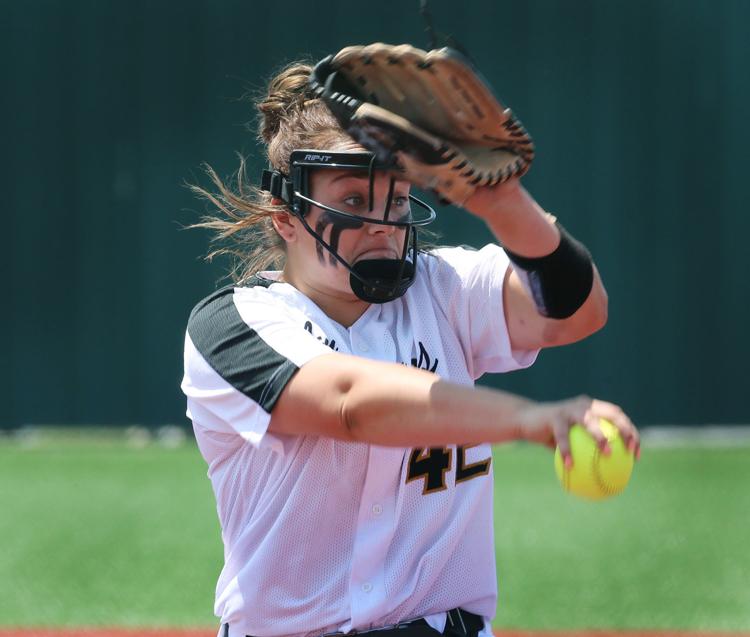 Even the best high school softball teams often rely on one workhorse pitcher to carry them, but the Lady Pirates have two aces in Dunbar and Aguirre. Dunbar is 18-0 with an 0.53 ERA and 160 strikeouts in 93 innings while Aguirre is 15-3 with a 1.93 ERA and 108 strikeouts in 98 innings.
"It's actually a stress reliever," Dunbar said. "If I'm having an off day, Cambree is probably going to be on that day. We help each other out big time and we can talk about how the umpire is calling stuff if the other one goes in. We're already a step ahead to know what to expect."
If all goes according to plan, Crawford coach Kirk Allen hopes both Dunbar and Aguirre can each go the distance in two games. But he's glad he's got a second option if one pitcher is having an off day.
"They know in a one-game situation if they can go three, four or five strong innings there's someone behind them that can win the game for them," Allen said. "They don't have to pace themselves the whole game because they know we have somebody we can put in."
Crawford's offense is led by junior third baseman Kyla Mach, who is hitting better than .600 with a team-high 11 homers. She's happy she can still play the game after she was hit in the head by an errant throw during the playoffs two years ago.
"I had just come back from pitching and I was getting ready to hit," Mach said. "They're doing warmup and the shortstop overthrew and I got hit in the head. I had a brain bleed and a fracture in my skull. When I came back, it was rough but my team really helped me."
Cece Villa, Dunbar and Ward are all hitting over .500 while Kylie Ray, Grace Powell and Aguirre are hitting over .400. The Lady Pirates like to play aggressive softball with a great deal of bunting, stealing and taking the extra base when the opportunity is there.
"Every one of them has special talents and things they do well," Allen said. "We just try to bring out what that is, whether they can hit the ball hard or bunt or steal or sacrifice. They know when they get up there they have something they can do for the team."
Freshman outfielders Lexi Moody and Ray have been pleasant surprises after they were pressed into duty when juniors Courtney Allen and Peyton Elmore both suffered ACL injuries before the season.
Kirk Allen has also had to adjust his lineup throughout the season as the Lady Pirates have dealt with other injuries, but they've found the right combinations to create a dynamic attack.
"Both Lexi Moody and Kylie Ray have stepped up and played out there and hit the ball," Allen said. "From the beginning of the year until now they've made an amazing transformation. They were raw but they've come so far. They've done a great job. They've grown and blossomed out there."
West Sabine hasn't been as dominating as Crawford in the playoffs, but pitcher Hannah Spring has been tough for everybody to hit.
"West Sabine has a really good pitcher who can move the ball around quite a bit," Allen said. "She has all the pitches: curve, drop, screw and riseball. They've got three or four girls in the lineup who have a lot of power, so we have to be careful. They're an all-around good team that's solid one through nine."
Allen wants his team to soak in the atmosphere at McCombs Field and enjoy the state tournament experience. But the Lady Pirates are driven and experienced and have come to Austin to win.
"It means the world to me to be with all my friends and family and to have my team with me," Mach said. "I feel like we have a great chance. When we come together and play the way we know we can, I feel like we have a real good shot at it."