As Bobby Cervenka took the microphone from Tommy Allison, the Robinson softball coach held up the sheet of paper in his hand.
"I had to make a lot of notes, man," Cervenka said. "This is a record for me, with six softball players signing."
First up was Erin Young, who signed with McLennan Community College. Like Robinson, MCC has experienced its share of success in recent years. When asked what led her to choose MCC, Young's answer was simple.
"It's close to home, and their program is just really good," Young said.
Kindell Hernandez was next, as she signed with Tyler Junior College.
"It felt really good," Hernandez said. "I've waited so long for this moment. I've conquered my goal and got to share it with everyone."
When Amanda Marek took the stage to sign with UT Tyler, she said she was really anxious. Not because she wasn't fully confident in her decision, but because she was so excited her dream was finally being accomplished.
"I had butterflies," Marek said. "When I signed (the paper) up there, my hands were shaking. I could barely write my name. I was so nervous."
For Tyeann Johnson, the choice to attend Mary Hardin-Baylor was decided long ago. Wednesday morning, she finally made it official.
"I've actually been going there for tournaments and round-robins since I was in seventh or eighth grade," Johnson said. "Every time I went there, I just felt at home. Every time I knew it was the choice for me."
Emilie Hoelscher then took her turn to sign with Tyler Junior College.
"It's one of the greatest things," Hoelscher said. "Not many softball players get this opportunity. Most of the time it's just one or a couple of players, especially at the high school level. To get this opportunity and the fact that they're my best friends, it's really special."
Once Shelby Carter took the stage, Cervenka began his speech by listing all the awards she's received at high school – from the Trib's Super Centex Newcomer of the Year honor to multiple all-district nods and even an all-state honor. As he continued speaking about his catcher who signed to play at Tarleton State, he expressed his confidence in the kind of wall Carter builds behind the plate.
"That's not true," Carter said with a giggle. "I definitely make mistakes. I'm grateful that he thinks that I'm such a great player."
Robinson has 10 seniors that will take the field for softball this season, and their sights are set on the ultimate prize.
"I've been doing this a long time," Allison said. "That is six of our student-athletes that are going to go play college softball next year. That is so impressive. You can't even imagine how impressive that is.
"And if you haven't had a chance to watch our girls play softball, they're incredible. I mean this, something changed with these girls last year. They're such a joy to watch. And the expectations, girls, just going to go ahead and tell you let's get it done. If there's ever a year, this is the year to get it done."
Robinson's Powell heading to Austin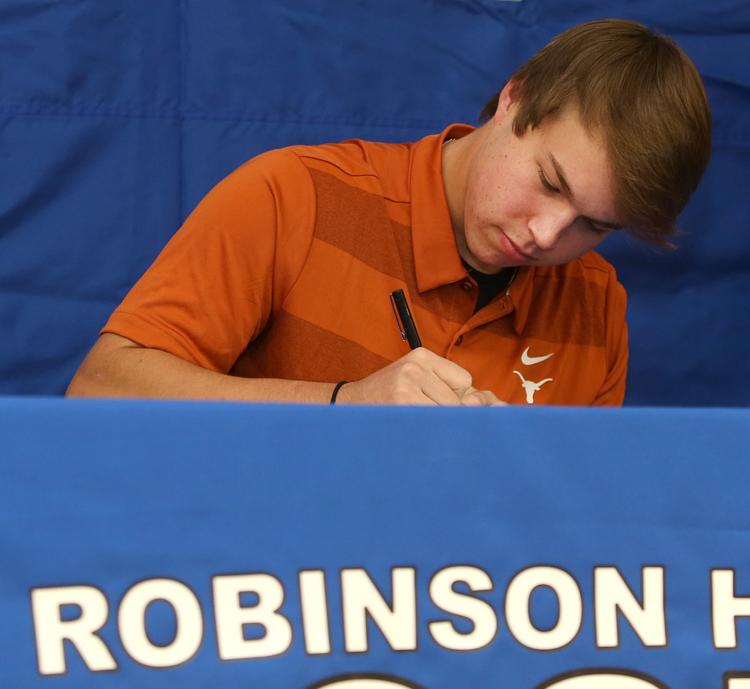 When Peyton Powell was a sophomore, he about gave Robinson baseball coach Bryan Kent a heart attack. It was the Rockets' final practice before heading to Austin for the state tournament, and, at the very end of practice, Powell appeared to go down with a knee injury.
Powell pulled off the fake injury perfectly, enough so that Kent was looking for a bit of all-in-good-fun payback. After telling the story, the head baseball coach said he would get Powell back eventually.
Eventually, for Kent, came about two minutes later. As he spoke about Powell's strengths – a staple in the middle of the Robinson lineup – Kent pointed out a statistical category that was blank. Powell knew what was coming as he smiled and shook his head while Kent proceeded.
"He's yet to hit a home run in high school," Kent said with a grin. "OK, here's the deal. I started thinking that there's probably a lot of people here that have not hit a home run in high school. I played high school baseball. I did hit one. I hit a couple."
From there, Kent asked multiple people gathered at Robinson High School if they had hit home runs – from fellow coaches to Powell's teammates.
Powell had some suggestions for Kent to ask, to which the coach replied, "No, I don't want to ask him."
Once he finished surveying the room, Kent turned back to Powell for a final word.
"I just had to give you a hard time, buddy, but just know that we are so proud of you," Kent said. "I think the coolest thing that could happen for you is if you win your last game of your high school career at The Disch (Disch-Falk Field) and then you get to play your first college game there as well. Congratulations, bud."
Five Lorena athletes realize college dreams
LORENA — Hanging above the main entrance to Lorena High School is a sign that reads, "It's A Great Day To Be A Leopard."
Wednesday was one of those days where the message resonated even more than others.
Five of Lorena's top senior athletes made their college decisions official, as Kaci Donaldson will go to Army for softball, McKenzie Tuyo is headed to Henderson State (Ark.) for volleyball, Caidon Livingston and Bo Smedshammer will remain baseball teammates at Murray State (Okla.) College (not to be confused with Murray State University in Kentucky), and Corbin Conradt will play golf for Dallas Baptist University.
For Donaldson, a Super Centex star who hit .481 with 11 home runs in 2018 as a junior, the decision to head to West Point provided a deeper commitment than the usual which-college-fits-me-best conundrum.
"That's kind of why I love it," Donaldson said. "It's not your normal four-year college. You're kind of signing your life away in a sense, but you're giving back to the community, which is what I want to do."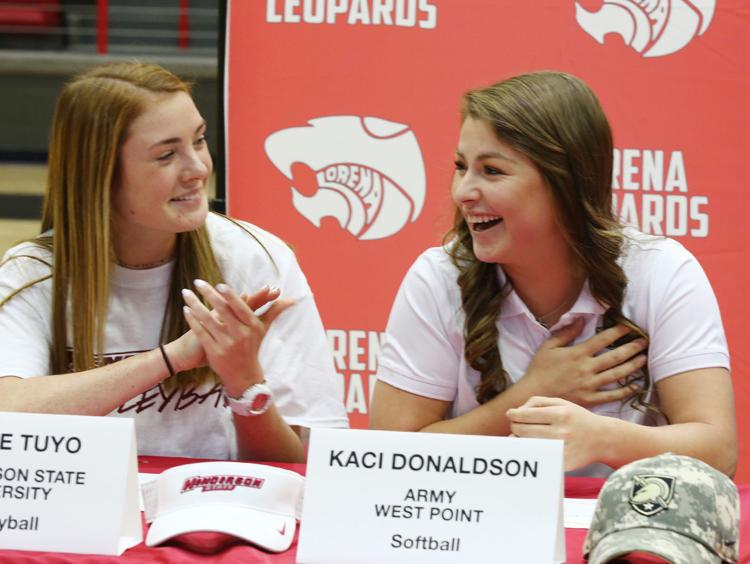 One Lorena coach even made Donaldson beam with pride when he mentioned that he'd feel safe with her protecting the country. "Training will help, I promise," she said, laughing.
Tuyo said she'd been dreaming of playing college sports since the fifth grade. She's a multi-sport standout, excelling in soccer and track, but she's always dug volleyball the most, she said.
"Honestly, I just loved volleyball from the start," Tuyo said. "I was super-tall when I was younger – clearly, that didn't keep up with me. But I started out really tall, so I just fell in love with volleyball, because it was something new to me. I just caught on really fast, and it felt like something I was supposed to do."
Tuyo called Henderson State "a family-based school" and said she chose it because the head coach there was among the first to deliver a scholarship offer.
Lorena baseball coach Brandon Graves called Smedshammer and Livingston "two of the hardest-working guys you could find."
Conradt will join a DBU golf team that will be looking to climb up the NCAA ladder after a sixth-place finish in last season's Heartland Conference tournament.
Midway athletes moving on up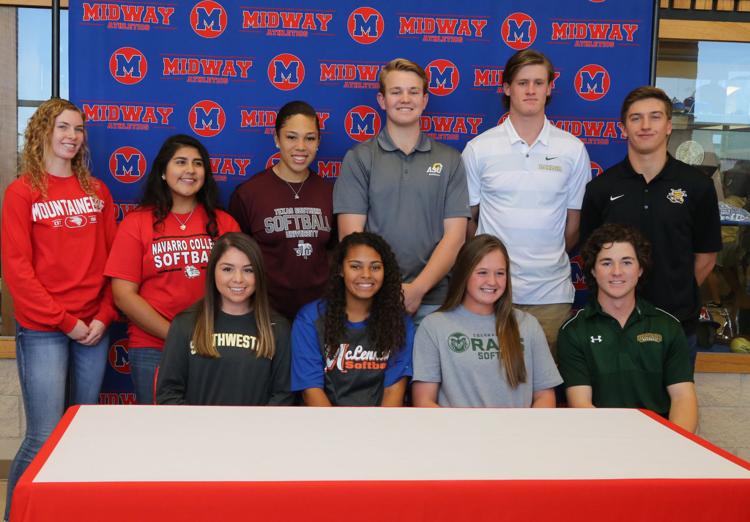 As Eddie Cornblum continued to address the four baseball players that sat to his right, his eyes began to get a little watery.
The Midway baseball coach has seen plenty of his student-athletes sign National Letters of Intent to continue their playing careers and educations at the collegiate level. But on Wednesday afternoon in the lobby of the Midway gym, Eddie watched as his son, Couper, signed to play baseball at Wichita State.
Couper definitely knows what it's like to play baseball for his dad, and he's passed on what he's learned to Nolan Rodriguez who also signed on Wednesday at Midway to play baseball for his father, Steve Rodriguez, at Baylor.
"He said that on the field he's Coach and off the field he's Dad," Nolan said of what Couper has shared with him. "I've been asking Coach Cornblum about it, like how do they handle it. He said that there's no difference between being a coach and being a dad. 'Off the field, he's going to be your dad and tell you what you need to hear. But on the field he's going to care for you just like you're another player.' … It's going to be a really cool experience. He's spent a lot of time coaching other kids. I'm glad he's finally going to get some time with me. It's going to be a really special four years, and I'm looking forward to it."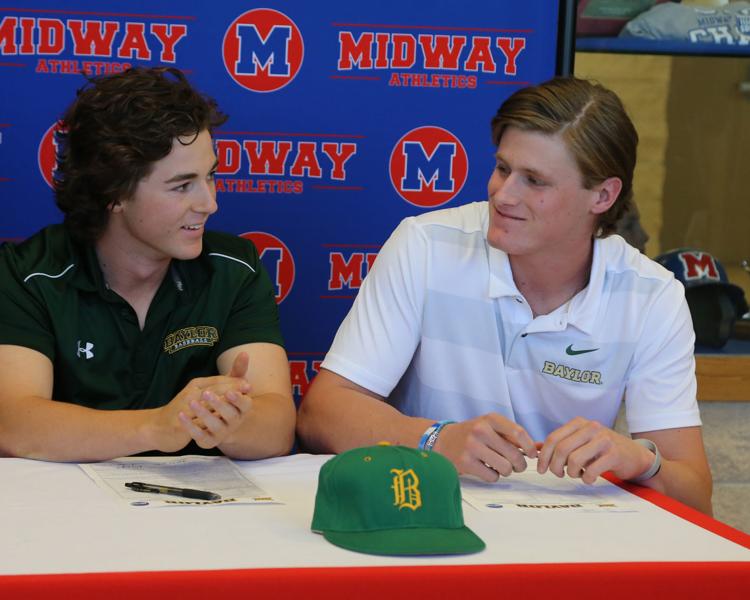 Rodriguez isn't the only Midway Panther that will play baseball for Baylor next season. So will ace pitcher Will Rigney.
"I grew up watching Baylor and going to all the Baylor events," said Rigney, who went 10-2 with a 0.72 ERA as a junior. "It's just something I want to do."
Tripp Clark was the fourth Midway Panther to sign to play baseball collegiately, as he's headed to San Angelo State.
Eddie and Couper Cornblum and Steve and Nolan Rodriguez weren't the only parent-child signings that happened at Midway on Wednesday. Sitting in between her father Ed, the Midway head softball coach, and her mother Shawn, athletic director at McLennan Community College, Kadyn Trochim signed to play softball at MCC.
Four of her teammates also signed to play collegiate softball – Camry Collier at Colorado State, Jazmine Gendorf at Texas Southern, Faith Fernandez at Navarro and Sammi Martinez at Southwestern.
Keziah Bachert also signed her letter of intent on Wednesday as the lone girls basketball student-athlete at Midway to do so. She will be playing at Western Colorado University next year.