Whenever Lorena and Robinson clash, it's — what's the best word? — intense.
That may be doubly so in this 2019 softball season.
Both Robinson and Lorena have fielded some fierce softball teams the past few seasons. The Lady Leopards made back-to-back regional finals in 2017 and '18. But Lady Liberty has been unkind to Lorena's voyage, as the Lady Leopards lost to Liberty Hill in the 2017 regional final and Liberty in 2018.
Meanwhile, Robinson also fell victim to those two teams in the last two playoff rounds, only at earlier stages. The Rockettes fell to Liberty Hill in the regional quarterfinals two years ago, then vanquished that Liberty Hill bunch in a hard-fought regional quarterfinal series last year before dropping a three-game series to eventual state champ Liberty in the regional semis.
Surprise, surprise, they're all expected to be good again in 2019. Liberty is the No. 1-ranked 4A team in the state poll, while Robinson sits at No. 2, Lorena is No. 4 and Liberty Hill comes in at No. 10.
Circle the dates of March 26 and April 12 now. That's when Robinson and Lorena meet in district softball play, and those matchups should be plenty fun.
"Well, they're fun for everyone else, a little stressful for the coaches," laughed Lorena coach Steve Dolezel. "Actually, they may be stressful for the fans too – they do some talking back and forth. But the good thing about going up against Robinson two times is that they're going to expose some things and show you where you need to get better."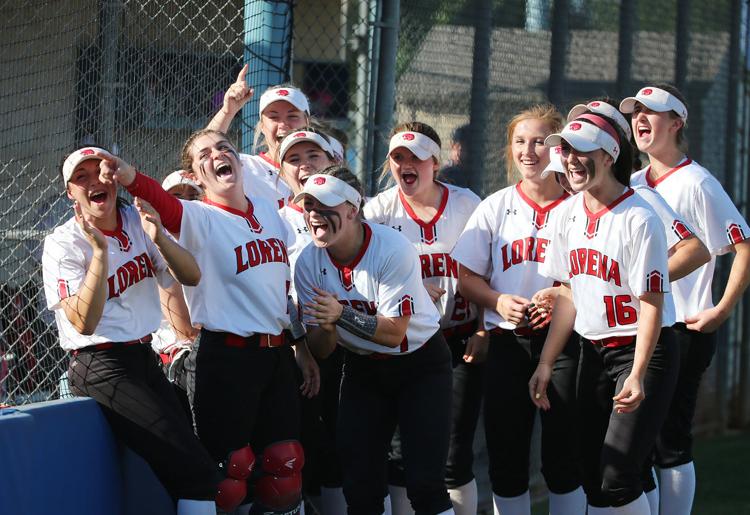 With apologies to Jack Burns of "Meet the Parents" fame, the pitching circle in softball is the real circle of trust, in that it works out better if you have a trusted ace in the middle of that thing. Lorena faces the unenviable task of having to replace former Super Centex Player of the Year Rachel Williams, but Dolezel has liked what he's seen in the early stages from freshman Alexis Nava, who picked up her first varsity win in a season-opening 6-2 win over West on Tuesday.
The Lady Leopards will also get a personnel boost once basketball season ends, as pitcher Sara Robertson and others join the mix.
"Obviously we want the basketball team to continue playing as long as possible. They're having a great season," Dolezel said. "But I'm sure those girls will be excited to get out in the fresh air, too."
Robinson has the potential to play all the way to June, too. Bobby Cervenka's team is stacked with seniors and oozing with talent. Senior slugger Shelby Carter, junior outfielder Taylor Strain and senior pitcher Emilie Hoelscher are returning first-team Super Centex stars, and they're surrounded by plenty of proven talent.
In fact, in November Robinson had six seniors sign letters of intent to move on to college programs, which Cervenka called "a record for me."
If either Lorena or Robinson can give Liberty a (playoff) death, an all-Central Texas regional final is not out of the realm of possibility. Talk about taking a rivalry to the next level.
"That would be a lot of fun," Dolezel said. "I think that happened back in (1999), Lorena and Robinson met in the regional final over at the Waco ISD Complex, and Robinson won, 1-0, and went on to win the state championship. That would be great for Central Texas to do that again, but of course we've got a lot of softball to play before then."
Hillsboro approves hiring of alum Hale
Steve Hale is going home, and he couldn't be more pumped about it.
Hillsboro ISD approved the hiring of Hale as its new athletic director and head football coach on Wednesday night. It's a homecoming for Hale in several ways, as Hillsboro is his hometown, his alma mater and the site of one of his early assistant coaching gigs.
"My mother died in December, and right after that I started thinking, 'I don't have any more ties to Hillsboro, in terms of people living there,'" Hale said. "A week later, the Hillsboro job opened up, and I got real excited about it."
Hale comes to Hillsboro from Groesbeck, where in three seasons he led the Goats to a 17-15 record and a pair of playoff appearances. He also had coaching stints at Medina Valley, Hutto and La Marque.
"I love Groesbeck, I had three amazing years there," Hale said. "It's the best all-around athletic culture I've been around, and we created that. The boys' and girls' programs had one heartbeat, with how close we became, high-character kids who really bought in. What we've created will last a lifetime."
Hale wants to build the same thing at Hillsboro. He's seen it happen before, and he knows it's possible. He was an assistant coach at Hillsboro under Brian Erwin from 1998-2002, before following Erwin to La Marque. In 2001, the Eagles went 7-5 and upset Lake Worth in the bi-district playoffs for the program's first playoff win in 46 years. That season marks the last time Hillsboro has posted a winning record in football.
"I'm not trying to reinvent the wheel, but going back home to try to build on what we did years ago, it's exciting," Hale said. "To have the opportunity to end my career here, I've been coaching for a long time, and hope to be at it a lot longer, and I'm just so thrilled to be the next AD and head football coach at Hillsboro High School."
China Spring, Lorena to face off in tiebreaker
The first two meetings between the China Spring and Lorena boys' basketball teams were so gripping and dramatic that they've decided to stage a trilogy.
After the Leopards scratched past the Cougars, 52-50, in Tuesday's regular-season finale in China Spring, the teams ended up tied atop the District 18-4A standings with matching 8-2 records. Both games were equally competitive, with each winning on the other's home court. In the first meeting on Jan. 25, the Cougars swiped a 65-59 win in Lorena.
Though they'll share the district title, China Spring and Lorena still would each like to lay claim to the district's top seed for playoff seeding purposes. So they'll play a tiebreaker game at 5:30 p.m. Friday at Lorena. The winner will take the No. 1 seed, and the loser will be the No. 2.
You never know what to expect, either. The first game between the two featured a shootout between a pair of Super Centex stars in China Spring senior Antwan Stephens and Lorena senior Bryan Ash. Stephens went for 32 points on 9-of-16 shooting, including 4-of-6 from 3-point land, while Ash poured in 30 points on 11-of-19 from the floor and 7-of-9 from the line.
However, Ash and Stephens were a little quieter in round two, combining for 19 points. Antwan's younger brother Eli Stephens stepped up with 22 big points for China Spring, but the Leopards were able to persevere behind a well-distributed scoring attack. Caidon Livingston stroked a trio of 3-pointers on his way to 15 points, while Ash scored 12 and Bryce Strickland had 10.
This marks China Spring's first district basketball title, shared or outright, since 1993.
Groesbeck's Lee earns all-state acclaim
You only had to watch him once to know that Groesbeck's Ameer Lee was one of the best kick returners in the state.
All-state voters got the message. Lee was named as a first-team return specialist on the Texas Sports Writers Association Class 3A All-State Team on Wednesday.
Most of the times teams simply kicked away from him, yet Lee still managed to rack up four kickoff returns for 172 yards (a 43-yard average) and a 92-yard touchdown. He also had 17 punt returns for 474 yards and five TDs, averaging better than 27 yards per runback.
Newton running back Darwin Barlow and defensive lineman James Sylvester were named the 3A offensive and defensive players of the year.
Whitney's Kolby Tanner made second-team all-state at receiver, as did Troy's Zach Hrbacek at running back. Central Texas players earning third-team recognition included Clifton offensive guard Santos Murillo, Cameron Yoe wide receiver Kadrian Hammond, Clifton defensive lineman Edgar Rodriguez, Troy linebacker Ricky Guardiolla, Yoe defensive back Ka'Zirrius Holt and Clifton utility back Riley Perry.
Victory Bowl rosters set for June contests
Super Centex stars like La Vega's Jared Rogers, Midway's James Fullbright III and Parker Nall, and Bosqueville's Marcell Estell highlight the selections for the 11th annual Super Centex Victory Bowl, benefiting the Heart of Texas Fellowship of Christian Athletes.
The Heart of Texas FCA announced the rosters for the football game on Sunday, along with revealing the athletes selected for the volleyball, baseball, softball and cheer teams. More than 500 students and parents attended Sunday's announcement at Waco's Highland Baptist Church.
Midway's Jeff Hulme will coach the blue football team, while Crawford's Delbert Kelm will head up the red squad. The football game is slated for 6:30 p.m. June 8 at Waco ISD Stadium.
The baseball and softball all-star games will be held at 6:30 p.m. June 7 at the Mary Hardin-Baylor complex in Belton, while the volleyball game is set for 12:30 p.m. June 8 at University High School.
Belton soccer teams grab edge on Midway
Chalk up round one of the Belton-Midway soccer rivalry to the Tigers.
Belton's girls and boys team swept a pair of District 12-6A clashes from Midway on Tuesday night. In the girls' game in Belton, the Lady Tigers overcame two goals from Midway's Samantha Brown for a 3-2 win. In the process, Belton (9-4-2, 8-0) overtook the Pantherettes (10-3, 7-1) for sole possession of first place in the district.
Until that matchup, both Belton and Midway had given up just one goal apiece in district play.
The boys' game also packed a heavy kick. Belton scored on an Oscar Vargas header with four seconds left to tie the match at 1-1, then the Tigers outscored Midway, 4-3, in the shootout to claim the 2-1 win at the Midway High field.
The loss dropped the Panthers to 13-2-2 overall and 6-1-1 in district, while Belton improved to 12-0-2 and 6-0-2.
The rematches will take place March 22, with the girls switching venues to Midway and the boys heading to Belton.
China Spring plans Athletics Hall of Fame
China Spring ISD is accepting nominations for its inaugural class of the China Spring Athletics Hall of Fame.
To qualify for consideration, an athlete must have played at least two years of a varsity sport at China Spring, and five years must have passed since they last saw action. Coaches must have had a minimum of four years of service, while administrators should have had a minimum of five.
To nominate, email gocscougars@gmail.com, and include the person's name, sport and approximate years they were at China Spring. Nominations should include two to three sentences explaining why the nominee is deserving.
The deadline to nominate is 5 p.m. March 15, and the inaugural Hall of Fame class will be announced in mid-April.