Eternal dream: 25 years later, championship memories linger for Midway all-stars
The members of the 1992 Midway Little League Softball All Stars have easy access to a flood of memories even now, a quarter of a century later.
Each player recalled moments, both profound and obscure, involving long practices, close friends, big hits, a Slip 'N Slide, tough opponents, the "Boot Scootin' Boogie," sitting on top of a concession stand watching Fourth of July fireworks, monumental wins, Mike Greenwell's Bat-A-Ball & Family Fun Park, staying in strangers' houses in Kalamazoo, Michigan, Queen, the Queens, and "A League of Their Own."
And "The Catch." Everyone remembers "The Catch."
It happened in one of those scenarios that makes it impossible to forget. After nearly a decade of Midway Little League softball teams reaching the Southern Regional in Florida only to be turned away one step from the Little League Softball World Series, Midway finally had the upper hand on its own personal Goliath.
Twenty-five years later, Midway's 1992 World Series champions share their favorite memories from that summer.
Taking down Goliath
The Naples Queens from Naples, Florida, defeated Midway in 1988, 1989, 1990 and 1991, went on to win the World Series in three of those seasons and were poised to do it again.
"That was a very good Naples team," Midway manager Rick Brophy said. "(Naples key player) Michelle Moschel went on to pitch for Notre Dame. They were absolutely sure that they were going to beat us and had bought their tickets to the World Series."
Midway, conversely, kept hitting the wall in Florida. It lost in the Southern Regionals for seven consecutive years, even before Naples' ascent to power. But lately, the name Naples had become etched in the consciousness of every kid who roamed the Broughton and Hewitt baseball and softball diamonds that were home to Midway Little League.
Brophy saw it happen in 1991 as his 11-year-old daughter Julia made the All Star team and experienced the same old song and dance. A former Midway High School standout athlete himself, Rick Brophy possessed the savvy and tenacity to make a change. His team won the league during the regular season of 1992 and he became the All Star manager. All the while, he had been studying softball film, learning the little things he hoped would flip the script.
"I remember my dad watching video after video after video of Mike Candrea, who was the coach for Arizona, still is," Julia (Brophy) Jurgensen said. "(He was) watching to learn, 'How does he do it? And how do you hit? And what is the best approach to base running?' He had to study the game too."
So when the All Star team was selected and the players and parents showed up for the first meeting, there was a plan in place and a commitment to be made.
"There was a lot of shock and awe when we said we were going to practice from 6 to 9, seven nights a week," Jurgensen said.
Although Brophy was the manager and the man with the plan, and Mike Connell was the bench coach during games, the team had a coaching staff that consisted of many of the team dads. Practices became an all-hands-on-deck affair filled with drills on hitting, fielding and pitching.
"We worked so hard all summer through all that heat, practicing so much," Annie Braden said. "We knew each other inside and out. We formed a real sisterhood through all the blood, sweat and tears. I will never forget the camaraderie."
But it wasn't just working for the sake of clocking hours. Midway had to become a complete team in order to take the next step and reach the World Series.
Wizard of the windmill
For years, Midway earned a reputation in Texas softball circles because of its pitching. That can be attributed to a dedicated softball man named Ray Colclasure. He was the wizard of the windmill for Midway teams going back to the early 1980s. Brophy let Colclasure do his thing during practice then heeded the wizard's advice.
"Ray Colclasure was tremendous," Brophy said. "His advice about who was doing good and who was not doing as well was always right on. Ray had as much to do with keeping us on top as anybody."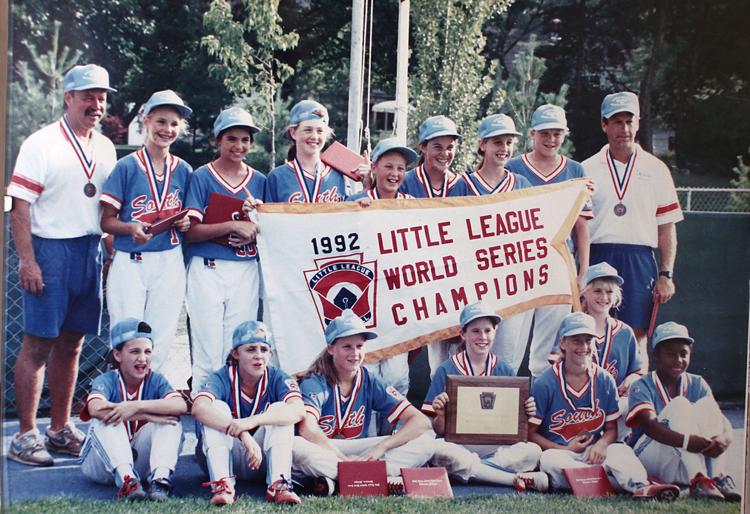 Midway had been a solid defensive team as well. Which meant that the remaining part of the game that needed improvement was offense. Not just putting the bat on the ball, but bunting and slap bunting and stealing bases (thus the use of the Slip N' Slide as a training tool). The team took batting practice, of course, but they also drilled at stations emphasizing hitting technique and the proper way to bunt. They ran drills for speed and base-running strategy.
The hard work quickly paid dividends on the scoreboard. Midway ripped through the city tournament, winning five games by a combined score of 93-0. The All Stars finally gave up their first runs of the season when Graham plated a pair in the sectional tournament in Weatherford, but not nearly enough to keep pace with the now-mighty Midway offense. By the time Midway won state and punched its ticket back to Florida for the Southern Regional, jealous boys on the baseball side grumbled that the softball team faced "no competition."
Midway shines in the Sunshine State
That changed when the team arrived at the STARS Complex in Fort, Myers, Florida. After an opening victory against North Carolina, Naples dealt Midway its first setback, a 5-3 defeat in the winner's bracket final. Midway's new aggressive approach on the offensive side was epitomized in the game's crucial play.
"My dad asked me, 'Can you steal home?'" Jurgensen recalled. "I said, 'Yeah, I can steal home.' I led off and (Naples catcher Mindi Harris) pump faked and I ran at her and she had the ball in her hand. It's a memory I will never forget. I was able to get in a rundown, but, man, she gunned me down, I got out. That wasn't the last out of the game, but that was kind of our Hail Mary. We lost, 5-3. Gosh, talk about a punch in the gut."
However, all was not lost.
"The first game, we did score runs and we did hit the ball," Brophy said. "I felt like we could beat 'em. I really did. There was certainly an element of it wasn't over yet."
Midway went into the elimination bracket and won to earn another shot at Naples, though now the All Stars would have to beat the Queens twice to reach the World Series.
Tara Brown shut down Naples in the championship-round opener. She struck out three and worked her way around three walks and five hits. Jennifer Pippin and Lisa Rosiles each drove in runs as Midway notched its first win over Naples, 2-0.
The local softball fans were flabbergasted. No one ever shut out Naples.
The next evening the Midway All Stars and Queens arrived back at the STARS Complex for a winner-take-all final that would send one team to the World Series and leave the other very disappointed. The pressure was cranked up as high as it would go for a team of 11- and 12-year-olds, but the Midway players proved to be ready for it.
Stephanie Smith led off the Southern Regional championship game with a single and later scored when Moschel overthrew third base. Rosiles reached base on a fielder's choice on the play that scored Smith. Then Sarah Rogers hit a grounder to second base that drove in Rosiles for a 2-0 lead.
From there, Pippin and Moschel engaged in a pitcher's duel. Moschel struck out eight and retired 15 straight Midway batters at one point. That set the stage for the one play no one has forgotten.
Pippin had recorded a pair of outs in the bottom of the fifth inning when Moschel came to bat with runners at first and second. Moschel drilled a shot to right field that appeared off the bat to be a momentum-turning hit.
"It was in no-man's land," said Jurgensen, who was playing second base.
I think every mom, dad, brother and sister that went along for the ride as Midway won the Li…
But a summer of constantly fielding fly balls had sharpened the instincts of rightfielder Robyn Klatt.
"I remember running, stretching out and diving to catch it and the huge thrill of the catch" Robyn (Klatt) Areheart said. "I remember feeling so elated! The way the team celebrated with me and what that moment meant for our journey."
Naples didn't stop coming, though. In the sixth, Queens first baseman Jesse Anucinski led off with a double. But the next batter hit a grounder to Brown at shortstop. Brown looked Anucinski back to second and fired to Rosiles at first for out No. 1. The next batter again grounded to Brown at short and she once again threw out the runner at first.
But this time, Anucinski took off for third. Rosiles hummed a throw across the infield to Rash, who caught it and absorbed a charging Anucinski.
"I remember getting plowed over by a runner that was twice my size at third base and still coming up with the ball," Kristen (Rash) Di Campli said.
The sparkling defensive play ended the game and sent the Midway players, coaches and fans into delirious celebration. No one could remember the last time Naples was shut out, and now Midway had done it twice in a row when it mattered most.
"As an adult, all of our emotions are usually tempered by some sort of stress that we have in our lives," Jurgensen said. "But in that moment, there was none. That's the perfect way to describe it, walking on air."
As the Midway mob descended upon Mike Greenwell's Bat-A-Ball & Family Fun Park for an impromptu victory party, an odd mix of emotions set in. The All Stars had slain their giant and were enjoying the spoils of victory. But suddenly the parents had to figure out how to get to the Little League World Series in Kalamazoo, Michigan.
Kalamazoo bound
The team boarded a plane and flew to the World Series. Meanwhile most of the parents, brothers and sisters, who had driven from Waco to the Southern Regional halfway down the Florida peninsula, then made the long haul from the Gulf Coast to the Great Lakes region.
When everyone reconvened in Central Michigan, there were new obstacles to clear. The World Series offered a quaint gesture of hospitality in housing the players with local host families, but it was an awkward fit for some of the Midway kids. The players also hated their World Series uniforms that combined tight fitting jerseys with baggy white pants.
"But it was kinda like, 'You know, who cares? We're at the World Series,'" Jurgensen said.
Midway returned to its early season dominating ways at the World Series, throttling teams from Delaware, Canada and Ohio to get to the championship round versus the West team from Gresham, Oregon.
Sometime earlier this summer, when Chad Conine and I first discussed the possibility of him …
Gresham, which needed to defeat winners'-bracket-champion Midway twice for the title, managed to delay Midway's celebration for a few hours by winning the first game. But the All Stars bounced back and once again won a winner-take-all championship game, defeating Gresham, 4-1.
"I think the best memory would have to be raising the flag in center field after we won," Tara (Brown) Dobbins said. "'We Are The Champions' by Queen is still a song that will make me stop what I am doing and reminisce."
The championship victory set in motion another series of memorable events as the players boarded a plane home and many of the families drove through the night in order to make it back to Central Texas for a community celebration at Broughton Field the next afternoon. When they met again at the Little League complex in Woodway, a large crowd greeted them and another party began.
"With no social media, we weren't aware how much support we had at home," Jurgensen said. "I remember thinking, 'Y'all listened? Y'all cared?' I truly had no idea until that moment and it rocked me."
Jurgensen said she thought it would never get any better than that. To a player, all of the team members have overwhelmingly fond memories of their team.
Life went on, and the All Stars carried the lessons learned with them. Many members of the 1992 Midway Little League team helped Midway High School win its first state championship in 1998, some of them literally graduating and receiving their diplomas on the field before the state final. This summer, a couple of the former All Stars watched their kids win select league championships of their own.
For 25 years, every subsequent win seems to take the people involved back to a softball diamond in the summer of 1992.
"It's funny, the things I seemed to cherish the most were the people I shared that wonderful season with," Sarah (Rogers) Combs said. "It made me so proud to be a part of such a sacred town in an endless summer. It marked me forever."