ARGYLE – Since losing in the 2016 Class 2A state semifinals, Crawford has been eager to get back and finish the job.
If the Lady Pirates play anything like they did against Honey Grove in the Region II finals, they could be celebrating a state championship on Thursday.
With senior Cambree Aguirre throwing a three-hitter, the No. 1 Lady Pirates romped to a 6-0 win Saturday afternoon to complete a two-game sweep.
Aguirre's performance was similar to Makey Dunbar's one-hitter in Wednesday's 7-0 series opening win over No. 5 Honey Grove (25-8). The one-two pitching punch featuring Dunbar and Aguirre has served the Lady Pirates (34-3) well all season, and they hope their success continues in the state semifinals.
"Most schools in 2A have one (pitcher), if that, and to have two is tremendous," said Crawford coach Kirk Allen. "We're real fortunate for the last few years to have two really good pitchers, and that makes a huge difference. Cambree was hitting her spots. She did a great job of mixing her pitches up. We had a good scouting report on where to pitch each girl."
On Sunday, Crawford will learn its Wednesday semifinals opponent at either 9 a.m. or noon at McCombs Field in Austin. With a win, the Lady Pirates would advance to Thursday's 3 p.m. championship game. Windthorst rolled to an 11-1 run-rule win over Crawford in five innings in the 2016 state semifinals.
Senior first baseman Avery Ward is elated to get a last chance to capture Crawford's third state title under Allen after the Lady Pirates won in 2012 and 2104.
"It's definitely going to mean more because I've played with these girls since I've been walking," Ward said. "I was a freshman on the (2016) team and it was a great experience, especially as a young player. I think it's going to help us in the next round, especially since we've been there before."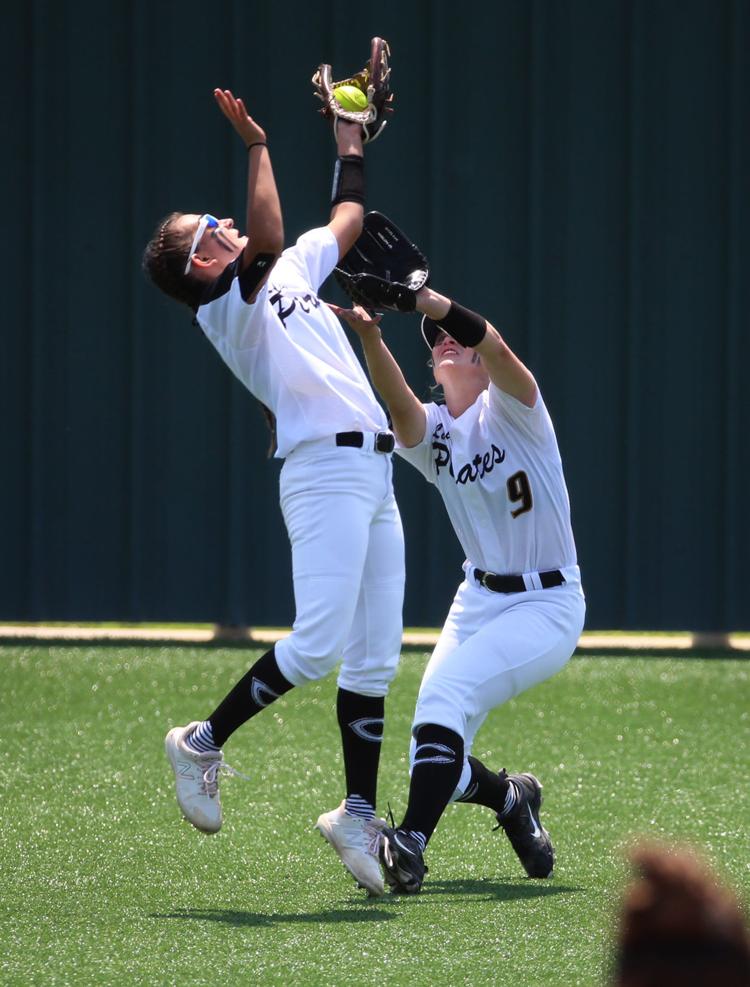 While Aguirre shut down Honey Grove's offense, the Lady Pirates collected nine hits and played aggressive softball all afternoon.
The Lady Pirates scored all the runs they needed in a three-run first inning.
It all happened with two outs as Kyla Mach doubled off Honey Grove pitcher Bree Cason and scored on Dunbar's single. Leftfielder Kelsee Frost made a superb throw home on Dunbar's single, but Mach knocked the ball out of catcher MiMi Johnson's glove.
Ward followed with a grounder to shortstop Maddie Cason, but her throw sailed over first baseman Tylar Lane's head to allow Dunbar to score the second run. Aguirre's single brought across Ward with the third run.
"We don't have a ton of girls who are going to turn and hit the ball out of the ballpark," Allen said. "But we do have a lot of girls who can run, steal and bunt. It's part of our nature. We get thrown out every now and then when we're aggressive, but that's what we have to do to win ballgames."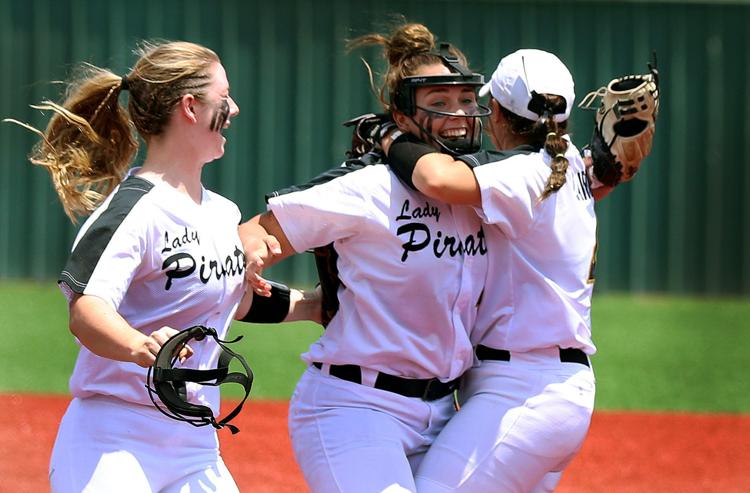 After leaving the bases loaded in the fifth, the Lady Pirates broke through with their fourth run in the sixth as Hannah Morton singled and stole second before scoring on Grace Powell's double to left field.
Aguirre was so dominant that Honey Grove didn't get a runner to second base until the sixth when Raney Hodges singled, Kelsee Frost reached on shortstop Cece Villa's error and Grace Lane walked with two outs to load the bases.
But Aguirre escaped the jam by forcing Bree Cason to fly out to end the threat.
"My curveball and dropball were on point," Aguirre said. "Then my changeup, I got them swinging at that too."
Crawford's offense stayed aggressive in the seventh as Ward doubled and scored on Kylie Ray's single. Hannah Morton gave the Lady Pirates a 6-0 lead with a sacrifice fly.
Aguirre finished off the win by retiring the Lady Warriors in order in the seventh. The senior struck out Grace Lane to send the Lady Pirates to the state semifinals.
"It's emotional because the kids put in so much work to see it come to fruition," Allen said. "Our first goal was to win district, so we did that. Our second goal was to get to state, and we've done that. Now our third goal is to try to win the whole thing."
Kirbyville 3, Clifton 1 – In Whitehouse, Tyler Brown and Logan Webb combined for a no-hitter as No. 3 Kirbyville captured the Class 3A Region II semifinals series over No. 8 Clifton.
The series was tied at a game apiece coming into Saturday's game, but Brown threw 6.1 no-hit innings while walking five and striking out nine. Webb nailed down the final two outs to finish off the win for Kirbyville (28-7).
Alfredo Rodriguez went the distance for Clifton (28-7), allowing seven hits and four walks while giving up all three runs in the first inning. The Cubs notched their only run in the third when Jackson Phillips walked and scored on a passed ball.
Windthorst 9, Bosqueville 5 – In Fort Worth, No. 5 Windthorst erupted for eight runs in the first three innings to win the Class 2A Region II semifinals series.
After tying the series at a game apiece with Friday's 5-0 win, the Bulldogs (24-8) opened Saturday with a three-run first inning as Will McClellan and Jacob Davilla hit run-scoring singles and Tanner Sepulveda drilled a run-scoring double.
But Windthorst (25-7) held the Bulldogs scoreless for the next four innings before they picked up a pair of sixth-inning runs. The Bulldogs loaded the bases in the seventh with one out as Lane Francis stepped to the plate after getting two hits earlier in the day. But he grounded into a double play to end the game.