There are few more satisfying ways to cap off your high school career than with a state championship.
Moody's Deonshae Milliner knows the feeling.
The Moody senior claimed a state title in the 259-plus weight class at the Texas High School Women's Powerlifting Association State Meet on Friday at the Extraco Events Center. Competing in the Class 2A/1A division, Milliner achieved the second-best weight total of her powerlifting career on her way to the gold medal, lifting a total of 1,000 pounds.
"I'm very proud of what she has accomplished in her powerlifting career, and this is a great way to cap it off," Moody coach Jarrod Thomas said.
Milliner went for 445 pounds in the squat, the best of any lifter in her class by nearly 100 pounds. She also tied her own personal records in the bench press (215 pounds) and the deadlift (340) on her way to the win. San Augustine's Shalandra Walker was second with a 935-pound total.
Milliner was the only Central Texas athlete to capture a state championship on the first day of the meet, though several local athletes came away with silver medals.
Rosebud-Lott's Clara Coker finished second in the 181-pound 1A/2A class, powering up 875 pounds in all. Crawford High School nabbed two silvers behind Kealey Witt in the 105-pound class (680 pounds) and Caieleigh D'Angelo in the 165 division (915 pounds), D'Angelo actually tied with Hawley's K'lynn O'shields with that 915-pound total, but finished second on the tiebreaker, as the lighter lifter is given precedence.
In Class 4A, La Vega senior Kaylee Shilling took second in the 259-pound class. Shilling, who came in with a goal of reaching 500 pounds in the squat, topped out at 445 in that event. She added a 235-pound bench press and a deadlift of 365 to finish at 1,045 total. Raymondville's Karina Martinez won at 1,205 pounds.
Shilling's teammate Aliyah Allison finished fifth in the 259-plus division. Hillsboro's Sheila Flores and Lorena's Danielle Carrizales both took bronze medals in their respective classes.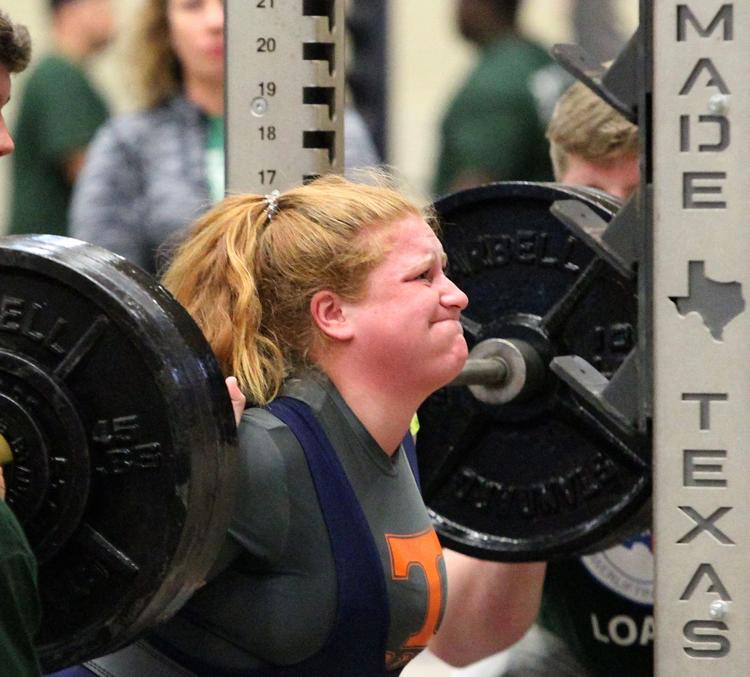 In Class 3A, Whitney's Samantha Garcia (105-pound division) and Teague's Bekah Parks (220) both brought home silver medals. Garcia lifted a total of 765 pounds, while Parks went for a total of 1,035, behind only Academy's Taylor Strmiska (1,355).
The meet will conclude on Saturday with action in Classes 5A and 6A.