Myriad are the ways a modern young woman might show strength.
She may refuse to conform to antiquated stereotypes about her gender. She might stand up to social media bullying.
Or she might put 400-plus pounds on her shoulders and hoist it.
La Vega seniors Aliyah Allison and Kaylee Shilling are unquestionably strong young women. And just one of the ways they prove it is by lifting enormous amounts of weight. They'll try to use that brute strength to their advantage this weekend when they compete at the Texas High School Women's Powerlifting Association State Meet at Waco's Extraco Events Center.
"They've always been strong and they've always been dedicated," La Vega powerlifting coach Will Samford said. "That's what I like about both of them. They'll come in and work their tails off, and this year has been no different. As far as strength, they've both climbed every year. That's kind of what happens, the building blocks of lifting, that kind of thing. But, man, as far as this year goes, I think both of them have gotten into a little bit different mentality. Where we've always kind of competed, this year they've really competed."
Powerlifters often act as recruiters for the team, selling new prospects on the benefit of the sport. That's exactly what happened in the case of both of La Vega's state-bound seniors. Allison said that when she was in the eighth grade, she was approached by an older La Vega student named Janae Lewis, who gave Allison some insight into what the sport was all about. "It seemed like something I wanted to try," Allison said.
Shilling, meanwhile, followed her older sister Brianna into powerlifting. However, she didn't really embrace it until she was cut loose for her first meet, and felt her competitive juices bubble to the surface.
"At first, I was like, 'I really don't care for this, I'm just doing it to get out of (playing) basketball,'" Shilling said. "But then, I'm real competitive, so coming out of the meets I thought, 'I kind of like this.'"
For those who have never competed in a powerlifting meet, misconceptions abound. To achieve success demands far more than pure muscle. If you just tried to grab a bar, slide on some weights and go, without really understanding the proper fundamentals, you'd likely end up in a back brace.
"It's not just being strong. A lot of people confuse that," Samford said. "You have to be technical, too. Because depth is a huge deal in squat, following the commands on bench press, that's a big deal. Anybody who's involved in the sport knows what I'm getting at. We're very technical.
"We've learned the correct way to lift, they both have. I call it polished lifting. Polished. They look like they know what they're doing, and they do, which is always good. To be successful, you've got to have the emotional level of, 'OK, it's time to lift,' and two, you've got to have perfection at lifting. You've got to lift the right way and be strong at the same time."
That said, no two lifters are exactly the same in their approach to the bar. That holds true for Shilling and Allison, too.
Allison, for one, said that she takes the mindset that she just wants to better herself, and if she happens to win a gold medal along the way, that's great.
"I'm not there trying to beat everybody else, I'm just trying to beat my personal records," said Allison, who tends to display a lot of emotion when she competes.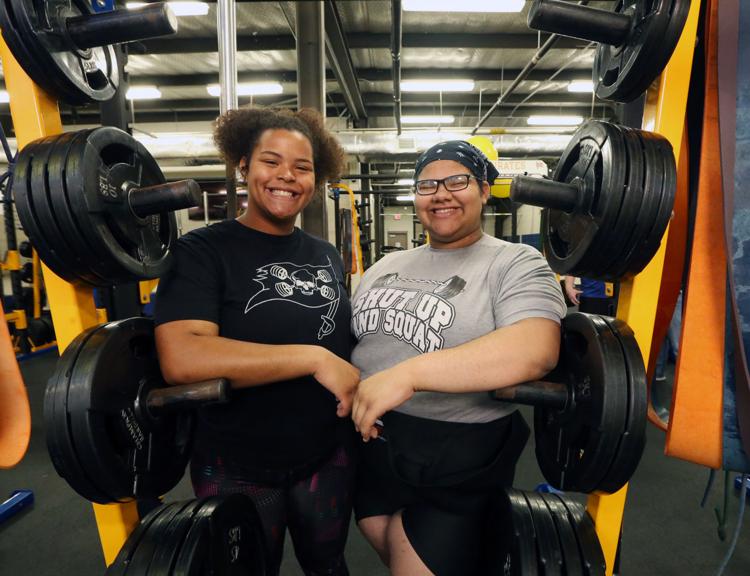 On the flip side, Shilling's face reveals nothing on meet day. Well, maybe steely-eyed focus. But don't expect her to smile – not until the lift is over.
"I usually don't show a lot of emotion, I'm just trying to achieve my goal, and just lift," Shilling said. "Do it right."
Whether it's the bench press, the squat, or the dead lift, those varying approaches show through in their lifting.
"As far as the difference in their personality types, Kaylee is more internal," Samford said. "She doesn't show a lot of emotion, she'll be real stone-faced. She'll be excited afterward, but she's all business up to the bar. Whereas I can get Aliyah a little bit excited. Aliyah shows it a little bit. She'll grit her teeth, she'll put on a show a little bit, what we call in the powerlifting world, put on a show. But that's kind of their difference – I think Aliyah is a little more emotionally driven, Kaylee is a little more, 'Let's go get this, it's time to go.'"
La Vega has a rich history of athletic success, including winning the school's second state championship in football last fall. Shilling and Allison hope that their achievements in powerlifting might inspire other girls to join the team next year and beyond.
"I hope so, because powerlifting is not only a sport, but it's also a family to me. I can come out here and know that I'm not going to be judged about anything," Allison said.
Shilling noted that the team's roster has grown in number in each of her four years. "Definitely, we get more girls each year. They usually come up and ask us what we do in practice, when does it start. We have way more girls this year than we did my freshman year," she said.
Allison and Shilling would love nothing more than to represent La Vega with a medal or perhaps even a state championship at this weekend's meet. They've got the goods to get it done. At the THSWPA regional meet, Allison won the title in the 259-plus division, racking up top lifts of 480 pounds in the squat, 250 in the bench and 375 in the dead lift, for a total of 1,105 pounds. That bested the second-place challenger in her division by 135 pounds.
Shilling was no less impressive in powering her way to the regional title in the 259-pound division. She went for 465 in the squat, 235 in the bench and 335 in the dead lift, totaling 1,035 pounds in all. She set regional records in her weight class for squat, bench press and total weight, though that fact was lost on Shilling as she competed.
"Actually, I thought the record was going to be Aliyah squatting," Shilling said. "So I went up there and the guy said my name, and I was like, 'Oh! That's me!' My goal was just to beat the girl in front of me. That's it. I didn't think I'd break any records."
The video of Shilling's record squat lift from the regional meet reveals the senior's prodigious power and flawless technique. But it also shows something else – a hyped-up Samford swooping in behind her and encouraging her with yells of, "Come on! Come on!"
What can Samford say – he can't help himself.
"To me, there's absolutely nothing more special than watching an athlete achieve a goal," the coach said. "So when we go into a meet, we always project, 'OK, what do we want our goal to be?' That's what we focus on. So when a kid hits a goal, to me, that means we've done something.
"Even if the goal is not a new record – it's awesome when it is – but even if it's not a new record, when you hit that goal, it's like a rush. That's the ultimate of coaching right there: 'Man, my kid did what they wanted to do.' That's awesome for me."