LORENA — After each drill, Ann Burnside rolled another ball out to a set of her players.
"Now, next group! Go score on that little goal!" Burnside called, pointing to a set of flags near the sideline, sitting roughly six feet apart from one another.
Time and time again, Burnside kept chucking balls to her players and instructing them to score on "the little goals," as she had another set of flags set up on the opposite sideline. The method behind the madness made sense. It's following the same concept as a runner who wears ankle weights during their training only to remove them on race day, or a basketball player who dribbles with a tennis ball in practice, in order to make the actual game feel easier.
Here's the thing for Lorena – if the Lady Leopards are able to put enough balls in some much more expansive nets this weekend, they'll reach a far bigger goal indeed. Hello, state tournament.
"If we're willing to put the work in, I think we've got a good shot at it," said Burnside, a two-time Super Centex Coach of the Year in 2015 and '17.
Oh, they're willing to work at it. That much is pretty clear. Lorena (22-5) isn't the last remaining Central Texas soccer team left in the playoffs by accident. The Lady Leopards, who play Huffman Hargrave in the Region III-4A semifinals on Friday in College Station, are still in the running because they seemingly never stop running. They take conditioning pretty seriously.
In fact, when asked what she'll remember most about her time playing soccer at Lorena, senior captain Katie Burnside, the coach's daughter, didn't bring up the wins or the goals or the bus rides or the long-lasting friendships.
"Oh, man. This sounds weird, but I'll remember all the running we did," Katie said. "We're probably the most well-conditioned team in the district, and all the running we did, it tested us, no doubt. Having the inclement weather we've had, it's just a change every day. We work hard every single day. I'm not going to remember every single practice, obviously, but I'm going to remember everybody putting their all into the team, because they do."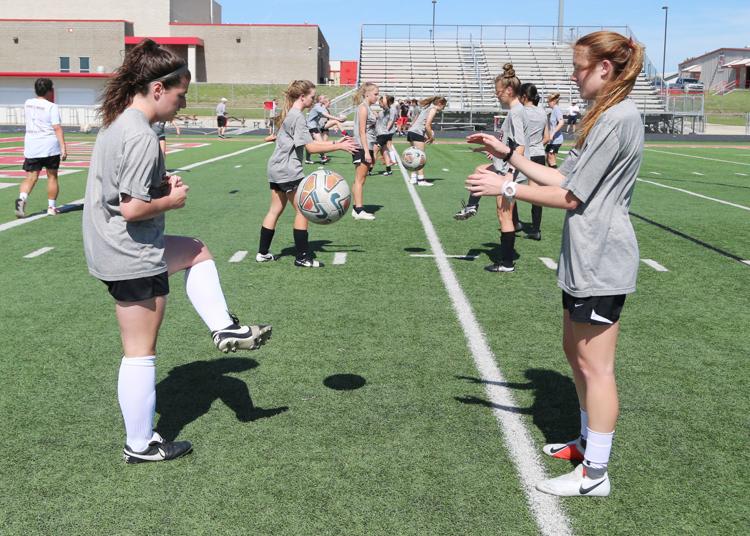 Lorena wouldn't mind another week of running, not in the slightest. Each of the past three years, the Lady Leopards have taken another step in their progress. In the current seniors' freshman year of 2016, they made the playoffs and lost in the bi-district round. The next year, they won a game before bowing out in the second round.
The 2018 season brought a breakthrough and a heartbreaker, all wrapped up in one incredible journey. Lorena won 26 matches, including four in the playoffs, to reach the regional final. The program's first state tournament was so close the Lady Leopards could practically smell it.
But the journey finally reached its end, as Jasper outran the Lady Leopards, 5-1, to leave Lorena one win shy of state.
"It was very tough, because we conditioned to get to that point, every single day," said senior defender Belle Hatton, the other team captain. "And we've just been through so much together. … But we've seen how hard we worked, and we don't want to stop now. So the way last year ended maybe ended up being a good thing, because it's pushing us to go even harder."
When the Lady Leopards go hard, they're tough to catch. Lorena features one of the more athletic teams in Class 4A, buoyed by an influx of multi-sport athletes who were willing to give soccer a go, just because of the team's reputation.
"Half of the girls out here are first-year players, they came out their freshman year or sophomore or junior year and said, 'I want to try soccer,'" Katie Burnside said. "Just adapting to that has really made us all grow together. Some of our seniors even came out their freshman year and they're amazing players today. We have all senior starters now, and it's just kind of crazy to see what's happened."
Talk about a team growing up together – Ann Burnside met most of her current seniors when they were elementary school, as classmates of her daughter. That familiar, and yes, familial bond shows up whenever the players get together. They know how to work, but they're also liable to go full goofball on you.
"It's been an amazing, great ride," Ann Burnside said. "The personality of this team makes it so fun to be around. We're always laughing together. The girls work hard, for sure, but they can be in the middle of practice and just start laughing at something. They have a great time together, and that makes it that much better."
The togetherness manifests itself on the field with beautiful ball movement. Behind prolific scorers like McKenzie Tuyo, Haley Flores and Katie Burnside, the Lady Leopards breezed through district play, and kept those gusts going into the playoffs. In the final four regular-season matches and the first two of the postseason, they outscored their foes, 40-2.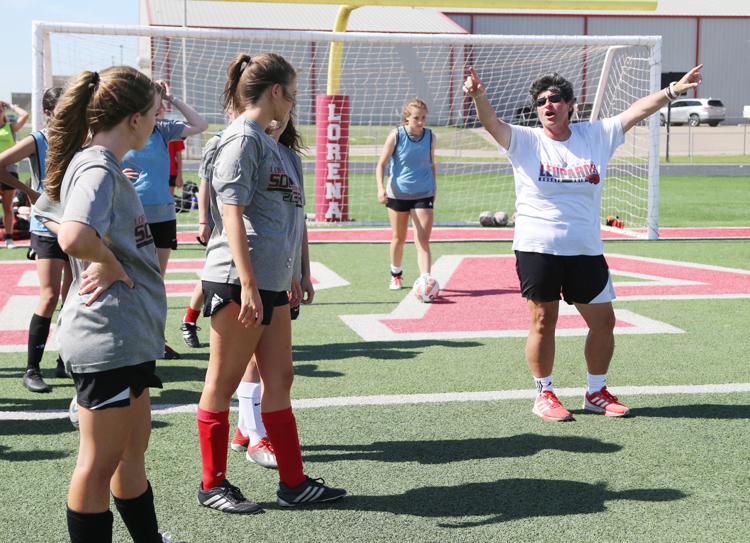 In the regional quarterfinals, though, Palestine gave the Lady Leopards a tussle they won't soon forget. They banged and hustled and made Lorena work, and after 80 minutes of regulation time, the teams ended up tied 2-2. It was Lorena's first truly close game in a month.
Two overtime periods later, the score still remained deadlocked.
Once the horn sounded to signal that the match would head to a penalty kick shootout, Ann Burnside had a simple message for her team.
"One thing our kids have learned is that conditioning pays off," she said. "Before the overtime period, I told the girls, 'You know all that conditioning we do in practice? This is our conditioning period. You can do this.' And they were like, 'Yes, we can.'
"For us, the job is to go out and give our absolute best effort, and whatever outcome happens, we're OK with that. It happened to be a good outcome this time, but they fought so hard that you can live with it either way. Are you glad we won, you betcha, but you fight as hard as that, you're proud of the girls regardless of the outcome."
Lorena ultimately prevailed in the penalty kick shootout over Palestine, putting three goals in to the Wildcats' two, while Lady Leopard goalie Macy Kunze delivered a pair of clutch saves.
They'll need that kind of effort again if they're going to win two more matches and punch their ticket to next week's state tourney. But if all those wind sprints and miles running laps are any indication, the Lady Leopards aren't afraid of a little extra effort.
"The girls have been talking a lot that they're not ready to be done, not ready for this season to be over," Ann Burnside said. "So I think they're going fight to do what we have to do, because they don't want to see it end yet."