MART — As television reruns go, the 2018 Class 3A girls state basketball championship game remains a hard pass for Lawrence Gullette and the Marlin Lady Bulldogs.
"It hurts," Gullette said. "I was just telling the girls literally before we came out to warm up that it's still hard to watch that video."
That's because for Marlin, last year's state game closed with the unhappiest of endings, as the Lady Bulldogs fell just short against Mount Vernon, 51-47. But that outcome has served as the impetus for every practice, every driving foray to the basket, for this 2018-19 season for Marlin.
And that's why the Lady Bulldogs, now in Class 2A following UIL realignment, are making even good, talented teams resemble also-rans. Behind another easy-breezy effort from their senior star Mystique Womack, 14th-ranked Marlin coasted to its latest runaway, 69-22, over Mart in a battle of the top two teams in District 18-2A on Friday night at the Mart High School gym.
Marlin (24-6 overall, 13-0 in district) has not endured anything resembling a close game in district play. None of its previous four opponents prior to playing Mart topped 13 points – for the game.
However, that's not so much an indictment of the Lady Bulldogs' district foes as it is a testament to Marlin's miserly focus on defense.
"That's something we've been stressing," Gullette said. "It's not just about offense, it's defense. We try to hold every team we play to underneath their average. So that's a goal of ours every time we step on the floor.
"But the biggest thing I'm proud of is that I've got three or four girls averaging right around three or four steals per game. That's major. From my post players to my guards, and we're a young core still. We're starting a freshman, two sophomores, a junior and a senior. So now they understand how I want them to play. So, defense, definitely, that's the first thing we try to do."
The win clinched Marlin's fourth straight district championship.
Mart (18-8, 9-3) found precious little wiggle room when it set up on offense, as Marlin invaded the Lady Panthers' personal space and stayed there. Cutting off passing lanes and rejecting shots with ferocity, Marlin did not allow Mart to even score until the second quarter, at which point the Lady Bulldogs led by nearly 30.
As per usual, Womack basically navigated wherever she wanted on the court. The two-time Super Centex Player of the Year, who won Roy Report Media's state player of the week award earlier in the day, dropped in a pair of 3-pointers in the first quarter on her way to 17 first-half points.
She was no less unstoppable going to the basket. Early in the fourth quarter, Womack pounced from the weak side to flick away a Mart shot attempt. She quickly retrieved the ball, plotted a course downcourt, and once reaching the other end, scooped in a layup in traffic.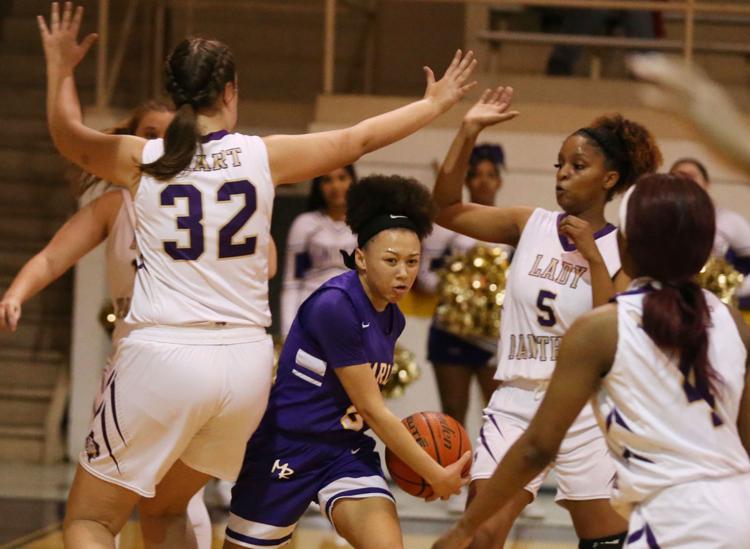 Earlier in the day, Womack tweeted, "Finna drop 50 tonight." Ultimately, she settled for a game-high 23 points, but that was a tribute to her unselfishness. Numerous times when Womack drove to the hoop and the Mart defense collapsed in her direction, she simply dumped the ball off to teammates like Danielle Nobles or Aniya Davis for easy buckets. Womack finished with nine assists, five rebounds, two steals and three blocks on the night.
"That's maturity," Gullette said. "To have a balanced team allows her to do quite a few things on the floor. A couple of games ago (against Dawson), she had a quadruple-double. I didn't realize until after the game and I'm looking at the stats, and I say, 'Wait a minute.' I see the triple-double, and I go to the steals and I say, 'Hold on, are you serious?' But that's the caliber of player she is.
"Unfortunately, I haven't been able to play my starters a whole lot in the fourth quarter, but at the end of the day they understand. They understand our goal and our vision, and she's the head."
Mart played hard to the end, and the Lady Panthers' 6-foot-4 sophomore post Andrea Bredemeyer had some flashes of dominance on the glass. But Marlin had the game well in hand at that point.
Bredemeyer scored 11 points to pace Mart, and Passion Franklin added nine. For Marlin, Nobles picked up 16 points, 11 rebounds, three assists and two blocked shots. Williams added eight points, 12 rebounds and seven steals, while Yasmen Maxwell drilled a pair of 3-pointers on her way to 12 points. The team's plucky freshman point guard McKenna Johnson distributed eight assists.
"One thing about our district, I'm never going to call it easy," Gullette said. "But we prepare every game like we're going up against whomever, the same preparation. Our district has given us (what we need). There's some really good teams in our district, but I feel like we kind of peaked at the right moment. When we're clicking on all cylinders, we can be a very dangerous team."
Marlin will close out the regular season with a senior night game Tuesday against Wortham. Then the Lady Bulldogs will turn their attention to the playoffs – and you can bet they'll be plenty motivated.
"(The state game), that's been our motivation," Gullette said. "We've got quite a few young girls, but the veterans, they've been there, so they understand. And it's a tough pill to swallow still, but that is our motivation."