GROESBECK — One moment can change your life forever.
It happens in a flash, an instant. Suddenly, nothing is the same. You're starting over.
On Aug. 30, 2002, William "Boo" Barton experienced such a moment. One second everything was great, the next it wasn't.
Here's the deeper truth. Yes, Barton's life changed permanently on that night. But he hasn't allowed that moment to define his life.
That sticky, warm Friday night marked Barton's first varsity football game for his hometown Groesbeck Goats, who were playing Lorena. He patrolled the field as a starting linebacker. He also got into the game at running back, and scored a touchdown.
But in the second quarter, Barton planted his left foot onto the turf while approaching a Lorena blocker. His knee felt like a bomb detonated inside of it.
"It blew out everything in my knee," Barton said. "Then that led to an artery tear, which at the hospital they didn't catch right away. That led to an infection, and that led to getting it amputated."
At 16 years old, Barton had lost most of his left leg. He wasn't done competing, though. He was just getting started.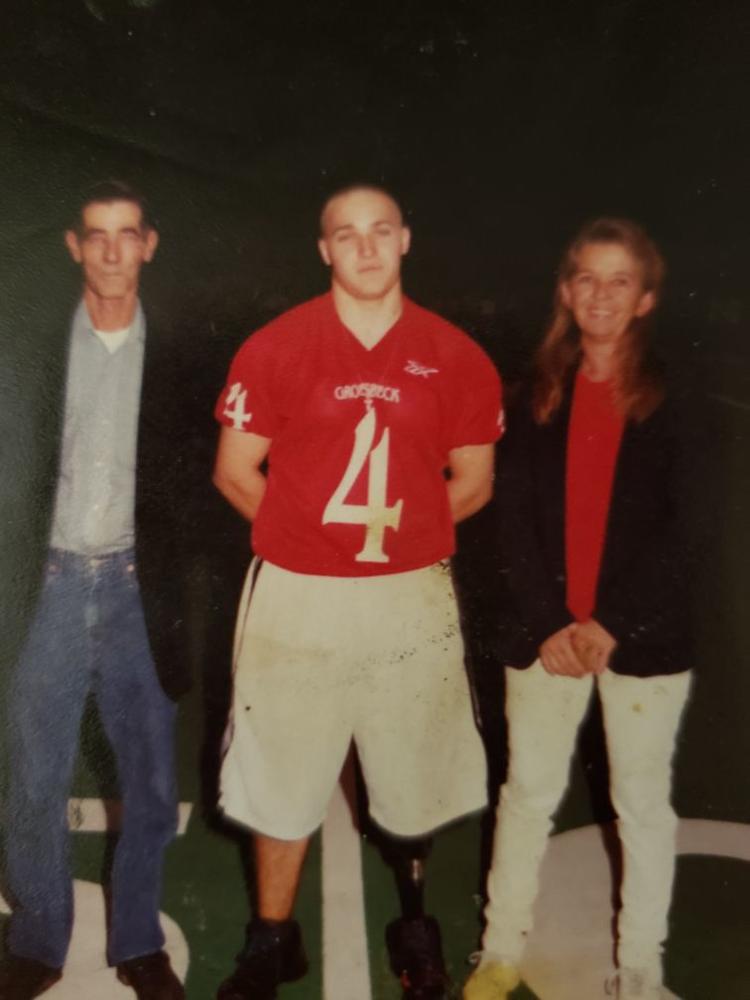 A firm foundation
Barton smiles whenever he mentions his grandparents. It's a default expression much of the time anyway, even more so when remembering the couple that raised him.
Barton's grandfather Bill introduced young William to football. His grandmother Jeannie christened him with the nickname "Boo Boo," which eventually was shortened to just "Boo." Around Groesbeck, folks address him as Boo more often than his given name.
"It was always weird when I was playing football and I would have a long run or a hard hit on someone and would hear 'Boooooos' coming from the stands," Barton said. "Loudest of all being my grandmother, who was at every game and always was the loudest."
Even if Grandpa Bill hadn't instilled him with a taste for all things gridiron, Barton probably wouldn't have escaped football's gravitational pull. Not in a town like Groesbeck. Heck, not in any Texas town.
"It's just Texas football. It's like a religion down south," William said. "But I learned football from my grandpa growing up. We'd watch games together and I just developed a love for it. It turned into wanting to play, and that was my avenue for it."
So, when his first game playing varsity for the Goats ended with an injury nobody could have seen coming, it was devastating. His hospital visitors marveled at Barton's maturity. He seemed to handle it all with a grace not common in the typical 16-year-old.
Introspection is a lonely alleyway. When the visitors departed, when his room grew silent, that's when he wrestled with the "why me" question. Followed by, "What now?"
"It was a hard thing at first. Forever, since I was probably my son's age (five years old), I watched football with my grandpa, and football just became my outlet and my way out of a small town," he said. "And I loved playing.
"I put everything, all the training, all the hours of focusing on football, and to have that just wiped away in that moment was hard. You didn't know who you were at that point, because everything was football from that point."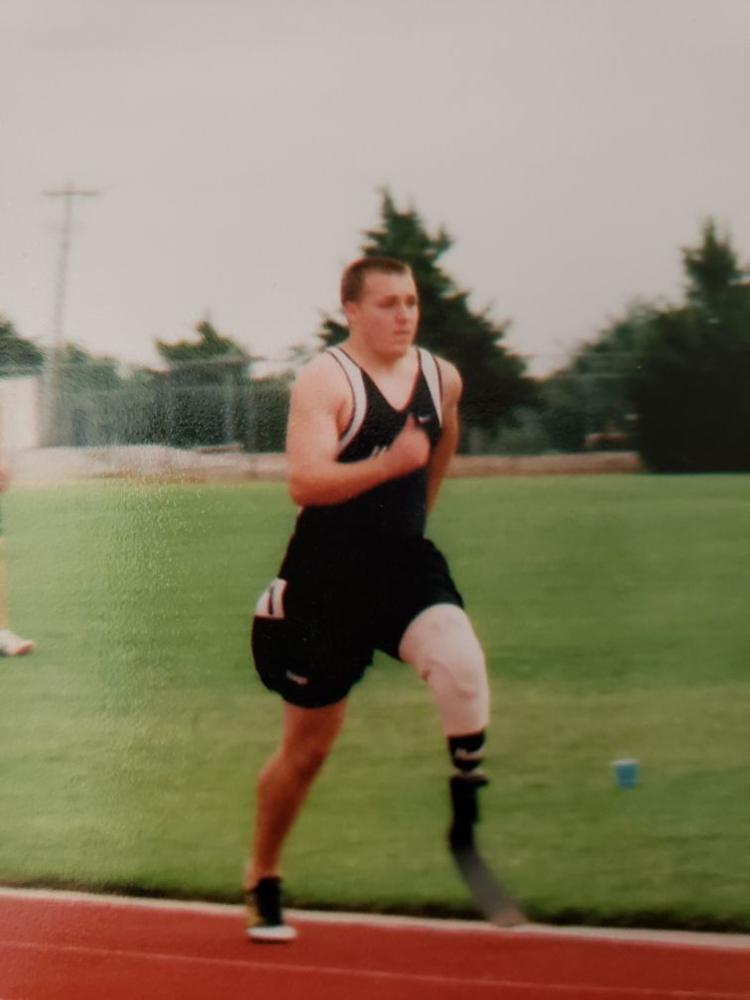 Setback to a comeback
Within days of the doctors amputating his leg, Barton began plotting a comeback. Before the injury, he played football and ran track, along with some powerlifting. Barton figured, why couldn't that continue?
In December 2002, the day after Christmas, he was fitted with his first running prosthesis. Over the next several months, he worked out. He trained. He circled the Groesbeck Goats Relays on his calendar.
He didn't set out to inspire anyone. It wasn't about anyone else — not at the time. He wanted to send a message to his own body.
"Just to prove to myself that I could still (compete), that it wasn't going to limit me or keep me from doing something that I wanted or enjoyed to do. It was more than proving to anyone else, it was proving to myself, that it wasn't going to hold me back or keep me from doing what I loved," he said.
On March 29, 2003, one day shy of seven months following his knee injury, Barton strode onto the Groesbeck High School track. His leg still showed a zipper of stitches in it. He lined up for the 100-meter dash. The gun sounded. The sprinters took off, Barton among them. He crossed the finish line in a time of 14.06 seconds, last in the field.
Nobody cared. Everybody called him a hero. They slapped his back and high-fived him, praising his perseverance.
"It was actually a lot more emotional than what I figured it was going to be," Barton said. "To me, it wasn't that big of a deal. I was dealing with something that happened to me. But then all of the support and coming to school and seeing small kids looking up to you, it's kind of a surreal experience, I guess.
"I never looked at it like I was doing anything special, it was just the hand I was dealt and I was trying to make the best of it."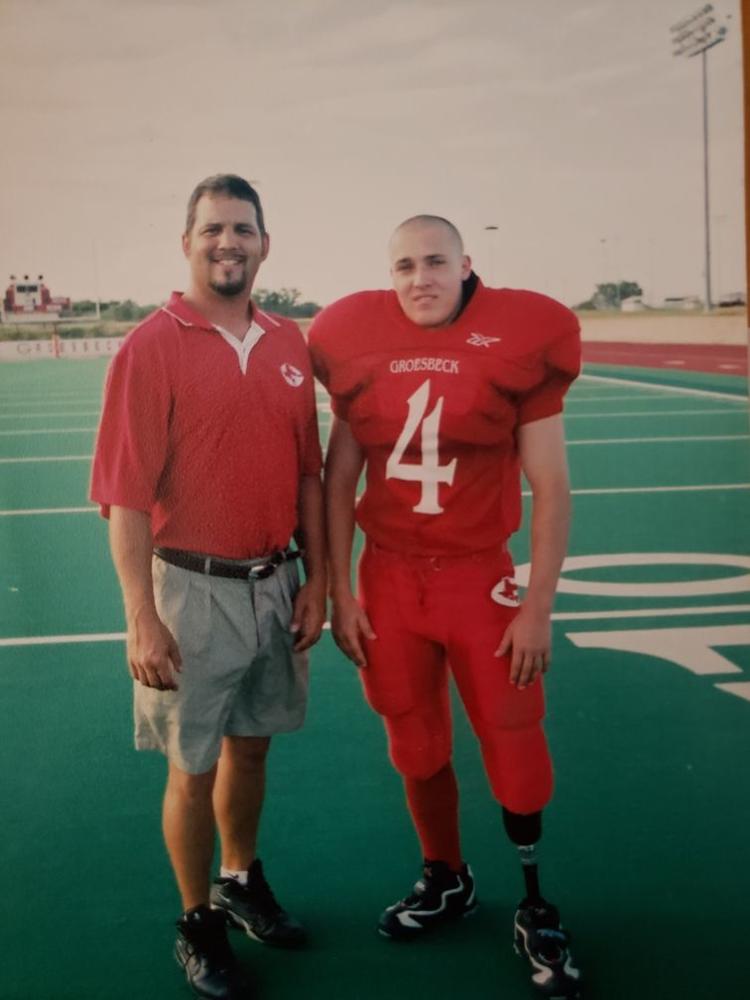 Barton dreamed of using his new prosthetic leg to return to football in the fall. That never happened. In August he suffered an injury that stunted what already loomed as an Everest-like uphill climb.
Doctors couldn't amputate Barton's competitive spirit, though. He competed three times in the Endeavor Games, a sports competition for adaptive athletes held annually since 2000 at the University of Central Oklahoma in Edmond, Okla.
After high school, Barton moved away from Groesbeck for a while, then returned. "Thought I wanted to get away. But it just wasn't home," he said.
He worked for his grandfather for several years. For the past 10, he has worked for the Limestone County Sheriff's Office, currently as a sergeant and night shift supervisor. The office handles dispatches for all the 911 calls in the area.
"That's one of the reasons I got into it, because whenever I got hurt, it was important to give back to the community, a way to give back to them," Barton said. "They supported me in my hard times, so when they're in their hard times it's good to be able to give back to them."
When he's not at work, Barton enjoys soaking up precious moments with his family — wife Monica, and children Madden, 5, and Madison, six months. "It's been life-changing. That's my everything now," William said.
Life isn't easy. Running still proves complicated. William has endured the loss of several loved ones, including the grandparents who raised him.
But William knows his purpose. He knows what matters. Recently, the Sheriff's Office took a call reporting a young woman who had suffered a leg injury. Left leg — same as William's. She was involved in a car accident. The leg ultimately had to be amputated.
"My wife knew her family, I went over there and talked to her, just kind of, 'It's not the end of the world. Things go on. You've just got to make the best of the situation that you can.' But I understand," he said. "It's a hard situation, and it's a lot you have to deal with in a short period of time. But she's doing good now. She's going to get married soon."
Life isn't easy, but it's worth it.
William Barton understands this as well as anyone.