One of the most memorable scenes from Buzz Bissinger's classic book "Friday Night Lights," which is mirrored in the closing sequence of the 2004 movie, shows Permian head coach Gary Gaines removing names from a magnetic board and replacing them with new ones.
Attrition through graduation is just part of the game in high school football. Every coach on every level deals with it. On the Class 2A level, though, one great player can make an even wider impact. Thus, digging up replacements at a small school makes for a challenging excavation project for coaches.
For example, how can Bosqueville find the next Marcel Estell, a burner who blazed past defenders with such speed and agility that his teammates dubbed him "Cheat Code?" Where will Riesel make up the production left over from the departures of quarterback Steven Searcy and running back Braden Jenkins, who accounted for 56 touchdowns and more than 4,300 yards of offense between them last year?
Even at Mart, it's not easy. Players like Super Centex defender Elijah "Day-Day" Green or running back Tyrek Horne, the fourth-leading rusher in Central Texas history, don't come just pouring out of the water tower.
"You can't replace all those guys," said Mart coach Kevin Hoffman, including Super Centex scatback Shatydrick Bailey with Green and Horne among the irreplaceables. "They all started as freshmen, and they were incredible players. How you replace them is you hope to get some guys in here that can do some of what those guys can do. And you may have to spread it out over three or four guys."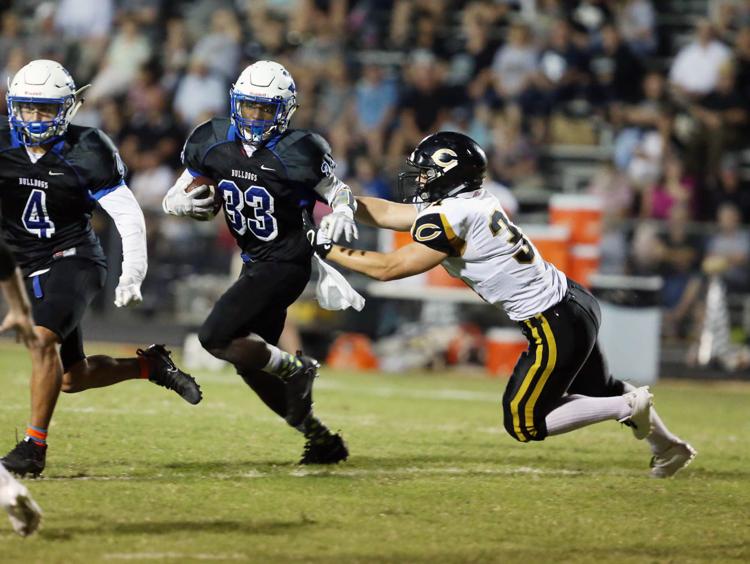 Bosqueville's Clint Zander would love to have another Estell waiting in the wings. You know, some fresh-faced sophomore who runs like the Tecmo Bowl version of Bo Jackson.
But that's not realistic, Zander said. So you make do with what you have.
"Obviously you can't really replace somebody that fast at our level," Zander said. "It just doesn't happen. Those kids are one-in-a-several-years kinds of talents at a school our size. So then what you really kind of look at is what the kids you have can do well and how they can help you."
That might mean using two or three players to try to make up the leftover production from one stud duck, as Hoffman alluded. It also might mean tweaking your scheme. Bosqueville's Zander said that the jet sweep has been a favorite play in recent seasons for the Bulldogs, thanks to Estell's special slipperiness. But "we might not run those plays as much anymore," he acknowledged.
Once in a generation
Jeff Kasowski has been there, he's done that. The longtime Bremond coach knows all too well the inherent difficulty of replacing a once-in-a-generation talent. He's had plenty of great players, but none quite as dominant as former quarterback Roshauud Paul, who went 47-0 as a starter and directed the Tigers to three straight state titles from 2014-16.
Kasowski said he's not one to completely overhaul the offense just because one player leaves. He wants all of his teams, from the seventh graders up through the varsity, running the same sets, so they're not having to constantly re-learn new plays as they work their way up the ladder.
But did he tweak a few things after Paul graduated? Of course he did.
"When we had Roshauud, we always had that threat of a running quarterback," Kasowski said. "That was a big part of our game. So, now we tend to mix in more two-back sets and we'll throw the ball a little more."
Even in the midst of the glory years of an all-everything talent, coaches tend to keep one eye locked on the future. The next wave is always just a year away. They want to develop those up-and-comers as much as possible.
When your numbers are limited, it requires some expert-level juggling. Mart's Hoffman said that he doesn't often get a chance to give freshmen any reps on the varsity during the regular season. But as his teams have moved into the playoffs and he promotes some of the JV guys to expand the roster, they might find themselves thrown into the mix. Such was the case last year for Mart with then-freshmen like Klyderion Campbell, Kei'shawn Clater, Da'marion Medlock and De'traevion Medlock.
"We've been fortunate enough the past couple of years in the playoffs to play six playoff games, and when we move up our freshmen there's usually some chances for them to gain experience," Hoffman said.
Scouting them early
In small towns, the scouting process starts early. Finding the next generation of future Pirates or Bulldogs or Indians or whatever begins before they even hit junior high. You want to know who the athletes are, even when they're young.
Again, that closing scene in "Friday Night Lights" illustrates this idea perfectly, as graduating Permian quarterback Mike Winchell tosses a football to a group of kids playing nearby, symbolically passing the torch to the future Permian Panthers.
"Most of the time at the 6A level, you don't have to rebuild, you just have to reload," said first-year Riesel coach Keith Stifflemire, a former assistant at 6A Copperas Cove. "But at a smaller school, you have to get those bullets at a lower grade. At this level, you've got to find those bullets at elementary school. If you don't get them there, you're not going to get them at junior high or high school."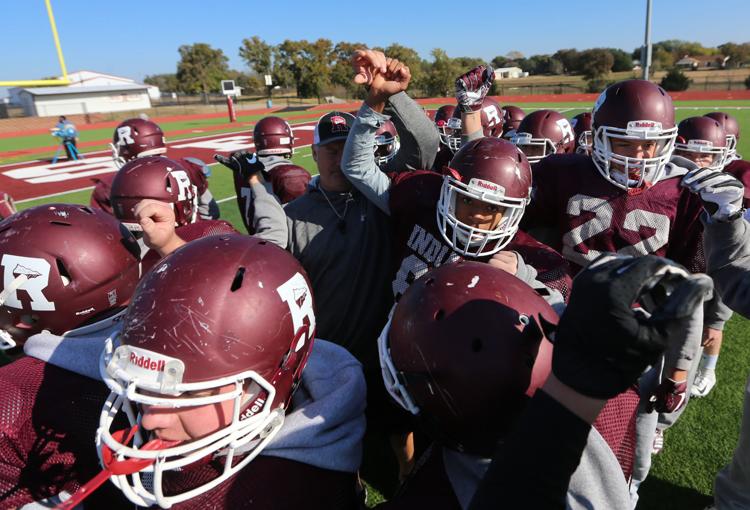 Once they reach high school, the coaches ideally want the players to serve an apprenticeship of sorts. At small schools, fielding a JV team isn't always a given. But it's vitally important, the coaches say. The JV is the farm system for next year's varsity.
"That's why you have a JV, so those younger kids can get a chance to play," Zander said. "We've been fortunate enough to have a JV every year, and that's where those kids gain some of those reps, so that when one group graduates the next group is more prepared to step in."
That said, moving from Thursdays to Fridays requires more than a 24-hour time travel trip for those players. It's more like a light-year journey. There's a lot to learn when you ascend to the varsity.
"There's going to be growing pains. I think that's true with any growing in life, but hopefully they're able to do it quickly," Mart's Hoffman said.
Zander concurred. Mistakes are inevitable with new players, he said, but as a team you've got to learn to both live with them and learn from them.
"You may even lose some games because of those growing pains," Zander said. "But that's OK, because the ultimate goal is to get the kids ready to play by the time district rolls around."
Coming into their own
When the old magnets are tossed in a box, and the new magnets slide into their spots, they feature new names. It's important to remember that. These Class 2A coaches don't want their new starters thinking, "Oh, I've got to be Braden Jenkins," or "I've got to be Tyrek Horne." Instead, it's more about just being themselves.
"I think it's really important to never compare a kid to somebody else," Zander said. "They all have different skill sets. With one kid, he may not doing something as well as the kid who came before him, but he may do something else better."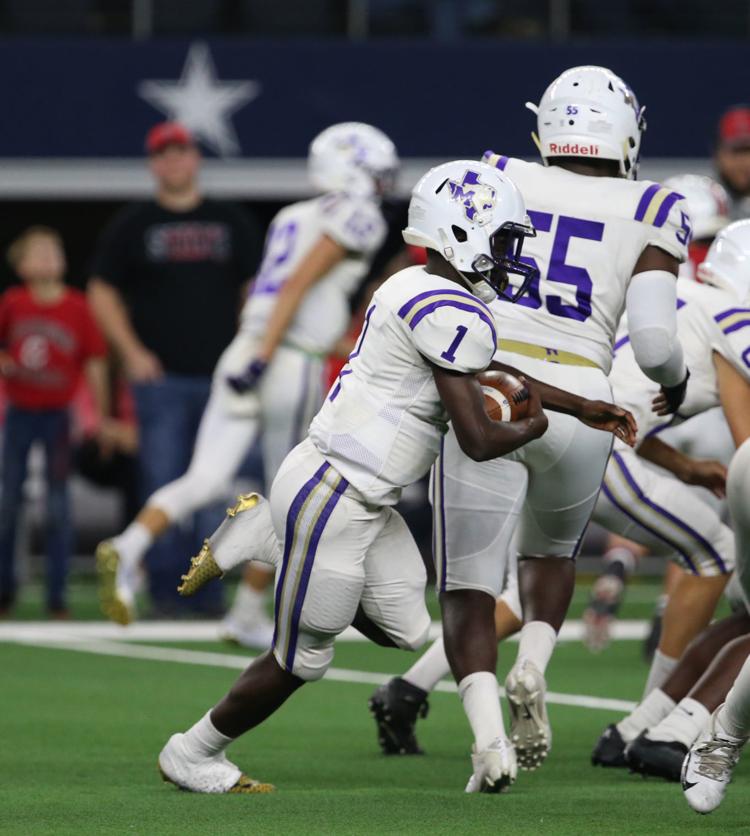 Eventually, new stars will emerge. Mart will likely be just fine even without Horne doing his thing. Roddrell Freeman, a gifted player in his own right, will inherit many of the carries left over from the absences of Horne and Bailey. Those rising sophomores, like Campbell and Clater, will get their shots, too.
Other small schools in the area are dealing with similar challenges. From Axtell to Crawford, from Hubbard to Itasca, they're in the same boat. Maybe they're not replacing an all-time great like a Tyrek Horne. But they had some solid senior starters depart, too. New players will be asked to pick up the slack.
For the coaches, one of the most satisfying moments arrives when the new guy finally gets it. He comes into his own, he's doing his thing. He's not the Guy Who Came Before. He's not even The Replacement. He's finally become His Own Man.
That's why these coaches do what they do, to be there for those moments.
"It's definitely fun when you realize the light is coming on and they're figuring it out and coming together as a team," Zander said. "That makes it a lot nicer."