Jay'Veon Sunday had the look in his eyes, one of disappointment and frustration, with a dogged determination to never be in that predicament ever again.
He didn't speak to anyone — not as he walked off the field, not in the locker room, to no one over the weekend.
Sunday didn't talk about the discouragement he felt walking off the field at Lorena as the Leopards celebrated their six-point victory. He didn't air his grievances about how completely bummed he was to not advance to the playoffs. He didn't complain. He didn't whine. He didn't throw blame around the locker room.
While radio silence was coming from Sunday, he couldn't quiet the thoughts running through his mind.
The very next day, the first Saturday in November, the Connally running back went to the weight room. It was there as the then-sophomore completed rep after rep that he defined what his goals would be for a 2018 season.
Sunday was coming. And he would make sure that not only would the Cadets be playoff-bound this time next year, but that he would be the best running back in the area.
Now, a year later, this Connally football team is the first in 14 years to practice on Thanksgiving as the Cadets ready for their battle against defending state champ Pleasant Grove. And Sunday demolished the school's regular-season record for rushing yards and touchdowns.
Actually, it didn't take him long to crush the initial record he came up with in that weight room on a Saturday a little more than a year ago. He wanted to rush for 1,500 yards this season. It took him seven games.
Moving on up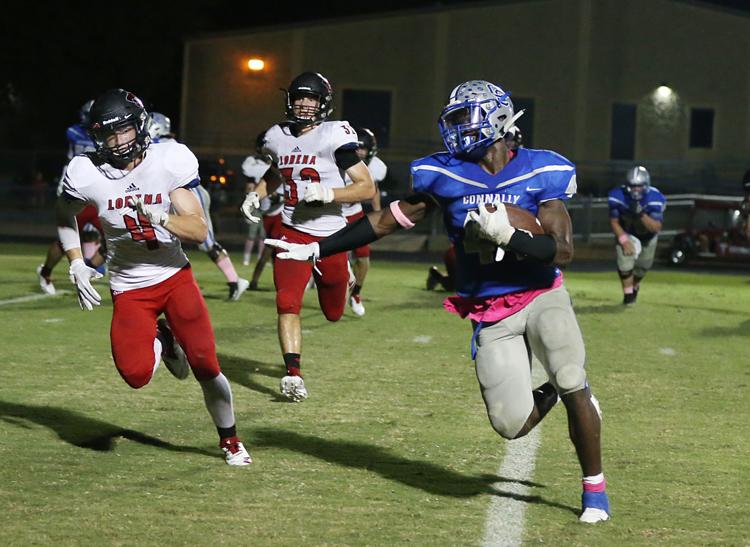 Shane Anderson knew it would be special if Sunday could put it all together.
The Connally head football coach was sitting on an aluminum bench stationed on the track as he looked to his left where his offense perfected their plays in preparation for their area contest come Friday. Anderson looked on as Sunday received the football and made his way around one side, then the other and finally up the middle.
To say the junior running back put it all together this year would be an understatement.
"Obviously, just looking at him, he's a specimen. He looks the part," Anderson said. "He's 6-foot, 190 pounds. Tremendous speed, tremendous agility. Probably the biggest thing is his physicality and how strong he is in the weight room. He's unbelievable strong. Probably the thing that doesn't have anything to do with me or anyone out here is his work ethic.
"He's always trying to get better. He's just a special, special kid when it comes to that."
A year ago, Sunday was pulled up from the JV team during the fourth week of the season. That debut game, he ran for 200 yards.
"I was happy to play," Sunday said with a smile as he remembered his first varsity game. "It was a good start."
That smile quickly turned serious as his eyes widened when he thought back to just how much of a difference there is between JV games and varsity football.
"Man, you've got to come play," Sunday said. "If you don't it won't go so well. The pace is faster. Everything is faster. And the dudes are huge."
Despite the "huge dudes" trying to bring him down, Sunday went for around 700 yards in six games in 2017.
Weight-room grind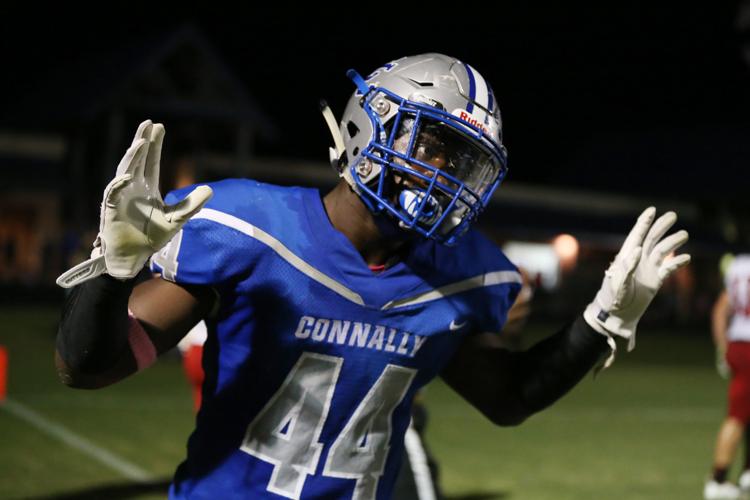 The Cadets lift Monday, Wednesday and Thursday. After they lift, they practice.
Most of the time when practice is over, Anderson will come back and find Sunday in the weight room again for at least another hour.
"He goes above and beyond," Anderson said. "In his mind, he feels like (the weight room) is why he's had the season that he's had."
Sunday's benching 300 pounds, doing 285 pounds on power cleans and squatting 565 pounds.
"Being strong in your legs helps out a lot," Sunday said. "You can carry more people. You can run through tackles with your legs. If you're strong in your legs, it's hard for people to tackle you. They have to get you down low, basically at your ankles, to take you down."
Sunday is difficult to tackle, as most opposing defenses can account for. He is big enough to burst through up the middle, but his A-game comes when he speeds around the edge and sprints up the sidelines.
Pair the power that comes from the strength he's built in the weight room to the speed of a guy that runs the 200 meters, 4x100 relay and 4x200 relay during track season.
Breaking on through
Sunday decided on reaching 1,500 yards this season initially. Later on, though, he figured he'd like to put up 200 yards and three scores a game. Check and check.
"He thought if he put it all together that would be 2,000 yards and 30 touchdowns," Anderson said. "That's what he finished with was just over 2,000 yards and 31 touchdowns in the regular season. The other night in the first round, he went for 200 yards and five touchdowns. He's somewhere around 2,200 yards and 35 touchdowns."
A big part of Sunday's success this season comes from the five guys up front — Antwian Haliburton, Cobie Gray, Trent Pullen, Brian Williams and Cody Coffman. All of them but Haliburton are returning next season as Gray and Coffman are sophomores and Pullen and Williams are juniors.
"When you stay healthy and you don't have a lot of transition and putting people in and out, it allows you to get better and better," Anderson said. "That camaraderie and communication have been big. … They've gotten better each and every week. It's allowed Jay'Veon to do what he does. He gets tough yards. He's a game changer."
Having been where a number of the offensive linemen were a year ago, Sunday smiled as he said his first bit of advice to them was to get ready for the "big dudes."
"Going into it, I didn't know how good they were going to be," Sunday said. "They're young and stuff and it's their first time playing on varsity. I was hoping they knew everything and were working really hard. You should see them now. They came with it. Part of the reason I've rushed for 2,000 yards is because of them. They opened up holes for me."
When asked what the O-line's best game this season has been, Sunday took no time to give his answer.
"Madisonville," he said. "I mean, every hole was just open. I followed them the whole way. I had five touchdowns that game."
While Sunday's best has been on display week in and week out, the fortunes of this Cadet offense does not rely solely on the junior's shoulders. No, Connally has plenty of other weapons, including skill players like Gaylon Glynn at quarterback, plus Korie Black, Kavian Gaither and Je'Juan Forward. The Connally roster is loaded with talent.
"That's what we've told Gaylon all year," Anderson said. "He doesn't have to go win the game. If they pack the box in, let's get it out there to those playmakers. If they cover those guys, let's run No. 44 (Sunday) up the middle. It's all a numbers game, and Gaylon's a straight-A student, high-character kid that understands numbers and understands what we're trying to get accomplished."