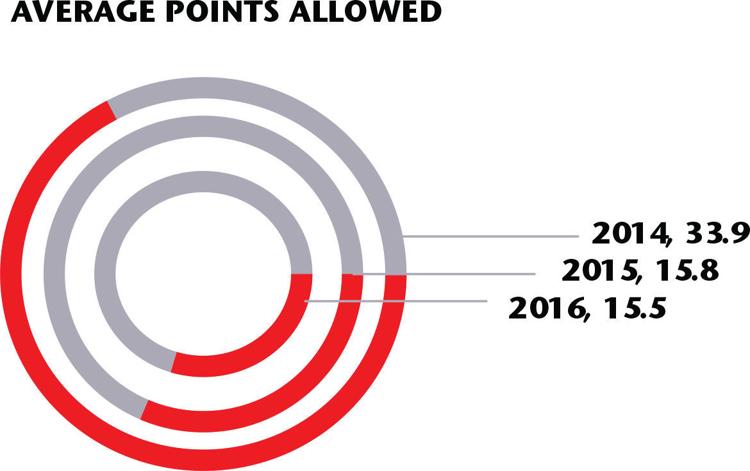 Don Hyde walked into Willie Williams' office and sat down behind the desk. He had just finished up some end-of-practice conditioning with his defense before stopping by the Kona Ice snow cone truck parked across from the locker room while telling his players to change before getting a snow cone for themselves. Williams, meanwhile, remained outside, watching with a smile as his La Vega Pirates cooled off with a post-practice treat.
As Hyde slid behind Williams' desk, he took a bite out of his blue frozen confection before carefully setting it down. In that moment, it wasn't hard to figure out why Hyde returned to La Vega. He leaned forward in the chair as he pondered how many years he's been with the Pirates. Was it 12? Or no, it was 13. Hyde left for one season (2013) to coach at Gatesville.
"I'm very fortunate to have a head coach that allows me the time I need to put in the defense," Hyde said. "I'm fortunate I have coaches who work with me on the defensive side. My job is pretty easy when it's all said and done because of everyone around me."
It also helps that Hyde is coaching a group of players who have bought into his system. They understand the importance of defense.
"Kids don't really like to play defense anymore because it isn't fun," Hyde said. "Everybody wants to score points. But these kids (at La Vega) play hard. They're coached hard. They take a lot of pride in their defense."
But the Pirates aren't solely focused on stats. Last season, Donta Stuart led Central Texas with seven interceptions, three returned for touchdowns. Jared Rogers racked up a team-high 108 tackles, followed by Kemoche Hobbs with 85 and Stuart with 77. Braylon Watkins finished with five sacks.
"We could care less about stats," Hyde said. "All we care about is points. Don't give up points. That's all we care about. That's what we preach every day."
In 2014, the Pirates gave up an average of 33.9 points per game. La Vega cut that number in half the following season — when they won the 2015 state title — as they allowed 15.8 points per contest. That number continued to decrease last season as the Pirates gave up 15.5 points per game.
The key to the defensive improvement is simple. Each Pirate must do his job. That's all it is, La Vega's defensive coordinator insists.
"A lot of times in high school the kids are trying to do too much. If they just try to play within the scheme of what we're trying to do and understand their role in that scheme and take care of their role, then everything else is taken care of. Where you can get into trouble on defense is when guys try to do more than they're coached to do. If they just take care of their job, we're going to be fine."
This year's defense looks to continue this trend, with plenty of experienced players lining up for La Vega. The Pirates return five starters from last year — among them Hobbs, who has started 41 varsity games at linebacker, Stuart, who has 14 games of experience, Jared Rogers, who has played 40 games at middle linebacker. Both defensive ends have played 14 to 16 games at the varsity level.
There will be spots for younger kids to earn, but this La Vega defense has a solid nucleus. And while Hyde doesn't expect to hear much from them, he's already seen plenty of leadership from this defensive core.
"We don't have a lot of rah-rah guys on defense," Hyde said. "They aren't going to run around and make chants and clap and all that. They just lead by example. For instance, Stuart and Hobbs aren't rah-rah guys, but they're going to do their job the best that they can and as hard as they can. They're always where they're supposed to be. When people see that constantly, then they feed into that same mold."
As for the defense as a whole, Hyde's list is short for what he wants to see from his unit.
"Tough, fast, strong, smart," Hyde said. "That's all I'm looking for. Period."