---
LORENA — It's likely that the Lorena Leopards' days of sneaking up on people and making a run at the playoffs late in the season are gone.
The Leopards showed in their District 18-4A opener versus Fairfield that they're officially a force to be reckoned with the rest of the way this football season.
Lorena won the physical battles at the line of scrimmage for most of the contest and added some opportunistic points on the way to a 41-13 victory over Fairfield on Friday night at Leopard Stadium.
Both Fairfield and Lorena came into the district-opener with unblemished records, making for a potential showdown of Central Texas 4A powers.
But Lorena (5-0) eliminated most of the drama in the first half as it surged to a big lead.
The Leopards converted a trio of special teams plays into 21 first-half points.
Punt returner Ben Smedshammer set up Lorena's first offensive series in prime position when he brought a Fairfield punt back 46 yards to the Eagles' 14.
It took Lorena four plays to score from there. The Leopards faced a fourth-and-3 from the Fairfield 7 when running back A.J. Bell found a seam and darted into the end zone.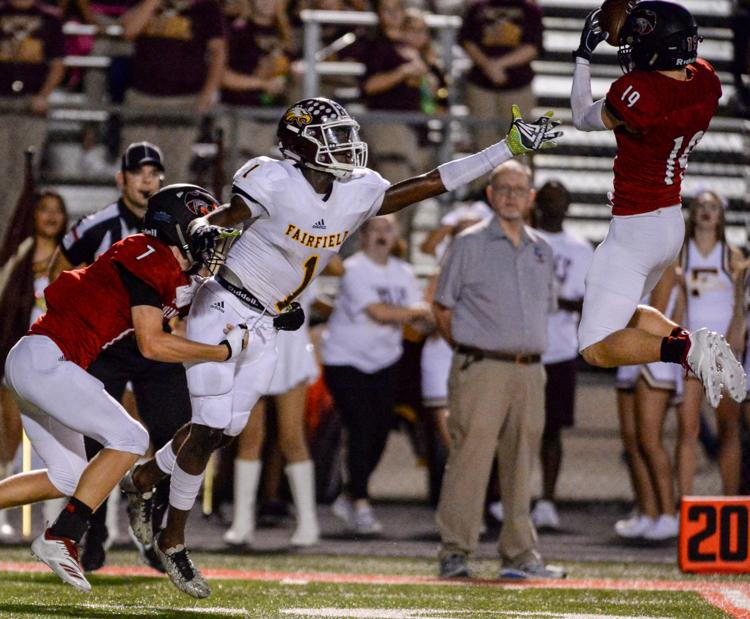 Then Lorena recovered a pair of Fairfield muffed punts deep in Eagles territory to set up a couple of short scoring drives.
Bell cashed in on the first one with a two-yard touchdown dive that capped a 38-yard march.
"Our kids were trying too much," Fairfield coach John Bachtel said. "We had a kid that tried to catch a punt over his back shoulder. You take four turnovers in the first half and they capitalized on them. They did a great job. They were the better team tonight."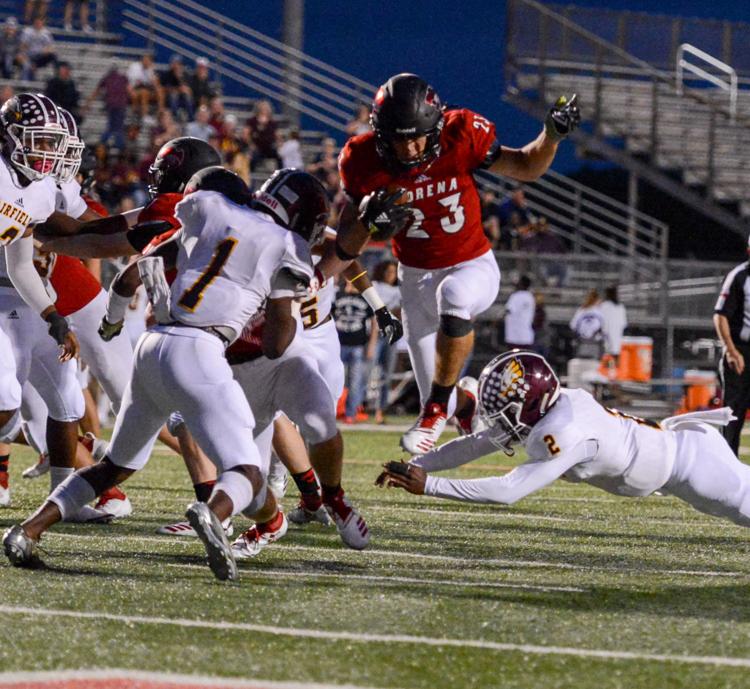 The Leopards turned to some trickery to turn their second muffed-punt recovery into points.
One play after Jacob Turley recovered the fumble at the Fairfield 30, quarterback Brad Lina tossed a lateral to his right to Smedshammer, who looked deep for Jett Forrest. Smedshammer hit Forrest in stride for a 30-yard touchdown and a 21-7 lead.
"Some things you have in your pocket for a long time and it seemed like the right time to give that a shot," Lorena coach Ray Biles said. "We got lucky and it worked. The kids love things like that."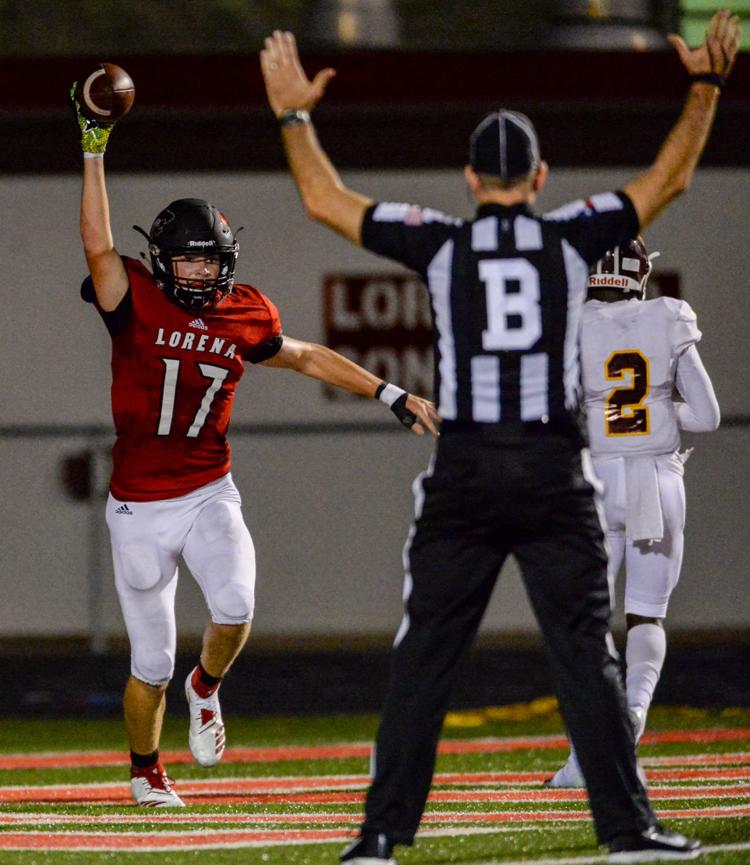 Fairfield running back Kameron Ransom got the Eagles on the scoreboard with a 40-yard touchdown run late in the first quarter.
But the Leopards kept Fairfield (4-1) from putting together many sustained drives in the first half. The Eagles put up 201 yards of total offense in the first and second quarters, but the production was negated by two offensive turnovers and the two fumbled punts.
Lina staked Lorena to a 28-7 halftime lead by hitting Ty Moore for a 40-yard touchdown on a fourth-and-one play with 4:24 remaining in the second quarter.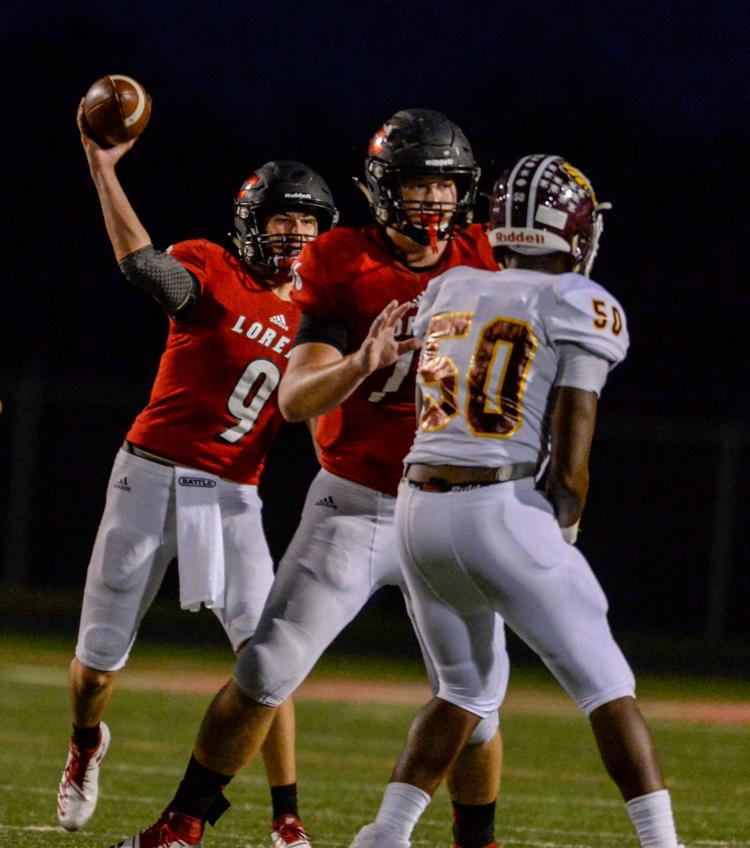 Lorena passed for 165 yards in the first half, making up the bulk of their 212 total offensive yards before the break.
Fairfield cut the Leopards lead to 15 points late in the third quarter when running back Jar-Mychael Hudson bored his way across the goal line for a two-yard touchdown. Hudson's score capped a 74-yard touchdown march.
Hudson and Ransom combined for 202 rushing yards, but it wasn't enough to keep up with Lorena's multi-dimensional attack.
Leopards running back A.J. Brem and Smedshammer each finished drives with two-yard touchdown runs in the fourth quarter.
And Lorena defensive back Cade Michna blocked a punt and intercepted a pass in the final period to help ice the Leopards' eight-straight regular-season win.