MART — This time nine years ago, I thought I had painted my last spirit sign. And I was glad about that fact, as patience isn't my strong suit. Back at Olney High School, the cheerleaders would go to the high school throughout the summer to work on signs to hang in the hallways.
There was a minimum you had to do, not including the sign for the game week you were assigned. (Does it surprise anyone I always picked Holliday game week? If you know me, it shouldn't).
We would come up with our designs — typing out phrases or finding images on Google that would be easy enough — and we'd print them out on transparencies. Then, we'd project that onto a wall, tape our paper on the wall and trace out the design with a pencil.
From there, we'd paint that thing before outlining every letter in black Sharpie. That was a requirement. No sign would hang if the letters weren't outlined.
Tuesday afternoon in Mart, I found myself almost doing what I swore I'd never do. (Thankfully, they did not ask me to help, because they would have instantly regretted that. I have no artsy skills). But what they do out here is a whole different animal compared to the mere pieces of "art" I came up with in high school.
These signs have been such a staple throughout Mart history that art has become one of the categories in cheerleader tryouts. It's worth around 10 points and is judged by anonymous teachers. This happens a week before the tryout happens.
If you've been to a Mart Panther football game, you know what I'm talking about. The Mart High School cheerleaders paint a sign for the Panthers to run through each game. And these aren't tiny, simple contraptions.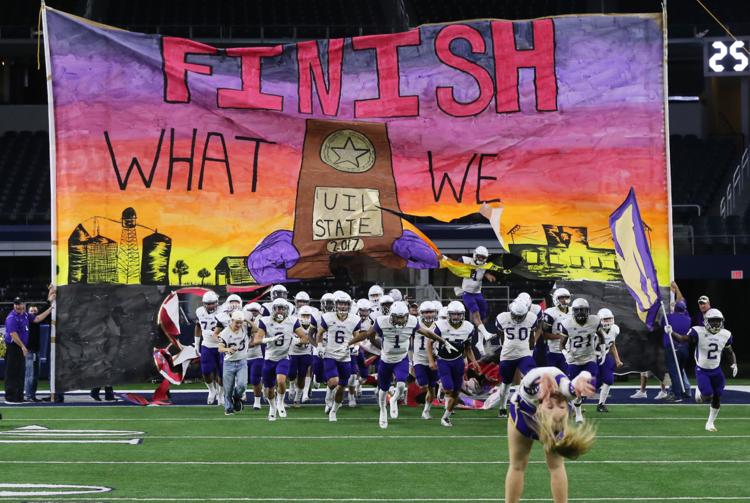 These signs are definitely pieces of art, usually with plenty of sass and a side of glitter. Oh, and these things are massive. If seeing it covering the end zone before the Panthers take the field isn't enough to realize how monstrous these things are, watching the cheerleaders lay the sign out at the gym Tuesday afternoon was something else.
They took a roll of white paper and rolled it from the baseline to the halfcourt line. That happened eight times to reach a dimension that, using Google, we figured to be 25 feet tall by 42 feet wide.
This is a tradition that goes back to the 1970s, but it wasn't until 1995 when the cheer sponsor then, Leslie Cron, made the signs the size they are today.
These girls don't take the easy route when it comes to this sign, either. There is no computer-generated art that they trace with pencil and then proceed to paint. No, this is all done by hand.
Paige Hall does all the drawing for these signs. Other girls work on the letters. Those who aren't quite as artistic mix the paint and help clean up.
While the girls get to drawing, Mart cheer sponsors Laurie Hall and Andrea Hall (they're sisters-in-law) supervise from making sure things are running smoothly to monitoring the music in a way. Andrea said if she hears a bad word, she immediately flips to Disney music, something the girls don't appreciate all that much.
This is their second year as the cheer sponsors at Mart. This past year, they decided to up the squad from eight cheerleaders and the mascot to 12 cheerleaders and the mascot. They wanted to be louder, and four extra girls definitely helped in that area. It also didn't hurt getting extra help when it comes to signs.
During the summers, the girls paint all of the regular season signs. One girl is assigned to one game. They come up with the concept for that sign, and the other girls can chip in with their ideas and help.
They usually paint in the gym, but it's not a blessing to do that in the middle of summer in a place with no air conditioning. This last summer, they moved the operation to the cafeteria.
But things move back to the gym once the Panthers reach the playoffs, because then they have to make each game's run-through sign that week. That's when things move back into the gym, but scheduling time to paint is a struggle with the gym being used so much during the school year.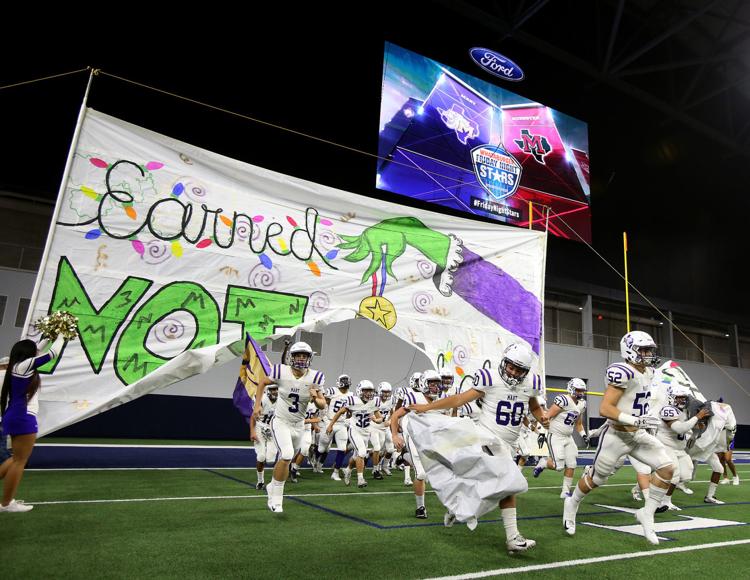 Usually, they start painting around 5:30 p.m., but Tuesday they were able to start at 4 p.m. as Mart basketball played out of town.
On average, a sign takes around four hours. This one, though, they expected to be similar to last year's state sign and take around six hours. Andrea and Laurie were ready for it, as they each opened a can of Monster energy drink to get things started.
Laurie came over for a swig of caffeine about an hour after they started. Smiling, she directly my attention to a group of girls with erasers in their hands. She and Andrea were sketching the Mart skyline, but one did it lower than the other.
That didn't take long to correct as within the hour, the girls busted out the mops. Not because the floor was dirty but because that's how they painted the background of the sign.
Last year's state sign had a sunset in the background. The girls mix the colors needed, put a color on a mop and brush it over the entire skyline. They also mopped the bottom of the sign black.
Makes sense, as using a regular ol' paint brush to take care of something that huge would take forever.
It's definitely a piece of work, something that sadly gets torn asunder within a couple of minutes of being raised for everyone to see. Seeing what these girls have created is a good excuse to get to AT&T Stadium early on Wednesday, if beating the rush hour traffic isn't enough of an excuse.