"Hey, I just met you … and this is crazy … but here's my number … so call me maybe."
Call Me Maybe, Carley Rae Jepsen
That 2012 pop hit kind of sums up the situation that Waco High coach Kwame Cavil and Midway's Jeff Hulme find themselves in right now. They've just met their teams, so to speak, and here's the crazy thing — they're starting district play this week.
"Here's the deal, I'm extremely pleased where we are, as a matter of fact," said Cavil, whose 1-1 Lions will face Killeen Ellison in their District 12-6A opener on Friday. "I've only had so many days with these guys so far, but I'm a glass-half-full guy, and I'm staying positive with where we're at. Given the time we've had allotted, I'm very pleased."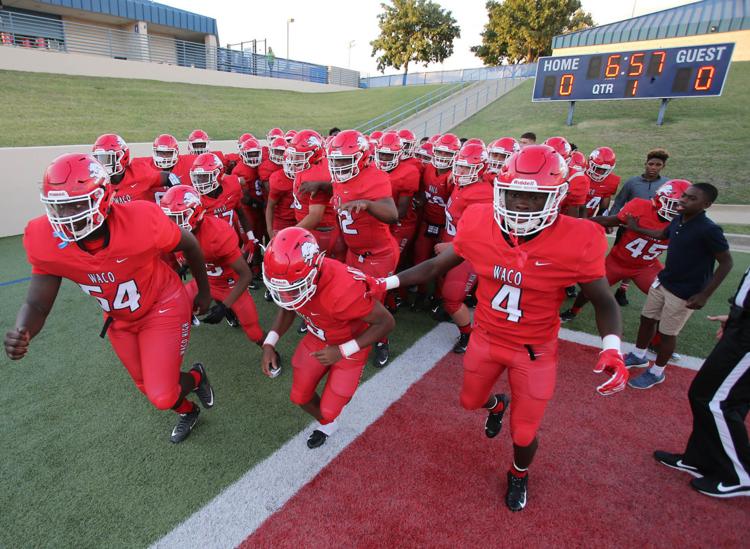 It's understandable why Cavil would still be playing get-to-know-you with his squad. The Waco High alum took over as head coach on July 20, just three weeks before the team's opening preseason practice. So he's having to form relationships with people on the fly.
Progress is being made, however.
"We've still got some work to do, no doubt," Cavil said. "Can we get there? Only time will tell. But we beat University our first week, and I think you can see that they're a better team, picked up their first victory last week. So that was a good win in a rivalry game. Then in our second game against Georgetown, a perennial powerhouse, we fought hard but just had some untimely errors."
Over at Midway, Hulme doesn't need to slap a piece of tape on the front of his guys' helmets as a de facto nametags. He knows the players, as he's now in his third season with the Panthers.
But as far as the identity of the 2018 Panthers goes, that's definitely still being formed. Midway (0-1) has played only one full game prior to the start of its district debut, a humbling 37-7 loss to Euless Trinity in Week 1. What was supposed to be Midway's second tuneup last week against Lake Ridge at the Cotton Bowl was washed out by bad weather.
That's hardly an ideal scenario as Midway prepares for its district opener at Killeen (1-1) on Thursday.
"We were really looking forward to finishing that game (against Lake Ridge), kind of happy about where we were and how we were playing," Hulme said. "It would have been nice to have been able to finish the game, but we had to be smart with a Thursday game coming up, and obviously the weather had a lot to do with it. It is what it is."
The reason for the earlier-than-normal start to district play is because the UIL opted to form a nine-team district when making up 12-6A. Last season, as 8-6A, the league consisted of seven teams — Midway, Belton, Copperas Cove, Ellison, Harker Heights, Killeen and Shoemaker. But with both Waco High and Temple making the jump from 5A to 6A in February's biennial realignment, the UIL chose to go bigger rather than separate these nine common-sense neighbors.
Despite its sluggish start, Midway — which went 15-1 last year and reached the 6A Division II state final — should continue to wear the favorite's target on its backs. The Panthers have won eight straight district titles dating back to 2010.
"You only get two nondistrict games, and in our case, only one," Hulme said. "So you get nervous, because every game counts here on out. In a nine-team district, anything can happen. I don't know that there's any magic number of wins you need to get."
Temple has looked as salty as a concession-stand Frito Pie in the early going, winning its first two games by an average score of 44-19. Copperas Cove is also out to a 2-0 start, while Killeen, Belton and Waco High have all split their first two contests.
In other opening-week 12-6A action, Belton will host Cove, while Harker Heights travels to Temple.
Crawford volleyball still No. 1
They finished last season at No. 1 — state champions, to be precise — and the Crawford Lady Pirates volleyball team hasn't relinquished that ranking yet this year.
Crawford continues to sit atop the Class 2A rankings of the Texas Girls Coaches Association state poll. The Lady Pirates are 25-4 on the year after a sweep of Georgetown Eastview on Tuesday.
Other area teams dotting the state rankings include Blum at No. 24 in 2A and Fairfield at No. 11 in 4A.
Midway basketball takes on cross country meet
Matt Brown admits the guys weren't thrilled with the idea when he pitched it. The new Midway basketball head coach thought his guys should run in last week's Hewitt Kiwanis cross country meet in the JV division.
In an email, Brown said he saw the meet as a great opportunity to get some extra conditioning and to help out the cross country program at the same time.
Point guard Anthony Scott, the one who encouraged his teammates to take on the challenge, picked up a medal at the meet as he ran three miles, a distance he's never run before, in 18:40. Austin Burch finished sixth.
"There's something about that look in their eyes when you've ran 2.9 miles and you have no energy left and somehow you dig down and find a way to sprint and compete against that guy that's running beside you," Brown wrote. "You find a lot about what kind of team you have by seeing how hard they fight in that situation. We have some fighters."
Groesbeck's Ameer Lee continued to dazzle in Week 2 as the running back was voted the Trib's Offensive Player of the Week, while Mexia's Tyrell Canady and Parkview Christian's Timmy Skains were named the Defensive and Six-Man Players of the Week, respectively.
Lee finished last week's contest, a 28-6 victory for Groesbeck over Hearne, with 312 all-purpose yards with 131 rushing yards on 20 carries with one touchdown, 64 receiving yards on 3 catches and another touchdown, 117 return yards on two punt returns and a third touchdown.
Lee received 402 votes to secure his first-place finish, while Mexia's Jaden Proctor came in second with 353, and McGregor's Veandre McDaniel came in third with 260.
Defensively, Mexia linebacker Canady recorded nine tackles, two tackles for loss and a forced fumble in the Blackcats' 51-7 victory over Teague.
Coming in second in the defensive race, behind Canady's 325 votes, was McGregor's Tanner Ledesma with 264 votes. Groesbeck linebacker Jake Pringle was right behind him with 251 votes.
It was all Parkview for the six-man honor, as Skains edged his teammates with 180 votes. Skains had six carries for 102 yards and two scores in addition to 16 tackles and a forced fumble. Braeden Arp picked up 145 votes, while Ian Guerrero had 95.