A team from Canada will experience high school football Texas-style Thursday night.
Cochrane High School has made the roughly 2,000-mile trip south with a full itinerary, the most important part of which is a game in Groesbeck.
The Cobras began their trip with a tour of AT&T Stadium in Arlington on Wednesday, and they'll watch a game at Midway on Friday night, Baylor on Saturday night and head back to Arlington for the Cowboys-49ers game Sunday afternoon.
"The kids are pumped," Cochrane coach Bruce O'Neill said. "They just have to remember it's a business trip until after Thursday. Then it will be more like a holiday."
It's not just all the football that is planned that should make this a special trip for Cochrane. O'Neill said he can't wait for his team to be part of the pep rally Thursday morning because "Canadians question sports, and Americans celebrate sports."
Groesbeck hopes it's an opportunity for the teams to get to know each other and form friendships. To that end, the teams will have a spaghetti dinner after the game, and they'll ride on buses to Waco to tour Baylor's facilities Friday.
"We'll ride together, and we want to split our kids up with theirs," Groesbeck coach Bruce McDonald said. "Hopefully, they'll talk about football and life, and see a different person's perspective."
It was an existing relationship that made this all possible.
Bryan Moore, Groesbeck ISD's business administrator, is the uncle of Cochrane quarterback Cody Stevens.
Moore knew that Cochrane comes to the United States once a year to play a game, but it's usually in Washington or California. Last year, the Cobras made a trip to San Diego, and Moore thought it would be fun to see his nephew play in Groesbeck.
"Last summer when they were down on a visit, Cody's dad and I were talking," Moore said. "I wanted to see if they could come play in Texas, and it just so happened that they had an opening. We got it scheduled, and the logistics came together."
Cochrane won the provincial championship two years ago – similar to a state championship – and finished 12-1 last year and reached the semifinals with Stevens as the quarterback both years. Moore said he was able to watch the provincial championship two years ago on the internet, but this will be a special treat.
"It will be great for our family to get to see Cody play," Moore said. "All the big schools in Canada are recruiting him. He's ranked as the third-best quarterback and 48th overall player in Canada. He'll show that he has some skills."
Cochrane, which opened its season last week with a 19-18 loss on a late field goal, makes the trip to the United States every year for a variety of reasons.
"It's the experience, traveling together and team bonding," O'Neill said. "It's good for the kids to see how sports is (in the United States). We have a good university team in Calgary, and it will draw like 5,000 fans. We're really excited to see the atmosphere."
The Cobras play the American style of football when they come into the United States, so they're familiar with the rules.
In Canada, they have 12 players on the field at a time, three downs to make a first down and are allowed to have all eligible receivers except for the quarterback in motion at the time of the snap among other rule differences.
McDonald said he has film of Cochrane playing with the American rules and Canadian rules, and he thinks the Goats will have a plan of attack by game time.
"You try to see the big picture," McDonald said. "Football is football at the end of the day. You try and see the scheme within the scheme. (In the Canadian film) you pick out who you think the 12th guy is and imagine it without him on the field."
Teague QB, Midway LB players of week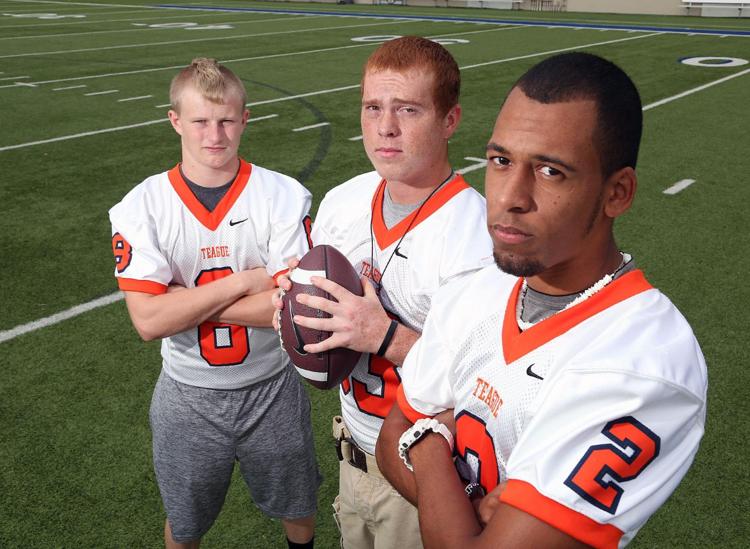 Teague quarterback Austin Skinner shredded the Lexington defense in a 76-33 win, while Midway linebacker Logan Paschal made some big-time plays in timely moments to help the Panthers hold off Lake Travis, 38-30.
Their performances made them the Trib's Week 1 offensive and defensive players of the week.
Skinner, who was 24-for-32 for 439 yards and eight touchdown passes, was selected by 50 percent of the 8,740 votes, narrowly edging Robinson running back LeVonte Owens and his 43.96 percent. Moody quarterback Toby Smith had 5.32 percent, while Whitney quarterback Brett Gilchrist received 1 percent.
Paschal was an overwhelming winner with 78.64 percent of the 1,564 votes cast after collecting 12 tackles, two of which were for loss, two sacks and a pass breakup. Mexia's Tyrik Ray (13.24 percent) was second, while Mart's Collin Nail (6.33 percent) and Itasca's Michaelas Caufield (1.79 percent) rounded out the vote.
The Trib will cover the game between Salado and West on Friday night, after it gained 203 out of the 222 votes cast for a whopping 91 percent.
West got off to a 1-0 start last week with a 50-6 win over Clifton, while Salado dropped its season opener to Troy, 49-7.
The Trojans were also part of the winner in the Trib's poll question, as the biggest surprise was teams that have struggled in recent years like West, Bruceville-Eddy and Moody all scoring at least 50 points in wins. That pick garnered 65 percent of the 17 votes cast.
The Robinson volleyball team had reason for optimism coming into the season, and it's living up to those expectations.
The Rockettes own their home tournament over the weekend, defeating district rival Lorena in the title match, then knocking off Crawford on Tuesday.
Those victories helped Robinson become the highest-ranked Central Texas team in the most recent Texas Girls Coaches Association poll at No. 8 in 4A. Lorena is right behind the Rockettes at No. 10, while Crawford dropped to 14th in the 2A poll.
Wendy's is offering high school seniors a shot at grabbing a piece of Heisman history.
Partnering with the Heisman Memorial Trust and college football's acclaimed Heisman Memorial Trohpy, Wendy's is giving six female and six male high school seniors the opportunity to attend this year's Heisman Trophy Award ceremony as well as receive scholarships and gift cards.
Created by Wendy's founder Dave Thomas in 1994, the Wendy's High School Heisman Award has honored more than 400,000 of the nation's most esteemed high school seniors who have been a part of the program for the past 21 years. Since its inception, Wendy's has awarded 230 National Finalists and 40 National Winners.
Moody High School is hosting the Bearcat 5K fun/run walk, with the proceeds benefiting the Moody Athletic Department.
Award medals will be given to four age groups, with all preregistered participants receiving a T-shirt. Race-day registrants will receive shirts if available.
The event will be held Sept. 20 at Moody High School at 7:30 a.m. The cost is $25 before the event, $30 the day of the race. Preregistration checks should be sent to Moody High School, c/o Jarrod Thomas.