Harker Heights captured its first win of the 2018 season with impassioned defense and just enough offense to pull away from Waco High, 36-17, Friday at Waco ISD Stadium
The Knights improved to 1-6, 1-4 in District 12-6A play while the Lions dropped to 1-5, 0-4, losing its fifth straight game, making it a most unhappy homecoming for the home team.
"We've just got to get better in all phases of the game," said first-year Waco coach and former Waco Lions player Kwame Cavil. "They always say the biggest room in the house is room for improvement. This team has got a lot of growing up to do, a lot of improvement."
For all the offense in the game, the Harker Heights defense made one of the biggest plays of the game when the stuffed Waco on fourth-and-one with 7:35 left in the game and ahead 30-17.
The Lions drove from their own 20 to the Knights' 1-yard line, but trailing by 13 points and running short of time, they decided to try and score. But they came up short after a fumbled center quarterback exchange on fourth down stopped the play short.
After forcing a Harker Heights punt from deep in its own territory, Waco got the ball at midfield, but was unable to move and was stopped again on fourth down after a fake punt.
Harker Heights scored one more time on a Rhomel Dudley 34-yard run for the final margin, sending the Knights celebrating in front of their fans and Cavil shaking his head looking for more answers on a team he once starred on.
"We've got a lot of work to do, but I know that and I accept that and that's why I was brought here. We will get better, I can promise you that," he said.
After a defensive first quarter by two district teams desperate for a victory, district or otherwise, the Waco ISD scoreboard got a good workout as the action picked up the second quarter.
The Lions took advantage of a key fourth down penalty which allowed them to keep the ball and they took advantage, capping the second chance with a 24-yard field goal by Chris Esqueda for a 3-0 lead.
After a long punt backed the Lions up to their 1-yard-line, they were called for holding beyond the goal line which resulted in a safety for Harker Heights and a 3-2 Waco lead.
Both offenses returned to the game in a big way midway through the second quarter with three touchdowns in a 10-play stretch.
The Knights found the scoring land first when running back Contavieon Johnson broke up the middle for a 37-yard scoring run. Jamie Vargas kicked the extra point for a 9-3 lead.
Waco came right back with speedy senior running back Randy Carpenter broke down the left sideline, cut toward midfield and nobody could to catch him, scoring from 51-yards away and a 10-9 edge after Esqueda kick. He finished the first half with six carries for 88 yards and had 144 for the night.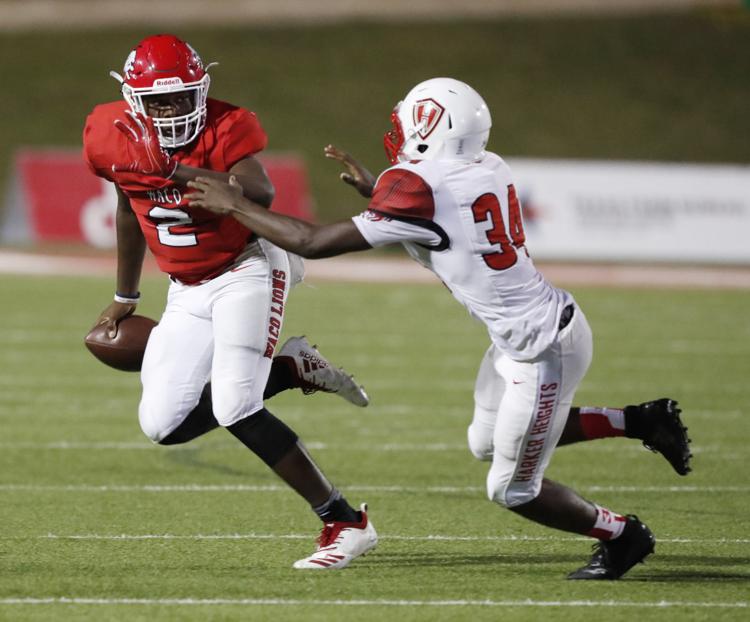 With less than a minute before the homecoming halftime, Harker Heights scored to take the lead on a second Johnson run, this one from 11 yards out and a 16-10 halftime lead.
The widened their lead on the first drive of the second half with a 55-yard drive capped by a 7-yard scoring run by Andre Gabhardt. The extra point by Vargas made is 23-10 Harker Heights,
But as they did all throughout the game, Waco came right back with a score of their own. Ebron highlighted a short drive with a 3 yard run cutting the deficit to 23-17.
But Harker Heights ended the third quarter the same way they started it with another touchdown. Quarterback Alex Munoz fooled the Waco defense with a naked bootleg on fourth down for a two-yard scoring run for a 30-17 lead after three quarters.
As Kwame Cavil walks the halls of the Waco High fieldhouse, he hears the ghosts of those who have gone before him. When he walks to his office…