Football season started at 9:41 a.m. on Thursday morning.
It's true that there are still 35 days until high school football games actually kick off, including five football-less Friday nights. But for those of us in the writing-about-football business, it's all systems go as of Thursday morning.
That's because the Trib hosted photo day at Waco ISD Stadium. It was officially scheduled for 10 a.m. to noon but, since it's football, if you're not 15 minutes early, you're 15 minutes late. So our first arrivals walked in the door at 9:41.
You could call it Super Centex Media Day, if you're the type of person that likes titles that are both grandiose and derivative. Either way, we welcomed precisely 251 local high school football players (each one filled out a questionnaire, and I counted them), along with a few coaches and media members to the football palace at New Road and Bagby.
For me, it was both a new experience and a familiar one. Earlier this year, I returned to the Trib staff after 10 years away pursuing writing books and other freelance opportunities. I had worked full time for our local paper from the start of the 2003 football season to the end of the 2009 campaign. Then I went to Scotland for a big chunk of 2010. When I returned from that adventure, various sportswriting opportunities came my way. I began covering Top 25 college football and basketball for a national wire service and that evolved into a gig reporting on the Dallas Cowboys the last two seasons.
It was an exciting decade. I got to cover every round of the NCAA Tournament, including a trio of Final Fours. I reported on multiple bowl games and one NFL playoff game. I had a Golf.com Scotland blog and a stint as a relief writer covering the Texas Rangers. I sneaked into a graveyard with Jim Nantz, got told off by Terry Francona, rode an elevator with Ray Allen after his alma mater won the NCAA championship, and crossed paths with Michael Jordan in the tunnel following his Tar Heels' title-game buzzer-beater loss.
And through all of that, I figured something out: nothing beats writing about Texas high school football.
That's not hyperbole or a kiss-up, it's something I've been telling people for a couple years. Because, after multiple weekends of covering a high school game on Friday nights, a college game on Saturday and an NFL game on Sunday, it became obvious to me that the high school game was the most fun.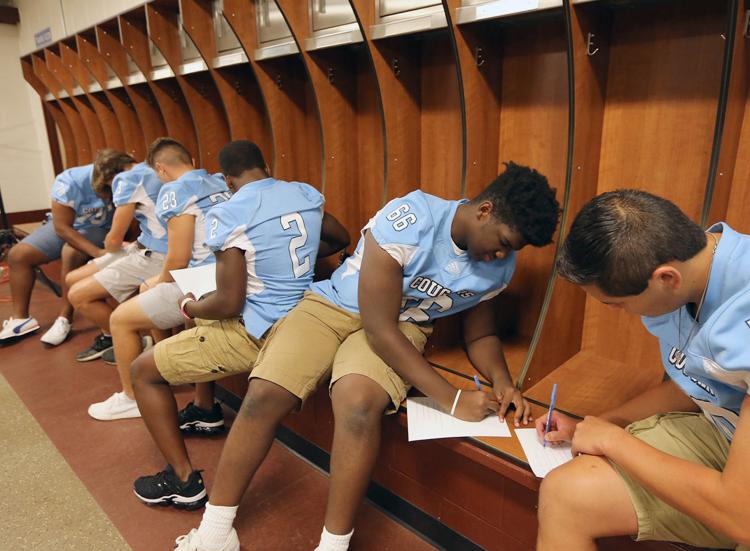 All I have to do is look at my Twitter notifications on Friday night and Saturday to know this is true. It's a little bit of a challenge to keep stats and a play-by-play and tweet scoring updates, especially if the press box happens to be the size of a large deer blind, but it's definitely worth it. These days likes and retweets give us sportswriters more of an indication of who's paying attention than anything. It's not even close, high school fans and players are way more into seeing my tweets about their teams than any other level.
The other day, I found and used the statistic that 213,192 spectators watched the UIL football state title games at AT&T Stadium last December. In other corners of the sports world, that number would be shocking. But I'm not even a little surprised. In fact, I would point to the fact that the figure represents a small fraction of the collective mass of fans who populate high school stadiums around the state every Friday night.
High school football has a high occurrence of intense and engaged fans.
But you know what high school football doesn't have? TV timeouts, under-review stoppages (until the state championship games, at least), agents, ESPN talking heads, money-driven conference realignment, halftime shows by some terrible pop country singer I have never or would never listen to on purpose, $15 soda, 11 a.m. kickoffs, and about a hundred other annoying things I'll remember the first time I go to a college game this fall.
But mostly, high school football isn't media-saturated. Most games aren't on TV and that makes them special. You have to be there to experience it.
On Thursday, players from more than 40 Central Texas schools showed up to take pictures, answer some questions and get to know us and their counterparts on other teams a little better. It's a quick hello before we all get to work.
Some of those kids are going to show out this season, maybe make Super Centex. It's possible one or two might become high school football legends. But they're all part of the bigger picture of the game.
I can't wait to tell their stories this season. Bring on preseason practice.