Call this the best kind of "star test."
All over Central Texas, the area's top football stars put pen to paper and made their college football decisions official. They say that the December signing period has supplanted the traditional first Wednesday in February as the showcase for the biggest of names, and that's true.
However, it remains a gigantic day for those taking part. Their college football dreams are no less grand, just because they may be signing at Angelo State or UT-Permian Basin instead of Alabama and Oklahoma.
The Trib made the rounds at several Centex schools on Wednesday. To wit:
Midway's Hodges dancing with Frog legs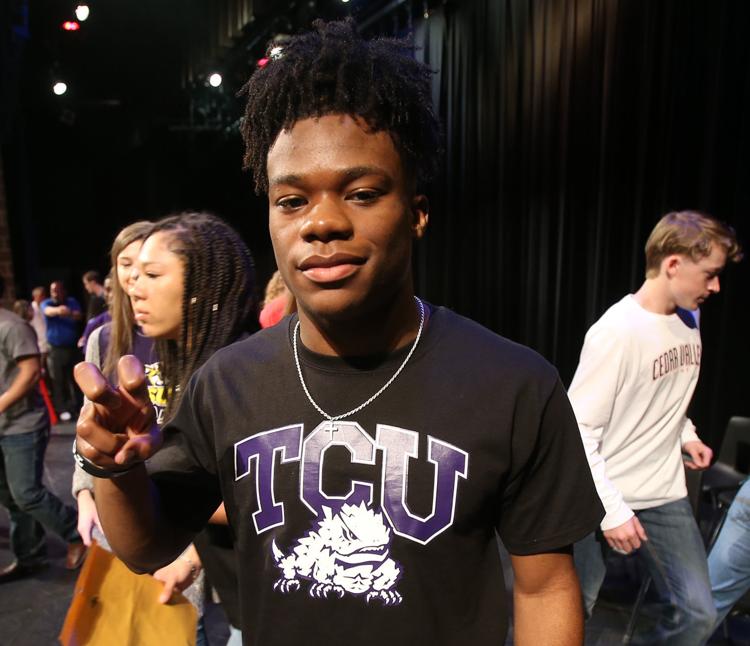 From an outsider's perspective, it made perfect sense.
Trevius Hodges, Midway's big-time defensive back, produced impressive play after impressive play this past season. From finishing a blitz with a tackle for loss to hauling in an interception, Hodges backed up how he describes his game. The dude's a playmaker.
So it only makes sense that such a stellar defensive player would sign for a defensive-minded head coach at the collegiate level. For Hodges, that is TCU's Gary Patterson.
"They're a very aggressive defense," Hodges said. "The blitzes, the man coverage, all of it. I fit them at all levels on the field. Knowing that and knowing Coach Patterson, that will be the greatest place to play."
Schematically, TCU is the perfect fit for Hodges. But what makes this a match made in heaven is the fact that the Horned Frogs have been Hodges' favorite team since he was a little kid, not to mention the alma mater of his uncle, LaDainian Tomlinson.
"I've always wanted to play there since I was a young child," Hodges said. "Whenever TCU knocked on my door, I answered. That's where I knew I was going right away. There were no ifs, ands or buts about it."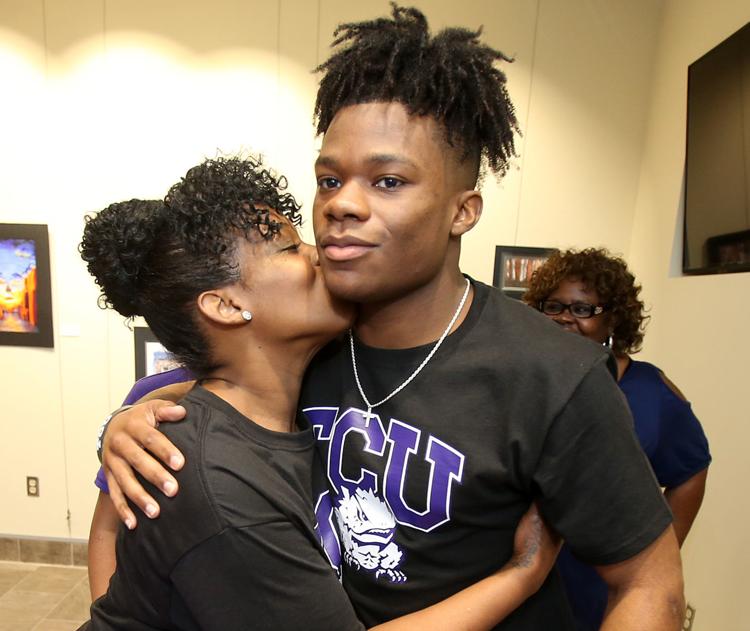 Hodges was one of nearly 30 student-athletes to celebrate signing their National Letters of Intent at the Midway High School auditorium. A pack of his football teammates were seated around him on the stage — including Josh Echeverria (Tyler Junior College), Marcus Johnson (Mary Hardin-Baylor), Lance Jones (Western New Mexico University) and Jake Long (Angelo State University).
The baseball and softball student-athletes who officially signed with their prospective schools also got to participate in the festivities. Then there was Keziah Bachert, a girls' basketball player who signed to play at Western Colorado University. When she was announced, her teammates stood up and cheered. Things got louder when Ben Holder, the Pantherettes' head basketball coach, added that they were fresh off Tuesday's win over Belton that secured the district championship.
Let them eat cake at China Spring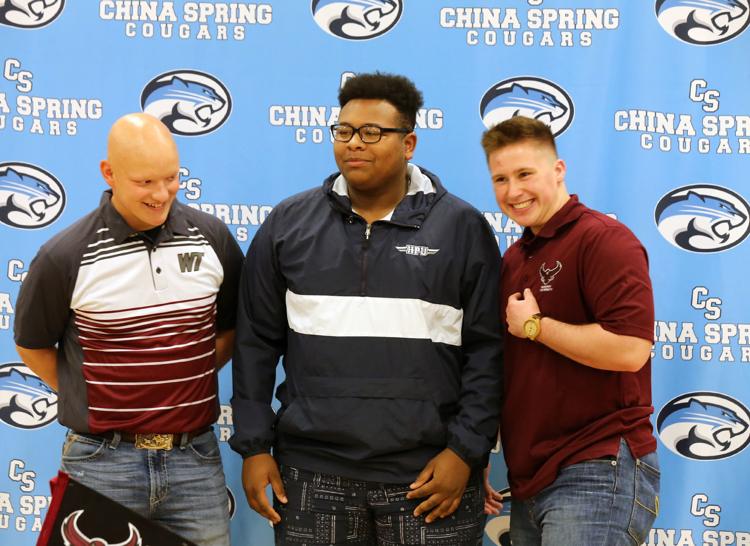 It was the perfect way to celebrate. Classmates, teammates, teachers and coaches were either seated in the bleachers or standing on the hardwood in the China Spring gym. Family members had their phones at the ready to take as many pictures as possible to remember this special occasion.
All smiles as they posed for pictures and dealt out high-five after high-five were Dylan Hofferichter, Charles Booker and Logan Schuetz. They each signed to play football at the collegiate level; Hofferichter to West Texas A&M, Booker to Howard Payne and Schuetz to McMurry.
"I'm really excited," Booker said. "I'm glad to get it over with and ready to play college football."
Reicher's Brittain ready to earn his wings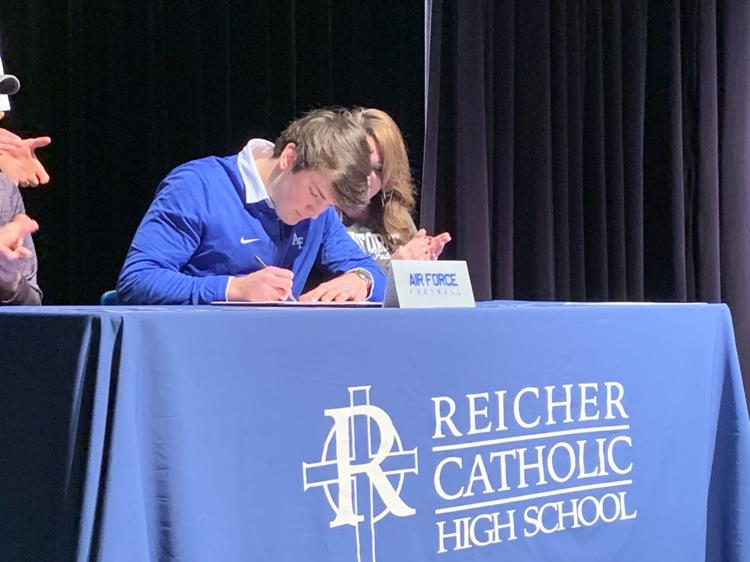 Reicher's Ben Brittain made his commitment official to the Air Force Academy, and as he's well aware, it's a commitment that extends beyond a normal college football program.
"I'd never really thought about it before Air Force had offered me," Brittain said. "Military has been in my family, but not really. Committing to play football as well, I'm 100 percent in for that, 100 percent in for the school, and ultimately 100 percent in to serve my country as well."
It was about 10 years ago when Ben Brittain had an epiphany while playing "Road to Glory" on…
Reicher coach John Ryan said he was impressed with how thoroughly Brittain researched everything Air Force had to offer.
"I think Ben did a good job, they got in on him early, he had the time to research and talk to some people that had been in that situation," Ryan said. "Reicher's got a great tradition of people who have been through the academies, so we have a lot of phone numbers we could give him. And I think the more he learned, every day that passed, it became more and more of an option. … Then when he got up to Colorado Springs and took that visit, it's a magical place."
Brittain said he plans to take essentially a gap year and enroll in the Air Force's prep academy. He'll play a junior college football schedule, which will give him time to get acclimated to both college life and a brand-new offense.
A dual-threat quarterback, Brittain scored touchdowns on offense, defense and special teams during his Reicher career. That versatility should serve him well on Saturdays in the fall.
"He's accurate, can throw the ball anywhere you need him to on the field," Ryan said. "But there's so much more to him. And that's where the game of college football and high school football is going to – no longer do you have just that pocket passer that just sits in the pocket. The teams that are winning, their quarterbacks are becoming more and more football players. They're running people over, and doing stuff you didn't see quarterbacks do before.
"I think Ben has the ability to do that on the next level, wherever he ended up. This just ended up being the perfect fit for him and who he was as a person."
Connally, Lorena athletes moving on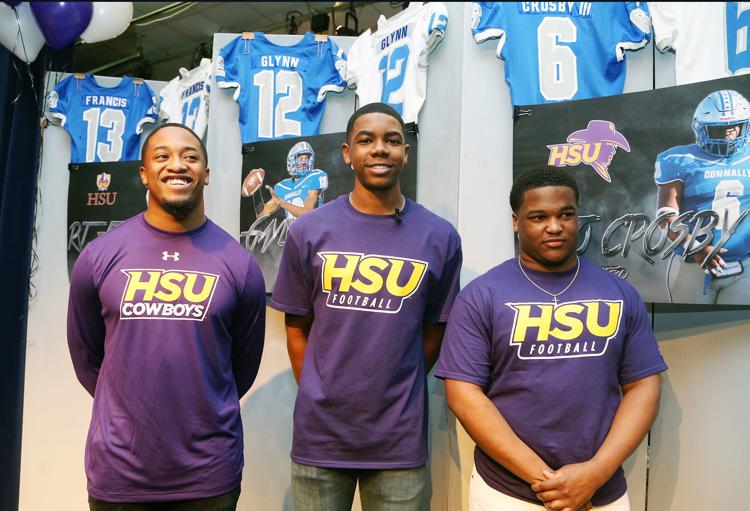 The Connally Cadets celebrated three of their football players going together to Hardin-Simmons University in Abilene. Quarterback Gaylon Glynn, linebacker Jojo Crosby and safety/linebacker R.J. Francis all inked with the Cowboys.
Connally coach Shane Anderson has repeatedly held up this year's Cadet senior class as being the group that formed a foundation for the program. He mentioned on Wednesday that the seniors helped the Cadets reach the second round of the playoffs and practice on Thanksgiving for the first time in 14 years.
When it came to picking a place to continue their careers, Anderson could see the caravan to Abilene forming a while ago.
"I had this gut feeling the whole time that they were going to all end up together," Anderson told the crowd that gathered in the Connally auditorium for Signing Day.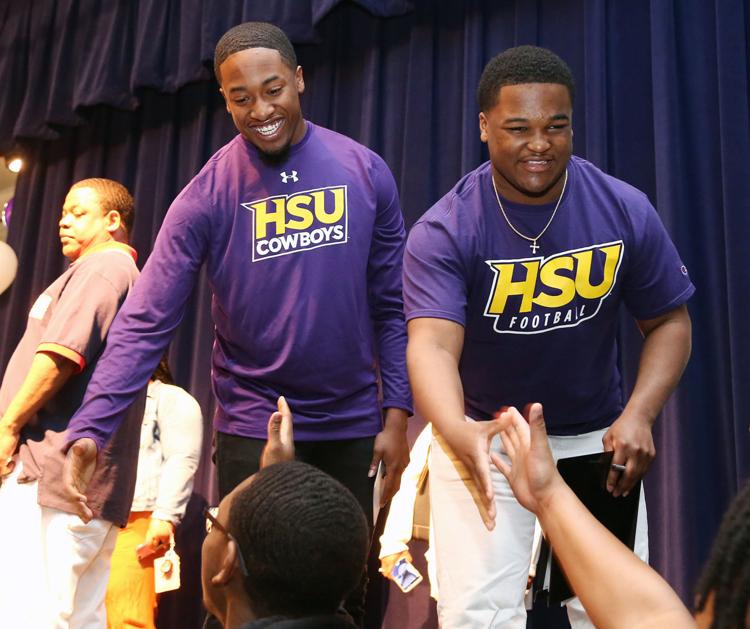 Glynn, who passed for 1,200 yards and 13 TDs in leading the Cadets to an 8-4 record, said Hardin-Simmons effectively sold the school's atmosphere when he, Crosby and Francis traveled together to Abilene.
"We took a visit and it felt like home," Glynn said. "It felt like it was family-based and I look at these boys as my family, so might as well go together."
Contrary to Connally's group send-off to Hardin-Simmons, Lorena hosted the signing of three student athletes from three different sports to three separate colleges.
Leopards defensive back Cade Michna will join the Connally trio at Hardin-Simmons, soccer center midfielder Katie Burnside inked with Howard Payne and baseball pitcher Braden Robinson signed with Millsaps College.
Burnside, the 2018 Super Centex Player of the Year, said she's not a huge fan of the limelight but admitted she was gratified by the large group of well-wishers who gathered in the Lorena common area to celebrate the signings.
"Looking at all the people that I love and that love me, it really gives me reassurance to know that I'm being pushed by people other than my family," Burnside said.
Robinson said he was looking for a small school with high academic standards where he could play early in his college career. Millsaps fit all three categories and set up the Lorena pitcher to enter his senior season with the matter settled.
"It takes a ton of stress off," Robinson said. "To come here today and sign, it's really come as a realization that I'm playing baseball at the next level."
Hardin-Simmons has been tracking Michna, the District 8-4A Division 2 Defensive Player of the Year, since early in the Leopards' high school career before landing the Lorena senior.
"It's awesome," Michna said. "It's just an amazing feeling. You're anticipating for so long and you don't know what you're going to do. And finally you find that right place and you get it all set in stone and it's an awesome feeling."
When college football scouts examine the measurables of recruits, they look at height, weight, speed in the 40-yard dash, strength in the weig…
Despite the fact that James Fullbright III is Midway's second all-time leading rusher and is tied for the program's record with 63 career rush…
PHOTOS: National Signing Day 2019
Photos by Rod Aydelotte, Jerry Larson, Jose Yau