Waco High's Anna Garner picked up her second gold medal of this cross country season, and it was a big one.
The junior dashed to the individual title at the District 12-6A cross country meet on Thursday morning at the Heart O'Texas Soccer Complex. Garner completed the 4,850-meter course in a time of 18:25.7, a personal best for that distance and almost a full minute faster than her time on the same course at the Hewitt Kiwanis meet.
Belton's girls won the team title with 40 points, while Midway (52) and Temple (109) also will move on to the regional meet. Belton was paced by Jordan Jones in third place at 19:00.7.
Midway had three runners clock top-10 finishes, sophomores Crystin Tinney (fifth) and Hannah Bowden (sixth) and junior Emma Bell (seventh).
Belton made it a clean sweep by powering to the boys title as well, with a winning score of 52. Ellison took second and Temple was third.
Waco High's Jonathan Carl (sixth overall) and Midway's Mackie Ferretter (11th) were among the group who punched their tickets to regionals by ranking among the top 10 finishers not on a regional-qualifying team.
The Region II-6A meet will be Oct. 22 in Grand Prairie.
Eagles wing their way to titles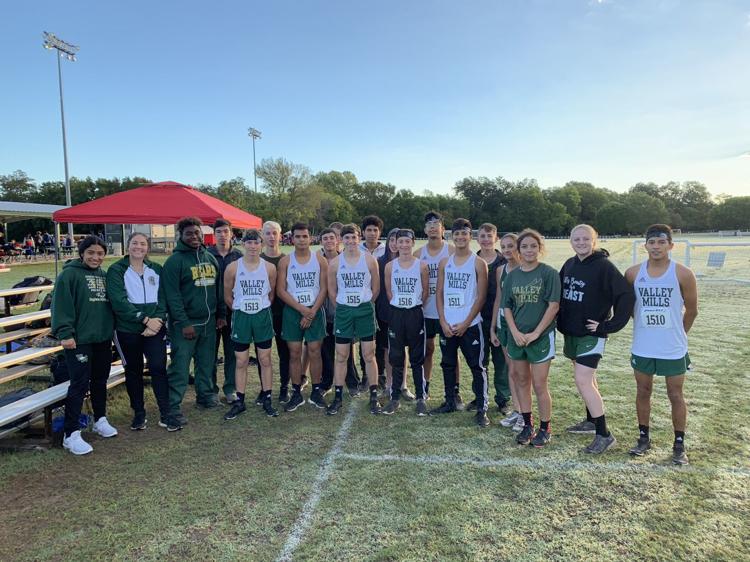 With seven runners earning top-five finishes, the Valley Mills boys and girls teams swept the district titles at the 17-2A cross country meet at the Heart O'Texas Soccer Complex on Thursday.
On the girls' side, Valley Mills put four runners in the top five, while its fifth scoring runner took seventh place, for a terrific score of 21 points. Hannah Dillard led the way for the Lady Eagles in second place, running 12:15.2 in the two-mile race, while Kyra Zengerle was second, Hannah Robinson was third, Shae Fancher finished fourth and Yomayra Rodarte took seventh for Valley Mills.
Crawford junior Dawsen Holly ripped up the course in a time of 11:55.4 to claim the individual district title and lead the Lady Pirates to a second-place team finish. Moody was third in the team race.
In the boys' three-mile race, Valley Mills had three runners in the top five – Rodrigo Coronado (third), Lane Willis (fourth) and Tanner Sargent (fifth).
Ty Stock of Rosebud-Lott raced to individual gold in a time of 17:08.6, while Bosqueville's Luke Hayes was second at 17:22.6. Rosebud-Lott and Moody claimed second and third in the team standings to qualify for regionals.
Riesel, Hubbard runners claim 18-2A gold
MART — Riesel sophomore Josiah Olvera was the lone runner to break 20 minutes at the 18-2A cross country championships, claiming the individual title in the three-mile race at Battle Lake Golf Course.
Riesel, with 41 points, finished second to Dawson (34), however, in the team standings, while Axtell (50) was third. Dawson was topped by freshman Reagan Coston in second place.
In the girls' two-mile race, Hubbard's Jaydyn Gillham motored her way to the district title, clocking in at 14:05.5. Axtell, with a strong score of 28, won the team title, followed by Riesel (33) and Dawson (63). The Lady Longhorns were led by Reagan Moore's second-place finish.
West freshman nabs 17-3A title
KEENE – West's fabulous freshman Makayla Pavelka raced to the line in first place at the District 17-3A meet at Rex Callicott Park.
Pavelka needed a time of 12:31 to span the 3,200-meter course for victory. She'll be joined by her teammates at the regional meet later this month, as West finished third in the girls' team race behind Grandview and Keene Smith to qualify.
Clifton's Daniella Gaona finished second in the race at 12:41.
On the boys' side, the host Keene Smith team took both the team and individual titles, but West and Whitney finished second and third, respectively, to advance on to regionals.
Clifton's Israel Pina is also regional-bound after taking second in the 5,000-meter race at 17:23.