Even today, when Waco High School's Reymundo Reyes thinks back on the ball fluttering into the net, he can't stop smiling. His teammates feel the same way.
Reyes and the Waco High junior varsity soccer team dominated their opponents this season. In 28 games, they scored 119 goals on their way to a 27-1 record. Defensively, they surrendered just 15 goals, four of which they wouldn't change for anything — the four belonging to Jacob Zapalac.
Zapalac is a member of the JV soccer program at James Earl Rudder High School in Bryan. He has Down syndrome and mostly serves as a team manager. The 21-year-old has already graduated from Rudder but still attends classes in Bryan ISD's PLUSS Program, an initiative that works with special-needs students even post-graduation, helping with vocational skills and physical therapy.
Rudder added Zapalac to its JV roster last year, since he is too old for varsity competition under UIL rules. Rudder coach John Primeaux would frequently meet with opposing coaches before matches to fill them in on Zapalac's condition. He let the coaches know that he may play Zapalac for a few minutes in a game. Primeaux didn't ask opponents for any special treatment but wanted to inform them of Jacob's condition so they wouldn't play him too physically.
A couple of teams, on their own initiative, have gone a step further. Waco High was one of those teams.
"We wanted to think of something to do," Lions JV midfielder Axel Sanchez said. "The coaches threw up a little sign up on the field, and we just passed the ball to the backfield and we said to Jacob, 'Go score, go score.' "
In the teams' first meeting of the year in Bryan, the Lions picked the ball up in the backfield to force a penalty kick. Zapalac converted the PK, then added another a little later.
"Guys were like, 'Coach, why not? Let him have some fun,' " Waco High JV coach Ramiro Salazar said.
When Zapalac scored, both sets of players celebrated, a rare sight in any athletic competition. Zapalac raised his arms in triumph and, to the delight of the Lions, dabbed more than Cam Newton on his most active day.
"We all celebrated with him. He dabbed," Waco High defender Jose Pichardo said, laughing at the memory. "I was kind of scared giving him a high-five because I had a feeling he was going to dab on me, too. I was just like, 'Good job, Jacob,' just clapping for him and everything."
When the teams met again a couple of weeks later in Waco, there was no hesitation by the Lion players. As soon as Zapalac entered the game at the start of the second half, the Waco High players looked at each other and said, 'Run the play?' and everyone nodded in agreement.
"The play," as it turned out, involved more than just giving Zapalac a free shot at the net with a penalty kick. Instead, they kicked the ball his way, then started lunging his direction in mock attempts to regain possession of the ball. Zapalac made his way down the field to the goal, then rolled the ball into the net for a sweet in-game score.
Then the Lions allowed him to score again.
"I can't explain it. Words can't even explain how I felt that day," Reyes said. "That kid, he was just smiling. He was happy. We shook hands, and he even gave us a hug."
When the teams first met in Bryan, some of the Waco High fans in attendance weren't sure exactly what was happening on the field, Salazar said. But by the second match, everyone had become a fan of Jacob.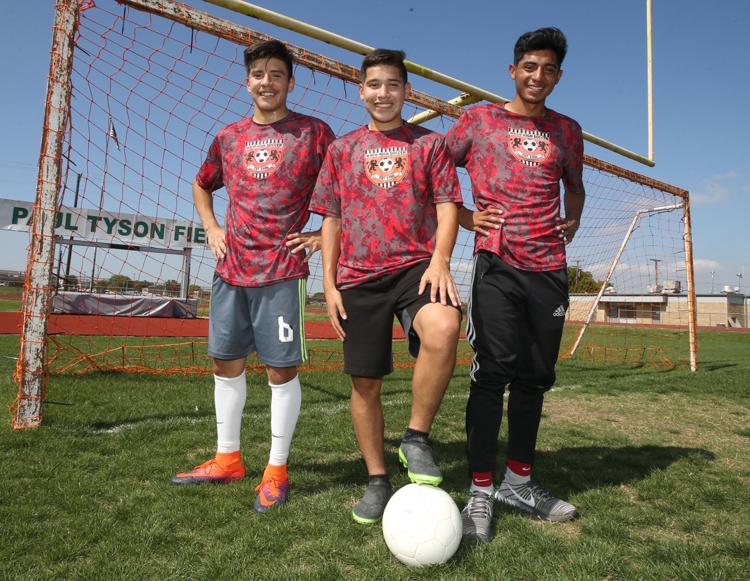 'Like a party'
"They saw Jacob score and they knew what it was," Salazar said. "The whole stands got up and were cheering for Jacob. I even heard Jacob's name from the stands, so he's known here now. Any time he scored it was like a whole party up there."
The two goals scored by Zapalac accounted for all of Rudder's scoring in a 5-2 loss to the Lions. But afterward, nobody seemed to really care much about the scoreboard.
Rudder's final JV match of the season marked the end to Zapalac's soccer career at Bryan Rudder. He has his diploma already but has been waiting for his younger brother to graduate to walk the stage and participate in the ceremony, which will happen in June.
To Salazar, those moments of sportsmanship and good will shown by his team were as significant as many of the skills and techniques they learned and sharpened during the course of the year.
"As a coach, you focus on the game quite a bit, you try to teach those kids to be good individuals," Salazar said. "Sometimes you teach so many things, and as kids are growing up it's hard to see the results.
"But in this case, it's a life lesson in a game. You share the happiness, share the good that this game can bring to this kid. It's unreal. It pays off."
The assist the Lions delivered to Zapalac has proved to be a season highlight, even as the season continues for some of the Waco High JV players who moved up to the roster of Waco High's state-ranked varsity team. The varsity team continues its playoff run Friday against Pflugerville ISD's John B. Connally High School.
"Out of everything, all the top wins and stuff like that, this game was the most memorable of them all," Reyes said. "It was a beautiful experience seeing him go out with such a bright smile."