When the phone rang, Tim O'Leary first thought it might've been a butt dial.
Sure, he spotted the name of his old friend and rival Mike Chapman. But he couldn't figure out why Chapman might be calling, so he treated it as a mistake and ignored it.
Then Chapman called back, and O'Leary soon learned that something they'd long joked about – the idea of coaching together – had become a serious possibility.
Yes, Tim O'Leary is coaching soccer again. The man who built the Midway boys' program from the ground floor, who won a total of 516 games and the 2002 Class 4A state championship in almost three decades at the helm, is back on the sideline.
And perhaps most surprisingly of all, he's wearing a "University Trojans Soccer" shirt.
O'Leary joined Chapman's staff as an assistant coach in December. He wasn't necessarily looking to get back into coaching, but when the opportunity presented itself, he was intrigued.
Chapman, meanwhile, was overjoyed to land a coach with the expertise and pedigree of O'Leary.
"The way it developed, I've had Coach (Ricky) Perez, of course, on staff for 20 years or more now. And we also had Coach (Cain) Quiroz. But then Coach Quiroz was offered the head coaching job at Robinson, so we needed someone. To be honest, I'd been thinking about it, because Coach O'Leary was somebody I knew, someone who would be great with the kids.
"Then Coach Perez says to me, 'Why don't we get the Legend?' and I was like, 'Are you thinking of who I'm thinking of?' And he said, 'Yeah, O'Leary, the Legend, do you think he'll do it?'"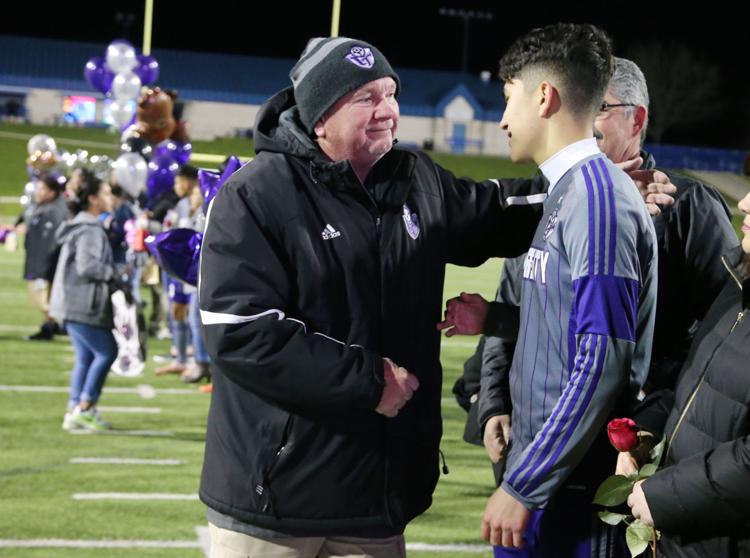 Truthfully, Chapman wasn't sure if O'Leary would have any interest at all. Since retiring from coaching following the 2013 season, O'Leary had followed a more serene path. Well, that is, if you consider instructing sixth grade P.E. classes for Midway on a part-time basis as "serene."
"We had joked around about coaching together in the past, but I didn't know if he'd tell me, 'Thanks, but no thanks,'" Chapman said.
O'Leary didn't respond that way. He was undoubtedly surprised by the offer when Chapman called, and he didn't say yes right away. But just the idea got his competitive juices flowing.
"I told him, 'Let me think about it,'" O'Leary said. "After I hung up, I went for a walk, came back, and called him back and said, 'Let's do this. Let's give it a shot and see how it goes.'"
When O'Leary joined University in mid-December, the Trojans had already logged a couple of weeks of preseason practices. By the time the first scrimmage arrived on Dec. 28, he was still looking around for name tags.
"It happened so fast, just bam-bam," O'Leary said. "I didn't even know the guys names' at the first scrimmage. It was a unique situation. It took me about two weeks to start learning guys' names and positions. But it's been a lot of fun."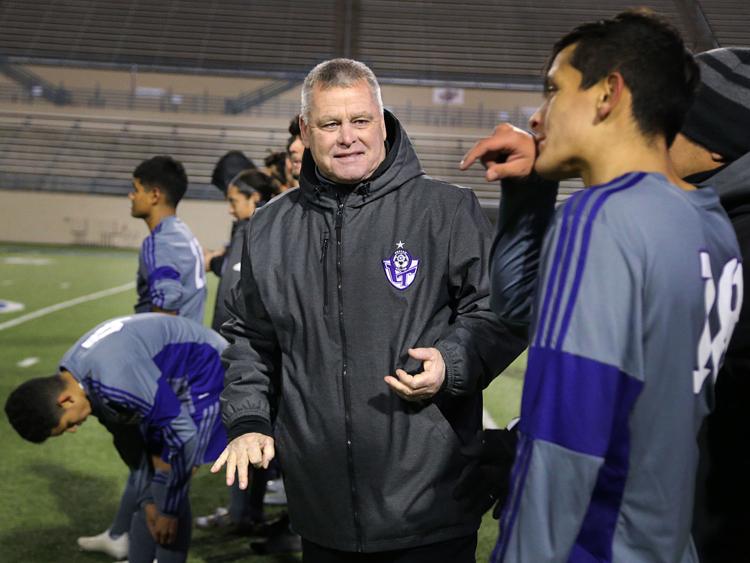 O'Leary coaching soccer again probably wouldn't surprise anyone. He looks perfectly at home on the pitch, with more than 30 years of coaching experience.
But coaching University? That had to catch some people by surprise. When O'Leary was at the helm at Midway, the Panthers staged an intense rivalry with the Trojans, as both were in the same classification and district for many years.
"When he called back about the job, he said, 'Are you sure you want me?'" Chapman said. "And we were like, 'Coach, we want you.' And he said, 'If you're serious, I'm on board.' It threw me off guard. I was like, 'Really?' Because he's obviously coming across town. I knew he liked the retired life, he was working part-time at Midway, but we also knew that he loved coaching kids."
O'Leary didn't take to University purple right away. Not because he refused to wear it or because it seemed weird, but he just didn't have any University gear.
"About three days there, I wore nothing but silver and black, and they gave me a hard time," O'Leary said. "Then Mike brought me a shirt, Ricky brought me a couple of shirts, my daughter got me one for Christmas, so now I'm well-stocked."
When the Trojan players first spotted O'Leary in their traditional purple, they celebrated with all the fervor they would normally show for a game-winning goal.
"He had his jacket on, and he took it off and he had a 'University Soccer' shirt on," Chapman recalled. "He said, 'Well, guys, it's official now.' And the team just went nuts. This team, of course, wasn't playing when O'Leary was at Midway, but they'd heard of him, knew about what all he accomplished, more than 500 wins as a head coach."
O'Leary still felt like he was getting his bearings when he was "thrown to the wolves," as he put it, in an early-season tournament in January. Chapman serves as the head coach for both University's boys and girls teams, and his duties overseeing the Lady Trojans pulled him away from one of the boys' matches at the tournament.
So, O'Leary stepped in and picked up the slack with Perez, even while still trying to put names with faces.
"Fortunately, we won that game, 3-0, but I gave them a hard time about it," O'Leary said.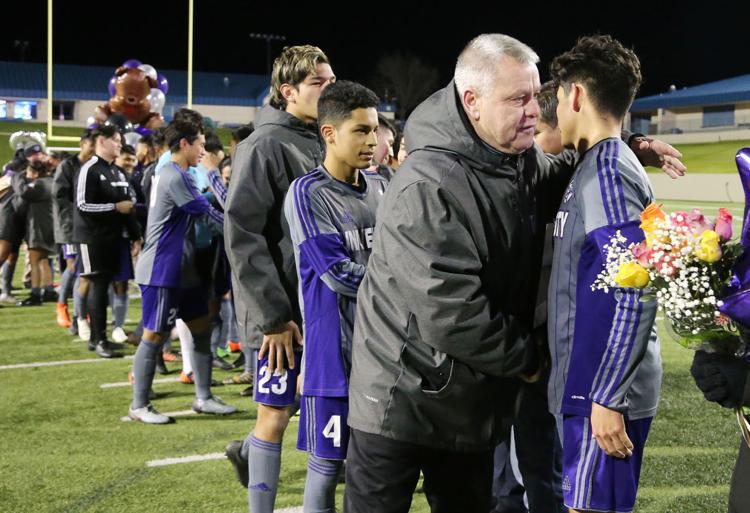 From a sheer player personnel standpoint, it's been a bumpy season for University. Three starters were selected to play on an elite travel team out of Austin that required them to leave the Trojan program. Another left the country. Then the Trojans experienced more than their share of injuries, and lineup-shuffling became the norm.
And, yet, they're still in the playoff hunt. University will travel to Cleburne for its final regular-season game on Tuesday. The Trojans need to win that game – they lost to the Yellowjackets, 2-1, in the teams' first meeting in mid-February – and have Corsicana lose its final two games to Joshua on Tuesday and Ennis on Friday. If that happens, University would seize District 14-5A's fourth and final playoff berth.
"We're hoping to sneak in the back door," O'Leary said. "It would be great for these kids."
Whether the Trojans reach the postseason or not, Chapman knows how lucky he is. He said that it's been a joy for him this season to watch O'Leary in his element, teaching the finer points of the game. Sometimes he'll just sit back in wonder and watch Perez and O'Leary draw up a play. "They'll ask me what I think, and I'm dadgummed not going to disagree with those two," Chapman said.
The University "experiment" has gone so well for O'Leary that he plans to return next year as well. Such news is music to the ears of Chapman.
"I don't know of any soccer program in the state that would have the number of wins, the state championships, that we have on this staff," Chapman said. "I don't think you could find a better soccer staff anywhere in the state, than what we've got with these two guys. It's just amazing. It really makes it fun, day in and day out."