A couple of signs fastened to the railings in front of the bleachers at the Waco High gym instruct people, "Do Not Sit On Rails."
Apparently, tip-toeing is perfectly OK.
Waco High's boys basketball team has been living on the edge this year, tight-roping the path that leads to the playoffs with sometimes firm, occasionally wobbly steps. That delicate balance will continue to the team's final regular season game, after Killeen Ellison dealt the Lions a 63-49 defeat on Friday night.
Waco High could have put itself in prime position to capture the fourth and final playoff berth in District 12-6A with a win over the visiting Eagles (25-7, 12-3). A win by the Lions (20-12, 7-8) would have given them a one-game cushion over Copperas Cove (19-15, 7-8) entering next Tuesday's regular season finales. Instead, the Lions will need a win over Midway and a Cove loss to Ellison to clinch the final spot.
Should Cove and Waco High end up tied, they'd meet in a district tiebreaker game later in the week, as they split their season series.
Waco High obviously could have made it easier on itself with a win, but Ellison refused to buckle. The Lions wilted under the Eagles' press, coughing the ball up with regularity. Sometimes the errors were forced, other times unforced, but in both cases they were costly for the home team.
Waco High had to feel pretty good about its chances with the way the game started. The Lions took advantage of several clean looks at the basket on their way to knocking down four first-quarter 3-pointers – two from Andre Chapa and one apiece from Dale Smith and Nate Brooks. That allowed Waco High to stay right on the aggressive Eagles' hip, as the teams were tied at 18 after the first.
But Ellison pushed a lid on the cup thereafter. When the Eagles weren't forcing Waco High into turnovers, they were frequently turning back the Lions' shots around the rim with blocks. Ellison opened the second quarter on an 11-0 run, as Waco High didn't hit its first bucket of the period until Jimmy Veal sliced to the hoop before dropping off to Smith for a bunny with 2:43 left before the half.
"We have to stay in our game plan," Waco High coach Earl Farley said. "I told our guys, they're going to try to make us play fast, which they did. Every time they made us play fast, we would turn the ball over, lose the ball. We have to settle down and play our game. We got away from that, and it was to their advantage. We just made careless mistakes."
Ellison's surge caused Waco High to play chase the rest of the night. And trying to catch the likes of Shamir Bogues is no easy task. The Ellison junior guard, the younger brother of Stephen F. Austin and former MCC guard Shannon Bogues, pierced the Lions' defense to consistently get to the rack. Bogues led all scorers with 23, and was remarkably consistent, scoring six in each of the first three quarters before a five-point fourth quarter.
Ellison led 32-24 at the break, and despite a display of heart and hustle the Lions never trimmed the gap closer than seven in the second half. The Eagles pushed the lead to 45-29 after Bogues threw down a breakaway flush following a steal in the third quarter. In the fourth, Waco High fought back to 58-49 following a late Randy Carpenter scoop shot, plus a foul. But the Lions could never get in a real rhythm offensively, and the comeback went for naught.
Farley said he wasn't surprised that his guys kept plugging away, even if it often felt like a "Free Solo"-type uphill climb.
"That's what's good about our team, (our fight)," Farley said. "We're small, we don't have anybody over 6-2, and we just moved up to 6A, which is no excuse. I'm so proud of our guys, because we were picked to finish ninth. We're fighting for fourth. That's what it is, we just have to go win out."
The veteran Smith scored 16 points to top Waco High. Veal contributed eight points.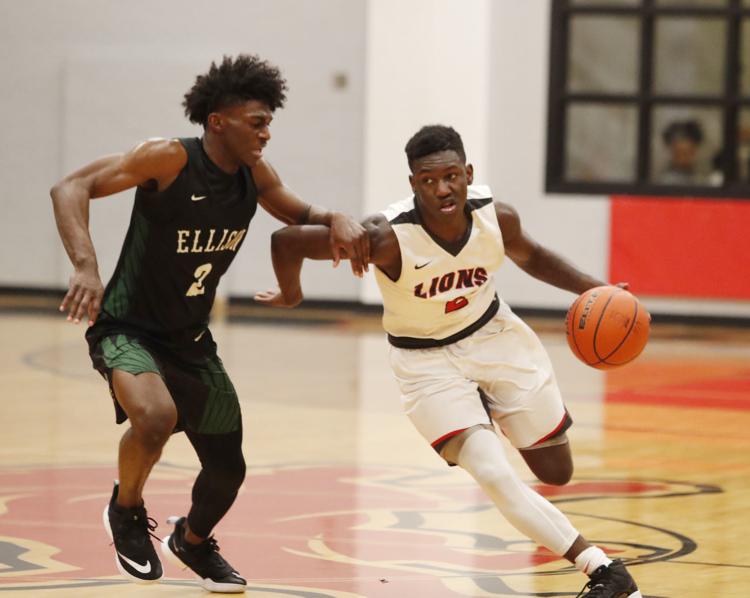 For Ellison, Tren'don Stewart complemented Bogues' efficient night with 17 points. Nehemiah Nuckolls and Chandler Sutton had 11 apiece.
So, it all boils down to this for Waco High: Win against Midway, and the Lions will clinch no worse than a spot in a district tiebreaker game. Midway defeated Waco High, 47-37, in a slugfest earlier in the season, but the Lions will have the home-court advantage in Tuesday's contest.
They're not dead yet – a sermon Farley preached in the locker room.
"That's the message. It gives a little motivation for them," Farley said. "Just because we moved to 6A, everybody has to get on the floor at the same time. Can't play with more than five guys at the time. We've just got to play hard every time. And they do that, they play hard.
"Like I said, we just had some careless mistakes that cost us. We've got to learn from our mistakes. We'll do a good job."
Rosebud-Lott 65, Rapoport 25
Behind 14 points from their 6-foot-7 center Brady Hering, the Cougars clipped the Ravens' wings and clinched a playoff spot in the process.
Rosebud-Lott improved to 19-11 overall and 8-5 in 17-2A. The Cougars can finish no worse than fourth.
Crawford 41, Chilton 34
The District 17-2A champion Pirates wrapped up a season sweep of the Pirates, who are also playoff-boud despite the loss.
Tate Abel nuzzled the nets for a team-best 20 points for Crawford (25-2, 12-1), while Hogan Hall had 10. Chris Oliver scored 10 points and De'Auntre Davis, Chilton's 6-foot-6 big man, had nine for the Pirates.
Riesel 54, Hubbard 33
The Indians' perfect run through District 18-2A just keeps bouncing along, following a convincing win over the Jaguars.
Will McClintock knocked in 14 points for balanced Riesel, now 21-7 overall and 13-0 in district. The Indians are already assured the district title and the No. 1 seed from the league.