If a basketball team survives and advances long enough, it finds itself in pretty rare company at this time of year.
Such is the case for a couple of area high school boys' hoops squads, as Vanguard has reached the TAPPS Class 4A state semifinals and Connally heads to the Class 4A Region III tournament.
Vanguard tips off against The Woodlands Christian at 8 p.m. Thursday at Robinson High School. Second-year Vikings head coach Fred Ellis has seen his team get hot at the right stage of the season.
"This is a team full of seniors and I think the guys kind of locked in," said Ellis, who was a contributor on Scott Drew's Baylor teams from 2008 to 2012. "They kind of said, 'Oh, snap, it's about to end, and it got everybody locked in. "
Vanguard (23-6) used a rally against cross-town rival Reicher as a springboard into the postseason. The Vikings trailed Reicher by 11 points in the fourth quarter when the two local teams met at Vanguard on Jan. 25. But then Vanguard forward Luke Wilson came up with a pair of momentum-changing 3-point plays that sparked a 14-0 Vikings run. Vanguard prevailed, 63-56, and that set the tone for what has followed.
In the last month, the Vikings finished the regular season with four more wins to claim the TAPPS 4-4A district title, then edged Houston St. Thomas in the area round of the playoffs, 66-64.
Vanguard hammered Houston Lutheran, 62-41, on Saturday by once again dominating the fourth quarter. Vanguard claimed the final period, 19-2, gaining momentum as it moved ahead to the state tournament.
"That was so big because the last four or five years we've lost in the same exact round," Ellis said, referring to the state quarterfinal. "You could see in the guys' faces, 'We've got a chance to do this. We can play with anybody in the state.'"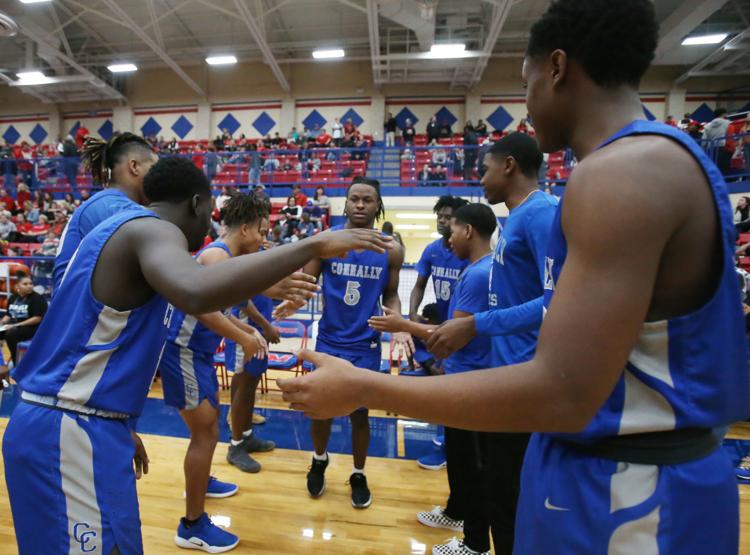 Meanwhile, Connally punched its ticket to the regional tournament by overcoming district foe Lorena, 53-43, in the Region III-4A quarterfinals on Monday night at Midway.
The Cadets (19-12) advanced to face Houston Yates in a regional semifinal at 6:15 p.m. Friday at Sam Houston State's Johnson Coliseum. It's Connally's third straight berth in the regional tournament and the second time in those three years that the Cadets have run up against Yates.
A traditional basketball power, Yates is known for a frenetic full-court press and high-octane offense. The Lions reached the regional tournament by defeating Houston Washington, 112-74, on Monday.
"They do a good job of trying to speed you up and then, when shots are made available to you, you've got to knock them down," Connally coach Quinton Snell said. "Their speed up is a little different. It's really difficult to simulate. Some of the things that we try to do are similar. We practice against it because we we work on it ourselves."
Two years ago, Yates went on a 6-0 run in the final 35 seconds to prevail, 67-64, over Connally. The next day, eventual 4A state champ Silsbee ended Yates' season.
Silsbee has won back-to-back 4A state titles, so it's not surprising that the winner of Friday's Connally vs. Yates game will meet the winner of the other semifinal that pits Waxahachie Life versus Silsbee.
Four University athletes college-bound
University recently held a signing ceremony for several of its college-bound athletes.
The Trojans had a pair of football players and two soccer players sign letters of intent to further their athletic careers. University safety Amari Gibson signed with Northwestern Oklahoma State, while linebacker Shelby Lee inked with Sul Ross State in Alpine, Texas.
Meanwhile, the University girls soccer team will send two more on to the next level, as Lizette Ramirez signed with Hardin-Simmons and Alizae Sanchez is headed to Southwestern Assemblies of God.
District baseball already a go
The high school baseball season is still less than two weeks old, but it comes at you like a fastball.
Some districts in the state have already started playing district games, including 12-6A. The teams still have nondistrict games and upcoming tournaments on their dockets, but they've also started the district chase early. Every team in 12-6A has already played at least one district game and, in some cases, two.
Eddie Cornblum's defending district champion Midway Panthers got league play started right with an 11-1 run-rule win over Killeen last week. The Panthers (1-0 in 12-6A) join Belton (2-0), Ellison (2-0) and Copperas Cove (1-0) as the league's unbeaten teams. Cove opened up in big-time fashion, as pitcher Josh Ropple threw a five-inning no-hitter on Tuesday against Waco High in a 17-0 taming of the Lions.