Spring Break may have broken, but plenty of area high school students are still doing work.
Specifically, those wearing baseball and softball gloves.
Most area teams still had games on the docket for this Spring Break week, and it's not necessarily a bad thing for those squads who have been surging. After all, when you're playing well, you don't really want to take a day off, much less a week.
Crawford's softball team knows the feeling. The Lady Pirates have piled up an 18-3 record this year and are 3-1 in District 10-2A after a 9-0 blanking of Valley Mills on Wednesday. Pitcher Cambree Aguirre whiffed 12 Lady Eagle batters in the win for Crawford.
Crawford's powerful play has pushed the Lady Pirates all the way to No. 2 in the Texas Girls Coaches Association's state poll. They were ranked No.10 on Feb. 20, but that was before they'd even fired their first pitch.
But what's amazing about Crawford's rise is that they've done so understaffed.
"We've got six varsity players out with injuries right now, so we've been playing some JV kids, some freshmen, on the varsity," Crawford coach Kirk Allen said. "We're down to about nine players on the varsity, so that's made it challenging. But the kids who are in there are playing great."
Two of Crawford's starting outfielders are done for the season with torn ACL injuries. But fortunately for the Lady Pirates, their other four players currently out with injuries are expected to return within the next couple of weeks. "That'll help a lot," Allen said.
Bosqueville, which will face Crawford for the first time this season on March 22, is ranked ninth in the TGCA poll. The Lady Bulldogs will test themselves against Class 4A's Lorena on Thursday, 11 a.m. in Lorena.
On the baseball side, Valley Mills is another program that has climbed up the state rankings in recent weeks. Unranked in the preseason poll by the Texas High School Baseball Coaches Association, the Eagles are 10-2 on the season and 3-0 in District 14-2A action, tied with Bosqueville for the league lead.
Valley Mills will go for its ninth straight win when it hosts Crawford at noon on Thursday, a game that was originally scheduled for Wednesday but was postponed due to wet fields. It could be a milestone day for Valley Mills coach Shane Keeton, as a win would mark the 200th of his head coaching career.
The Abbott Panthers (5-8), ranked second in 1A, are the highest-ranked local baseball squad going right now. Other Central Texas teams dotting the state poll include Riesel (5-2) at No. 9 in 2A, Clifton (11-3) at No. 4 in 3A, and Lorena (10-3-2) at No. 7 in 4A.
Connally basketball sister tandem college-bound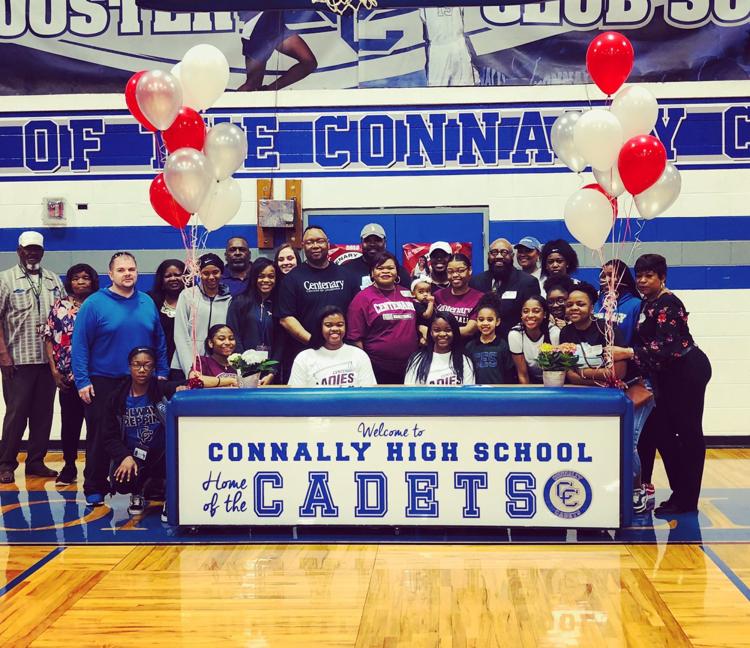 Siblings are the teammates you never really lose, and that'll continue to be the case on the court as well for Connally's Ariel and Aaliyah McKoy.
The sister tandem for the Connally girls basketball team both signed letters of intent to play for Centenary College in Louisiana. Ariel, a 5-11 post, and Aaliyah, a 5-5 guard, each earned all-district honors for the Lady Cadets, who went 29-5 in the 2018-19 season.
Centenary is a NCAA Division III school located in Shreveport, most known for producing NBA Hall of Famer Robert Parish.
High School Football Hall of Fame banquet coming up
Tickets are available for the 2019 Texas High School Football Hall of Fame banquet, which will be held May 4 at the Ferrell Center.
The star-studded class is highlighted by former Waco High and Baylor great Ken Casner, current Washington Redskins running back Adrian Peterson of Palestine, and former Houston Oilers safety Ken Houston of Lufkin Dunbar. The rest of the class includes Coahoma's Putt Choate, Daingerfield's Willie Everett, Stephenville's Jason Bragg, the late Sealy head coach T.J. Mills, former Groveton, Waxahachie and Plano East coach Scott Phillips, and TV executive Jon Heidtke.
Groesbeck team tennis finishes third at state
Groesbeck's team tennis squad finished as the third-place team at last weekend's 3A-and-Under State Team Tennis Tournament in San Antonio.
The Goats rolled to wins over Sonora and Brock to advance to the semifinals, where eventual champion Mason took out the Goats, 12-7. It was Mason's closest-scoring match at state.
However, Groesbeck rebounded to defeat Reagan County, 10-9, in the third-place game. The Goats finished the team tennis season with a record of 16-2 and their 28th state tournament appearance.