CLIFTON — As the state-bound Clifton Cubs took batting practice Monday evening, some local Little Leaguers were taking some BP of their own behind the third-base dugout in the pair of batting cages set up just outside the fence. Clad in their jerseys, the little kids clapped as the Cubs went through their practice.
The future Cubs also cheered for some attention from the local media out at Clifton's practice, pleading to be interviewed like the big kids, hoping for some face time on the local news or a sweet picture in the newspaper to hang on the fridge, aka the Hall of Fame of the house.
"A lot of these kids, their older brothers I coached when I first got here," Clifton head coach Brian Slater said of his group of players that secured the Cubs' first state baseball tournament berth in program history. "They've got little brothers as well coming up that will be here in a few years. They're big mentors for those guys and they're good mentors for the little kids in elementary to look up to."
Surrounding the field the Cubs play on during their season are about eight Little League fields. Cheers and cries from nearby games can be heard. While high school football rules in Texas, Clifton loves its baseball.
"It's been a baseball town long before I got here," Slater said. "You can look around and see all of the Little League fields here in Clifton. Not a lot of towns this size have that. The boys here play baseball ever since they're 3 years old. They support baseball like no other."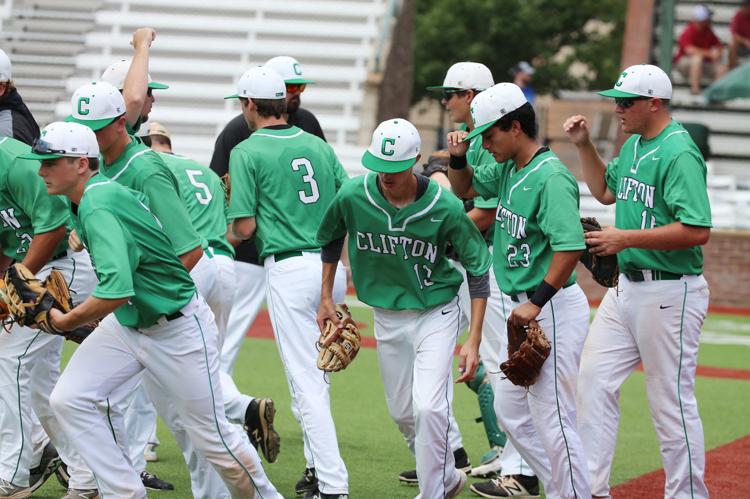 Driving from Clifton High School back to Waco, about a half dozen signs have good luck messages for their beloved Cubs as they ready for the state tournament. Most of the town showed up three hours away in East Texas when Clifton topped Kirbyville, 2-1, in a three-game series to punch the program's first ticket to state.
After about 10 minutes of celebrating as a community on the field, every one of the Clifton fans in attendance Saturday night in Jacksonville got in a picture with the Cubs. So many people were in that picture that those taking the photos nearly had to back up all the way to the fence by the batter's circle as the community smiled and celebrated in the infield.
"You always want to represent your community well," Slater said. "Clifton's been a great place for me and my family. We're going to do whatever we can to represent that town and Clifton in general as best we can."
The Cubs didn't roll back into town after that Game 3 victory until the wee hours of Sunday morning, at 1:30 to be exact. But that didn't deter the entire town from coming out and welcoming the baseball team home.
"They helped us pull through with their energy and excitement from the stands (against Kirbyville)," Slater said. "Then we got back late Saturday night, and they were lining Main Street still to welcome us back. It was just a special feeling."
It's a special feeling in the midst of a special season. Clifton is 7-0 in elimination games during the playoffs. The Cubs ousted the defending state champs before fighting for the series win in the regional final.
"These kids have put in a lot of hard work over the year," Slater said. "We have eight seniors that have been putting in a lot of hard work over the last four years. We've been kind of building for this season. It's good to see the fruits of their labor pay off."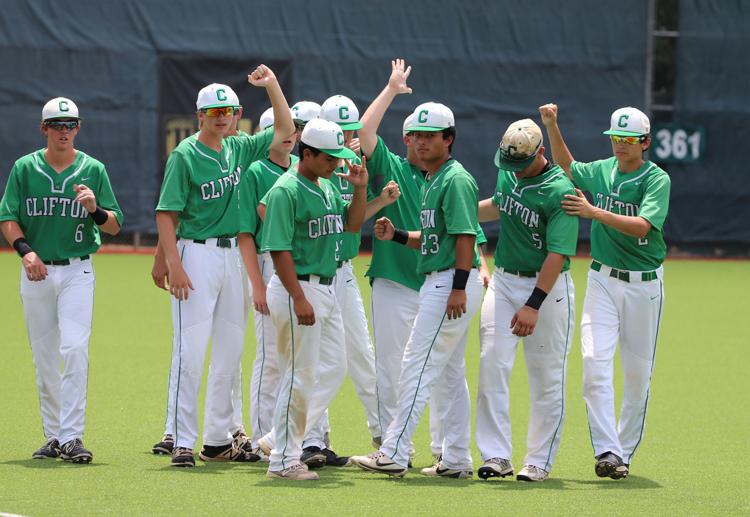 Two of those seniors — Carter Guinn and Edgar Rodriguez — pitched phenomenal games against the Wildcats. Add to that mix sophomore Mason Brandenberger, and Clifton has had the edge on the mound.
In 27 innings — nine in Game 1, 11 in Game 2, regulation seven in Game 3 — the Cubs' pitching staff and defense combined to put up 25 zeroes.
"They throw strikes," Slater said. "They make the other team put the ball in play. For the most part we play great defense. As long as you throw strikes and play defense, you're going to have a chance to win."
The X-factor with this team is its resiliency. The Cubs played Friday afternoon, in the heat of the day, on a turf field in Tyler, Texas, where the humidity is rough. Clifton battled through extra innings, still riding the momentum of Alfredo Rodriguez's walk-off homer in Game 2 of the regional semifinals against Central Heights that propelled the Cubs to a run-rule Game 3 clincher to end the season of the No. 1 team in the state.
"Tough teams win, especially at this point in the season," Slater said. "These kids are going to fight. They believe that no matter what happens, we're going to find a way to win. Whether we lose a game, whether we're down in a game, we're going to find a way to win the game or win the series somehow. They had that belief."
That will be needed once again as the Cubs will take on Georgetown Gateway at 9 a.m. Friday at Round Rock's Dell Diamond in the state semifinals. Gateway Prep advanced this far a season ago before falling to Wall, 5-1.
"I know they went to the state tournament last year, and they return five or six starters from a state semifinalist team last year," Slater said. "I do know Coach John Broussard from Cameron Yoe. He did a good job at Cameron Yoe (state champs in 2012), and he always runs a good program. It's going to be a battle. There's no bad teams when you get to the state tournament. We're going to have to play really well to win."
Gateway will have the state tournament experience factor on its side. However, Clifton is more than familiar with the dire feeling of win-or-go-home. The Cubs have faced that scenario seven times. Why not eight?
"These guys, even though we haven't been to the state tournament before, they've played a lot of baseball," Slater said. "We've been in seven elimination games up to this point. I think we've already felt that type of pressure that you're going to feel at the state tournament. I have supreme confidence in our kids that we're going to play well on Friday."