Midway (9-3) vs. No. 8 Spring Westfield (11-1)
Round: Class 6A Division II Region 2 semifinal
Time/site: 2 p.m. Saturday at Merrill Green Stadium in Bryan
Breakdown: The Midway Panthers have peaked at the right time this season.
Midway has won five straight, all by double digits and the Panthers have scored at least 35 points in all of those games. Midway's running game, passing game and defense have all been making big plays and scoring points during the ascent.
Now comes a big challenge as the Panthers take on a Westfield team with just as much momentum.
The Mustangs have won nine in a row and they're the highest ranked team remaining in the 6A D-II bracket. Westfield's only loss this season was by three points against Galena Park North Shore.
Westfield has a 2,000 yard passer in sophomore Cardell Williams and a 1,000-yard rusher in senior Kendal Taylor.
The Panthers defense has some familiarity with Taylor as he played for Klein Oak last season. Midway defeated Taylor and Klein Oak, 28-27, in this same round of the playoffs in 2018.
The Panthers have developed an exciting trio on offense with the emergence of junior QB Jared Moore and sophomore WR Jaylon Gibson to balance the dynamic running of senior RB Will Nixon.
Both Midway and Westfield are accustomed to long playoff runs. The Mustangs are attempting to play into December for the fourth straight season while the Panthers are trying to get to a regional final for the fifth time this decade.
The winner of this game will play the Dallas Jesuit versus Klein Collins winner.
Lately, every time Midway fans look up, they see a different Panther defender making a huge play.
No. 3 La Vega (11-1) vs. Melissa (9-3)
Round: Class 4A Division I regional semifinals
Time/Site: 7 p.m., Fort Worth Brewer High School
Breakdown: The Pirates continued to steamroll through the playoffs last weekend with a 35-13 area round win over Celina.
Jar'Quae Walton and Elisha Cummings combined for 350 total yards and three touchdowns while Ara Rauls returned an interception 44 yards for the final touchdown to ice the win.
But Pirates coach Don Hyde wants to see a more complete game after watching his team jump out to a 21-0 lead before allowing Celina to get back into the game with a couple of scores.
"I was disappointed in the fact that we didn't play a complete game offensively and defensively," Hyde said. "Our defense allowed five yards in the first half and then they made two big plays in the second half. I always feel we can play a little better."
Melissa has an explosive offense that overcame China Spring, 40-31, last week behind the running of Xylohn Posey and quarterback Brendon Lewis.
"Melissa has an extremely talented quarterback, one of the best we'll play this year," Hyde said. "He's got good skill players around him who can catch the ball."
No. 2 Connally (12-0) vs. No. 6 Gilmer (9-3)
Round: Class 4A Division II Region 2 semifinal
Time/site: 7 p.m. Friday at Eagle Stadium in Allen
Breakdown: Connally has set a high bar this season and reached a lot of goals.
The Cadets wanted to notch the program's first 10-0 regular season since 1990 and did it. They wanted to still be playing on Thanksgiving and accomplished that.
Connally coach Shane Anderson said the next item on the list is to play into December. To make that happen the Cadets will have to prevail in this top-10 showdown with perennial 4A power Gilmer.
Anderson said the Buckeyes are by far the best team Connally has played this season. It will be strength on strength as the Cadets power running game faces a fierce Gilmer defensive line.
However, the Buckeyes' front will be missing a key piece as senior defensive lineman and Colorado State commit Casey Irons is out for the season with an ACL injury.
Offensively, Gilmer has rushed for more than 2,600 yards and passed for more than 2,100 this season.
Connally had success slowing down Longview Spring Hill's dynamic passing game last week. DBs Korie Black, Perrish Cox and company could boost the Cadets chances in this one by making Gilmer more one-dimensional.
One of the biggest factors could be how well Connally can throw the football if Gilmer is able to slow down Cadets star RB Jay'Veon Sunday.
The winner of the Connally versus Gilmer game advances to play the winner of the matchup of top-ranked Texarkana Pleasant Grove and No. 7 Sunnyvale.
No. 8 Cameron Yoe (11-1) vs. No. 2 Grandview (11-1)
Round: Class 3A Division I regional semifinals
Time/Site: 1 p.m., Waco ISD Stadium
Breakdown: This will be one of the premier matchups across the state with Cameron Yoe facing defending state champion Grandview.
With a solid offensive attack and tremendous defense, Cameron Yoe reached the regional semifinals with last week's 21-6 win over Diboll.
Quarterback Braden Brashear has completed 67 percent of his passes for 2,834 yards and 35 touchdowns this season while James Debose has rushed for 1,231 yards and 15 scores. Kobe Young has been a dynamic receiver for the Yoemen with 61 catches for 1,105 yards and 15 touchdowns.
Linebacker Nico Vargas has been Cameron's defensive leader with 108 tackles with eight for loss.
"We're playing well and I feel like we've gotten better and better each week," said Cameron Yoe coach Tommy Brashear. "I feel like we're peaking at the time we need to be peaking."
Defending state champion Grandview won a shootout over East Chambers, 43-29, to reach the regional semifinals as Tremayne Gullatte rushed for 234 yards and two touchdowns while dual-threat quarterback Dane Jentsch hit 10 of 14 passes for 203 yards and two touchdowns and rushed for 76 yards and two scores.
"They're defending state champions for a reason," Brashear said. "They're very solid in all three phases of the game, and you can tell they're very well coached and have good athletes across the field. But I think we're good in all three phases, and the team that does the most things right will get the victory."
Whitney (11-1) vs. No. 6 Troy (11-1)
Round: Class 3A Division I regionals
Time/site: 7:30 p.m. Friday at Midway
Breakdown: It seems that these two Central Texas 3A stalwarts have been on a collision course for weeks, and now the meeting finally arrives.
The temptation might be to dismiss Whitney, which averages 41 points per game, as nothing more than a high-powered offensive juggernaut, but that would be a mistake. The Wildcats get after teams defensively, as evidenced in last week's 27-7 win over Franklin.
"Franklin is a storied program, but we held our own. Sometimes that tradition can get you a win," Whitney coach Mark Byrd said. "I was proud of our defense – we held them to 84 yards of total offense. … When I came here last year, we switched from a three-man to a four-man front, and we've just tried to focus on the details. Everybody can score, but we line up to play defense."
Defensively, the Wildcats are led by junior linebacker Dawson Hightower (89 tackles), senior safety Juan Saucedo (89 tackles) and sophomore defensive lineman Geronimo Rodriguez (6.5 sacks).
They'll have their hands full with a Troy team that is "not one-dimensional," Byrd said, despite the overwhelming presence of running back Zach Hrbacek (34 touchdowns). They're also not a team that's going to panic if they're in a close game late.
"I liked how we overcame adversity," said Troy coach Ronnie Porter, when asked about last week's 50-33 win over Crockett. "We went down in the first half, and trailed in the fourth quarter, and our guys never got in panic mode. We just kept trucking along. I think we overcame a year's worth of errors in that game."
For Troy, senior Tyler Jarolik seems to have a knack for the momentum-changing play. Jarolik came up with a fumble recovery and an interception in the fourth quarter against Crockett to set up key Trojan touchdowns.
The winner of this battle will draw the Grandview-Cameron Yoe victor in next week's Region III-3A Div. I final.
Crawford (9-3) vs. Valley View (10-2)
Round: Class 2A Division I Region 2 semifinal
Time/site: 7:30 p.m. Friday at Pennington Field in Bedford
Breakdown: The Crawford Pirates are another team that apparently saved their best football for the postseason.
In a game that looked like a toss-up last week, Crawford stomped on Honey Grove in the first half to establish a 28-6 lead, then salted away a 35-18 victory to survive and advance in these playoffs.
Crawford made a key switch earlier in the season when it moved quarterback Tate Abel to wide receiver and inserted Tanner Merenda at QB. That gave the Pirates a more balanced offense with weapons in more places.
The Pirates are known for playing sound team defense and that will be tested by Valley View this week. Eagles RB Clint Epperson has rushed for 2,031 and 33 TDs so far this season.
Valley View has won nine straight and hasn't lost to a UIL opponent all season.
The winner of this game moves on to face the No. 3 San Saba versus Rivercrest winner in the regional final.
No. 2 Mart (9-3) vs. No. 7 Grapeland (10-2)
Round: Class 2A Division II regionals
Time/site: 2 p.m. Friday at Fairfield
Breakdown: Just like Mart, Grapeland wants to keep teams from avoiding its personal space.
"They've got a lot of speed, they're very similar to us," Mart coach Kevin Hoffman said. "Their skill guys are very athletic, they can run and make big plays. You've got to gang-tackle them, or they'll make you pay. It's a similar style to what we do – try to get our athletes in space and let them make plays."
It's also a rematch of last year's third-round playoff battle, won by the Panthers, 64-22. Roddrell Freeman stepped up big in that game and in the ensuing three weeks thereafter, and he's been dynamic again this season. Freeman has 1,542 rushing yards and 30 touchdowns in addition to making 59 tackles and five sacks defensively.
Giving the Sandies their grit are quarterback BJ Lamb (2,200 passing yards, 19 TDs) and running back Cadarian Wiley (1,239 yards, 18 TDs). Grapeland's only two losses this season came to Class 3A Crockett and TAPPS power The Woodlands Christian.
Mart's Hoffman is especially proud of how his sophomores have stepped up over the course of the year. Fourteen of the Panthers' 25 players are 10th graders, which the Mart coach said was the most he'd ever coached.
"That's over half the team," he said. "They don't lack for confidence, I can tell you that. That confidence can be a double-edged sword, sometimes I want them to be more focused. But they're young and carefree and they just go play."
A Mart victory would send the Panthers on to the Region III-2A final to go up against either Muenster or Dawson.
MART – After the practice was complete and the interview had ended, Kyler Martin hopped behind the wheel of the motorized cart and beckoned th…
Bremond (11-1) vs. No. 6 Flatonia (11-1)
Round: Class 2A Division II regional semifinals
Time/Site: 7 p.m., Rockdale High School
Breakdown: Bremond's explosive offense delivered again in a 56-24 area win over Agua Dulce as Seth Kasowski passed for 311 yards and five touchdowns and JT Anthony rushed for 114 yards and a score.
Anthony has been almost unstoppable all year as he's rushed for 1,835 yards and 30 touchdowns. Linebacker Hunter Wilganowski has keyed the Tigers' defense with 128 tackles with six for loss while lineman JC McNutt has amassed 101 tackles with five for loss.
But getting Kasowski and linebacker Dalton Wilganowski back from knee injuries last week has made the Tigers more confident they can go deeper into the playoffs.
"Seth had been out since Week 7 and Dalton had a more severe knee injury, and he's been out since Week 2," said Bremond coach Jeff Kasowski. "Having them back with the rest of our guys, I'd say we can begin peaking."
Flatonia will be a major challenge following a 48-0 win over Iola in bi-district and a 35-24 win over La Pryor in the area round.
The Bulldogs feature a pair of 1,000-yard rushers as Dakory Willis has rushed for 1,741 yards and 24 touchdowns and Chris Johnson who has rushed for 1,033 yards and nine scores. Erek Herrera leads Flatonia's defense with 105 tackles.
"They run the toss sweep and veer very well," Jeff Kasowski said. "They've got a good offensive line. They'll come at us and we've got to tackle them."
Dawson (10-2) vs. Muenster (10-2)
Round: Class 2A Division II Region 3 semifinal
Time/site: 2 p.m. Friday at Birdville ISD Athletic Complex in North Richland Hills
Breakdown: Dawson rolls into the third round behind a multi-faceted rushing attack.
Last week, Bulldogs quarterback Brendan Horner rushed for 105 yards and a TD on 23 carries, while running back Jakoby Moore ran for two touchdowns and returned a punt 35 yards for a score.
Dawson never trailed against Mt. Enterprise in the second round. The Bulldogs sealed a 34-22 victory with a 51-yard drive that ate up almost six minutes of the fourth quarter.
Dawson will likely try to control the ball again this week versus Muenster.
The Hornets, who handed Lovelady a 42-6 defeat last week, have won seven straight, including four-in-a-row by more than four touchdowns.
The winner of this one advances to play the Mart versus Grapeland winner. If Mart and Dawson both get to the next round, it will mean a rematch of their 11-2A D-II matchup in early November that the Panthers won, 48-6.
Blum (10-2) vs. Saint Jo (11-1)
Round: Class 1A Division I state quarterfinals
Time/site: 7 p.m. Friday at Springtown
Breakdown: It's kind of hard to believe that Blum was 0-2 in September.
The Bobcats haven't missed a beat since. They've rolled off 10 straight wins, behind a freakishly fast roster that always shows up in track season in addition to making people miss on the gridiron.
And that speed doesn't just show up on offense. Blum has yielded only 28 points in its past five games, posting two shutouts during that stretch. Leading the charge for the Bobcats are FS/QB Dylan Vardeman and LB/RB Koby Clinkscales.
Saint Jo has been one of the state's surprise teams. The Panthers were 8-2 last year, but picked to finish fifth in their district by Dave Campbell's Texas Football magazine. Instead, they've won 11 of 12 games, the only loss coming in a 79-70 barnburner to Newcastle in district play.
The winner of this game will claim the Region III-1A title and move on to face either Jonesboro or Nueces Canyon in the state semis.
Jonesboro (11-1) vs. Nueces Canyon (10-2)
Round: Class 1A Division I state quarterfinals
Time/site: 6 p.m. Friday at Fredericksburg
Breakdown: Jonesboro has shown a fantastic ability to pull out close wins in the postseason. After plugging up Leakey, 40-36, in the first round, the Eagles chopped down Eden, 46-36, last week.
What Eagles coach Eddie Gallegos likes is that it's different guys stepping up every week.
"It's been a few different guys," Gallegos said. "That first game, Keith Sanders made a bunch of plays on both offense and defense, as did his brother Kaleb. And Sean Hernandez had some big throws. Then last week, Tyler Wilson, a freshman playing in his second playoff game, was huge, and Brandon Nemelka had some big runs for us in that game. And (Wade) Foote is everywhere as a tackler."
Nueces Canyon also survived a close game last week, beating May, 66-62. Gallegos said that the Panthers run more like cheetahs.
"They've got lots of speed, lots of explosive kids," he said. "That was a challenge last week, and it will be again. I think they were in the top three in the 4x400 (relay) at state last year. … They really flow to the ball."
As such, Gallegos said that the angles his defenders take will be "vital" and that they'll need to be sharp in their open-field tackling.
The winner of this contest will advance to the 1A Division I state semifinals, to face either Blum or Saint Jo.
Playoffs Week 3: Trib staff high school football picks
CHAD
CONINE
BRICE
CHERRY
GLYNN
BEATY
CLASS 6A DIV. II
Midway (9-3) vs. Spring Westfield (11-1), 2 p.m. Saturday at Bryan
Midway
Westfield
Midway
CLASS 4A DIV. I
La Vega (11-1) vs. Melissa (9-3), 7 p.m. Friday at FW Brewer
La Vega
La Vega
La Vega
CLASS 4A DIV. II
Connally (12-0) vs. Gilmer (9-3), 7 p.m. Friday at Allen
Connally
Connally
Connally
CLASS 3A DIV. I
Whitney (11-1) vs. Troy (11-1), 7:30 p.m. Friday at Midway
Whitney
Troy
Troy
Cameron Yoe (11-1) vs. Grandview (11-1), 1 p.m. Friday at Waco ISD
Yoe
Yoe
Yoe
CLASS 2A DIV. I
Crawford (9-3) vs. Valley View (10-2), 7:30 p.m. Friday at Bedford
Crawford
Valley View
Valley View
CLASS 2A DIV. II
Mart (9-3) vs. Grapeland (10-2), 2 p.m. Friday at Fairfield
Mart
Mart
Mart
Dawson (10-2) vs. Muenster (10-2), 2 p.m. Friday at NRH Birdville
Dawson
Muenster
Dawson
Bremond (11-1) vs. Flatonia (11-1), 7 p.m. Friday at Rockdale
Bremond
Bremond
Bremond
CLASS 1A DIV. I
Blum (10-2) vs. Saint Jo (11-1), 7 p.m. Friday at Springtown
Blum
Blum
Blum
Jonesboro (11-1) vs. Nueces Canyon (10-2), 6 p.m. Fri. at Fredericksburg
Canyon
Canyon
Jonesboro
RECORDS
CHAD
CONINE
BRICE
CHERRY
GLYNN
BEATY
Last week
16-4
15-5
13-7
Season to date
408-116
405-119
368-156
---
Just 12 Centex teams left
Midway (9-3) vs. Spring Westfield (11-1), 2 p.m. Saturday at Bryan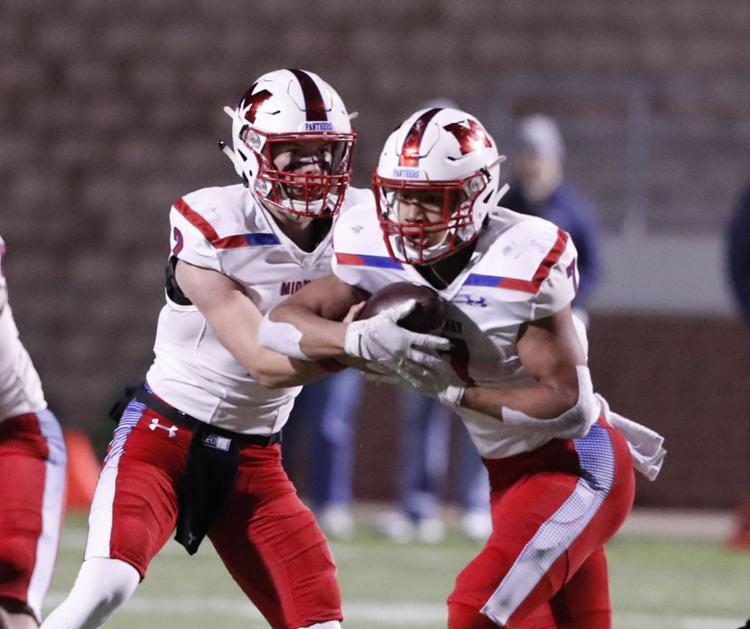 La Vega (11-1) vs. Melissa (9-3), 7 p.m. Friday at Fort Worth Brewer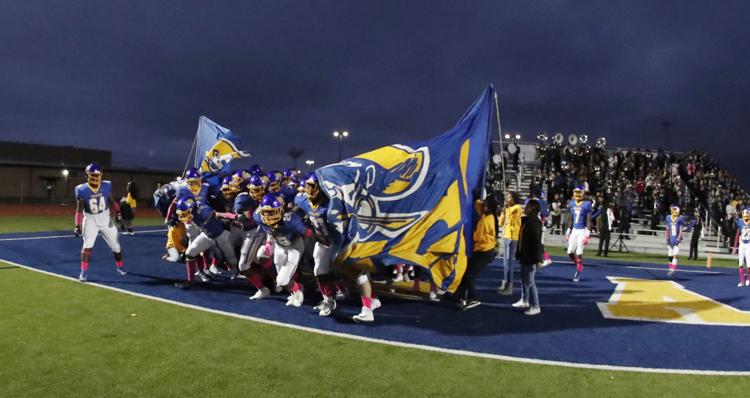 Connally (12-0) vs. Gilmer (9-3), 7 p.m. Friday at Allen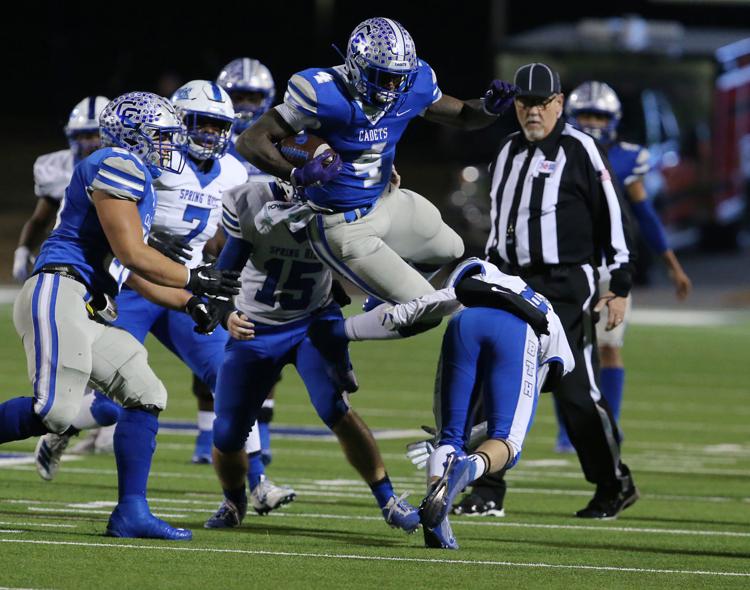 Cameron Yoe (11-1) vs. Grandview (11-1), 1 p.m. Friday at Waco ISD Stadium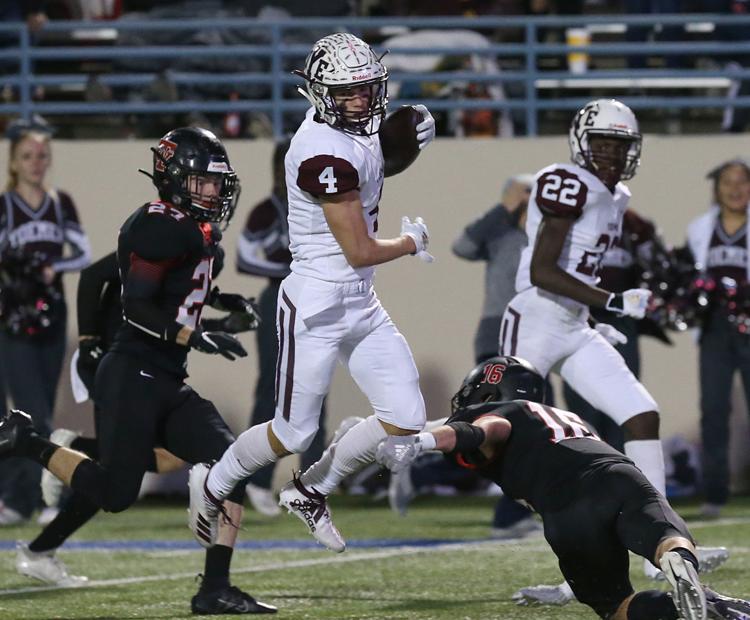 Whitney (11-1) vs. Troy (11-1), 7:30 p.m. Friday at Midway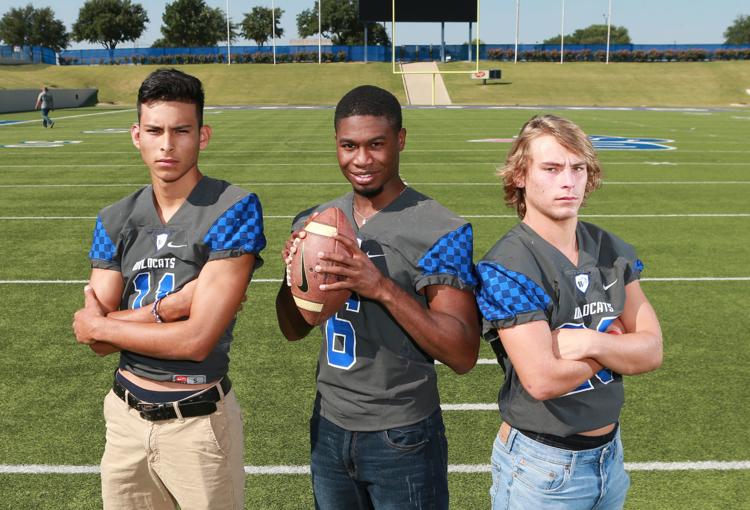 Troy (11-1) vs. Whitney (11-1), 7:30 p.m. Friday at Midway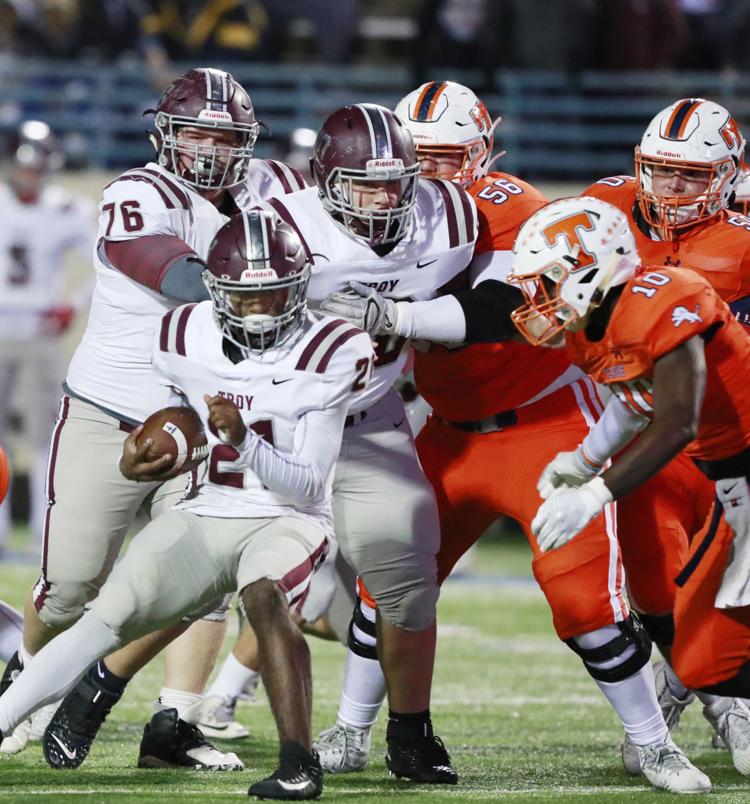 Crawford (9-3) vs. Valley View (10-2), 7:30 p.m. Friday at Pennington Field, Bedford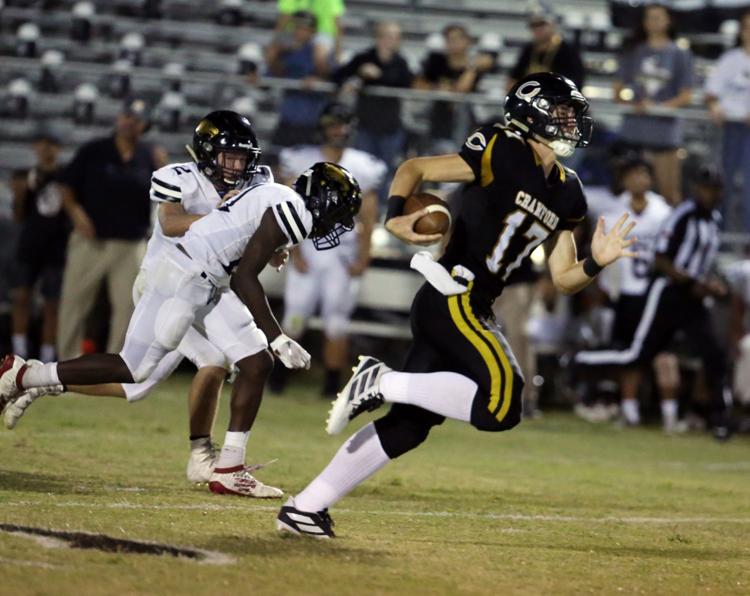 Mart (9-3) vs. Grapeland (10-2), 2 p.m. Friday at Fairfield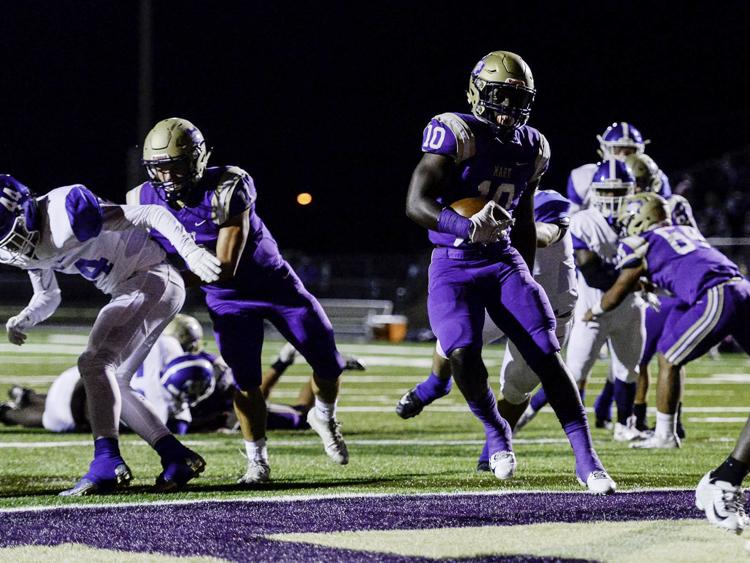 Dawson (10-2) vs. Muenster (10-2), 2 p.m. Friday at Birdville ISD Complex, North Richland Hills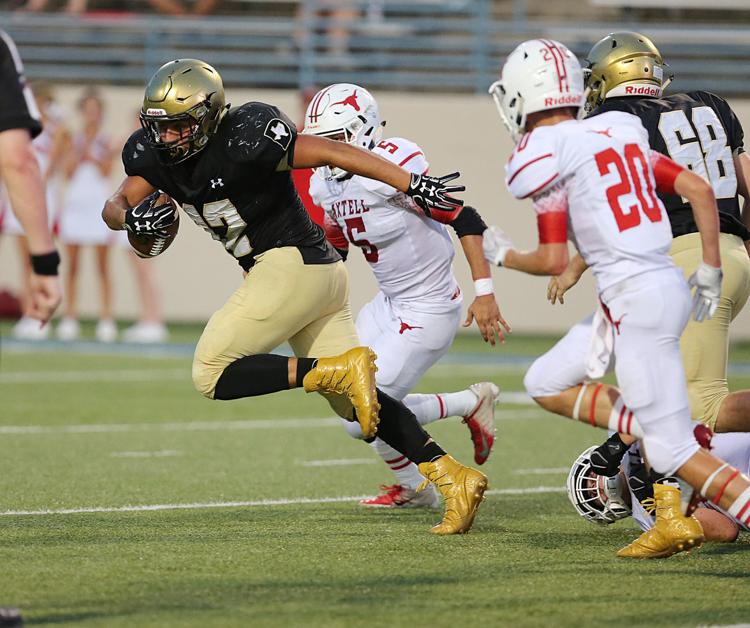 Bremond (11-1) vs. Flatonia (11-1), 7 p.m. Friday at Rockdale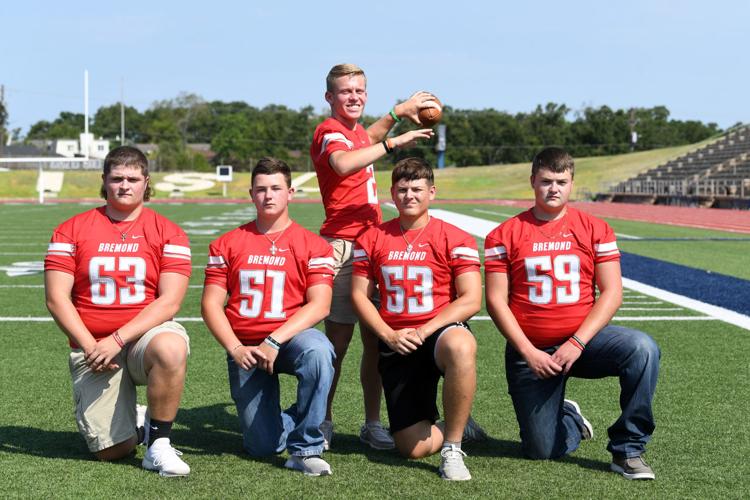 Blum (10-2) vs. Saint Jo (11-1), 7 p.m. Friday at Springtown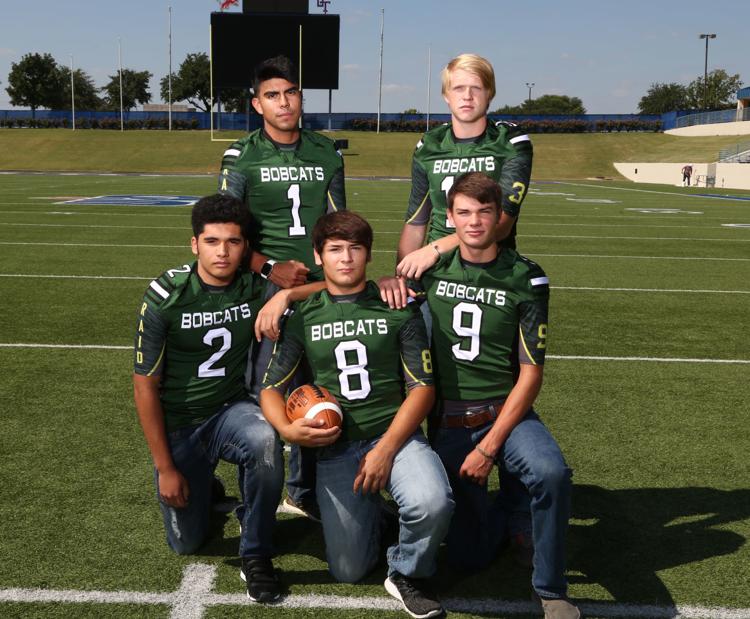 Jonesboro (11-1) vs. Nueces Canyon (10-2), 6 p.m. Friday at Fredericksburg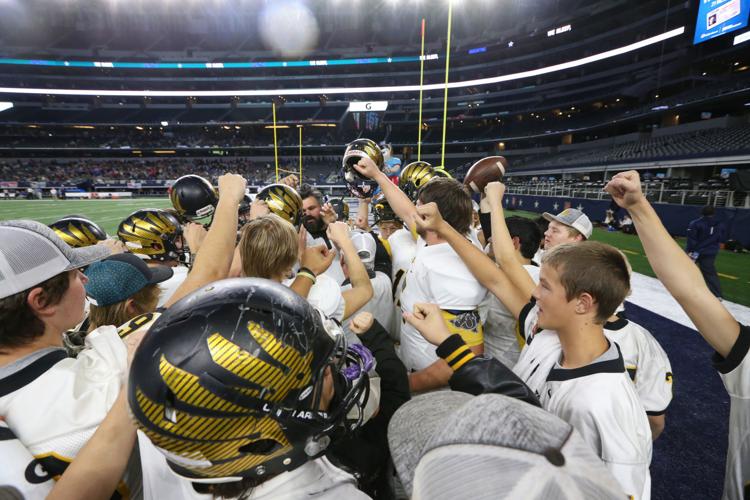 Two more Central Texas football teams added state championship trophies to their cases this year — one with a third title in a row and one for…