As Waco High, University and Midway began practice on Monday afternoon, it was hard not to liken their workouts in the afternoon heat to iron being made into steel in a furnace.
The temperature in Central Texas hit 100 degrees on Monday and during the 4 p.m. to 7 p.m. practices common to the Lions, Trojans and Panthers, it felt like 107.
Monday was the first day of practice for Class 6A and 5A schools that held spring drills. With school starting soon, Waco High, University and Midway didn't have much choice but to go in the heat of the day.
"The coaches with teaching titles, they're teachers first and coaches second," Waco High coach Kwame Cavil said. "They've got to get their in-service in. We adjust off of that."
Cavil said the heat made it easy to ascertain which players committed to summer workouts.
"They're dragging, but they'll survive," Cavil said. "We've got water breaks, we've got breaks built in, we've got water girls out here. We've got all the things that they need that will help them. Guys that did their work in the summer, they're tired, but they're not exhausted tired."
Even at Midway, which has a large indoor practice facility, the varsity players started the preseason in the sunshine on the practice field across Old Hewitt Road from the high school. Panthers coach Jeff Hulme said all other factors — the heat, who's in shape and who's not, position battles, etc. — fall in line behind the thrill of a new season.
"As usual, I had trouble sleeping last night," Hulme said. "I've been doing this 27 years and it's the same every year. I get butterflies at night and my mind is going 90-to-nothing trying to figure things out. And then when the alarm goes off, I got no trouble getting up and getting here."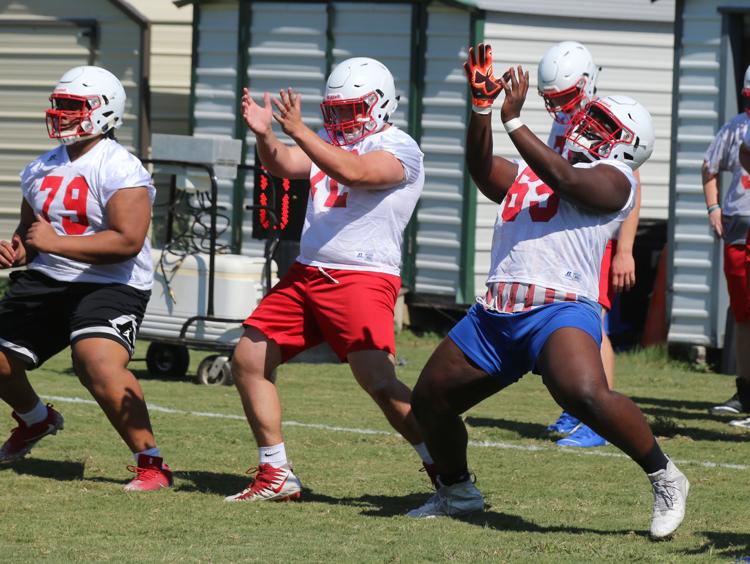 Midway coaches exhorted players in agility drills to get better on every rep. Hulme said the next 10 days are all about players competing for playing time at every position.
The Panthers most prominent position battle during the preseason will be a four-way scrum to be the starting quarterback. Three Midway QBs — Garrett Childers, Jared Moore and Preston Recks — began competing in spring practice for the starting gig. They were joined this summer by another prominent Central Texas quarterback when Tyler Webb enrolled at Midway. Ken Webb, Tyler's father, was hired as a Panthers assistant basketball coach. Tyler Webb was the Super Centex second-team quarterback as a Bosqueville sophomore last season.
"I really feel good about the young men that are fighting for the position," Hulme said. "They've all had good summers. They've all done exactly what we want them to do. They're being leaders, they're being coachable, and that's really all you can ask. And then it comes down to 'Who's going to be the best leader going into the game?' Like I've said, I really like all four of the guys that are battling for it. I'd feel comfortable with any of them. They each have their own strengths and weaknesses."
Similarly, Cavil was focused on Waco High's QB battle. Sophomore Devion Long played significant snaps as a freshman last season. But he was pushed in spring and continuing into preseason practice by junior Nate Reyna.
Waco High went 1-9 during Cavil's first season as head coach in 2018. So midway through practice on Monday, the Lions' head coach was pleased to see progress.
"I can tell that guys have bought into the program," Cavil said. "It's my job to preach and teach the dream of winning. There's always a look they'll give you when they figure it out that what you've been telling them works."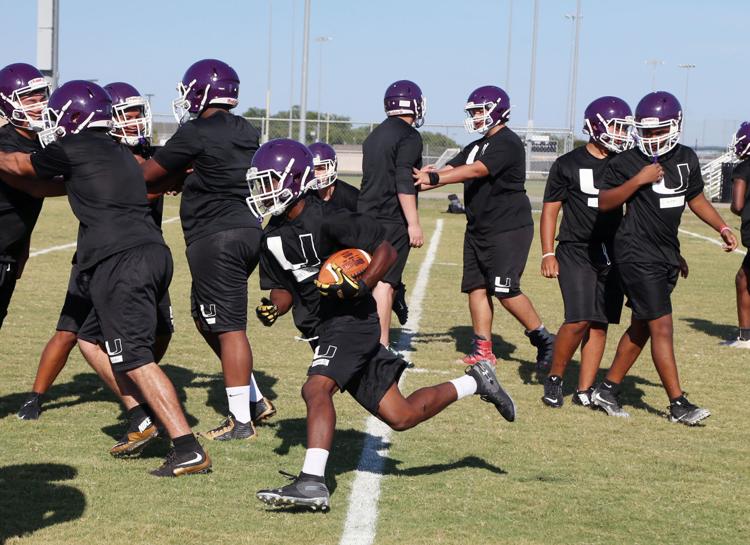 University saw marked improvement last season as it went from 0-10 in head coach Rodney Smith's first season in 2017 to 3-7 in 2018.
However, as practice began for the Trojans, Smith saw it as vital to develop his offensive and defensive lines.
"We do have a little game experience with a lot of guys, but in the O- and D-line, if we don't figure it out quick, we could be in almost the same situation we've been in," Smith said. "It's going to be really important how quick those guys pick it up."
Waco High and University open the season against each other on Aug. 30 at Waco ISD Stadium.
Midway is pointing toward a season-opening trip to play Euless Trinity in Euless that same night.
But Hulme said he's looking at preseason position battles as a process that might not be complete until the Panthers start district play in mid-September versus Killeen.
"What we're trying to do is figure out the best 11 for the Killeen game," Hulme said. "Whoever starts Game 1 might not be the guy on Game 3."