As strains of ABBA's "Dancing Queen" rained down from the speakers, Melissa Cole opted not to break out any disco dance moves. However, much like the girl in the song, she seemed to be having the time of her life.
Her team made sure of it.
China Spring displayed some near-unbreakable defense in dispatching rival Robinson, 25-11, 25-16, 25-20, in District 18-4A volleyball action on Tuesday night at the China Spring Gym. The Lady Cougars' win pushed Cole, the team's head coach, to career victory No. 300.
Afterward, China Spring athletic director Mark Bell presented Cole with a commemorative volleyball and a plaque. The coach just couldn't stop smiling, mostly because of how proud she was of her team's complete effort.
"It's a lot of hard work, you know what I mean?" Cole said, when asked what the 300 win milestone meant to her. "Just to put in the grind day after day after day, and to push and to keep working for a goal. Again, at the end of the day it's about them, it's not about me. I want them to be successful."
Success is no stranger to the Lady Cougars (21-13 overall, 3-1 district), who if they'd wanted could have snuck a peek during the national anthem at the banner hanging just to the left of the American flag, an emblem of last year's regional finalist team. They've still got a long way to go before they meet or exceed the achievements from that season, but they're at least on the right path.
"I really did (think we could be special). We lost some big people, but I also knew what we were keeping," Cole said. "I also knew what was coming up and we were gaining.
"The big change was our setters. We lost both setters. These are two sophomores that I have out on the court, but they're giving it their all and they're working. So I knew that this could be a special class."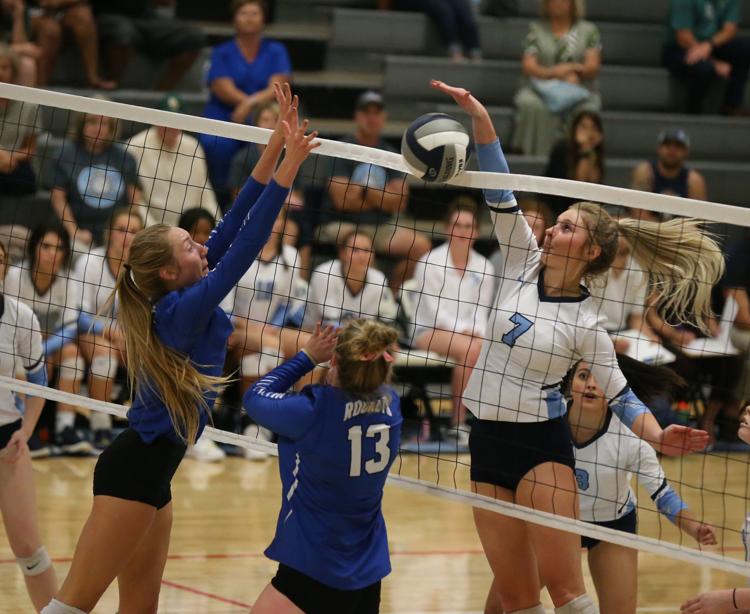 One of the team's sophomores, Dylan Birkes, left some scorched earth – or at least some sizzling floorboards – on her high-flying attacks. Birkes blasted seven kills in the opening set as China Spring got off to a dynamic start, winning, 25-11.
The teams entered the night tied for second in district behind 22nd-ranked Lorena. Talent-wise, there wasn't that much separation between the two. What gave the Lady Cougars the edge most of all was their rock-solid defense.
That's a source of pride in the locker room.
"We have a motto in our gym – it's called 'Move the Stone,'" Cole said. "What that is, there was a king and he had to put a stone in the road and he wanted to see who moved it. Finally, a peasant moved it and when he moved it there was a bag of gold under there.
"It's about the effort you put in and the harder you work, the reward's in the end. So, we have a stone, a literal stone, that we signed for big defensive plays. So, defense is a big part of what we do."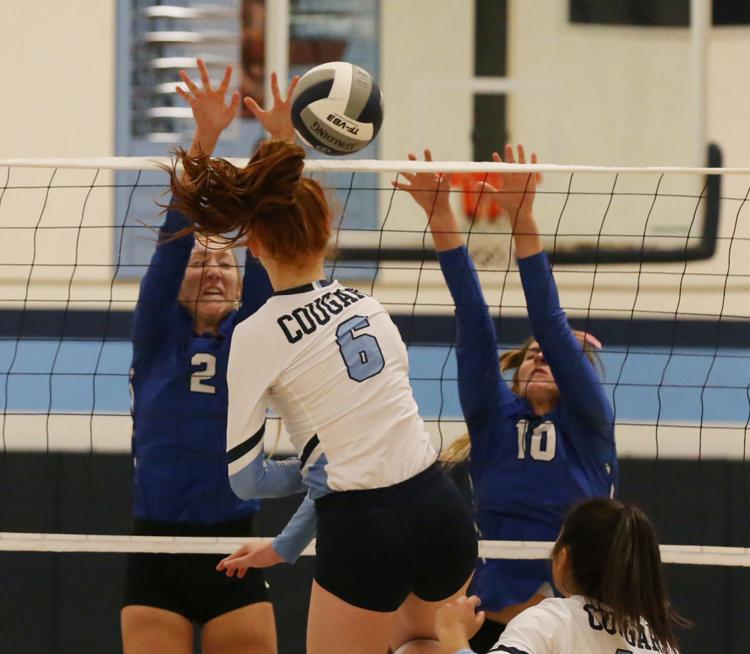 Indeed, China Spring was able to routinely dig out rockets from Robinson's top attackers Brooke Ashcraft and Kinley Schnizer. Then the Lady Cougars made the most of those passes by putting them away for points on the other end.
Robinson (20-18, 2-2) also hurt its own case with an assortment of mishits and net serves.
The Rockettes nevertheless didn't go quietly. In the third set, they rode some well-placed kills from Ashcraft and Schnizer to a hot start. They trailed only 11-10 after a China Spring shot sailed out of bounds midway through the set.
The teams continued to trade jabs, and swap runs, and China Spring clung to a 20-19 lead late following another Schnizer kill. But the Lady Cougars decided they didn't want to work overtime. Maddy Flores ended a furious volley with a well-placed kill in the back corner, sparking a 5-1 Lady Cougar run to seal the sweep.
That set off the post-match party. The Lady Cougar players clearly enjoyed cementing the milestone for their coach, and the home fans held up paper plates with the number "300" emblazoned on them – much to Cole's surprise.
"You know what, I kept it a secret from everybody, so I don't know how they knew," Cole said. "So I was like, 'What's going on?'"